Lexington Democrat kicks off campaign to become Kentucky's first transgender lawmaker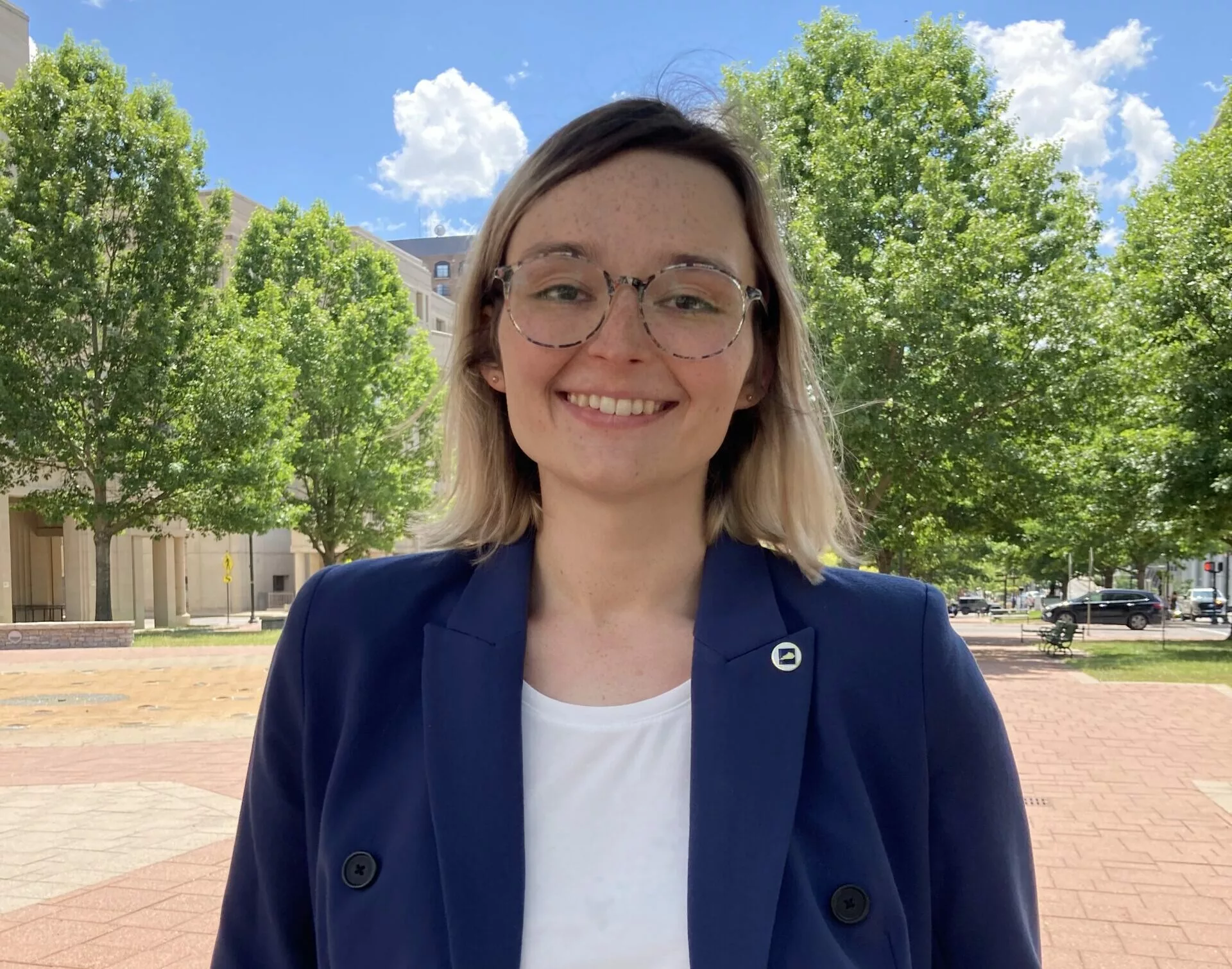 Emma Curtis frequently testified against anti-LGBTQ legislation during this year's session
by Jamie Lucke, Kentucky Lantern
LEXINGTON — Democrat Emma Curtis on Thursday kicked off her campaign to succeed the late Rep. Lamin Swann as state representative from a south Lexington district.
Curtis, who would be Kentucky's first transgender legislator, said she wants to be a voice for transgender youth but is equally committed to working for the 93rd District to advance affordable housing, reproductive health, and education by raising teachers' salaries not lowering standards.
Standing before a small crowd of supporters and news reporters in the Robert F. Stephens Courthouse Plaza, Curtis said, "I think it is an incredibly poignant moment to be announcing here today on the first day of LGBTQ Pride Month after the onslaught of legislative attacks this past session on LGBTQ kids and in particular trans youth. And I want every trans kid, every queer kid watching this today to know that Kentucky is for them too, and they have a say in the future of this commonwealth."
Curtis — who  said she grew up on a tobacco farm in Woodford County, studied at Centre College and works as a filmmaker — became the face of transgender Kentuckians during the recent legislative session when she frequently testified before committees of lawmakers considering anti-LGBTQ bills, most of which became law.
The special election for Swann's seat will be held Nov. 7, the same day as the General Election.
Swann, 45, who died May 14, was in his first legislative term. The 93rd House District gained its current configuration during redistricting in 2022 in response to population growth in Lexington and population loss in Eastern Kentucky.
Political party executive committee members in Fayette County will choose nominees.
Curtis, 26, said the Democrats will pick a nominee in September. She said she was "extremely confident" of receiving the Democratic nomination and victory in the special election in November.
On Thursday, Curtis described Swann as a "friend and mentor" who pushed her to "go from just being somebody who attended political events to somebody who organizes political events." She said Swann supporters had urged her to run. "I am very much inspired to pick up the torch where he left it" and to  "continue his legacy of being the most accessible, most transparent and the most available state representative I can be for my constituents."
Curtis disputed what she called the "myth" that "Kentucky is not ready for a trans candidate."
"Something that I learned from Rep. Swann is that your identity, who you are, is your superpower. This is your biggest strength and it is your biggest asset. And I am very much looking forward to turning out the LGBTQ vote across the state."
---
Photo: Emma Curtis (Kentucky Lantern photo by Jamie Lucke)
Recommended Posts
Wed, September 20, 2023
Wed, September 20, 2023