Emma Curtis Rescinds Endorsement of Adrielle Camuel Over Transphobic Behavior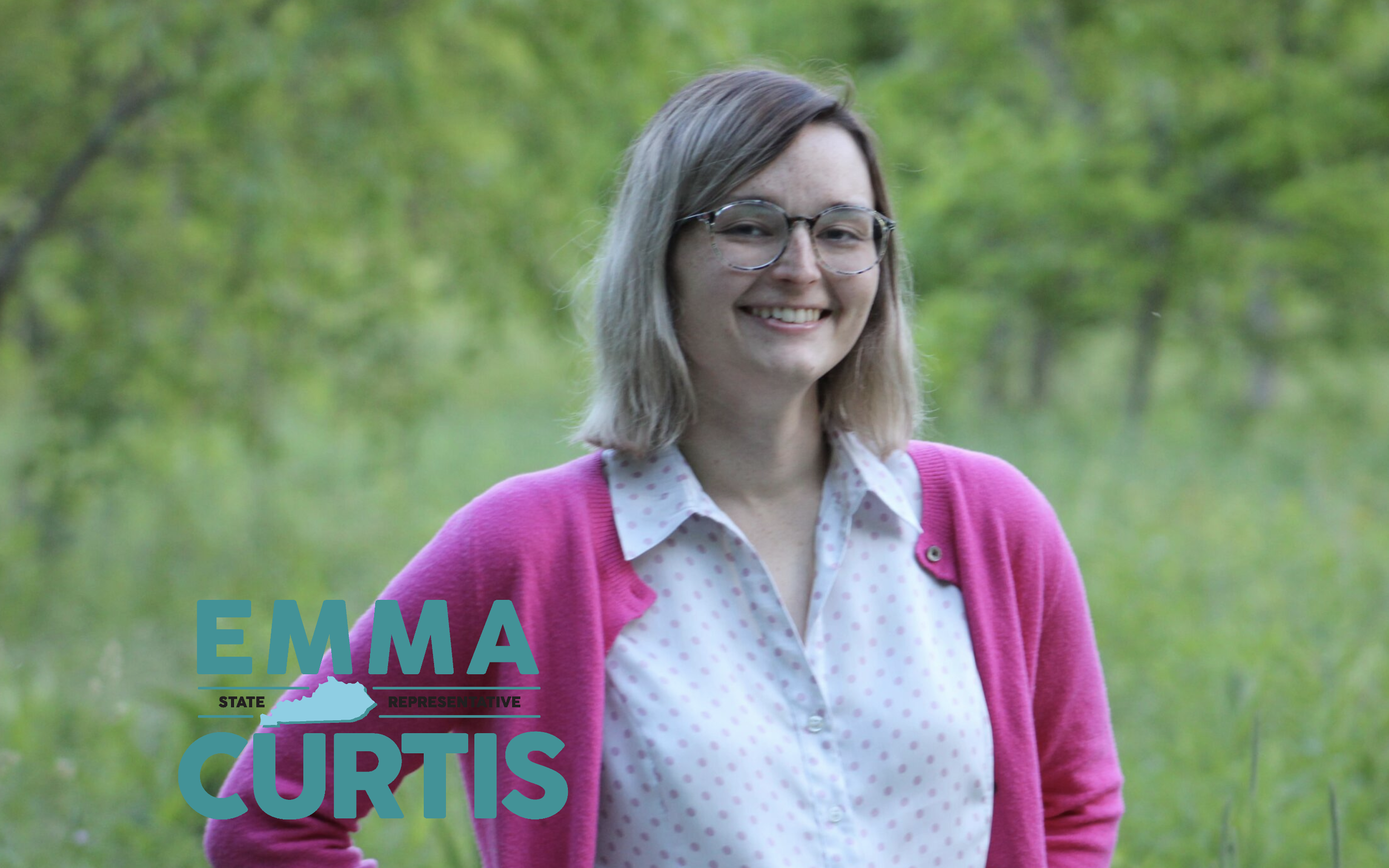 By Paul Oliva, The Lexington Times
LEXINGTON, Ky. — Emma Curtis, a transgender activist who was once a contender for the Democratic nomination for Kentucky's House District 93, has officially rescinded her endorsement of Adrielle Camuel, the current Democratic nominee. The announcement came through a statement issued on Saturday, adding another layer of complexity to an already fraught election season for the Kentucky Democratic Party (KDP).
In her statement, Curtis cited Camuel's "unapologetically transphobic behavior" as the reason for withdrawing her endorsement. She specifically mentioned Camuel's comments on Senate Bill 150, an omnibus bill that bans lifesaving medical care for transgender youth and severely restricts their civil rights in public schools. Curtis says Camuel had described the debate around the bill as having "extremes on both sides," a statement that Curtis and many in the trans community found deeply troubling.
"When many in the trans community raised concerns about that statement online, Camuel supporters engaged in a seemingly coordinated harassment campaign which spread lies not just about those who raised concerns, but about the trans community as a whole," Curtis said in her statement.
Curtis also revealed that she had offered to help Camuel better understand trans issues and build bridges with the trans community, offers that Camuel has not accepted. This refusal, coupled with Camuel's continued transphobic rhetoric and refusal to apologize, led Curtis to withdraw her endorsement.
"I was taken aback. I later attempted to address those comments privately, but was repeatedly assured that Camuel would be a staunch supporter of the trans community," Curtis said, recalling a conversation she had with Camuel before the nominating committee convened.
Curtis clarified that she will not be running against Camuel in the May 2024 primary for House District 93 but will continue to support her candidacy in her capacity as President of the Fayette County Young Democrats and as a member of the Fayette County Democratic Party Executive Committee.
The statement ends with a poignant tribute to the late Rep. Lamin Swann, a former ally of the trans community, whose seat Camuel aims to fill. "Adrielle Camuel has tarnished his memory with her unapologetically transphobic behavior," Curtis said.
The withdrawal of Curtis's endorsement comes at a critical time for the KDP, which is already facing internal divisions and allegations of sidelining minority candidates. With the gubernatorial election looming and the general election for House District 93 set for this November, the party is under pressure to consolidate its base and present a united front.
Camuel is set to face Republican candidate Kyle Whalen in the general election. As of this writing, the KDP has not issued an official statement in response to Curtis's announcement, leaving questions about the party's commitment to inclusivity and its strategy for the upcoming elections.
The unfolding controversy puts the spotlight on the KDP's values and its ability to engage and energize a diverse constituency. With Curtis's endorsement retracted, the party faces an uphill battle in proving that it truly has the back of transgender Kentuckians, especially the youth who are most affected by legislation like Senate Bill 150.
Curtis's full statement:
On the evening of June 29th, a nominating committee comprising 11 Democratic Party Precinct Committeepeople chose Adrielle Camuel to be the Democratic Nominee for the 93rd District State House seat left vacant by the passing of my friend and mentor, Rep. Lamin Swann. I had also been in the running for that nomination. Moments before the Committee adjourned to cast their votes, I pledged before them that I would endorse the eventual nominee—whomever it may be. After Camuel was announced as the nominee, I walked outside and addressed the crowd of several dozen people who had gathered to support my candidacy. I endorsed Camuel and encouraged all of them to support her in this November's election.

Today, I am officially rescinding that endorsement. I am not doing so for any political gain—I will not, as some have speculated, be running against Camuel in the May 2024 primary for House District 93. I will continue to fulfill my obligation to support her candidacy in my capacity as President of the Fayette County Young Democrats and as a member of the Fayette County Democratic Party Executive Committee. However, I will not risk allowing the Camuel campaign to use my endorsement in an attempt to excuse Camuel's repeated transphobic behavior, as they have with the endorsements of some cisgender gay men.

I watched with great hurt and frustration as Camuel said that there were 'extremes on both sides' of the debate around Senate Bill 150—an omnibus bill banning lifesaving medical care for transgender youth and severely restricting their civil rights in public schools. When many in the trans community raised concerns about that statement online, Camuel supporters engaged in a seemingly coordinated harassment campaign which spread lies not just about those who raised concerns, but about the trans community as a whole. I hoped that Camuel had simply misspoken and would apologize, condemn her supporters' behavior, and clarify where she stands on the issue of transgender rights. Instead, she lied that she had never spoken about SB150, called those who raised concerns about her comments 'bullies,' and vowed to never give in to them. In the time since, she has continued to spread transphobic rhetoric and refused to apologize for any of her statements or behavior.

This would be hurtful enough on its own, but it has been particularly hurtful because I have repeatedly offered to help Camuel better understand trans issues and build bridges with the trans community. She has still not taken me up on those offers. Watching this all unfold, I couldn't help but remember a conversation that I had with Camuel before the Nominating Committee convened. During that conversation, she told me that 'we need a nominee [in the 93rd] who can represent everyone, not just transgenders (sic).' She repeatedly referred to a trans cousin of hers by the wrong name and pronouns. She said that SB150 was 'really about teachers,' not trans people. I was taken aback. I later attempted to address those comments privately, but was repeatedly assured that Camuel would be a staunch supporter of the trans community. Had I known then, as I know now, that her comments were not made out of ignorance but out of genuine hostility towards people like me, I would not have endorsed her in the first place.

South Lexington deserves honesty, transparency, and accountability from its leaders. Thus far, Camuel has shown none of these qualities. Transgender Kentuckians—especially our trans youth—deserve to know that the Kentucky Democratic Party has their back. Camuel's behavior has cast significant doubt on whether it really does. Lamin Swann was the most consistent, heartfelt, and empathetic ally of the trans community that I have ever known, despite not being trans or having any trans relatives. Adrielle Camuel has tarnished his memory with her unapologetically transphobic behavior. For these reasons, I cannot allow my endorsement to stand.

Statement from Emma Curtis rescinding her endorsement of Adrielle Camuel
---
Photo credit: Emma for KY
Recommended Posts
Sat, September 16, 2023
Fri, September 15, 2023
Fri, September 15, 2023