'Gray machines' ban, sports betting legalization advance in Kentucky House
Speaker Osborne optimistic Senate will agree this year
By Liam Niemeyer, Kentucky Lantern
FRANKFORT — Two gambling-related bills — one to legalize betting on sports contests and another to ban so-called 'gray machines' — advanced in the Kentucky legislature Wednesday.
House Bill 551, sponsored by Rep. Michael Meredith, R-Oakland, would legalize sports gambling in Kentucky and advanced out of the House Licensing, Occupations, & Administrative Regulations Committee.
"I'm here to tell you about taking an industry that exists in darkness and in the shadows and legitimizing it, legalizing it, and regulating it to protect consumers in Kentucky," Meredith said in testimony.
Meredith said while the tax revenue generated by the legislation is anticipated to bring only $23 million to the state, that's potential money "not being given to any government right now or being given to one of our border states."
The Kentucky House of Representatives also changed its mind on a bill to ban "gray machines," or slot-style machines common in many bars and gas stations across the state that derive their name from their murky legal status.
House Bill 594, sponsored by Rep. Kim Timoney, R-Nicohlasville, was tabled while being considered for a full House vote on Friday, raising questions about if such a ban could ultimately see passage. It's an issue that has split Republicans in the House, with opponents of the ban saying it would let the horse racing industry monopolize gambling in the state, while advocates say it would outlaw illegal gaming machines.
On Wednesday, the House of Representatives voted to "untable" the bill and passed the legislation 64-32, it seeing very little debate on the House floor. Kentucky Republicans had recessed for an hours-long caucus on Tuesday; Kentucky House Speaker David Osborne said the "gray machines" ban came up in that closed-door discussion.
"The tabling motion caught some people off guard, but I think once we were able to explain a little better, most people came on board," Osborne said.
Osborne said the bill to legalize sports betting could be considered by the full House by the end of this week.
Bills to ban "gray machines" and legalize sports betting both died in last year's legislative session. A House bill to legalize sports betting was never heard on the Senate floor, and the House and Senate were unable to concur on changes made to legislation banning "gray machines" in the final days of the session.
Osborne said House leaders have been sharing information with Senate leaders in hopes of avoiding a repeat of last year's impasse. "We have shared language throughout the process with them, hoping to avoid what we had last year, which was both chambers passing a version of a bill that we weren't able to agree on at the end," Osborne said in reference to the "gray machines" ban. "It's my understanding that they're fully committed to passing it as is."
Photo:  Speaker Pro Tem David Meade presides over the House Wednesday. (Kentucky Lantern photo by Liam Niemeyer)
Recommended Posts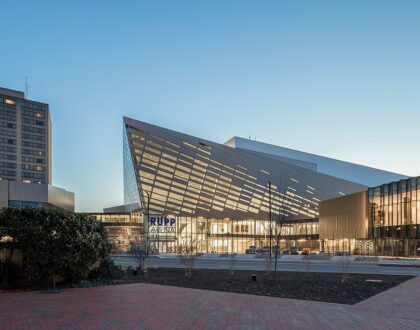 March 28, 2023