Students in Lexington lead protest of new anti-trans law – 'They've taken my rights away'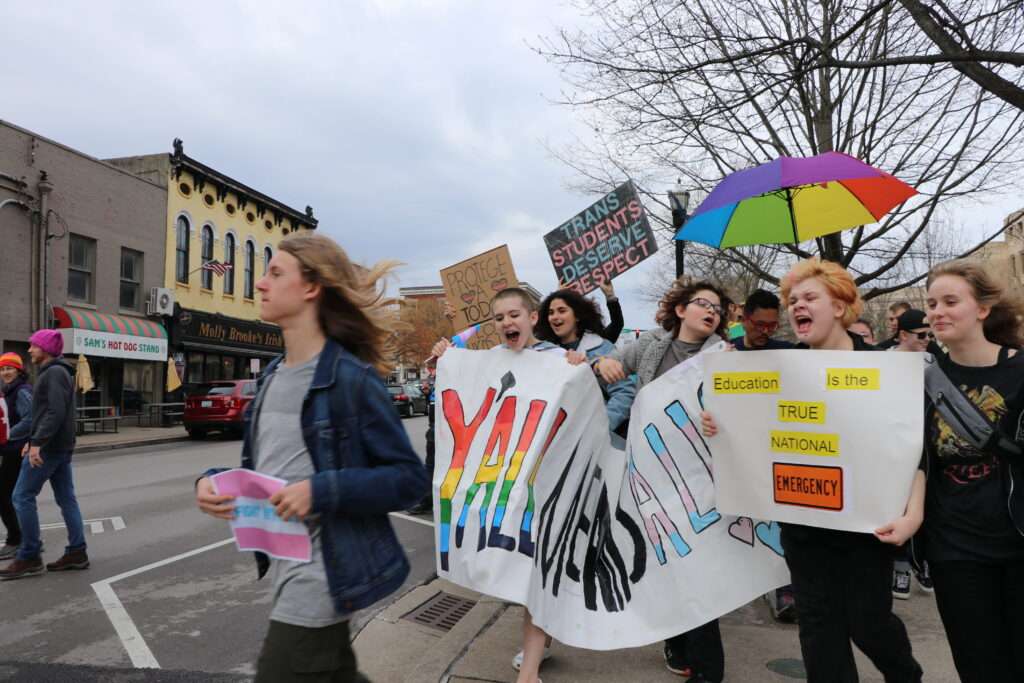 by Mariah P. Kendell, Kentucky Lantern
LEXINGTON — Hundreds of Kentuckians on Friday gathered for a LGBTQ+ youth visibility march in downtown Lexington.
The event, led by local high school students, was organized in response to Senate Bill 150, a sweeping anti-trans measure that the Republican-controlled Kentucky legislature enacted into law this week over Gov. Andy Beshear's veto. 
On Wednesday, protests against the legislation led to the arrest of 19 people at the Capitol in Frankfort. 
Friday's Lexington protest coincided with the International Transgender Day of Visibility, a holiday dedicated to recognizing and raising awareness about the transgender community and the difficulties it faces. The demonstration commenced with a march downtown and concluded with speeches. 
 One of the speakers, Lillian Stewart, a senior at Frederick Douglass High School and the president of her school's Gay Straight Alliance, urged legislators who voted for SB 150 to visit schools in their district and "talk to the kids (they) voted against."
 "You have the duty as a public servant to vote for us and not against us," she said to the crowd. 
 "SB 150 does nothing to protect families," said Noah Healand, a trans student at Lafayette High School, who called for the legislature to direct its attention to other issues, like gun regulation.
Since the shooting at a Nashville school that killed six people, conservative commentators have falsely connected mass shootings to the transgender community, he said. 
The gender identity and motive of the shooter, a former student at the school, remain unclear but, in any case, Healand said "Nashville had nothing to do" with anyone being trans. 
The controversial legislation, sponsored by Sen. Max Wise, R-Campbellsville, bans gender-affirming care for young people in Kentucky, including hormone therapies and reassignment surgeries for children under the age of 18. SB 150 also prohibits schools from teaching "gender identity, gender expression or sexual orientation."  It mandates that students use the restroom that correlates to their biological sex and prohibits schools from compelling educators to use the preferred names or pronouns of transgender students. 
Secil Sensing, a transgender advocate who attended the rally, said. "They've taken my rights away. And it's not just an inconvenience. It's murder."
---
Top photo: Led by high school students, a march and speeches in downtown Lexington Friday called for protecting the rights of trans people. (Photo for Lantern by Mariah Kendell)
Recommended Posts
Thu, December 7, 2023
Wed, December 6, 2023