Calls for action on gun violence meet silence from Kentucky's Republican legislative leaders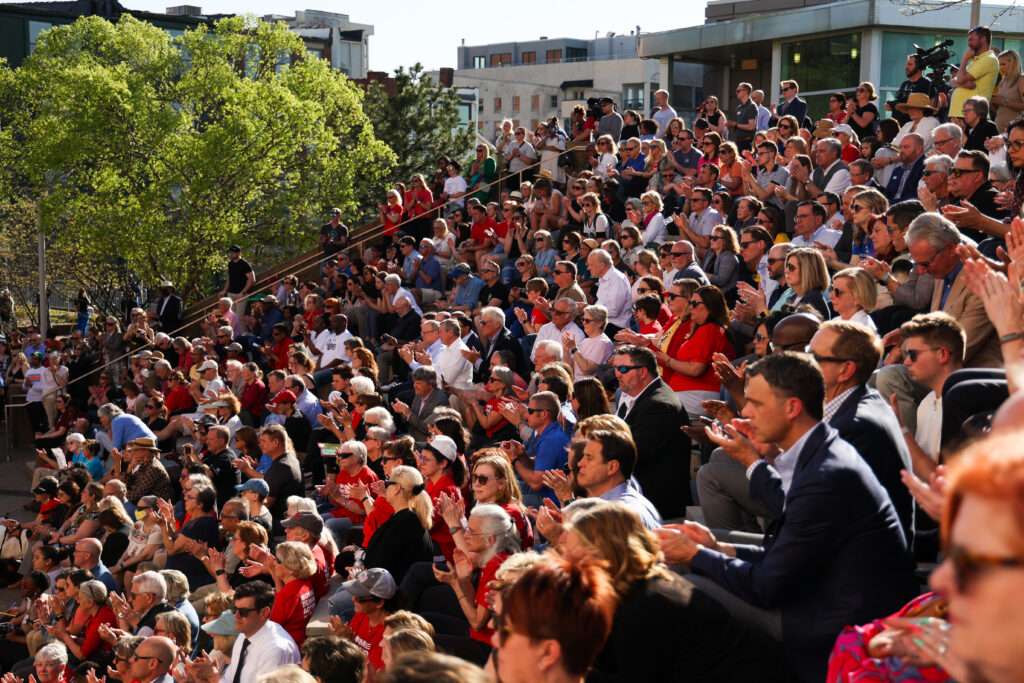 Beshear renews call for 'red flag' law. Louisville mayor wants more local options.
BY: LIAM NIEMEYER, KENTUCKY LANTERN
As Louisville's mayor and Democratic legislators have pleaded for gun reforms, Republican leaders in the GOP-dominated Kentucky legislature have remained silent on what, if any, actions addressing gun violence they'll consider following a mass shooting Monday at a downtown Louisville bank.
Louisville Mayor Craig Greenberg has been forceful in his calls to action, pointing to specific reforms he says need urgent addressing: giving cities in Kentucky more power to create local gun regulations and changing a decades-old state law that requires guns confiscated by law enforcement — including the AR-15 used in the Louisville mass shooting, according to Greenberg — to be sold at public auction. 
"I'm just hopeful that in the aftermath of this tragedy, which is now directly impacting so many people in our city, that elected officials are ready to take action," Greenberg said on "Meet The Press" this week. "If they are not going to take action to save lives, to prevent tragedies, why be in office?" 
Bills sponsored by Democratic state lawmakers in recent years to enact both proposals have died without committee hearings, as the GOP-controlled legislature has instead loosened state gun regulations in recent years.
Democratic Gov. Andy Beshear has said Greenberg's proposal to allow more local control on guns needs to be at least heard in the wake of the shooting. 
Beshear is also calling for a "red flag" law, which generally would allow law enforcement to ask a judge to temporarily remove guns from individuals deemed to be a risk to themselves and others.
Republican Tennessee Gov. Bill Lee is also calling for such a law to separate "dangerous people from firearms" after a school shooting in Nashville last month. Lee also signed an executive order strengthening background checks on gun buyers. 
Spokespeople for GOP leadership in Kentucky's legislature did not respond to or answer questions about whether their caucuses would be reconsidering proposals for a "red flag" law, allowing for more local regulation of guns or for changing what happens to guns confiscated by law enforcement.  
It would be difficult for GOP lawmakers to confront gun lobbyists and pass gun reforms, said a Republican former state senator who supported a "red flag" law. Paul Hornback of Shelbyville said he was attacked by the National Rifle Association for supporting the proposal at the time and that Republicans need the "backbone to stand up to the NRA" to pass such a bill. 
Since six people, including the 25-year-old gunman, were killed at a downtown Louisville bank Monday, community members have outpoured their grief, frustration and anger in the wake of the 146th mass shooting in the United States so far this year. 
A call for local gun laws
In a press conference this week, Greenberg singled out a state prohibition on local governments enacting regulations on guns and ammo.
"Let us, the people of Louisville, make our own choices about how we reduce gun violence in our city," Greenberg said to reporters. "Other communities should be able to make the policies that work for them. Let us implement policies that work for us." 
Rep. Josie Raymond, D-Louisville, has sponsored legislation the past two years that would allow for just that, and it's a proposal she says had been sponsored in past years by other Democrats. She said she took on the bill after the homicide of Tyree Smith, a Louisville teenager who was killed at a school bus stop in 2021. 
"I think Louisville has unique challenges, and I think Louisville needs unique tools," Raymond said. "This is something we've seen across the country when cities say, 'We're facing the challenge of gun violence. How can we take action at the local level?'" 
According to Giffords, a research group that advocates for various gun control measures, at least eight states have enacted laws that allow local governments some flexibility with regulating firearms.
Raymond specifically pointed to the city of Boulder, Colorado, which last year passed local measures to ban the sale and purchase of assault weapons, create a 10-day waiting period to deliver a purchased gun from a licensed firearm dealer and prohibit firearms in public areas such as parks and government buildings. 
But she said she remained pessimistic the bill would gain traction with Republicans in the future. House Bill 34, the latest version of a bill allowing local gun regulations, did not get assigned to a House committee. 
She said guns are "the single most divisive issue between Democrats and Republicans in Frankfort right now."
"We're moving backwards in terms of gun legislation." 
She mentioned previous laws passed by the Republican-dominated legislature related to gun violence and firearms laws, since a 2018 school shooting in Marshall County, including permitless concealed carry of firearms and prohibiting local authorities from enforcing any "federal ban" related to firearms. 
A call for destroying confiscated weapons 
Greenberg also called on lawmakers to allow law enforcement to be able to destroy firearms used in violent crimes. State law currently requires firearms confiscated by law enforcement to be sold at auction by the Kentucky State Police, with most of the proceeds going to local law enforcement to buy body armor, firearms and more for agencies. Greenberg has called the law "absurd" and "dangerous," saying the murder weapon from the downtown Louisville shooting could end up being resold eventually. 
Sen. Karen Berg, D-Louisville, has carried a bill since she became a lawmaker in 2020 that would require any confiscated weapons to be destroyed instead of sold. Her latest bill, Senate Bill 168, did not get a committee hearing. 
"I refile it every year, and I talked to people in the Senate about it every year, hoping that slowly or one day, maybe God will listen," Berg said. 
Berg characterized the legislation as "the lowest hanging fruit" because it doesn't involve regulating someone's access to guns, instead only changing the process of what happens to firearms confiscated by law enforcement. 
Berg said Democrats had originally passed the bill in the 1990s when they still controlled the state legislature. The original requirement to sell confiscated guns was created through an amendment by former Rep. Bob Damron of Nicholasville, who was a Democrat when the bill was passed in 1998. An omnibus crime bill that had Damron's amendment tacked on passed the House and Senate by nearly unanimous votes, with Democrats controlling each chamber. 
Damron, who switched his political party affiliation to Republican after he left the legislature in 2014, said he still supported the law after the Louisville shooting. He said the benefits it provides through extra resources for law enforcement, particularly in poorer counties, is worthwhile. 
"They don't have any other way to provide that kind of money," Damron said. "I think it's great service to the commonwealth and to police officers across the state."
When asked about Greenberg's call to change the law, he said it was an "emotional reaction" to blame guns as the problem.
"I feel for the families of those who've lost loved ones … but I feel for that loss of all the other people that have died through acts of criminal activity," Damron said. "That's just politicization of a tragedy." 
Berg said it was "disingenuous" for someone to accuse Louisville leaders of politicizing the mass shooting. 
"This has been happening and happening and happening and happening," Berg said. "If not now, when? When is the right time?"
A 2021 investigation by the Louisville Courier Journal found the state has given more than 300 grants over several years from the auction program totaling almost $2.8 million to police departments, county sheriff's offices, jails and university and school police agencies. The original 1998 law, according to the newspaper, drew criticism from some local prosecutors and law enforcement leadership in Louisville and Lexington. 
Beshear renews call for a 'red flag' law 
Beshear has for years called for Kentucky to enact what is known as a "red flag" law, which broadly allows law enforcement to ask a judge to temporarily remove guns from individuals deemed to be a risk to themselves and others. 
At least 19 states have such laws including nearby Indiana, and advocates for such laws say the provisions prevent gun deaths in situations involving mental health crises and domestic violence, particularly in lowering the rate of gun suicides. The Associated Press reported last year states with "red flag" laws rarely implemented them, blamed in part by a lack of awareness of such laws and resistance to the laws by some authorities. 
"At least it lets us stop that next individual – at least when we know – before they murder people," Beshear said to CNN this week. "And, listen, I know people will say that wouldn't have stopped this situation. And it probably wouldn't have. Maybe it will the next one. I don't want another family to go through this."
Lee, the Republican governor of Tennessee, has faced pushback recently from gun lobbyists for urging his GOP colleagues to pass a "red flag" law following a school shooting last month in Nashville. 
Hornback, the former state senator, part of a bipartisan group of lawmakers who unsuccessfully supported a "red flag" law in the past, said the proposal would face an uphill battle against gun lobbyists. 
Hornback, who left office in 2022, said many of his former Republican legislative colleagues privately admit that a "red flag" law could help with mass shootings and gun suicides. 
"They're all afraid to say anything," Hornback said. "So many elected officials anymore just want to be reelected. That's what they want more than anything. So they don't want to stir anything up. They don't want to be controversial." 
"I sincerely hope that after this happening closer to home, that they do realize that they can do something, however minor," Hornback said. 
---
Top photo: Louisville hosted a community vigil Wednesday after a shooting Monday at a downtown bank left six dead and a police officer in critical condition. (Kentucky Lantern photo by Abbey Cutrer)
Recommended Posts
Thu, December 7, 2023
Wed, December 6, 2023