Donation of 48 red mulberry trees sparks hope for species preservation at Lexington's Hisle Farm Park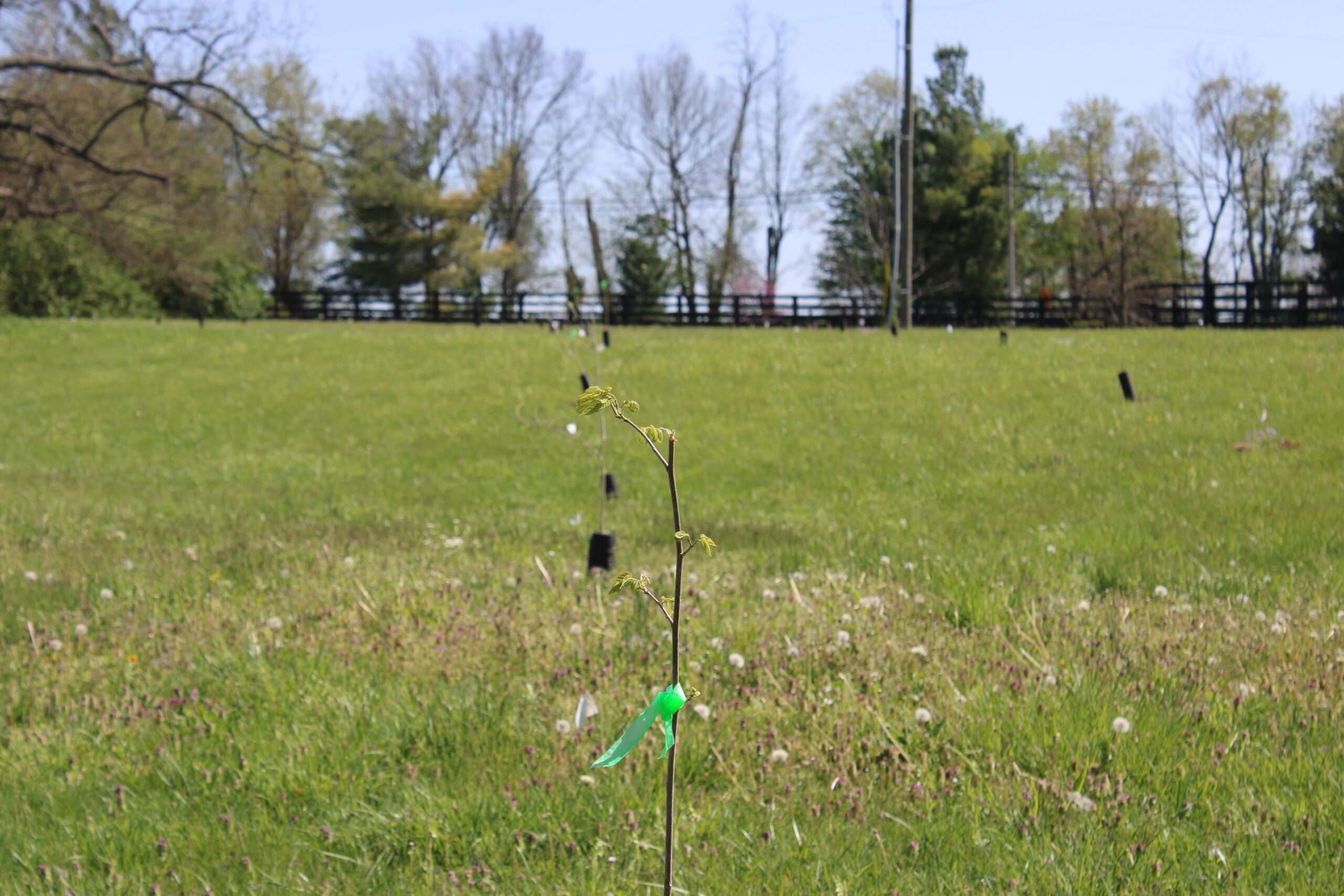 UPDATE: Local conservationist Julian Campbell announced what he says is "North America's first red mulberry orchard" at Hisle Farm Park in Lexington Monday. Campbell has planted 48 red mulberry trees near the park's entrance over the last two to three weeks. He is in the process of planting 48 pawpaw trees in the space, as well. Stay tuned this week for a more detailed article on Campbell's project.
Lexington, Ky.–The Lexington-Fayette Urban County Council will consider a donation of 24-30 endangered red mulberry trees from Julian Campbell to start an "orchard" at Hisle Park, according to a docket for Council's Tuesday work session.
According to a memo from Monica Conrad, the Director of Parks and Recreation, the native tree orchard at Hisle Park will be used for educational purposes. There will be no budgetary impact.
However, according to a source with knowledge of the project, the purpose of planting the red mulberry trees at Hisle Park is not just to create an orchard, but to maintain a genetic reservoir of these rare and endangered trees somewhere.
Red mulberry trees are known for their sweet and juicy fruits, and are found in the eastern United States. However, due to habitat loss, disease, and hybridization with non-native mulberry species, the red mulberry is considered endangered in some states.
The native red mulberry trees of Kentucky have faced significant habitat loss over the years, due to urbanization, agriculture, and deforestation. The loss of their natural habitat has made it difficult for the red mulberry trees to thrive, and has contributed to a decline in their population. Red mulberry trees require well-drained soils and full sunlight to grow, and they are typically found in forest edges, along rivers and streams, and in other areas with ample sunlight. However, with the increasing development of land in Kentucky, many of these habitats have been destroyed or disrupted.
Red mulberry trees in Kentucky also face various disease challenges that can affect their health and survival. One of the most significant diseases that affects red mulberry trees is anthracnose, a fungal disease that causes leaf spot, twig blight, and cankers. Anthracnose can weaken the tree and make it more susceptible to other diseases and pests. Red mulberry trees are also vulnerable to root rot, which can be caused by various soil-borne pathogens. This disease can cause yellowing of leaves, wilting, and eventual death of the tree. In addition, red mulberry trees are also susceptible to various insect pests such as scales, aphids, and borers, which can damage the tree and make it more vulnerable to diseases.
White mulberry trees, originally introduced to the United States from Asia as a food source for silk worms, have become a major threat to the native red mulberry trees in Kentucky. White mulberries have a competitive advantage over the red mulberry due to their fast growth, high seed production, and ability to tolerate a wide range of environmental conditions. As a result, white mulberries have spread rapidly, forming dense thickets that outcompete native red mulberry trees for resources such as sunlight, water, and nutrients. This has led to a decline in the population of red mulberry trees in Kentucky, which in turn has negatively impacted the wildlife that depend on them for food and habitat. Efforts are being made to control the spread of white mulberry trees and protect the remaining red mulberry trees in Kentucky.
Julian Campbell, who donated the trees, is reportedly "running around trying to find places to put them all." According to the source, Julian is passionate about preserving the red mulberry trees and is working to maintain their genetic diversity. Parks & Recreation's Division of Natural Areas has allowed Julian to plant some of the trees by the road at Hisle Park.
With the loss of natural habitats, the red mulberry trees in Kentucky have been struggling to survive, facing various disease and insect challenges, as well as competition from non-native white mulberry trees. The red mulberry plantings at Hisle Park could not only provide an opportunity for educational purposes but also help maintain a genetic reservoir of these rare trees. The efforts of individuals like Julian Campbell are crucial in preserving the biodiversity of our environment, and it is important that we continue to take steps to protect our endangered species for future generations.
City officials' acceptance of the donation is not a sure thing, and still requires approval by the full Council. Lexington's ranking Council member, Vice Mayor Dan Wu, did not respond to messages requesting comment on the project.
---
Top photo: A red mulberry tree planting at Hisle Farm Park in Lexington. Julian Campbell, a local conservationist, recently planted 48 red mulberry trees and is in the process of planting 48 pawpaw trees at the park. (The Lexington Times)
Recommended Posts
Thu, December 7, 2023
Wed, December 6, 2023