University of Kentucky reports record medical school graduates, many staying in state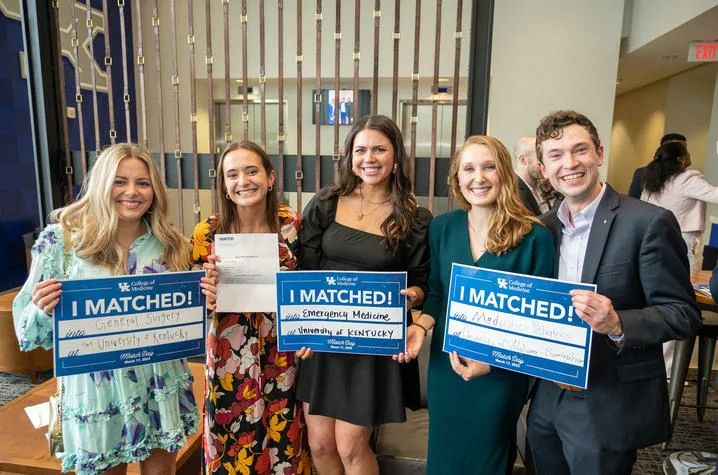 by Sarah Ladd, Kentucky Lantern
April 25, 2023
The University of Kentucky says a record number of medical students – 190 – will graduate from its College of Medicine this year. 
And 42% of graduates will stay in Kentucky for their medical residencies. That number is up from 25% in 2017 and 30% in 2018, according to UK, which hopes the numbers will help ease the state's and nation's doctor shortages. 
The Association of American Medical Colleges in 2021 predicted that by 2034, the United States would be short 17,800 to 48,000 primary care physicians and up to 77,100 in specialty areas.
"The physician shortage in Kentucky is severe," Dr. Charles "Chipper" Griffith III, the acting dean for the University of Kentucky College of Medicine, said in a statement. "There are counties without a single physician, and even in parts of Lexington and Louisville, there are areas that are underserved."
UK says it wants 85% of each medical class to be from Kentucky or have some state tie and is also focused on campus expansion to accept more students. 
"The biggest factor for a physician practicing in Kentucky is both going to medical school and doing a residency in Kentucky," Griffith said. "Nearly 9 of 10 physicians who do both will remain in-state to practice when residency is finished."
The UK College of Medicine has campuses in Lexington, Morehead, Bowling Green and Northern Kentucky. 
The college is also adding a multimillion-dollar health building in Lexington that, once complete, could mean an additional capacity per class of up to 65 students, UK said. The university predicts graduating around 280 doctors by the end of this decade.
---
Photo: UK College of Medicine Match Day, Friday March 17, 2023 in Lexington, when medical graduates find out where they will practice during their residencies. (Photo by Mark Mahan, Mahan Multimedia)
Recommended Posts
Sun, December 3, 2023