ACLU and NCLR File Lawsuit Challenging Ban on Medical Care for Trans Youth in Kentucky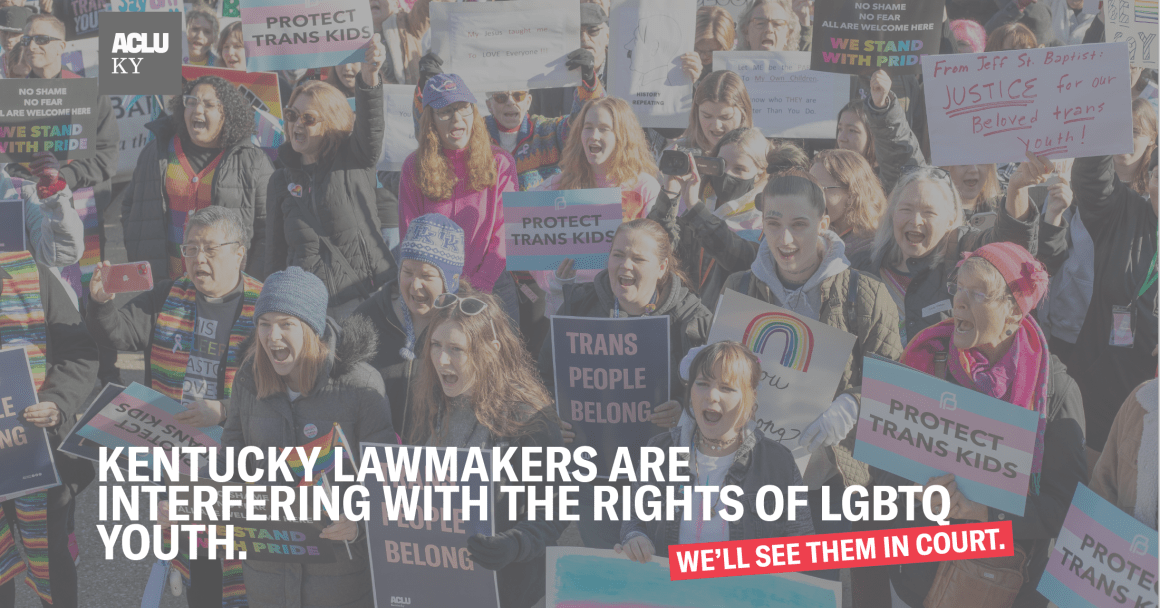 Louisville, Ky.–The ACLU of Kentucky, the National Center for Lesbian Rights (NCLR), and law firm Morgan, Lewis & Bockius, LLP filed a lawsuit seeking to block the portion of Senate Bill 150 that bans medically necessary health care for trans youth in Kentucky Wednesday.
The lawsuit comes as a response to what the ACLU and NCLR deem as egregious government overreach, with lawmakers interfering in the personal medical decisions of families of transgender youth in Kentucky and their healthcare providers. By doing so, they argue that the lawmakers are violating the fundamental rights and freedoms of parents to direct the upbringing of their children.
Corey Shapiro, ACLU-KY Legal Director, highlighted the constitutional rights of trans youth in Kentucky to receive medically necessary care. He stated, "We are filing litigation today to protect against this imminent threat to their well-being and make certain they can thrive by continuing to receive medical care. We look forward to ensuring health care providers can continue to provide transgender Kentuckians with health care consistent with the standards of medicine adopted by leading medical authorities, not radical politicians."
The controversial Senate Bill 150 is viewed as part of a wider national effort to target trans and nonbinary individuals. The ACLU and NCLR argue that such bills banning essential medical care are not based on scientific evidence or best practices, and they are not supported or endorsed by leading medical groups. They claim that these measures are political attacks from groups with a fundamental opposition to transgender individuals being able to live openly, freely, and affirmed as who they really are.
The ACLU of Kentucky reasserts its commitment to protecting the civil liberties of all Kentuckians, emphasizing that legislators cannot be singled out for discrimination. The organization vows to continue fighting for equal rights and equal protection under the law.
NCLR Legal Director Shannon Minter supports this stance, stating, "Parents, not the government, should make medical decisions for their children. This is a dangerous law that intrudes on family privacy and prevents doctors from doing their job. We are honored to represent the families bringing this lawsuit in order to protect their children and ensure that other children and families are not harmed."
The ACLU of Kentucky is a leading organization dedicated to defending individual rights and personal freedoms in the state. They operate as freedom's watchdog, advocating for civil liberties through legal action, legislative efforts, and community engagement.
The National Center for Lesbian Rights (NCLR) is a national legal organization committed to advancing the human and civil rights of the LGBTQ community. They work through litigation, public policy advocacy, and public education, with a focus on racial and economic justice and supporting the most vulnerable members of the LGBTQ community.
As the lawsuit unfolds, the outcome will have significant implications for the rights of transgender youth in Kentucky and could potentially set a precedent for similar cases across the United States. The battle over the ban on medically necessary healthcare for trans youth highlights the ongoing struggle for LGBTQ rights and the clash between personal freedom and government intervention in medical decisions.
---
Photo credit: ACLU of Kentucky
Recommended Posts
Wed, May 31, 2023