Multi-million dollar deals: see which Fayette County properties changed hands recently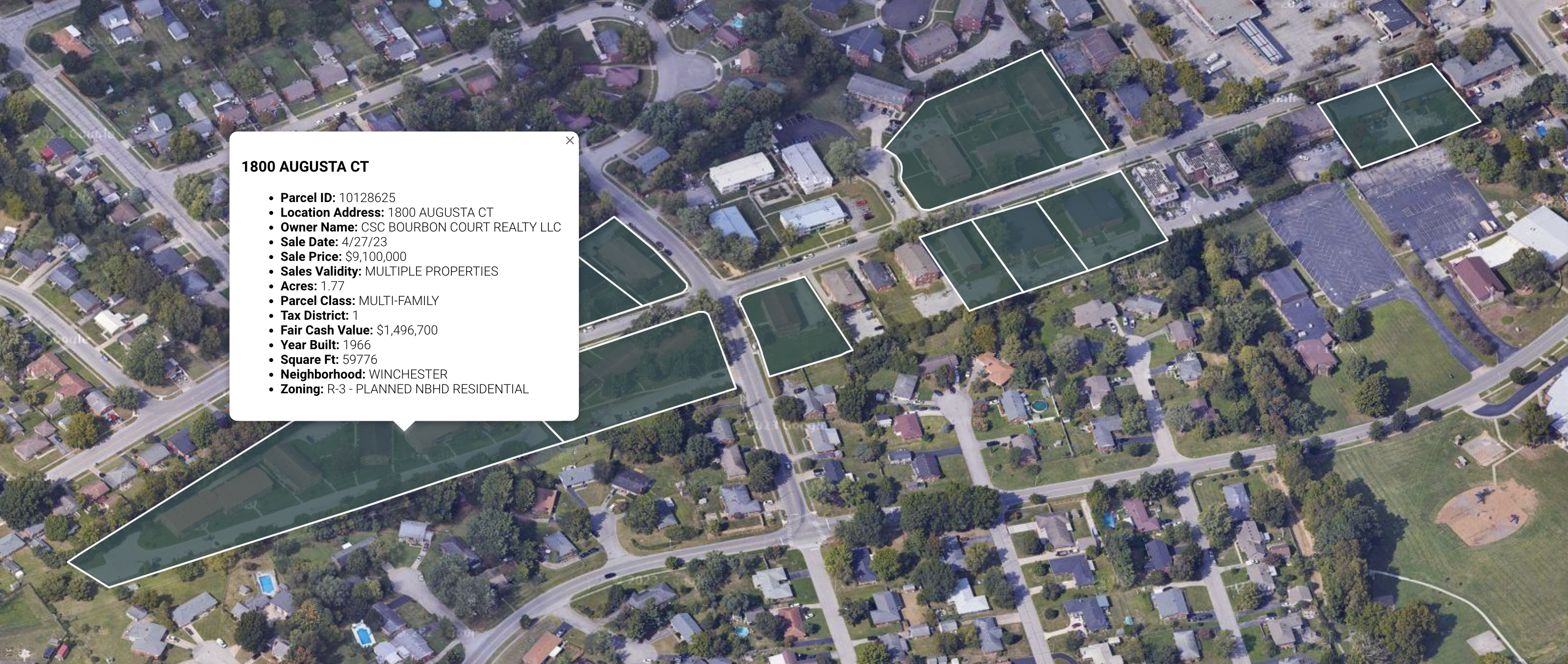 Use the map below to explore the properties that changed hands in Lexington's biggest real estate deals of March – April 2023. The map includes all properties transferred in deals worth over $1 million.
A data table containing all Fayette County property transfers for the same time period can be found below the map.
Parcels source: LFUCG GIS; Property data source: Fayette PVA
Mobile users: please rotate your phone to properly view the data table. The table is best viewed on a desktop. The table software displays dates in European DD/MM/YY format.
March - April 2023 Fayette County Property Transactions
| Parcel ID | Location Address | Owner Name | Sale Date | Sale Price | Sales Validity | Acres | Parcel Class | Tax District | Fair Cash Value | Year Built | Square Ft | Neighborhood | Zoning |
| --- | --- | --- | --- | --- | --- | --- | --- | --- | --- | --- | --- | --- | --- |
| 10.128.675 | 1831 1843 AUGUSTA DR | CSC BOURBON COURT REALTY LLC | 27/04/2023 | 9100000 | MULTIPLE PROPERTIES | 1.5451 | M | 1 | 771800 | 1961 | 30304 | WINCHESTER | R-3 - PLANNED NBHD RESIDENTIAL |
| 14.640.300 | 1804 1812 AUGUSTA CT | CSC BOURBON COURT REALTY LLC | 27/04/2023 | 9100000 | MULTIPLE PROPERTIES | 1.1579 | M | 1 | 561200 | 1960 | 22728 | WINCHESTER | R-3 - PLANNED NBHD RESIDENTIAL |
| 16.069.650 | 1633 RALEIGH RD | CSC BOURBON COURT REALTY LLC | 27/04/2023 | 9100000 | MULTIPLE PROPERTIES | 0.5356 | M | 1 | 233900 | 1965 | 9009 | WINCHESTER | R-3 - PLANNED NBHD RESIDENTIAL |
| 16.593.100 | 1807 AUGUSTA CT | CSC BOURBON COURT REALTY LLC | 27/04/2023 | 9100000 | MULTIPLE PROPERTIES | 0.7069 | M | 1 | 280700 | 1961 | 8400 | WINCHESTER | R-3 - PLANNED NBHD RESIDENTIAL |
| 38.004.080 | 1268 CAPE COD CIR | HARVEY JOHN FRENCH AND MIRANDA COMBS | 27/04/2023 | 510000 | ARMS LENGTH TRANSACTION | 0.3486 | R | 3 | 535200 | 2004 | 4189 | THE COLONY | R-1B - SINGLE FAMILY RESIDENTIAL |
| 12.485.300 | 1828 AUGUSTA DR | CSC BOURBON COURT REALTY LLC | 27/04/2023 | 9100000 | MULTIPLE PROPERTIES | 0.3185 | M | 1 | 553900 | 1960 | 4420 | WINCHESTER | R-3 - PLANNED NBHD RESIDENTIAL |
| 14.118.050 | 1644 RALEIGH RD | CSC BOURBON COURT REALTY LLC | 27/04/2023 | 9100000 | MULTIPLE PROPERTIES | 0.4114 | M | 1 | 280700 | 1961 | 8400 | WINCHESTER | R-3 - PLANNED NBHD RESIDENTIAL |
| 15.849.630 | 1874 AUGUSTA DR | CSC BOURBON COURT REALTY LLC | 27/04/2023 | 9100000 | MULTIPLE PROPERTIES | 0.3489 | M | 1 | 613100 | 1972 | 6642 | WINCHESTER | R-3 - PLANNED NBHD RESIDENTIAL |
| 16.604.050 | 1842 AUGUSTA DR | CSC BOURBON COURT REALTY LLC | 27/04/2023 | 9100000 | MULTIPLE PROPERTIES | 0.8013 | M | 1 | 789100 | 1960 | 8906 | WINCHESTER | R-3 - PLANNED NBHD RESIDENTIAL |
| 10.128.625 | 1800 AUGUSTA CT | CSC BOURBON COURT REALTY LLC | 27/04/2023 | 9100000 | MULTIPLE PROPERTIES | 1.7677 | M | 1 | 1496700 | 1966 | 59776 | WINCHESTER | R-3 - PLANNED NBHD RESIDENTIAL |
| 12.537.450 | 1836 AUGUSTA DR | CSC BOURBON COURT REALTY LLC | 27/04/2023 | 9100000 | MULTIPLE PROPERTIES | 0.5491 | M | 1 | 1055800 | 1961 | 11102 | WINCHESTER | R-3 - PLANNED NBHD RESIDENTIAL |
| 14.290.853 | 808 PROVIDENCE RD | FERGUSON KATHERINE | 27/04/2023 | 396000 | ARMS LENGTH TRANSACTION | 0.3122 | R | 1 | 288700 | 1957 | 1662 | MONTCLAIR & MT VERNON | R-1C - SINGLE FAMILY RESIDENTIAL |
| 14.412.050 | 457 SOUTHLAND DR | TRADITIONAL BNK INC | 27/04/2023 | 725000 | OTHER | 0.45 | C | 1 | 821400 | 1952 | 4524 | SOUTHLAND | B-1 - NEIGHBORHOOD BUSINESS |
| 15.849.625 | 1890 AUGUSTA DR | CSC BOURBON COURT REALTY LLC | 27/04/2023 | 9100000 | MULTIPLE PROPERTIES | 0.3375 | M | 1 | 613100 | 1972 | 6642 | WINCHESTER | R-3 - PLANNED NBHD RESIDENTIAL |
| 13.516.900 | 944 HIGHLAND PARK DR | MELVILLE PARK LLC | 26/04/2023 | 76000 | OTHER | 0.2372 | R | 1 | 95800 | 1955 | 768 | THE MEADOWS | R-1C - SINGLE FAMILY RESIDENTIAL |
| 24.031.750 | 143 PENMOKEN PARK | WINDSTONE GROVE PROPERTIES LLC | 26/04/2023 | 295000 | ARMS LENGTH TRANSACTION | 0.1722 | R | 5 | 215400 | 1930 | 1450 | PENNSACOLA PARK | R-1C - SINGLE FAMILY RESIDENTIAL |
| 15.009.500 | 346 E SECOND ST | WATTS FAMILY PROPERTIES LLC | 26/04/2023 | 330000 | MULTIPLE PROPERTIES | 0.0643 | R | 1 | 64600 | 1959 | 1134 | RACE & E THIRD ST (DOWNTOWN) | R-3 - PLANNED NBHD RESIDENTIAL |
| 17.156.700 | 425 DUDLEY RD | MILLER H JON AND MARY P | 26/04/2023 | 675000 | ARMS LENGTH TRANSACTION | 0.1722 | R | 1 | 381800 | 1938 | 1718 | CHEVY CHASE | R-1C - SINGLE FAMILY RESIDENTIAL |
| 10.010.560 | 362 E SECOND ST | WATTS FAMILY PROPERTIES LLC | 26/04/2023 | 330000 | MULTIPLE PROPERTIES | 0.0643 | R | 1 | 65600 | 1900 | 924 | RACE & E THIRD ST (DOWNTOWN) | R-3 - PLANNED NBHD RESIDENTIAL |
| 15.009.753 | 358 E SECOND ST | WATTS FAMILY PROPERTIES LLC | 26/04/2023 | 330000 | MULTIPLE PROPERTIES | 0.0932 | R | 1 | 65600 | 1960 | 1120 | RACE & E THIRD ST (DOWNTOWN) | R-3 - PLANNED NBHD RESIDENTIAL |
| 38.046.280 | 1585 PINE NEEDLES LN UNIT 2204 | CLAYTON MARY L | 26/04/2023 | 442500 | ARMS LENGTH TRANSACTION | 0 | R | 3 | 375300 | 2000 | 2055 | HERITAGE PLACE 00 | R-3 - PLANNED NBHD RESIDENTIAL |
| 11.203.210 | 655 LIMA DR | KC TURNER PROPERTIES LLC | 25/04/2023 | 480000 | ARMS LENGTH TRANSACTION | 0.87 | E | 1 | 115000 | 1982 | 4525 | LEESTOWN | B-1 - NEIGHBORHOOD BUSINESS |
| 38.080.050 | 2644 CORONADO RIDGE | LEESTMA JEREMY | 25/04/2023 | 0 | TRANSFER-TAX NOT PAID | 0.213 | R | 1 | 219700 | 2003 | 1684 | MAREHAVEN | R-3 - PLANNED NBHD RESIDENTIAL |
| 38.144.010 | 708 MOONSTAR CT | BUGG ANSLEY YANKEY AND WESLEY MITCHELL | 25/04/2023 | 409900 | ARMS LENGTH TRANSACTION | 0.1998 | R | 1 | 337300 | 2006 | 2540 | GESS PROPERTY | EAR-2 - EXPANSION AREA RESIDENTIAL |
| 38.247.590 | 2936 EMINENT DR | SMITH WESLEY THOMAS | 25/04/2023 | 395000 | ARMS LENGTH TRANSACTION | 0.1896 | R | 1 | 270800 | 2014 | 2711 | MASTERSON STATION 1A | R-3 - PLANNED NBHD RESIDENTIAL |
| 13.529.500 | 305 PARK VIEW AVE | WARD CHARLES | 24/04/2023 | 165000 | ARMS LENGTH TRANSACTION | 0.1722 | R | 1 | 94500 | 1941 | 744 | THE MEADOWS | R-1C - SINGLE FAMILY RESIDENTIAL |
| 13.864.402 | 1028 ARMSTRONG MILL RD UNIT C | GOLDEN SLUMBERS LLC | 24/04/2023 | 130000 | ARMS LENGTH TRANSACTION | 0 | R | 1 | 98000 | 1971 | 972 | FOX & HOUND | R-3 - PLANNED NBHD RESIDENTIAL |
| 20.965.067 | 3601 SULIER CT | T M RUDD CO LLC | 24/04/2023 | 133000 | ANNUAL TWICE-SOLD PROPERTY | 0.2537 | R | 1 | 114500 | 1978 | 1000 | MELODY VILLAGE & RIVER PARK | R-1D - SINGLE FAMILY RESIDENTIAL |
| 20.965.067 | 3601 SULIER CT | T M RUDD CO LLC | 24/04/2023 | 110000 | ARMS LENGTH TRANSACTION | 0.2537 | R | 1 | 114500 | 1978 | 1000 | MELODY VILLAGE & RIVER PARK | R-1D - SINGLE FAMILY RESIDENTIAL |
| 25.292.375 | 212 E TIVERTON WAY | SLEIGHTHOLM JAMES | LIFE ESTATE | 24/04/2023 | 0 | CLOSE RELATIVE SALES/TRANSFERS | 0.2025 | R | 5 | 250000 | 1972 | 1680 | DEVONDALE | R-1D - SINGLE FAMILY RESIDENTIAL |
| 38.088.780 | 600 VINCENT WAY UNIT 3110 | WHITELY SHARON | 24/04/2023 | 180000 | OTHER | 0 | R | 1 | 204000 | 2003 | 1355 | WELLINGTON CHASE CONDOMINIUMS | R-4 - HIGH DENSITY APARTMENT |
| 38.124.390 | 4412 WALNUT CREEK DR | 4412 WALNUT CREEK DR LLC | 24/04/2023 | 389900 | ARMS LENGTH TRANSACTION | 0.1102 | R | 1 | 340000 | 2005 | 2980 | WALNUT CREEK | EAR-1 - EXPANSION AREA RESIDENTIAL |
| 16.324.300 | 745 BREATHITT AVE | BAKER CHELSEA J AND JOSHUA D | 24/04/2023 | 187000 | 1ST SALE AFTER FORECLOSURE | 0.1377 | R | 1 | 81000 | 2011 | 1200 | FORREST HILL LAND CO & DOUGLAS HEIGHTS | R-2 - TWO-FAMILY RESIDENTIAL |
| 16.324.300 | 745 BREATHITT AVE | BAKER CHELSEA J AND JOSHUA D | 24/04/2023 | 90100 | MASTER COMMISSIONER SALE | 0.1377 | R | 1 | 81000 | 2011 | 1200 | FORREST HILL LAND CO & DOUGLAS HEIGHTS | R-2 - TWO-FAMILY RESIDENTIAL |
| 38.084.670 | 640 GREEN VALLEY DR | JACOB AASEMS | 24/04/2023 | 250000 | ARMS LENGTH TRANSACTION | 0.1061 | R | 1 | 135000 | 2004 | 1346 | MASTERSON STATION IV | R-3 - PLANNED NBHD RESIDENTIAL |
| 38.127.820 | 3040 SHADY KNOLL RST | MAUWA FAILA | 24/04/2023 | 268000 | ARMS LENGTH TRANSACTION | 0.1162 | R | 1 | 169000 | 2005 | 1265 | MASTERSON STATION IV | R-1E - SINGLE FAMILY RESIDENTIAL |
| 45.127.950 | 108 HELM ST | SADR RENTALS INC | 24/04/2023 | 87000 | ANNUAL TWICE-SOLD PROPERTY | 0.186 | R | 5 | 87000 | 1950 | 912 | LEXINGTON MANOR | R-1C - SINGLE FAMILY RESIDENTIAL |
| 10.053.130 | 512 PLEASANT POINTE CT | JACOB AASEMS | 24/04/2023 | 235000 | ARMS LENGTH TRANSACTION | 0.0769 | R | 1 | 185500 | 1993 | 1379 | PLEASANT POINTE 92 | R-3 - PLANNED NBHD RESIDENTIAL |
| 12.972.300 | 830 LANE ALLEN RD | MEIER SCOTT AND STEPHANIE | 24/04/2023 | 300000 | ARMS LENGTH TRANSACTION | 0.3545 | R | 5 | 269900 | 1965 | 2259 | GARDEN SPRINGS | R-1C - SINGLE FAMILY RESIDENTIAL |
| 38.197.280 | 144 REGENCY POINT PATH | SMITH JADYN | 24/04/2023 | 185000 | ARMS LENGTH TRANSACTION | 0 | R | 1 | 140300 | 1970 | 1088 | REGENCY POINT (TOWNHOMES OF LEXINGTON) | R-3 - PLANNED NBHD RESIDENTIAL |
| 38.228.860 | 215 REGENCY POINT PATH | HOSTETTLER R AARON AND AMY E | 24/04/2023 | 216000 | ARMS LENGTH TRANSACTION | 0 | R | 1 | 177300 | 2009 | 1242 | REGENCY POINT (TOWNHOMES OF LEXINGTON) | R-3 - PLANNED NBHD RESIDENTIAL |
| 10.544.450 | 218 HILLCREST AVE | VOORHEES KIMBERLY N AND NATHAN R | 21/04/2023 | 239900 | ARMS LENGTH TRANSACTION | 0.1435 | R | 1 | 112500 | 1954 | 912 | LEXINGTON MANOR | R-1D - SINGLE FAMILY RESIDENTIAL |
| 11.879.400 | 1013 VALLEY AVE | CASADOS ROSALINDA ROSALES | 21/04/2023 | 187000 | ARMS LENGTH TRANSACTION | 0.0723 | R | 1 | 61000 | 2000 | 1152 | IRISHTOWN | R-3 - PLANNED NBHD RESIDENTIAL |
| 40.417.800 | 1116 SPARKS RD | DARK HORSE HOLDINGS LLC | 21/04/2023 | 70000 | OTHER | 0.1607 | R | 5 | 79000 | 1949 | 798 | LIBERTY HEIGHTS | R-1C - SINGLE FAMILY RESIDENTIAL |
| 40.417.800 | 1116 SPARKS RD | DARK HORSE HOLDINGS LLC | 21/04/2023 | 94000 | ARMS LENGTH TRANSACTION | 0.1607 | R | 5 | 79000 | 1949 | 798 | LIBERTY HEIGHTS | R-1C - SINGLE FAMILY RESIDENTIAL |
| 10.800.101 | 672 ROSEWOOD DR | BROWN DENNIS JAMES | 21/04/2023 | 0 | NAME CHANGE/MERGER | 0.1653 | R | 1 | 167500 | 1964 | 1605 | DEEP SPRINGS PRT OF DIXIE HERMITAGE HILL | R-1D - SINGLE FAMILY RESIDENTIAL |
| 17.025.300 | 425 OAK ST | PEREZ CRISTOPHER PAVON | 21/04/2023 | 176000 | ANNUAL TWICE-SOLD PROPERTY | 0.1618 | R | 1 | 110000 | 2012 | 1200 | FORREST HILL LAND CO & DOUGLAS HEIGHTS | R-2 - TWO-FAMILY RESIDENTIAL |
| 55.575.900 | 731 BROOKHILL DR | WALKER BRYCE H AND LEE LAMONICA | 21/04/2023 | 760000 | ARMS LENGTH TRANSACTION | 0.556 | R | 2 | 407700 | 1958 | 2192 | LANSDOWNE | R-1B - SINGLE FAMILY RESIDENTIAL |
| 14.476.143 | 395 REDDING RD UNIT 159 | ROBERTS GYPSY MARIE | 21/04/2023 | 214900 | ARMS LENGTH TRANSACTION | 0 | R | 1 | 138000 | 1978 | 1144 | THE OAKS | R-3 - PLANNED NBHD RESIDENTIAL |
| 16.908.700 | 850 CARNEAL RD | SPILLMAN PROPERTIES LLC | 21/04/2023 | 100000 | ARMS LENGTH TRANSACTION | 0.1722 | R | 1 | 139100 | 1956 | 1443 | THE MEADOWS | R-1C - SINGLE FAMILY RESIDENTIAL |
| 19.331.340 | 3021 BROOKMONTE LN | JOHNSON GARY LEE AND CHRISTENA LEE | 21/04/2023 | 1850000 | ARMS LENGTH TRANSACTION | 10.03 | R | 2 | 1480500 | 1999 | 11854 | RURAL UNDER 10 ACRES SE QUAD | A-R - AGRICULTURAL RURAL |
| 38.070.100 | 188 BLACK WATER LN | STAMM KATELYN | 21/04/2023 | 250000 | ARMS LENGTH TRANSACTION | 0.102 | R | 1 | 205400 | 2003 | 1324 | SEBASTIAN PROPERTY | R-1E - SINGLE FAMILY RESIDENTIAL |
| 10.877.800 | 1155 VENETIAN WAY | DAMAI ASHOK AND MANJU DEVI | 20/04/2023 | 167500 | ARMS LENGTH TRANSACTION | 0.2089 | R | 1 | 123200 | 1961 | 1350 | SOUTHEASTERN HILLS | R-1C - SINGLE FAMILY RESIDENTIAL |
| 15.391.819 | 1189 1191 ACCORD DR | HOWARD CARRIE B | 20/04/2023 | 74000 | PARTIAL SALES | 0.2296 | R | 1 | 155900 | 1978 | 1776 | MELODY VILLAGE & RIVER PARK | R-2 - TWO-FAMILY RESIDENTIAL |
| 38.043.070 | 1325 TRENT BLVD STE 122 | RECY HILL PROPERTIES | 20/04/2023 | 0 | AFFILIATED ORGANIZATIONS | 0.0376 | R | 1 | 93500 | 2001 | 1080 | RIVER PARK SUBDIVISION 00 | R-3 - PLANNED NBHD RESIDENTIAL |
| 38.099.370 | 173 HAYS BLVD | MURRAY KALEB | 20/04/2023 | 311000 | ARMS LENGTH TRANSACTION | 0.1051 | R | 1 | 235300 | 2003 | 1925 | WALNUT CREEK | EAR-1 - EXPANSION AREA RESIDENTIAL |
| 20.018.350 | 320 STONEGATE WAY | STOKLEY RALPH L AND LAURA C | 19/04/2023 | 285000 | ARMS LENGTH TRANSACTION | 0.183 | R | 1 | 222900 | 1984 | 1687 | OPEN GATES | R-1C - SINGLE FAMILY RESIDENTIAL |
| 26.815.110 | 957 CHINOE RD | MCGRATH JAMES J AND GAYLE B | 19/04/2023 | 595000 | ARMS LENGTH TRANSACTION | 0.7926 | R | 1 | 354400 | 1978 | 3606 | LANSDOWNE MERRICK | R-1B - SINGLE FAMILY RESIDENTIAL |
| 38.297.780 | 1088 SQUIRREL NEST LN | M & M PROPERTY MANAGEMENT LLC | 19/04/2023 | 73500 | VACANT LOTS/ BUILDERS | 0.1352 | R | 2 | 75000 | | 0 | NEWMARKET PROPERTY | EAR-2 - EXPANSION AREA RESIDENTIAL |
| 44.625.800 | 368 BASSETT AVE | TODD DARBY | WILLIAMS CHANDLER | 19/04/2023 | 249900 | CHANGED TRANSFERRED SALE | 0.1194 | R | 1 | 103200 | 1935 | 928 | WICKLIFFE | R-2 - TWO-FAMILY RESIDENTIAL |
| 11.302.816 | 2121 NICHOLASVILLE RD UNIT 712 | ESCALANTE MERCEDES L | BOTELLO RUBEN M | 18/04/2023 | 155000 | ARMS LENGTH TRANSACTION | 0 | R | 1 | 145000 | 1965 | 1062 | CONTINENTAL TOWERS | R-4 - HIGH DENSITY APARTMENT |
| 19.990.880 | 3393 TYLER CT | HATFIELD BRUCE DALTON | 18/04/2023 | 265000 | ARMS LENGTH TRANSACTION | 0.11 | R | 1 | 228100 | 1999 | 1498 | FOREST HILLS | R-4 - HIGH DENSITY APARTMENT |
| 21.363.400 | 309 GREENBRIAR RD | SCOTT BAILEY | DENOMME ROBERT | 18/04/2023 | 587000 | ARMS LENGTH TRANSACTION | 0.3606 | R | 5 | 383000 | 1958 | 3422 | GLENDOVER | R-1C - SINGLE FAMILY RESIDENTIAL |
| 16.335.100 | 1981 FAIR OAKS DR | G K & SONS LLC | 18/04/2023 | 140000 | OTHER | 0.1956 | R | 1 | 159700 | 1961 | 1749 | GARDENSIDE PROSPECT HILL & SKY CREST | R-2 - TWO-FAMILY RESIDENTIAL |
| 16.335.100 | 1981 FAIR OAKS DR | G K & SONS LLC | 01/03/2023 | 120000 | OTHER | 0.1956 | R | 1 | 159700 | 1961 | 1749 | GARDENSIDE PROSPECT HILL & SKY CREST | R-2 - TWO-FAMILY RESIDENTIAL |
| 19.302.210 | 3061 FIELDSTONE WAY | SHOWPROP PICO RIVERA LLC | 18/04/2023 | 9400000 | MULTIPLE PROPERTIES | 2.26 | C | 1 | 3251500 | 1996 | 24420 | HARRODSBURG | B-3 - HIGHWAY SERVICE BUSINESS |
| 38.206.940 | 535 S UPPER ST UNIT 102 | 1927 HOLDINGS LLC | 18/04/2023 | 0 | AFFILIATED ORGANIZATIONS | 0 | R | 1 | 276000 | 2007 | 999 | CENTERCOURT CONDOMINIUMS | MU-2 - NEIGHBORHOOD CORRIDOR |
| 38.207.030 | 535 S UPPER ST UNIT 200 | 1927 HOLDINGS LLC | 18/04/2023 | 255900 | ARMS LENGTH TRANSACTION | 0 | R | 1 | 223900 | 2007 | 965 | CENTERCOURT CONDOMINIUMS | MU-2 - NEIGHBORHOOD CORRIDOR |
| 19.323.550 | 3001 LAKECREST CIR | SHOWPROP PICO RIVERA LLC | 18/04/2023 | 9400000 | MULTIPLE PROPERTIES | 2 | C | 1 | 3387600 | 1996 | 20000 | HARRODSBURG | B-3 - HIGHWAY SERVICE BUSINESS |
| 20.028.670 | 3436 KENESAW DR | GRAYSON DONNIE JR AND JO | 18/04/2023 | 0 | NAME CHANGE/MERGER | 0.1529 | R | 1 | 163000 | 1986 | 1798 | CENTURY HILLS | R-1T - TOWNHOUSE RESIDENTIAL |
| 20.139.330 | 1017 MARCO LN | 1017 MARCO DRIVE LLC | 17/04/2023 | 342000 | ARMS LENGTH TRANSACTION | 0.1605 | R | 1 | 239100 | 1994 | 1456 | AUTUMN RIDGE 90 | R-3 - PLANNED NBHD RESIDENTIAL |
| 43.595.300 | 386 BASSETT AVE | BROWN SAMUEL JAMES AND MADELINE BLAIR | 17/04/2023 | 190000 | ARMS LENGTH TRANSACTION | 0.1435 | R | 1 | 107600 | 1930 | 1025 | WICKLIFFE | R-2 - TWO-FAMILY RESIDENTIAL |
| 14.290.851 | 550 552 COLUMBIA AVE | WYATT ANN PROPERTIES LLC | 17/04/2023 | 839300 | MULTIPLE PROPERTIES | 0.1435 | C | 1 | 163900 | 1940 | 2200 | UNIVERSITY | R-2 - TWO-FAMILY RESIDENTIAL |
| 14.290.852 | 560 COLUMBIA AVE | MCGINNIS WM M TR | 17/04/2023 | 839300 | MULTIPLE PROPERTIES | 0.1641 | R | 1 | 195000 | 1914 | 1712 | UNIVERSITY | R-2 - TWO-FAMILY RESIDENTIAL |
| 14.291.350 | 556 COLUMBIA AVE | WYATT ANN PROPERTIES LLC | 17/04/2023 | 839300 | MULTIPLE PROPERTIES | 0.1692 | R | 1 | 115000 | 1938 | 960 | UNIVERSITY | R-2 - TWO-FAMILY RESIDENTIAL |
| 20.142.170 | 2232 VALENCIA DR | CANTRELL GRANT | 17/04/2023 | 295000 | ARMS LENGTH TRANSACTION | 0.0924 | R | 6 | 190400 | 1993 | 1501 | THE GLADES & PALOMAR HILLS | R-3 - PLANNED NBHD RESIDENTIAL |
| 25.252.700 | 2610 WESTMORLAND RD | NESSER ANITA | 17/04/2023 | 875000 | ARMS LENGTH TRANSACTION | 1.7753 | R | 2 | 350000 | 1966 | 2838 | WESTMORLAND | A-R - AGRICULTURAL RURAL |
| 38.102.990 | 253 FERNDALE PASS | UECKER ANTHONY JAMES | 17/04/2023 | 251000 | ARMS LENGTH TRANSACTION | 0.101 | R | 1 | 193000 | 2004 | 1244 | GREAT ACRES | R-3 - PLANNED NBHD RESIDENTIAL |
| 38.161.280 | 2525 PASCOLI PL | WEILER STACY AND BRETT | 17/04/2023 | 785000 | ARMS LENGTH TRANSACTION | 0.4321 | R | 1 | 590900 | 2007 | 3845 | TUSCANY 06 | R-3 - PLANNED NBHD RESIDENTIAL |
| 38.161.280 | 2525 PASCOLI PL | WEILER STACY AND BRETT | 17/04/2023 | 785000 | OTHER | 0.4321 | R | 1 | 590900 | 2007 | 3845 | TUSCANY 06 | R-3 - PLANNED NBHD RESIDENTIAL |
| 38.242.080 | 4131 KATHERINE PL | TAEGE SARA | 17/04/2023 | 345000 | ARMS LENGTH TRANSACTION | 0.1102 | R | 1 | 285000 | 2014 | 1846 | MAHAN PROPERTY | R-3 - PLANNED NBHD RESIDENTIAL |
| 10.239.600 | 1200 TEXACO RD | ALYACOUB WILLIAM | 17/04/2023 | 0 | AFFILIATED ORGANIZATIONS | 0.132 | R | 1 | 73900 | 1938 | 784 | OAK PARK & MELROSE | R-1C - SINGLE FAMILY RESIDENTIAL |
| 11.907.400 | 2432 REIMS RD | WELLS TRACY LYNN | 17/04/2023 | 130000 | OTHER | 0.2794 | R | 1 | 180000 | 1964 | 1320 | HOLIDAY HILLS | R-1C - SINGLE FAMILY RESIDENTIAL |
| 12.793.600 | 417 MCKENNA CT | HART STEWART G | 17/04/2023 | 0 | TRANSFER-TAX NOT PAID | 0.3662 | R | 1 | 280500 | 1963 | 2922 | ROOKWOOD & KENAWOOD | R-1C - SINGLE FAMILY RESIDENTIAL |
| 12.793.600 | 417 MCKENNA CT | HART STEWART G | 17/04/2023 | 0 | TRANSFER-TAX NOT PAID | 0.3662 | R | 1 | 280500 | 1963 | 2922 | ROOKWOOD & KENAWOOD | R-1C - SINGLE FAMILY RESIDENTIAL |
| 13.167.100 | 660 KINGSTON RD | SMITH RAY M TRUSTEE | SMITH WILLIAM G TRUSTEE | 17/04/2023 | 0 | TRANSFER-TAX NOT PAID | 0.2066 | R | 1 | 162200 | 1963 | 1719 | THOROUGHBRED | R-1C - SINGLE FAMILY RESIDENTIAL |
| 17.281.875 | 1840 OXFORD CIR | FORWARD PROPERTIES LLC | 17/04/2023 | 0 | AFFILIATED ORGANIZATIONS | 0.2066 | C | 1 | 340000 | 1977 | 7728 | VERSAILLES | B-1 - NEIGHBORHOOD BUSINESS |
| 17.281.875 | 1840 OXFORD CIR | FORWARD PROPERTIES LLC | 17/04/2023 | 575000 | ARMS LENGTH TRANSACTION | 0.2066 | C | 1 | 340000 | 1977 | 7728 | VERSAILLES | B-1 - NEIGHBORHOOD BUSINESS |
| 24.816.456 | 3956 WEBER WAY | GARRETT RHONDA | 17/04/2023 | 0 | CLOSE RELATIVE SALES/TRANSFERS | 0.1708 | R | 4 | 175100 | 1978 | 1921 | HIDDEN SPRINGS & HIGH PLAIN | R-2 - TWO-FAMILY RESIDENTIAL |
| 11.229.500 | 429 KILPATRICK CT | COLLINS JACOBS TTEE | NANNIE MAE COLLINS IRREVOCABLE TRUST | 14/04/2023 | 0 | AFFILIATED ORGANIZATIONS | 0.2492 | R | 1 | 76500 | 1972 | 1000 | HOLLOW CREEK & WINBURN | R-1D - SINGLE FAMILY RESIDENTIAL |
| 11.370.600 | 657 ELM TREE LN | JOSEPH SCOTT PROPERTIES LLC | 14/04/2023 | 41000 | OTHER | 0.1015 | R | 1 | 81800 | 1900 | 1114 | DOWNTOWN | R-3 - PLANNED NBHD RESIDENTIAL |
| 12.580.363 | 3755 RED RIVER DR | SAINT JOSEPH REALTY LLC | 14/04/2023 | 145000 | ARMS LENGTH TRANSACTION | 0.09 | R | 1 | 94500 | 1977 | 1408 | MELODY VILLAGE & RIVER PARK | R-1T - TOWNHOUSE RESIDENTIAL |
| 38.286.080 | 2722 ROCKAWAY PL | BENNETT LAUREN E | MADDOX CAROLYN B | 14/04/2023 | 328000 | NEW CONSTRUCTION | 0.173 | R | 1 | 222000 | 2023 | 3200 | GREENDALE HILLS | R-3 - PLANNED NBHD RESIDENTIAL |
| 38.289.780 | 665 SUNNY LANDING TRL | PARSLEY JOSEPH JR AND KAREN JOY | 14/04/2023 | 584900 | NEW CONSTRUCTION | 0.1715 | R | 1 | 503600 | 2022 | 3175 | THE PENINSULA | R-3 - PLANNED NBHD RESIDENTIAL |
| 20.880.100 | 154 NORTHWOOD DR | FRANKLIN ERNEST E | 14/04/2023 | 137000 | ARMS LENGTH TRANSACTION | 0.1722 | R | 1 | 115500 | 1954 | 1520 | NORTHWOOD | R-1C - SINGLE FAMILY RESIDENTIAL |
| 14.733.500 | 357 COCHRAN RD | BENDER LAWRENCE F JR | 14/04/2023 | 570000 | ARMS LENGTH TRANSACTION | 0.1687 | R | 1 | 373700 | 1936 | 1858 | CHEVY CHASE | R-1C - SINGLE FAMILY RESIDENTIAL |
| 16.458.590 | 346 OHIO ST | WATTS FAMILY PROPERTIES LLC | 14/04/2023 | 100000 | ARMS LENGTH TRANSACTION | 0.0884 | R | 1 | 80000 | 1900 | 2013 | DOWNTOWN | R-3 - PLANNED NBHD RESIDENTIAL |
| 19.986.650 | 248 GATEWAY PARK CIR | JOHNSON ROBIN RAE | 14/04/2023 | 250000 | ARMS LENGTH TRANSACTION | 0.1111 | R | 1 | 175000 | 1998 | 1324 | MASTERSON STATION 1A | R-1E - SINGLE FAMILY RESIDENTIAL |
| 20.117.860 | 3620 PHEASANT RUN | TWARDY MICHAEL AND ASHLEY | 14/04/2023 | 345000 | ARMS LENGTH TRANSACTION | 0.201 | R | 1 | 308700 | 1992 | 2316 | AUTUMN RIDGE 90 | R-1D - SINGLE FAMILY RESIDENTIAL |
| 23.634.817 | 3129 STARLING DR | COOK CATHY | 14/04/2023 | 408000 | ARMS LENGTH TRANSACTION | 0.2755 | R | 5 | 243100 | 1956 | 1242 | GLENDOVER | R-1C - SINGLE FAMILY RESIDENTIAL |
| 38.117.410 | 3024 MADDIE LN | LITTLEFIELD DERMOT | 14/04/2023 | 293101 | ARMS LENGTH TRANSACTION | 0.101 | R | 1 | 216000 | 2004 | 1720 | MASTERSON STATION IV | R-1E - SINGLE FAMILY RESIDENTIAL |
| 38.123.900 | 221 HAYS BLVD | BEST STUART AND KERRY | 14/04/2023 | 370000 | ARMS LENGTH TRANSACTION | 0.1198 | R | 1 | 339300 | 2006 | 2985 | WALNUT CREEK | EAR-1 - EXPANSION AREA RESIDENTIAL |
| 38.221.150 | 2424 CALENDULA RD | MARTIN SERGIO RAMIREZ | MORGUELAN GABRIELLE | 14/04/2023 | 475000 | ARMS LENGTH TRANSACTION | 0.1653 | R | 1 | 362700 | 2009 | 3008 | MYERS PROPERTY | R-3 - PLANNED NBHD RESIDENTIAL |
| 38.236.330 | 2760 SULLIVANS TRCE | CHAMBERS MONICA L AND RODNEY | 14/04/2023 | 335000 | ARMS LENGTH TRANSACTION | 0.1431 | R | 1 | 276000 | 2010 | 2202 | RAMSEY/SULLIVAN PROPERTY (KEARNEY RIDGE) | R-3 - PLANNED NBHD RESIDENTIAL |
| 38.272.610 | 2668 LUCCA PL | MIXON PATRICK AND KELLY RENEE | 14/04/2023 | 550200 | ARMS LENGTH TRANSACTION | 0.1753 | R | 1 | 524400 | 2022 | 2637 | TUSCANY 06 | R-3 - PLANNED NBHD RESIDENTIAL |
| 43.901.180 | 394 BASSETT AVE | LYONS PROPERTIES LLC | 14/04/2023 | 335000 | MULTIPLE PROPERTIES | 0.3343 | R | 1 | 112400 | 1930 | 1688 | WICKLIFFE | R-2 - TWO-FAMILY RESIDENTIAL |
| 53.978.900 | 3409 BELLEFONTE DR | HATFIELD TINA R | 14/04/2023 | 365000 | ARMS LENGTH TRANSACTION | 0.2708 | R | 1 | 281800 | 1960 | 2449 | BROOKHAVEN | R-1C - SINGLE FAMILY RESIDENTIAL |
| 10.023.590 | 3324 BUCKHORN DR | BLUE INK PROPERTIES LLC | 14/04/2023 | 133000 | ARMS LENGTH TRANSACTION | 0.2104 | R | 1 | 122200 | 1985 | 1110 | CENTURY HILLS | R-1C - SINGLE FAMILY RESIDENTIAL |
| 12.233.950 | 1611 RALEIGH RD | ZAGORSKI ERYK | 14/04/2023 | 245000 | ARMS LENGTH TRANSACTION | 0.264 | R | 1 | 222300 | 1961 | 1512 | EASTLAND PARK & PART OF DIXIE PLANTATION | R-1D - SINGLE FAMILY RESIDENTIAL |
| 17.288.000 | 883 PINKNEY DR | DILLON LUCAS | 14/04/2023 | 259900 | ARMS LENGTH TRANSACTION | 0.3334 | R | 1 | 178000 | 1965 | 1654 | PINE MEADOWS | R-1C - SINGLE FAMILY RESIDENTIAL |
| 20.017.680 | 300 SQUIRES RD | CRAWFORD KENNETH RAY TTEE | CRAWFORD FAMILY TRUST 4-6-23 | 14/04/2023 | 0 | AFFILIATED ORGANIZATIONS | 0.1436 | R | 1 | 195700 | 1986 | 1922 | COVE LAKE | R-1T - TOWNHOUSE RESIDENTIAL |
| 20.061.200 | 2206 CIRCLE DR | DONALDSON DONNITTA SUE AND JEFFERY EARL | 14/04/2023 | 189500 | ARMS LENGTH TRANSACTION | 0.2182 | R | 1 | 172000 | 1951 | 1647 | THOROUGHBRED | R-1C - SINGLE FAMILY RESIDENTIAL |
| 20.121.700 | 2094 RAMBLER RD | SLUSHER KENNEDY D | 14/04/2023 | 235000 | ARMS LENGTH TRANSACTION | 0.3244 | R | 1 | 220500 | 1957 | 1448 | DEERFIELD | R-1C - SINGLE FAMILY RESIDENTIAL |
| 20.767.600 | 123 HENTON RD | STINNETT REAL ESTATE LLC | 14/04/2023 | 120000 | ARMS LENGTH TRANSACTION | 0.2066 | R | 5 | 77900 | 1930 | 796 | OAK PARK & MELROSE | R-1C - SINGLE FAMILY RESIDENTIAL |
| 20.795.200 | 409 SHAWNEE AVE | 4M PROPERTIES OF LEXINGTON LLC | 14/04/2023 | 90000 | ARMS LENGTH TRANSACTION | 0.1205 | R | 1 | 53600 | 1930 | 1100 | HIGHLAWN | R-1C - SINGLE FAMILY RESIDENTIAL |
| 38.268.410 | 634 LUCILLE DR | EWL DORIAN | 14/04/2023 | 310000 | ARMS LENGTH TRANSACTION | 0.1342 | R | 1 | 279300 | 2018 | 1720 | GREENDALE HILLS | R-3 - PLANNED NBHD RESIDENTIAL |
| 38.268.410 | 634 LUCILLE DR | EWL DORIAN | 14/04/2023 | 310000 | OTHER | 0.1342 | R | 1 | 279300 | 2018 | 1720 | GREENDALE HILLS | R-3 - PLANNED NBHD RESIDENTIAL |
| 38.296.630 | 1156 MARLENA LN | BROCK COURTNEY L & BARRON ALEXANDRIA | 14/04/2023 | 368923 | NEW CONSTRUCTION | 0.1199 | R | 1 | 95300 | 2022 | 2644 | WOODWARD LANDER PROPERTY | R-3 - PLANNED NBHD RESIDENTIAL |
| 38.296.630 | 1156 MARLENA LN | BROCK COURTNEY L & BARRON ALEXANDRIA | 14/04/2023 | 368923 | NEW CONSTRUCTION | 0.1199 | R | 1 | 95300 | 2022 | 2644 | WOODWARD LANDER PROPERTY | R-3 - PLANNED NBHD RESIDENTIAL |
| 43.230.600 | 298 OWSLEY AVE | WISE BUILDERS LLC | 14/04/2023 | 190000 | ARMS LENGTH TRANSACTION | 0.1607 | R | 1 | 200000 | 1920 | 927 | WICKLIFFE | R-2 - TWO-FAMILY RESIDENTIAL |
| 43.897.325 | 1310 ROBERTSON AVE | LYONS PROPERTIES LLC | 14/04/2023 | 335000 | MULTIPLE PROPERTIES | 0.0735 | R | 1 | 40000 | | 0 | WICKLIFFE | R-2 - TWO-FAMILY RESIDENTIAL |
| 10.315.300 | 2044 BRIDGEPORT DR | BALL DONALD RAY III | 13/04/2023 | 1375000 | ARMS LENGTH TRANSACTION | 0.5892 | R | 1 | 913200 | 1973 | 5594 | LAKEVIEW | R-1B - SINGLE FAMILY RESIDENTIAL |
| 16.799.250 | 640 JACKSON ST | HUMPHREY LINDA C | 13/04/2023 | 0 | TRANSFER-TAX NOT PAID | 0.0864 | R | 1 | 121000 | 2003 | 900 | DOWNTOWN | R-3 - PLANNED NBHD RESIDENTIAL |
| 19.329.610 | 4548 CRANBROOK CT | THOMPSON MARY BETH | 13/04/2023 | 290000 | ARMS LENGTH TRANSACTION | 0.1826 | R | 1 | 200000 | 1996 | 1301 | MEADOW CREEK | R-1D - SINGLE FAMILY RESIDENTIAL |
| 38.296.550 | 1124 MARLENA LN | JORETTE KENNETH AND ANGELA | 13/04/2023 | 365081 | NEW CONSTRUCTION | 0.1202 | R | 1 | 151000 | 2022 | 2500 | WOODWARD LANDER PROPERTY | R-3 - PLANNED NBHD RESIDENTIAL |
| 13.925.900 | 817 WARFIELD PL | LOGAN ANNA L | 13/04/2023 | 0 | CLOSE RELATIVE SALES/TRANSFERS | 0.1934 | R | 1 | 131600 | 1948 | 1023 | THE MEADOWS | R-1C - SINGLE FAMILY RESIDENTIAL |
| 15.375.300 | 605 LESLIE DR | MARTIN EDDIE ROYCE | 13/04/2023 | 200000 | ARMS LENGTH TRANSACTION | 0.2222 | R | 1 | 155800 | 1962 | 1130 | THOROUGHBRED | R-1C - SINGLE FAMILY RESIDENTIAL |
| 38.295.710 | 725 HOLLYHOCK DR | OSBORN JAN | 13/04/2023 | 425290 | NEW CONSTRUCTION | 0.1575 | R | 2 | 425300 | 2022 | 2486 | MYERS PROPERTY | R-3 - PLANNED NBHD RESIDENTIAL |
| 10.027.720 | 111 WOODLAND AVE UNIT 808 | LAKERS CHRISTINE CHARLOTTE TRUSTEE | 13/04/2023 | 0 | TRANSFER-TAX NOT PAID | 0 | R | 1 | 435600 | 1985 | 1839 | THE WOODLANDS | B-2A - DOWNTOWN FRAME BUSINESS |
| 10.043.360 | 2940 TABOR OAKS LN | LINN LISA HELEN TTEE | NANCY LINN IRREVOCABLE TRUST 3-14-23 | 13/04/2023 | 0 | AFFILIATED ORGANIZATIONS | 0.1153 | R | 3 | 410200 | 1989 | 1785 | FOUR PINES 97 | R-3 - PLANNED NBHD RESIDENTIAL |
| 10.725.100 | 313 HOLLYHILL DR | BROWN RUSSELL AND LORA | 13/04/2023 | 91151 | OTHER | 0.241 | R | 1 | 161400 | 1954 | 1361 | SOUTHLAND & HILL N DALE | R-1C - SINGLE FAMILY RESIDENTIAL |
| 13.952.800 | 1307 STEPHEN FOSTER DR | PELPHREY MARJORIE | 13/04/2023 | 0 | CLOSE RELATIVE SALES/TRANSFERS | 0.241 | R | 1 | 131600 | 1967 | 1053 | MELODY VILLAGE & RIVER PARK | R-1C - SINGLE FAMILY RESIDENTIAL |
| 19.990.560 | 3616 GREEN PARK CT | TRAVIS ALLISON AND QUINTEN J | 13/04/2023 | 360000 | ARMS LENGTH TRANSACTION | 0.1626 | R | 1 | 265500 | 1999 | 1643 | FAIRWAYS AT LAKESIDE 96 | R-3 - PLANNED NBHD RESIDENTIAL |
| 38.081.080 | 2297 GUILFORD LN UNIT 1203 | HAY ERNA L | 13/04/2023 | 400000 | ARMS LENGTH TRANSACTION | 0 | R | 3 | 366800 | 2004 | 2055 | HERITAGE PLACE 00 | R-3 - PLANNED NBHD RESIDENTIAL |
| 38.294.790 | 1505 FLEMISHBOND PATH | HERRERA JONATHAN AND ANGELA | 13/04/2023 | 414900 | NEW CONSTRUCTION | 0.1191 | R | 1 | 375000 | 2022 | 2776 | BLACKFORD PROPERTY III | EAR-1 - EXPANSION AREA RESIDENTIAL |
| 10.036.400 | 704 EDEN CT | BETAZA MAURICIO GARCIA | 12/04/2023 | 205000 | 1ST SALE AFTER FORECLOSURE | 0.2469 | R | 1 | 165700 | 1967 | 1335 | THOROUGHBRED | R-2 - TWO-FAMILY RESIDENTIAL |
| 16.867.221 | 3436 SUTHERLAND DR | RED BIRD PROPERTIES LLC | 12/04/2023 | 163888 | CHANGED TRANSFERRED SALE | 0.039 | R | 1 | 80300 | 1974 | 1102 | PIMLICO & SUTHERLAND DR | R-1T - TOWNHOUSE RESIDENTIAL |
| 20.140.470 | 717 MAPLE RIDGE LN | NORRIS NICHOLAS E AND MYRIAD | 12/04/2023 | 459900 | ARMS LENGTH TRANSACTION | 0.2405 | R | 1 | 335800 | 1993 | 3182 | AUTUMN RIDGE 90 | R-1D - SINGLE FAMILY RESIDENTIAL |
| 20.029.560 | 1721 FOX HEAD CT | SHEFFIELD HEATHER MICHELLE | 12/04/2023 | 0 | TRANSFER-TAX NOT PAID | 0.2627 | R | 1 | 204300 | 1986 | 1664 | SQUIRE OAK | R-1C - SINGLE FAMILY RESIDENTIAL |
| 25.180.000 | 1104 WAYLAND CT | WHEELOCK LLC | 12/04/2023 | 94000 | ARMS LENGTH TRANSACTION | 0.3212 | R | 5 | 81900 | 1940 | 633 | OAK PARK & MELROSE | R-1C - SINGLE FAMILY RESIDENTIAL |
| 26.275.600 | 641 STRATFORD DR | 814 PROPERTIES LLC | 12/04/2023 | 160000 | ARMS LENGTH TRANSACTION | 0.1653 | R | 5 | 139900 | 1952 | 1025 | SOUTHLAND & ROSEMILL | R-1C - SINGLE FAMILY RESIDENTIAL |
| 26.275.600 | 641 STRATFORD DR | 814 PROPERTIES LLC | 12/04/2023 | 176500 | ANNUAL TWICE-SOLD PROPERTY | 0.1653 | R | 5 | 139900 | 1952 | 1025 | SOUTHLAND & ROSEMILL | R-1C - SINGLE FAMILY RESIDENTIAL |
| 41.033.500 | 310 PRESTON AVE | VIRTUE CECILIA | 12/04/2023 | 20687 | PARTIAL SALES | 0.1871 | R | 1 | 158000 | 1986 | 1080 | WICKLIFFE | R-2 - TWO-FAMILY RESIDENTIAL |
| 51.189.700 | 213 LEAWOOD DR | UG CAM LLC | 12/04/2023 | 234400 | OTHER | 0.2773 | R | 4 | 266600 | 1961 | 2246 | BROOKHAVEN | R-1C - SINGLE FAMILY RESIDENTIAL |
| 51.189.700 | 213 LEAWOOD DR | UG CAM LLC | 12/04/2023 | 295000 | ARMS LENGTH TRANSACTION | 0.2773 | R | 4 | 266600 | 1961 | 2246 | BROOKHAVEN | R-1C - SINGLE FAMILY RESIDENTIAL |
| 10.278.775 | 500 LAKETOWER DR UNIT 83 | BANGASH AJMAL H AND SHEHER | 12/04/2023 | 277000 | ARMS LENGTH TRANSACTION | 0.0509 | R | 1 | 170600 | 1977 | 2086 | 500-543 LAKETOWER | R-4 - HIGH DENSITY APARTMENT |
| 10.029.510 | 3410 SPANGLER DR UNIT 18 | KEENE DAVID | 12/04/2023 | 0 | AFFILIATED ORGANIZATIONS | 0.0458 | R | 1 | 209300 | 1986 | 1587 | SPANGLER DRIVE | R-3 - PLANNED NBHD RESIDENTIAL |
| 10.029.510 | 3410 SPANGLER DR UNIT 18 | KEENE DAVID | 13/03/2023 | 170000 | OTHER | 0.0458 | R | 1 | 209300 | 1986 | 1587 | SPANGLER DRIVE | R-3 - PLANNED NBHD RESIDENTIAL |
| 38.012.520 | 2532 DRESSAGE WAY | GOLAS STEVEN AND REBECCA | 12/04/2023 | 0 | TRANSFER-TAX NOT PAID | 0.343 | R | 1 | 367300 | 2002 | 3848 | PARTERRE PLACE | R-1C - SINGLE FAMILY RESIDENTIAL |
| 38.012.520 | 2532 DRESSAGE WAY | GOLAS STEVEN AND REBECCA | 12/04/2023 | 428000 | ARMS LENGTH TRANSACTION | 0.343 | R | 1 | 367300 | 2002 | 3848 | PARTERRE PLACE | R-1C - SINGLE FAMILY RESIDENTIAL |
| 38.296.590 | 1140 MARLENA RD | ERFANI SARA | 12/04/2023 | 321409 | NEW CONSTRUCTION | 0.1029 | R | 1 | 142200 | 2023 | 2080 | WOODWARD LANDER PROPERTY | R-3 - PLANNED NBHD RESIDENTIAL |
| 47.224.700 | 1496 1498 N BROADWAY | GREEN MILE PROPERTIES LLC | 11/04/2023 | 252500 | ARMS LENGTH TRANSACTION | 0.2439 | C | 1 | 190000 | 1951 | 1693 | NORTHSIDE | P-1 - PROFESSIONAL OFFICE |
| 10.428.357 | 453 E MAXWELL ST | REAL EQUITY LLC | 11/04/2023 | 500000 | MULTIPLE PROPERTIES | 0.1736 | M | 1 | 224800 | 1950 | 6170 | UNIVERSITY | R-3 - PLANNED NBHD RESIDENTIAL |
| 12.306.450 | 627 SILVERLEAF DR | BACK JOSEPH | 11/04/2023 | 138000 | ARMS LENGTH TRANSACTION | 0.1905 | R | 1 | 130000 | 1966 | 1300 | DEEP SPRINGS PRT OF DIXIE HERMITAGE HILL | R-1D - SINGLE FAMILY RESIDENTIAL |
| 13.927.000 | 707 BULLOCK PL | MAURY KENT | 11/04/2023 | 841500 | ARMS LENGTH TRANSACTION | 0.2135 | R | 1 | 654200 | 1922 | 3694 | BELL CT (AREA) | R-1D - SINGLE FAMILY RESIDENTIAL |
| 15.173.650 | 717 DAMEL CT | JUDY NICHOLAS TUCKER | 11/04/2023 | 280000 | ARMS LENGTH TRANSACTION | 0.44 | R | 1 | 165000 | 1967 | 1509 | THOROUGHBRED | R-1C - SINGLE FAMILY RESIDENTIAL |
| 15.173.650 | 717 DAMEL CT | JUDY NICHOLAS TUCKER | 24/03/2023 | 0 | AFFILIATED ORGANIZATIONS | 0.44 | R | 1 | 165000 | 1967 | 1509 | THOROUGHBRED | R-1C - SINGLE FAMILY RESIDENTIAL |
| 20.120.510 | 5201 MT HOREB PIKE | ELAM JENNIFER J | 11/04/2023 | 0 | OTHER | 40.5 | F | 2 | 1712200 | | 0 | NORTHWEST QUADRANT | A-R - AGRICULTURAL RURAL |
| 23.442.550 | 326 JESSELIN DR | SKAGGS CHARLES B AND REBECCA S | 11/04/2023 | 448000 | ARMS LENGTH TRANSACTION | 0.3972 | R | 5 | 335400 | 1960 | 2354 | GLENDOVER | R-1C - SINGLE FAMILY RESIDENTIAL |
| 38.198.650 | 744 GREENDALE RD | BALL HOMES LLC | 11/04/2023 | 0 | QUIT CLAIM DEED | 13.45 | R | 2 | 1490600 | | 0 | MYERS PROPERTY | R-3 - PLANNED NBHD RESIDENTIAL |
| 10.428.358 | 451 E MAXWELL ST | REAL EQUITY LLC | 11/04/2023 | 500000 | MULTIPLE PROPERTIES | 0.1846 | M | 1 | 262200 | 1950 | 3264 | UNIVERSITY | R-3 - PLANNED NBHD RESIDENTIAL |
| 14.362.500 | 556 SEVERN WAY | MEADE PHILLIP TRUSTEE | 11/04/2023 | 0 | TRANSFER-TAX NOT PAID | 0.2455 | R | 1 | 202900 | 1967 | 1668 | OPEN GATES | R-1C - SINGLE FAMILY RESIDENTIAL |
| 19.344.750 | 121 ELLEMOOR LN | MALUKA TRESOR | 11/04/2023 | 235000 | ARMS LENGTH TRANSACTION | 0.0935 | R | 1 | 148500 | 1996 | 1208 | SQUIRES WOODS 96 | R-1E - SINGLE FAMILY RESIDENTIAL |
| 38.025.170 | 1237 LITCHFIELD LN | HARDIN ROBERT LESLIE TRUSTEE | HARDIN CATHERINE CARLETON TRUSTEE | 11/04/2023 | 0 | TRANSFER-TAX NOT PAID | 0.2076 | R | 1 | 475400 | 2000 | 4272 | BEAUMONT FARM 94 | R-1C - SINGLE FAMILY RESIDENTIAL |
| 38.046.090 | 937 VILLAGE GREEN AVE | REYNOLDS DIANA B TTEE | DIANA BOWEN REYNOLDS LVG TRUST 3-24-23 | 11/04/2023 | 0 | AFFILIATED ORGANIZATIONS | 0.186 | R | 1 | 430100 | 2001 | 2690 | WEST WIND SUBDIVISION 00 | R-3 - PLANNED NBHD RESIDENTIAL |
| 38.174.740 | 1440 HUME RD | WOOD BRIAN C AND DENISE KRISTIN | 11/04/2023 | 0 | AFFILIATED ORGANIZATIONS | 0.2839 | C | 2 | 250000 | | 0 | RURAL & MISC | A-R - AGRICULTURAL RURAL |
| 38.091.390 | 2344 PRESCOTT LN | ROGOV SEMEN | 11/04/2023 | 0 | CLOSE RELATIVE SALES/TRANSFERS | 0.1463 | R | 1 | 204300 | 2003 | 1466 | GIVENS PROPERTY (BELMONT PLACE) | R-3 - PLANNED NBHD RESIDENTIAL |
| 10.034.690 | 101 S HANOVER AVE UNIT 3E | RUPARD LORETTA | 11/04/2023 | 0 | CLOSE RELATIVE SALES/TRANSFERS | 0 | R | 1 | 195000 | 1964 | 745 | HANOVER TOWERS | R-4 - HIGH DENSITY APARTMENT |
| 20.046.200 | 2470 BRYAN STATION RD | WOOD BRIAN C AND DENISE KRISTIN | 11/04/2023 | 0 | AFFILIATED ORGANIZATIONS | 86.7605 | F | 2 | 1016600 | | 0 | NORTHEAST QUADRANT | A-R - AGRICULTURAL RURAL |
| 25.586.450 | 458 PLYMOUTH DR | HOGG ANDREW W AND KRISTEN T | 11/04/2023 | 280000 | ARMS LENGTH TRANSACTION | 0.2218 | R | 4 | 166300 | 1970 | 1161 | MONTICELLO | R-1C - SINGLE FAMILY RESIDENTIAL |
| 38.064.570 | 880 HIDDEN STREAM DR | KENDALL PROPERTIES LLC | 11/04/2023 | 130000 | OTHER | 0.153 | R | 1 | 202700 | 2002 | 1463 | COLDSTREAM STATION | R-1E - SINGLE FAMILY RESIDENTIAL |
| 38.274.320 | 2374 CALENDULA RD | CHILTON PROPERTIES LLC | 11/04/2023 | 0 | QUIT CLAIM DEED | 0.1915 | R | 1 | 354000 | 2018 | 3384 | MYERS PROPERTY | R-3 - PLANNED NBHD RESIDENTIAL |
| 38.274.320 | 2374 CALENDULA RD | CHILTON PROPERTIES LLC | 17/03/2023 | 1291173 | AFFILIATED ORGANIZATIONS | 0.1915 | R | 1 | 354000 | 2018 | 3384 | MYERS PROPERTY | R-3 - PLANNED NBHD RESIDENTIAL |
| 38.007.420 | 2425 DANBY WOODS CIR | HARRIS JASON MATTHEW AND SHANNON MARIE | 10/04/2023 | 236000 | ARMS LENGTH TRANSACTION | 0.1149 | R | 1 | 177900 | 2000 | 1568 | DANBY CORNERS UNIT 1A 98 | R-3 - PLANNED NBHD RESIDENTIAL |
| 38.123.730 | 232 JANE BRIGGS AVE | SEITZ ERIK DANIEL AND SAMANTHA BROOKE | 10/04/2023 | 480000 | ARMS LENGTH TRANSACTION | 0.2391 | R | 1 | 384800 | 2004 | 2988 | RICHARDSON PROPERTY | EAR-2 - EXPANSION AREA RESIDENTIAL |
| 38.292.900 | 3589 BAY SPRINGS PARK | GAUNCE WESLEY AND KINZIE GREGG | 10/04/2023 | 464900 | NEW CONSTRUCTION | 0.1375 | R | 1 | 364000 | 2022 | 2662 | BLACKFORD PROPERTY III | EAR-1 - EXPANSION AREA RESIDENTIAL |
| 11.350.625 | 108 BROWN AVE | DOWNING MARTIN | 10/04/2023 | 100000 | ARMS LENGTH TRANSACTION | 0.1761 | R | 5 | 71200 | 1940 | 915 | LEXINGTON MANOR | R-1C - SINGLE FAMILY RESIDENTIAL |
| 11.992.200 | 1004 CASTLETON WAY | ZEPS MONIKA A | 10/04/2023 | 357000 | ARMS LENGTH TRANSACTION | 0.2994 | R | 1 | 262400 | 1960 | 1926 | GAINESWAY | R-1C - SINGLE FAMILY RESIDENTIAL |
| 14.481.300 | 2445 WANDA CT | MITCHELL GARY WAYNE AND ALMA ROSE | 10/04/2023 | 0 | CLOSE RELATIVE SALES/TRANSFERS | 0.2135 | R | 1 | 174600 | 1966 | 1361 | THOROUGHBRED | R-1C - SINGLE FAMILY RESIDENTIAL |
| 14.720.000 | 1841 COURTLAND DR | ARREOLA ELIZABETH AND ANGELICA | 10/04/2023 | 219000 | ARMS LENGTH TRANSACTION | 0.1928 | R | 1 | 116300 | 1964 | 1026 | HI ACRES | R-1D - SINGLE FAMILY RESIDENTIAL |
| 16.815.800 | 1931 1933 FONTAINE RD | WARNER LEA R | 10/04/2023 | 0 | CLOSE RELATIVE SALES/TRANSFERS | 0.4236 | R | 1 | 427300 | 1957 | 3832 | LAKEVIEW | R-2 - TWO-FAMILY RESIDENTIAL |
| 17.192.500 | 268 DERBY DR | SCOTT NICOLAS AND ANN B | 10/04/2023 | 200000 | ARMS LENGTH TRANSACTION | 0.1584 | R | 1 | 145000 | 1972 | 1000 | DEERFIELD | R-1D - SINGLE FAMILY RESIDENTIAL |
| 23.996.927 | 1812 HOPEMONT CT | ALDAMUY CHRISTOPHER V AND MILLIE L | 10/04/2023 | 320000 | OTHER | 0.241 | R | 4 | 220000 | 1978 | 2175 | PLANTATION A | R-1T - TOWNHOUSE RESIDENTIAL |
| 23.996.927 | 1812 HOPEMONT CT | ALDAMUY CHRISTOPHER V AND MILLIE L | 10/04/2023 | 320000 | ARMS LENGTH TRANSACTION | 0.241 | R | 4 | 220000 | 1978 | 2175 | PLANTATION A | R-1T - TOWNHOUSE RESIDENTIAL |
| 26.166.503 | 4121 FORSYTHE DR | DEROSSETT GROUP LLC | 30/03/2023 | 178500 | OTHER | 0.2583 | R | 4 | 252600 | 1979 | 2640 | PLANTATION A | R-1C - SINGLE FAMILY RESIDENTIAL |
| 26.166.503 | 4121 FORSYTHE DR | DEROSSETT GROUP LLC | 10/04/2023 | 247200 | ARMS LENGTH TRANSACTION | 0.2583 | R | 4 | 252600 | 1979 | 2640 | PLANTATION A | R-1C - SINGLE FAMILY RESIDENTIAL |
| 27.123.450 | 3053 STANFORD DR | DURBIN REGINA M | 10/04/2023 | 150000 | OTHER | 0.2073 | R | 5 | 150000 | 1963 | 1548 | BLUEBERRY HILLS | R-1C - SINGLE FAMILY RESIDENTIAL |
| 32.138.521 | 840 MALABU DR UNIT 210 | ISKULAZ HOLDINGS LLC | 10/04/2023 | 87500 | ARMS LENGTH TRANSACTION | 0 | R | 4 | 73900 | 1968 | 660 | FOUNTAIN SQUARE | R-3 - PLANNED NBHD RESIDENTIAL |
| 38.236.480 | 1787 BATTERY ST | BISHOYI BIMAL AND SNIGDHA | 10/04/2023 | 555000 | ARMS LENGTH TRANSACTION | 0.2037 | R | 1 | 510000 | 2013 | 3525 | SUMMERFIELD | R-3 - PLANNED NBHD RESIDENTIAL |
| 46.661.700 | 285 HILLSBORO AVE | WELLS MATTHEW | 10/04/2023 | 351000 | ARMS LENGTH TRANSACTION | 0.2066 | R | 5 | 339400 | 1951 | 1848 | MEADOWTHORPE | R-1C - SINGLE FAMILY RESIDENTIAL |
| 23.242.600 | 3688 ROYSTER RD | HAYES MARGARET C | 10/04/2023 | 0 | CLOSE RELATIVE SALES/TRANSFERS | 1.7 | R | 2 | 147000 | 1962 | 1008 | RURAL UNDER 10 ACRES NE QUAD | R-1D - SINGLE FAMILY RESIDENTIAL |
| 12.674.100 | 3216 KIRKLEVINGTON DR | WARNER LEA R | 10/04/2023 | 0 | CLOSE RELATIVE SALES/TRANSFERS | 0.0807 | R | 1 | 147800 | 1974 | 1200 | KIRKLEVINGTON DRIVE | R-3 - PLANNED NBHD RESIDENTIAL |
| 12.919.600 | 2024 DORSET DR | DURBIN REGINA M | 10/04/2023 | 155000 | ARMS LENGTH TRANSACTION | 0.2066 | R | 1 | 138000 | 1960 | 1050 | CARDINAL VALLEY | R-1C - SINGLE FAMILY RESIDENTIAL |
| 14.236.300 | 2091 RAINBOW RD | STAGGS DEBBIE REED | 10/04/2023 | 280000 | ARMS LENGTH TRANSACTION | 0.2376 | R | 5 | 145900 | 1972 | 1233 | DEERFIELD | R-1C - SINGLE FAMILY RESIDENTIAL |
| 20.026.650 | 708 LORI LN | MAIPHAM LLC | 10/04/2023 | 0 | AFFILIATED ORGANIZATIONS | 0.1398 | R | 1 | 151800 | 1986 | 1307 | BELLEAU WOOD & WALDEN GROVE | R-1D - SINGLE FAMILY RESIDENTIAL |
| 20.026.650 | 708 LORI LN | MAIPHAM LLC | 05/04/2023 | 0 | PARTIAL SALES | 0.1398 | R | 1 | 151800 | 1986 | 1307 | BELLEAU WOOD & WALDEN GROVE | R-1D - SINGLE FAMILY RESIDENTIAL |
| 20.084.240 | 913 PALOMINO LN | KEICHER ELISSA M | 10/04/2023 | 0 | CLOSE RELATIVE SALES/TRANSFERS | 0.1209 | R | 6 | 354300 | 1989 | 2591 | SHADOW BROOK & RABBIT RUN | R-3 - PLANNED NBHD RESIDENTIAL |
| 20.137.320 | 2664 FIRESIDE CIR | WITT WILLIAM ETHAN AND BAILEY | 10/04/2023 | 500000 | ARMS LENGTH TRANSACTION | 0.2365 | R | 1 | 376400 | 1993 | 2495 | FIREBROOK 91 | R-3 - PLANNED NBHD RESIDENTIAL |
| 38.000.630 | 1625 NICHOLASVILLE RD UNIT 101 | LIU DINGYANG | 10/04/2023 | 0 | CLOSE RELATIVE SALES/TRANSFERS | 0.0528 | R | 1 | 198200 | 1997 | 1532 | COACHLIGHT WOODS | R-4 - HIGH DENSITY APARTMENT |
| 38.114.180 | 757 ROSSLYNS DALE | BOND CYNTHIA | 10/04/2023 | 365100 | ARMS LENGTH TRANSACTION | 0.1186 | R | 1 | 266700 | 2004 | 2296 | SUNNY SLOPE FARM | R-3 - PLANNED NBHD RESIDENTIAL |
| 20.025.280 | 1096 STOWBRIDGE LN | COMLEY NATHAN SCOTT AND JEFFIFER DIANE | 10/04/2023 | 489900 | ARMS LENGTH TRANSACTION | 0.2428 | R | 1 | 380000 | 1987 | 4212 | CUMBERLAND HILL | R-1C - SINGLE FAMILY RESIDENTIAL |
| 38.154.800 | 3621 BEATEN PATH | NAPIER BAYLOR | 10/04/2023 | 295000 | ARMS LENGTH TRANSACTION | 0.108 | R | 1 | 247200 | 2006 | 1533 | NEWMARKET PROPERTY | EAR-2 - EXPANSION AREA RESIDENTIAL |
| 38.175.650 | 681 ESTRELLA DR | SPANN MICHAEL | 10/04/2023 | 279900 | ARMS LENGTH TRANSACTION | 0.1188 | R | 1 | 279000 | 2016 | 1570 | GREENDALE HILLS | R-3 - PLANNED NBHD RESIDENTIAL |
| 20.086.560 | 1329 COPPERFIELD CT | WICKER BROOKE A AND AUSTIN B | 07/04/2023 | 422500 | ARMS LENGTH TRANSACTION | 0.1928 | R | 1 | 381800 | 1990 | 3070 | COPPERFIELD | R-1D - SINGLE FAMILY RESIDENTIAL |
| 20.110.070 | 627 FOREST HILL DR | MESSER PATRICK SHANNON TRUSTEE | 07/04/2023 | 0 | TRANSFER-TAX NOT PAID | 0.144 | R | 1 | 375800 | 1990 | 3499 | FOREST HILLS | R-3 - PLANNED NBHD RESIDENTIAL |
| 38.026.530 | 2068 CORIANDER LN | HIGGINS PHILLIP J AND JESSICA R | 07/04/2023 | 0 | CLOSE RELATIVE SALES/TRANSFERS | 0.101 | R | 1 | 211900 | 2000 | 1584 | BLUEGRASS WILKES 99 | R-3 - PLANNED NBHD RESIDENTIAL |
| 12.642.050 | 517 MT TABOR RD | BARKER VIRGINIA D | 07/04/2023 | 0 | PARTIAL SALES | 0.2089 | R | 1 | 156900 | 1969 | 1737 | MT TABOR HEIGHTS | R-1D - SINGLE FAMILY RESIDENTIAL |
| 19.315.700 | 280 FOREST HILL DR | STREMPH INVESTMENTS LLC | 07/04/2023 | 275000 | ARMS LENGTH TRANSACTION | 0.1075 | R | 1 | 228400 | 1994 | 1411 | FOREST HILLS | R-4 - HIGH DENSITY APARTMENT |
| 19.327.570 | 983 FOREST LAKE DR | LUND DOUGLAS RANDOLPH | LUND MARGARET ROSE | 07/04/2023 | 340000 | ARMS LENGTH TRANSACTION | 0.1843 | R | 1 | 252900 | 1996 | 2067 | WOODFIELD 89 | R-1C - SINGLE FAMILY RESIDENTIAL |
| 19.968.750 | 3624 BOXLEA WAY | NI GUANG | 07/04/2023 | 395500 | ARMS LENGTH TRANSACTION | 0.1769 | R | 1 | 230000 | 1997 | 2310 | HARTLAND 1A 85 | R-4 - HIGH DENSITY APARTMENT |
| 20.030.960 | 958 CHARWOOD DR | KING JAMES T JR AND NANCY A | 13/03/2023 | 275000 | OTHER | 0.1837 | R | 1 | 257500 | 1986 | 1424 | ASHMOOR | R-1D - SINGLE FAMILY RESIDENTIAL |
| 20.030.960 | 958 CHARWOOD DR | KING JAMES T JR AND NANCY A | 07/04/2023 | 275000 | ARMS LENGTH TRANSACTION | 0.1837 | R | 1 | 257500 | 1986 | 1424 | ASHMOOR | R-1D - SINGLE FAMILY RESIDENTIAL |
| 20.057.590 | 3804 MIMOSA LN | BROWNING NATHAN AND BETH | 07/04/2023 | 245000 | CHANGED TRANSFERRED SALE | 0.1616 | R | 1 | 165000 | 1993 | 1772 | PARK PLACE 88 | R-3 - PLANNED NBHD RESIDENTIAL |
| 20.276.746 | 1221 KALONE WAY | MWADJA VITA | 07/04/2023 | 315000 | ARMS LENGTH TRANSACTION | 0.2181 | R | 1 | 250800 | 1979 | 2457 | CENTURY HILLS | R-1T - TOWNHOUSE RESIDENTIAL |
| 21.900.600 | 361 NORTHWOOD DR | KELLEY TRACEY D AND MARCELLA L | 07/04/2023 | 125000 | ARMS LENGTH TRANSACTION | 0.1722 | R | 1 | 95000 | 1950 | 780 | NORTHWOOD | R-1C - SINGLE FAMILY RESIDENTIAL |
| 23.933.200 | 206 ABERDEEN DR | CLIFFORD MARK DANIIEL AND MARYLAND PAIGE | 07/04/2023 | 275000 | ARMS LENGTH TRANSACTION | 0.2146 | R | 5 | 152500 | 1965 | 1175 | LOCHNESS/BRIGADOON | R-1C - SINGLE FAMILY RESIDENTIAL |
| 24.264.950 | 374 TANGLEY WAY | ESTRIDGE AUSTIN AND CARSON | 07/04/2023 | 237000 | ARMS LENGTH TRANSACTION | 0.3718 | R | 5 | 191700 | 1967 | 1290 | DEVONDALE | R-1D - SINGLE FAMILY RESIDENTIAL |
| 38.111.460 | 3748 POLO CLUB BLVD | GILLSTRAP ASHLEY | 07/04/2023 | 352000 | ARMS LENGTH TRANSACTION | 0.1038 | R | 1 | 320100 | 2005 | 2267 | NEWMARKET PROPERTY | EAR-2 - EXPANSION AREA RESIDENTIAL |
| 38.190.240 | 3252 TIBURON WAY | MCGINNIS BENJAMIN | KOROSTINA DARIA | 07/04/2023 | 268000 | ARMS LENGTH TRANSACTION | 0.1205 | R | 1 | 218800 | 2006 | 1518 | WOODWARD LANDER PROPERTY | R-3 - PLANNED NBHD RESIDENTIAL |
| 38.210.700 | 2245 POKEBERRY PARK | CREEKMORE CHELSEA | 07/04/2023 | 340000 | ARMS LENGTH TRANSACTION | 0.2052 | R | 1 | 282500 | 2009 | 1831 | CLARK PROPERTY | EAR-2 - EXPANSION AREA RESIDENTIAL |
| 38.288.750 | 727 WINDFLOWER WAY | KARLSON NICHOLAS AND TESS | 07/04/2023 | 459900 | NEW CONSTRUCTION | 0.2033 | R | 1 | 362600 | 2022 | 3395 | MYERS PROPERTY | R-3 - PLANNED NBHD RESIDENTIAL |
| 10.016.260 | 3440 LAREDO DR | PATTERSON STEVEN LOUIS AND DANIELLE | 07/04/2023 | 239000 | ARMS LENGTH TRANSACTION | 0.0972 | R | 1 | 186000 | 1984 | 1618 | LAREDO DRIVE & REDCOACH TRAIL | R-3 - PLANNED NBHD RESIDENTIAL |
| 10.005.100 | 3552 LAREDO DR | SCHMECKPEPER PATRICK | 07/04/2023 | 144000 | ARMS LENGTH TRANSACTION | 0.0583 | R | 1 | 116300 | 1982 | 1056 | GATEWOOD CT & LAREDO DR | R-3 - PLANNED NBHD RESIDENTIAL |
| 11.160.400 | 1544 BAL HARBOR CT | PIATT ELIZABETH A | 07/04/2023 | 240000 | CHANGED TRANSFERRED SALE | 0.2674 | R | 1 | 115000 | 1971 | 1250 | MELODY VILLAGE & RIVER PARK | R-1C - SINGLE FAMILY RESIDENTIAL |
| 14.343.200 | 2209 EASTWAY DR | GRAY AVERY | 07/04/2023 | 299900 | ARMS LENGTH TRANSACTION | 0.2066 | R | 1 | 185000 | 1953 | 1350 | SOUTHLAND & HILL N DALE | R-2 - TWO-FAMILY RESIDENTIAL |
| 14.716.517 | 3420 SIMCOE CT | SCHULTE MARK AND RIZZA | 07/04/2023 | 402500 | CHANGED TRANSFERRED SALE | 0.3323 | R | 1 | 221500 | 1983 | 2652 | LANSDOWNE MERRICK | R-1C - SINGLE FAMILY RESIDENTIAL |
| 20.098.630 | 4301 SOUTHMOOR PARK | NICKODEM PATRICK G AND JACALYN V | 07/04/2023 | 318000 | ARMS LENGTH TRANSACTION | 0.2413 | R | 1 | 246000 | 1992 | 1693 | WYNDHAM DOWNS | PUD-1 - PLANNED UNIT DEVELOPMENT |
| 20.836.500 | 1058 DELLA DR | FOSTER NATALIE KIMBERLY | 07/04/2023 | 250000 | ARMS LENGTH TRANSACTION | 0.3576 | R | 5 | 210000 | 1959 | 1974 | GARDENSIDE PROSPECT HILL & SKY CREST | R-1C - SINGLE FAMILY RESIDENTIAL |
| 38.287.810 | 2587 PIERO WAY | PREMIER HOME BUILDERS LLC | 07/04/2023 | 190000 | VACANT LOTS/ BUILDERS | 0.2981 | R | 1 | 121000 | | 0 | TUSCANY 06 | R-3 - PLANNED NBHD RESIDENTIAL |
| 13.604.865 | 1708 BILOXI CT | COBB JESSICA DANIELLE | COBB BRIDGETTE NICOLE | 06/04/2023 | 218000 | CHANGED TRANSFERRED SALE | 0.1515 | R | 1 | 140000 | 1963 | 1694 | DEEP SPRINGS PRT OF DIXIE HERMITAGE HILL | R-1D - SINGLE FAMILY RESIDENTIAL |
| 10.044.350 | 3604 HIDDEN POND RD | WILCOXSON MARY CATHERINE | 06/04/2023 | 0 | TRANSFER-TAX NOT PAID | 0.3966 | R | 3 | 869700 | 2001 | 5761 | CASTLEGATE 88 | R-1C - SINGLE FAMILY RESIDENTIAL |
| 10.620.350 | 2021 LAKESIDE DR | BRABANT KENT W AND ANNE | 06/04/2023 | 300000 | PARTIAL SALES | 0.4878 | R | 1 | 610800 | 1969 | 3668 | LAKEVIEW ISLAND | R-1B - SINGLE FAMILY RESIDENTIAL |
| 10.620.350 | 2021 LAKESIDE DR | BRABANT KENT W AND ANNE | 30/03/2023 | 0 | TRANSFER-TAX NOT PAID | 0.4878 | R | 1 | 610800 | 1969 | 3668 | LAKEVIEW ISLAND | R-1B - SINGLE FAMILY RESIDENTIAL |
| 10.620.350 | 2021 LAKESIDE DR | BRABANT KENT W AND ANNE | 06/04/2023 | 0 | CLOSE RELATIVE SALES/TRANSFERS | 0.4878 | R | 1 | 610800 | 1969 | 3668 | LAKEVIEW ISLAND | R-1B - SINGLE FAMILY RESIDENTIAL |
| 17.086.950 | 858 ANGLIANA AVE | MOLNAR NICHOLAS J | 06/04/2023 | 0 | CLOSE RELATIVE SALES/TRANSFERS | 0.1492 | R | 1 | 58100 | 1930 | 1120 | CURRY AVE RED MILE & ANGLIANA | B-4 - WAREHOUSE/ WHOLESALE BUSINESS |
| 38.043.440 | 2620 MABLE LN | YOUNG BARBARA AND HAROLD | 06/04/2023 | 0 | CLOSE RELATIVE SALES/TRANSFERS | 0.0976 | R | 1 | 174600 | 2001 | 1324 | MASTERSON STATION II | R-3 - PLANNED NBHD RESIDENTIAL |
| 38.051.190 | 261 SPRING VALLEY LN | LINTON DAVIS CONEISHA | DAVIS RICARDO | 06/04/2023 | 310000 | ARMS LENGTH TRANSACTION | 0.111 | R | 1 | 203100 | 2002 | 1872 | MASTERSON STATION II | R-3 - PLANNED NBHD RESIDENTIAL |
| 38.054.040 | 2796 MICHELLE PARK | YOUNG BARBARA AND HAROLD | 06/04/2023 | 0 | CLOSE RELATIVE SALES/TRANSFERS | 0.125 | R | 1 | 199700 | 2002 | 1378 | GREAT ACRES | R-3 - PLANNED NBHD RESIDENTIAL |
| 38.270.650 | 949 BRAVINGTON WAY | MOORE JAMES TYLOR | HERRERA LEAH TAPARRA | 06/04/2023 | 509900 | NEW CONSTRUCTION | 0.4472 | R | 4 | 275500 | | 0 | HIGBY WOODS 00 | R-1C - SINGLE FAMILY RESIDENTIAL |
| 10.359.300 | 639 N LIMESTONE | NIQUETTE REALTY LLC | 06/04/2023 | 275250 | ARMS LENGTH TRANSACTION | 0.0961 | R | 1 | 215000 | 1900 | 1085 | DOWNTOWN WEST | R-3 - PLANNED NBHD RESIDENTIAL |
| 14.088.550 | 2699 PENWAY CT | MOURAD WALEED | 06/04/2023 | 105100 | MASTER COMMISSIONER SALE | 0.2447 | R | 1 | 90000 | 1967 | 1025 | MT TABOR HEIGHTS | R-1D - SINGLE FAMILY RESIDENTIAL |
| 15.354.300 | 1414 OAK HILL DR | AGUILAR FABIAN | 06/04/2023 | 163000 | ARMS LENGTH TRANSACTION | 0.1423 | R | 1 | 130200 | 1928 | 1068 | THE MEADOWS | R-1C - SINGLE FAMILY RESIDENTIAL |
| 19.970.890 | 4161 BETHEL RD | DOUBLE A INVESTMENTS LLC | 06/04/2023 | 430000 | ARMS LENGTH TRANSACTION | 10 | F | 2 | 380700 | 1996 | 1344 | NORTHWEST QUADRANT | A-R - AGRICULTURAL RURAL |
| 19.970.890 | 4161 BETHEL RD | DOUBLE A INVESTMENTS LLC | 06/04/2023 | 325000 | OTHER | 10 | F | 2 | 380700 | 1996 | 1344 | NORTHWEST QUADRANT | A-R - AGRICULTURAL RURAL |
| 38.198.880 | 2438 ARISTOCRACY CIR | SIMPSON MORRY SCOTT AND GLENDA TTEES | 06/04/2023 | 340000 | ARMS LENGTH TRANSACTION | 0 | R | 1 | 316500 | 2007 | 2874 | HAMBURG FARMS CONDOMINIUMS | R-3 - PLANNED NBHD RESIDENTIAL |
| 19.997.240 | 4613 PALERMO LN | HAGGARD ALLEN G | 06/04/2023 | 0 | CLOSE RELATIVE SALES/TRANSFERS | 0.1305 | R | 1 | 227000 | 2000 | 2178 | HIGHLAND LAKES 95 | R-3 - PLANNED NBHD RESIDENTIAL |
| 22.724.100 | 775 ALBANY RD | ROGERS BROOKE E | 06/04/2023 | 347800 | ARMS LENGTH TRANSACTION | 0.1377 | R | 5 | 295000 | 1959 | 1708 | GLENDOVER | R-1C - SINGLE FAMILY RESIDENTIAL |
| 38.199.140 | 2312 REMINGTON WAY UNIT 3106 | SALINETRO SYLVIA | 06/04/2023 | 187210 | ARMS LENGTH TRANSACTION | 0 | R | 1 | 142600 | 2007 | 1395 | CITATION POINTE CONDOMINIUMS | R-4 - HIGH DENSITY APARTMENT |
| 94.021.260 | 1774 BRYAN STATION RD | YOUNG HAROLD AND BARBARA | 06/04/2023 | 0 | CLOSE RELATIVE SALES/TRANSFERS | 0.45 | R | 1 | 249100 | 1965 | 2349 | ROOKWOOD & KENAWOOD | R-1C - SINGLE FAMILY RESIDENTIAL |
| 13.279.200 | 173 ARCEME AVE | TRAUB TREVOR P AND KARA JOY | 05/04/2023 | 236500 | ARMS LENGTH TRANSACTION | 0.1664 | R | 1 | 104000 | 1953 | 1251 | HIGHLAWN | R-1C - SINGLE FAMILY RESIDENTIAL |
| 20.069.050 | 2273 ABBEYWOOD RD | JOHNSON ZACHARY & BROOKLYN RACHELLE | 05/04/2023 | 620000 | CHANGED TRANSFERRED SALE | 0.5207 | R | 1 | 320000 | 1989 | 3204 | HARTLAND 2B | R-1T - TOWNHOUSE RESIDENTIAL |
| 20.567.576 | 4914 OLD FRANKFORT PIKE | MARSH JUDY | 05/04/2023 | 0 | CLOSE RELATIVE SALES/TRANSFERS | 39.56 | F | 2 | 593400 | | 0 | SOUTHWEST QUADRANT | A-R - AGRICULTURAL RURAL |
| 38.020.450 | 1850 SAHALEE DR | RICHARDSON RYAN M | 05/04/2023 | 0 | OTHER | 10.95 | F | 2 | 295000 | | 0 | NORTHWEST QUADRANT | A-R - AGRICULTURAL RURAL |
| 19.336.040 | 1239 REDD RD | MARSH JUDY | 05/04/2023 | 0 | CLOSE RELATIVE SALES/TRANSFERS | 17.47 | F | 2 | 437800 | 1940 | 1476 | SOUTHWEST QUADRANT | A-R - AGRICULTURAL RURAL |
| 12.185.100 | 3460 LANSDOWNE DR | LYNCH CALEB CHANC | 05/04/2023 | 0 | CLOSE RELATIVE SALES/TRANSFERS | 0.2859 | R | 1 | 170900 | 1972 | 2364 | DOWNING SPANGLER & LAREDO | R-1C - SINGLE FAMILY RESIDENTIAL |
| 20.969.400 | 956 HOLLY SPRINGS DR | BOLTE KELLY | 05/04/2023 | 0 | CLOSE RELATIVE SALES/TRANSFERS | 0.2666 | R | 5 | 196500 | 1957 | 1692 | GARDENSIDE PROSPECT HILL & SKY CREST | R-1C - SINGLE FAMILY RESIDENTIAL |
| 21.333.100 | 645 GOLFVIEW DR | ISENSTEIN DANIEL | 05/04/2023 | 100000 | OTHER | 0.132 | R | 5 | 113300 | 1938 | 1080 | GIBSON PARK | R-1C - SINGLE FAMILY RESIDENTIAL |
| 26.100.500 | 559 MONTICELLO BLVD | BROWN CARL JR AND SANDRA | 05/04/2023 | 278000 | ARMS LENGTH TRANSACTION | 0.2562 | R | 5 | 170900 | 1965 | 1509 | MONTICELLO | R-1C - SINGLE FAMILY RESIDENTIAL |
| 38.020.440 | 1851 SAHALEE DR | RICHARDSON RYAN M | 05/04/2023 | 2800000 | OTHER | 10.25 | R | 2 | 1759700 | 2003 | 11060 | RURAL UNDER 10 ACRES NW QUAD | A-R - AGRICULTURAL RURAL |
| 38.230.190 | 650 S MILL ST UNIT 221 | MCPHERSON SCOTT | 05/04/2023 | 197500 | ANNUAL TWICE-SOLD PROPERTY | 0 | R | 1 | 154700 | 2011 | 867 | CENTERCOURT CONDOMINIUMS | MU-2 - NEIGHBORHOOD CORRIDOR |
| 10.029.980 | 562 EL PASEO PL | BURDETTE DAVID | 05/04/2023 | 0 | DEED OF CORRECTION | 0.0455 | R | 1 | 149900 | 1987 | 1044 | EL PASO PLACE | R-3 - PLANNED NBHD RESIDENTIAL |
| 19.960.430 | 1229 ASPEN ST | MAIPHAM LLC | 05/04/2023 | 0 | AFFILIATED ORGANIZATIONS | 0.1006 | R | 1 | 169200 | 1996 | 1252 | TIMBER CREEK 94 | R-1E - SINGLE FAMILY RESIDENTIAL |
| 38.065.890 | 553 SKYVIEW LN | SOUTHWORTH DARIN | 05/04/2023 | 240000 | ARMS LENGTH TRANSACTION | 0.132 | R | 1 | 186000 | 2003 | 1441 | MASTERSON STATION III | R-3 - PLANNED NBHD RESIDENTIAL |
| 38.296.410 | 1129 MARLENA LN | MUSSBACH DOMINIC | 05/04/2023 | 327900 | NEW CONSTRUCTION | 0.1114 | R | 1 | 277900 | 2022 | 2064 | WOODWARD LANDER PROPERTY | R-3 - PLANNED NBHD RESIDENTIAL |
| 19.992.290 | 4152 CLEARWATER WAY | MOSLEY ROBERT ADULEY & KIMBERLY ANN | 05/04/2023 | 490000 | ARMS LENGTH TRANSACTION | 0.2104 | R | 1 | 344000 | 1999 | 2741 | HIGHLAND LAKES 95 | R-3 - PLANNED NBHD RESIDENTIAL |
| 10.512.100 | 525 BRYANWOOD PKWY | BLAKE LOWELL F TTEE | LF BLAKE TRUST 4-5-23 | 05/04/2023 | 0 | AFFILIATED ORGANIZATIONS | 0.3347 | R | 1 | 249800 | 1965 | 2328 | ROOKWOOD & KENAWOOD | R-1C - SINGLE FAMILY RESIDENTIAL |
| 10.962.889 | 3725 RED RIVER DR | HORN KATHY M | 05/04/2023 | 0 | CLOSE RELATIVE SALES/TRANSFERS | 0.1515 | R | 1 | 112100 | 1974 | 1000 | MELODY VILLAGE & RIVER PARK | R-1D - SINGLE FAMILY RESIDENTIAL |
| 13.338.800 | 430 KENTON ST | MAIPHAM LLC | 05/04/2023 | 0 | AFFILIATED ORGANIZATIONS | 0.042 | R | 1 | 55300 | 1940 | 888 | DOWNTOWN | R-3 - PLANNED NBHD RESIDENTIAL |
| 16.321.800 | 432 HAWKINS AVE | JJS HANDYMAN SERVICES LLC | 05/04/2023 | 0 | AFFILIATED ORGANIZATIONS | 0.0717 | R | 1 | 50000 | 1944 | 600 | DOWNTOWN | R-3 - PLANNED NBHD RESIDENTIAL |
| 20.052.410 | 7201 OLD RICHMOND RD | LASKEY HEATHER AND DONALD | 05/04/2023 | 580000 | ARMS LENGTH TRANSACTION | 10.4 | R | 2 | 396000 | 1987 | 3330 | RURAL UNDER 10 ACRES SE QUAD | A-R - AGRICULTURAL RURAL |
| 24.963.700 | 1731 TARLETON CT | SM&K HOME IMPROVEMENTS LLC | 05/04/2023 | 171000 | ANNUAL TWICE-SOLD PROPERTY | 0.323 | R | 5 | 133000 | 1959 | 1638 | GARDENSIDE PROSPECT HILL & SKY CREST | R-1C - SINGLE FAMILY RESIDENTIAL |
| 38.000.940 | 2832 2836 RYAN CIR | ASHLAND CAPITAL GROUP LLC | 05/04/2023 | 750000 | ARMS LENGTH TRANSACTION | 0.3783 | M | 3 | 539700 | 1999 | 8000 | RICHMOND | R-4 - HIGH DENSITY APARTMENT |
| 38.183.870 | 2312 REMINGTON WAY UNIT 2206 | BLAYLOCK LINDA | 05/04/2023 | 205000 | ARMS LENGTH TRANSACTION | 0 | R | 1 | 142500 | 2006 | 1385 | CITATION POINTE CONDOMINIUMS | R-4 - HIGH DENSITY APARTMENT |
| 13.963.800 | 2224 YOUNG DR | FIRSTHAND CARE KY INC | 04/04/2023 | 725000 | ARMS LENGTH TRANSACTION | 0.39 | C | 1 | 658000 | 1958 | 4884 | RICHMOND | B-4 - WAREHOUSE/ WHOLESALE BUSINESS |
| 20.120.400 | 347 PASADENA DR | DIAZ RANFERIN MISAEL | 04/04/2023 | 140776 | ARMS LENGTH TRANSACTION | 0.168 | R | 4 | 111200 | 1946 | 1235 | OPEN GATES | R-1C - SINGLE FAMILY RESIDENTIAL |
| 24.816.473 | 3957 WEBER WAY | EVANS ABIGAIL ROSE | 04/04/2023 | 215000 | ARMS LENGTH TRANSACTION | 0.1946 | R | 4 | 135600 | 1983 | 1271 | HIDDEN SPRINGS & HIGH PLAIN | R-2 - TWO-FAMILY RESIDENTIAL |
| 38.182.140 | 2261 DANFORTH DR | DAVIS 63 LAND GROUP INC | 04/04/2023 | 0 | TRANSFER-TAX NOT PAID | 1.1134 | R | 1 | 0 | | 0 | MAGNA ENTERTAINMENT CORP (KONNER WOODS) | R-3 - PLANNED NBHD RESIDENTIAL |
| 38.184.520 | 2901 FAIRFAX LN | SANDWITH JEFF TRUSTEE | 04/04/2023 | 0 | TRANSFER-TAX NOT PAID | 0.3203 | R | 1 | 824100 | 2007 | 5818 | MEADOW OAKS | EAR-1 - EXPANSION AREA RESIDENTIAL |
| 38.296.620 | 1152 MARLENA LN | KARAM ANTHONY BENJAMIN | 04/04/2023 | 320509 | NEW CONSTRUCTION | 0.0976 | R | 1 | 115000 | 2023 | 2080 | WOODWARD LANDER PROPERTY | R-3 - PLANNED NBHD RESIDENTIAL |
| 16.160.500 | 505 ANNISTON DR | MURPHY MICHAEL | 04/04/2023 | 0 | CLOSE RELATIVE SALES/TRANSFERS | 0.2388 | R | 1 | 149500 | 1963 | 1593 | DEEP SPRINGS PRT OF DIXIE HERMITAGE HILL | R-1D - SINGLE FAMILY RESIDENTIAL |
| 15.363.300 | 481 ROOKWOOD PKWY | FREEMAN IRA RAY | 04/04/2023 | 0 | CLOSE RELATIVE SALES/TRANSFERS | 0.2479 | R | 1 | 222200 | 1964 | 1977 | ROOKWOOD & KENAWOOD | R-1D - SINGLE FAMILY RESIDENTIAL |
| 20.059.350 | 4804 HOLMHURST WAY | MICKLEWRIGHT SARAH AND PATRICK | 04/04/2023 | 669900 | ARMS LENGTH TRANSACTION | 0.388 | R | 1 | 400000 | 1987 | 5329 | HARTLAND 2B | R-1T - TOWNHOUSE RESIDENTIAL |
| 23.963.500 | 626 NAKOMI DR | BROWN JESSICA L | 04/04/2023 | 251000 | CHANGED TRANSFERRED SALE | 0.2404 | R | 3 | 130000 | 1959 | 1000 | TWIN OAKS | R-1C - SINGLE FAMILY RESIDENTIAL |
| 24.201.158 | 724 NAKOMI DR | QUALLS BRANDY AND LOGAN | 04/04/2023 | 352000 | ARMS LENGTH TRANSACTION | 0.3528 | R | 3 | 229600 | 1979 | 2844 | TWIN OAKS | R-1B - SINGLE FAMILY RESIDENTIAL |
| 38.022.640 | 961 HAMMOCK OAK LN | KAIDANOV GREGORY & VALERIA TRUSTEES | 04/04/2023 | 0 | TRANSFER-TAX NOT PAID | 0.2279 | R | 1 | 269900 | 2001 | 2666 | PINNACLE | R-3 - PLANNED NBHD RESIDENTIAL |
| 38.053.280 | 117 YAMACRAW PL | BERNARD MATTHEW | BERNARD ANDREW | 04/04/2023 | 255500 | ARMS LENGTH TRANSACTION | 0.107 | R | 1 | 163100 | 2001 | 1154 | MARSHALL PROPERTY 01 | R-1E - SINGLE FAMILY RESIDENTIAL |
| 38.182.130 | 2260 DANFORTH DR | DAVIS 63 LAND GROUP INC | 04/04/2023 | 0 | TRANSFER-TAX NOT PAID | 2.46 | R | 1 | 0 | | 0 | MAGNA ENTERTAINMENT CORP (KONNER WOODS) | R-3 - PLANNED NBHD RESIDENTIAL |
| 38.193.500 | 201 PRICE RD UNIT 127 | 10 TALENTS LLC | 04/04/2023 | 340000 | ARMS LENGTH TRANSACTION | 0 | R | 6 | 294600 | 2006 | 4137 | LORILLARD LOFTS | R-4 - HIGH DENSITY APARTMENT |
| 20.029.050 | 4616 SARON DR | ALTSCHULER MELODY ROSE | 04/04/2023 | 302500 | ARMS LENGTH TRANSACTION | 0.2686 | R | 1 | 189900 | 1986 | 1515 | CUMBERLAND HILL | R-1D - SINGLE FAMILY RESIDENTIAL |
| 12.756.800 | 711 DUNES CIR | HALEY INVESTMENTS LLC | 04/04/2023 | 161200 | ARMS LENGTH TRANSACTION | 0.2803 | R | 1 | 148600 | 1968 | 1284 | THOROUGHBRED | R-1D - SINGLE FAMILY RESIDENTIAL |
| 10.473.000 | 183 EASTOVER DR | JOHNSON JILL C | 04/04/2023 | 0 | CLOSE RELATIVE SALES/TRANSFERS | 0.2152 | R | 1 | 509600 | 1940 | 3113 | CHEVY CHASE | R-1C - SINGLE FAMILY RESIDENTIAL |
| 19.306.510 | 3040 BLENHEIM WAY | MAZUREK CHRISTINA ZWISCHENBERGER | 04/04/2023 | 0 | NAME CHANGE/MERGER | 0.1418 | R | 6 | 244800 | 1994 | 2146 | SHADOW BROOK & RABBIT RUN | R-3 - PLANNED NBHD RESIDENTIAL |
| 24.860.200 | 767 CHINOE RD | RICKARD EVELYN YVONNE | 04/04/2023 | 0 | CLOSE RELATIVE SALES/TRANSFERS | 0.5105 | R | 4 | 598500 | 1961 | 3374 | SHADELAND | R-1B - SINGLE FAMILY RESIDENTIAL |
| 20.276.884 | 1013 RAIN CT | MILLER DANIEL PAUL III | 03/04/2023 | 290000 | ARMS LENGTH TRANSACTION | 0.3214 | R | 1 | 222100 | 1981 | 2112 | EAST LAKE | R-1T - TOWNHOUSE RESIDENTIAL |
| 10.101.750 | 964 HONEYSUCKLE RD | PHILLIPS INCORPORATED | 03/04/2023 | 167500 | ARMS LENGTH TRANSACTION | 0.1653 | R | 1 | 159400 | 1962 | 1025 | GARDEN SPRINGS | R-1D - SINGLE FAMILY RESIDENTIAL |
| 10.101.750 | 964 HONEYSUCKLE RD | PHILLIPS INCORPORATED | 03/04/2023 | 178000 | ANNUAL TWICE-SOLD PROPERTY | 0.1653 | R | 1 | 159400 | 1962 | 1025 | GARDEN SPRINGS | R-1D - SINGLE FAMILY RESIDENTIAL |
| 15.669.400 | 133 RAND AVE | STRODE TED B AND HEATHER MEENACH | 03/04/2023 | 220000 | ARMS LENGTH TRANSACTION | 0.163 | R | 1 | 140800 | 1948 | 1526 | DOWNTOWN | R-3 - PLANNED NBHD RESIDENTIAL |
| 20.105.180 | 1132 WINTER HAVEN WAY | BLACKBURN CHRISTINE | 03/04/2023 | 286900 | ARMS LENGTH TRANSACTION | 0.1904 | R | 1 | 256900 | 1995 | 1703 | AUTUMN RIDGE 90 | R-1D - SINGLE FAMILY RESIDENTIAL |
| 38.170.120 | 148 OLD TOWNE WALK | MOORE MARTHA | 03/04/2023 | 274000 | ARMS LENGTH TRANSACTION | 0.0851 | R | 1 | 232500 | 2007 | 1282 | SHARKEY PROPERTY | R-3 - PLANNED NBHD RESIDENTIAL |
| 38.250.970 | 4040 MOONCOIN WAY | LIN CHUNFANG | 03/04/2023 | 0 | CLOSE RELATIVE SALES/TRANSFERS | 0.1785 | R | 1 | 361000 | 2014 | 3314 | MAHAN PROPERTY | R-3 - PLANNED NBHD RESIDENTIAL |
| 46.294.060 | 341 SHERMAN AVE | TMH CONSTRUCTION LIMITED LIABILITY | COMPANY | 03/04/2023 | 135000 | ARMS LENGTH TRANSACTION | 0.1607 | R | 1 | 125000 | 1930 | 952 | WICKLIFFE | R-2 - TWO-FAMILY RESIDENTIAL |
| 20.014.740 | 704 TROY TRL | BAUER JOSEPH C | 03/04/2023 | 263000 | ARMS LENGTH TRANSACTION | 0.2311 | R | 1 | 195000 | 1984 | 1693 | BELLEAU WOOD & WALDEN GROVE | R-1C - SINGLE FAMILY RESIDENTIAL |
| 20.046.260 | 3005 NEAL DR | CROSSMAN LAUREN | 03/04/2023 | 410000 | ARMS LENGTH TRANSACTION | 0.1988 | R | 4 | 241800 | 1987 | 2172 | PERA PLACE & CLAYS MEADOW 88 | R-1D - SINGLE FAMILY RESIDENTIAL |
| 21.300.800 | 5555 GREENWICH PIKE | GREENWICH PIKE II LLC | 03/04/2023 | 0 | AFFILIATED ORGANIZATIONS | 44.87 | F | 2 | 1831500 | 1979 | 6438 | NORTHWEST QUADRANT | A-R - AGRICULTURAL RURAL |
| 21.300.800 | 5555 GREENWICH PIKE | GREENWICH PIKE II LLC | 03/04/2023 | 0 | AFFILIATED ORGANIZATIONS | 44.87 | F | 2 | 1831500 | 1979 | 6438 | NORTHWEST QUADRANT | A-R - AGRICULTURAL RURAL |
| 23.996.862 | 4204 FORSYTHE DR | HART THOMAS A AND MILDRED A | 03/04/2023 | 300000 | ARMS LENGTH TRANSACTION | 0.2296 | R | 4 | 193200 | 1976 | 1990 | PLANTATION A | R-1D - SINGLE FAMILY RESIDENTIAL |
| 38.271.110 | 1636 VILLA MEDICI PASS | TRAN TRINI | 03/04/2023 | 1260000 | ARMS LENGTH TRANSACTION | 0.2975 | R | 1 | 828400 | 2019 | 6516 | TUSCANY 06 | R-3 - PLANNED NBHD RESIDENTIAL |
| 20.099.880 | 3945 ROCK LEDGE LN | MEYER EDIE MESSMAN | 03/04/2023 | 260000 | ARMS LENGTH TRANSACTION | 0.1688 | R | 2 | 228500 | 1990 | 1640 | ROCK LEDGE STONE GARDEN & TERRACE WOOD | R-3 - PLANNED NBHD RESIDENTIAL |
| 38.154.140 | 3688 BEATEN PATH | KAIZEN INVESTMENTS GROUP LLC | 03/04/2023 | 196000 | OTHER | 0.1287 | R | 1 | 229400 | 2005 | 1306 | NEWMARKET PROPERTY | EAR-2 - EXPANSION AREA RESIDENTIAL |
| 38.154.140 | 3688 BEATEN PATH | KAIZEN INVESTMENTS GROUP LLC | 03/04/2023 | 221000 | ARMS LENGTH TRANSACTION | 0.1287 | R | 1 | 229400 | 2005 | 1306 | NEWMARKET PROPERTY | EAR-2 - EXPANSION AREA RESIDENTIAL |
| 38.242.930 | 3748 SUNFLOWER ST | JIA JIANHANG | 03/04/2023 | 310000 | ARMS LENGTH TRANSACTION | 0.158 | R | 1 | 256600 | 2012 | 1529 | CLARK PROPERTY | EAR-2 - EXPANSION AREA RESIDENTIAL |
| 38.185.870 | 3268 CREEK PATH LN | SAKAMAKI CATHERINE K | 03/04/2023 | 265000 | ARMS LENGTH TRANSACTION | 0.1197 | R | 1 | 206700 | 2008 | 1338 | RAMSEY/SULLIVAN PROPERTY (KEARNEY RIDGE) | R-3 - PLANNED NBHD RESIDENTIAL |
| 19.329.870 | 3829 ARIA LN | TOLLIVER WILLIAM AND JENNIFER LEE | 03/04/2023 | 320000 | ARMS LENGTH TRANSACTION | 0.1715 | R | 1 | 247800 | 1996 | 1815 | COPPER TRACE | R-1E - SINGLE FAMILY RESIDENTIAL |
| 19.344.010 | 2513 CASHEL CT | HADER SCOTT AARON | 03/04/2023 | 156789 | OTHER | 0.1572 | R | 1 | 195400 | 1999 | 1616 | SHADOW WOOD | R-1E - SINGLE FAMILY RESIDENTIAL |
| 19.966.200 | 737 MORGAN HILLS DR | VANCE DAVID RYAN AND SUSANA | 03/04/2023 | 0 | CLOSE RELATIVE SALES/TRANSFERS | 0.1824 | R | 1 | 208400 | 1998 | 1438 | LIBERTY HILL 94 | R-1E - SINGLE FAMILY RESIDENTIAL |
| 19.982.410 | 2512 TINMOUTH VALE LN | YOUNG TANNER LOGAN | 03/04/2023 | 211500 | ARMS LENGTH TRANSACTION | 0.1833 | R | 1 | 140000 | 1997 | 1104 | DANBY CORNERS UNIT 1A 98 | R-1E - SINGLE FAMILY RESIDENTIAL |
| 20.123.130 | 4516 PENTLALLA PT | WARNER MATTHEW BRETT | BECK TAYLOR CATHERINE | 03/04/2023 | 260000 | ARMS LENGTH TRANSACTION | 0.1438 | R | 1 | 181900 | 1994 | 1472 | MEADOW CREEK | R-1D - SINGLE FAMILY RESIDENTIAL |
| 38.173.190 | 917 STAR SHOOT PKWY | CHAUDHURI PARUL | 03/04/2023 | 414000 | ARMS LENGTH TRANSACTION | 0.1026 | R | 1 | 347100 | 2008 | 2835 | HAMBURG PLACECOMMUNITY PHASE II | R-3 - PLANNED NBHD RESIDENTIAL |
| 10.410.200 | 395 REDDING RD UNIT 25 | HANNAN JULIA M TRUSTEE | 01/04/2023 | 0 | TRANSFER-TAX NOT PAID | 0 | R | 1 | 284000 | 1975 | 2656 | THE OAKS | R-1T - TOWNHOUSE RESIDENTIAL |
| 38.169.390 | 2141 MILLSTONE WAY | HANA GROUP MANAGEMENT INC | 31/03/2023 | 252000 | ARMS LENGTH TRANSACTION | 0.1005 | R | 1 | 233000 | 2006 | 1350 | CLARK PROPERTY | EAR-2 - EXPANSION AREA RESIDENTIAL |
| 38.176.830 | 241 OLD WOOLEN MILL LN | GROSS ERIK PAUL | 31/03/2023 | 258000 | ARMS LENGTH TRANSACTION | 0.0979 | R | 1 | 208400 | 2007 | 1313 | SEBASTIAN PROPERTY | R-1E - SINGLE FAMILY RESIDENTIAL |
| 38.295.790 | 720 HOLLYHOCK DR | SOR SREY TOUCH | 31/03/2023 | 404950 | NEW CONSTRUCTION | 0.1915 | R | 2 | 70000 | 2023 | 2351 | MYERS PROPERTY | R-3 - PLANNED NBHD RESIDENTIAL |
| 10.028.060 | 1182 MT RUSHMORE WAY | BIG WIND LLC | 31/03/2023 | 144900 | ARMS LENGTH TRANSACTION | 0.0961 | R | 1 | 102000 | 1979 | 976 | CENTURY HILLS | R-1T - TOWNHOUSE RESIDENTIAL |
| 10.495.300 | 513 WILLY ST | MIBORN VENTURES LLC | 31/03/2023 | 90000 | MULTIPLE PROPERTIES | 0.0501 | R | 1 | 17500 | | 0 | PRICE | R-3 - PLANNED NBHD RESIDENTIAL |
| 13.926.400 | 505 WILLY ST | MIBORN VENTURES LLC | 31/03/2023 | 60000 | MULTIPLE PROPERTIES | 0.0492 | R | 1 | 17500 | | 0 | PRICE | R-3 - PLANNED NBHD RESIDENTIAL |
| 14.902.250 | 409 BRYANWOOD PKWY | RUADREW NIPAPORN | 31/03/2023 | 282000 | ARMS LENGTH TRANSACTION | 0.3198 | R | 1 | 257000 | 1964 | 1940 | ROOKWOOD & KENAWOOD | R-1C - SINGLE FAMILY RESIDENTIAL |
| 15.427.650 | 2016 DEAUVILLE DR | MULBERRY HOLDINGS LLC | 31/03/2023 | 175000 | ANNUAL TWICE-SOLD PROPERTY | 0.2066 | R | 1 | 125000 | 1960 | 1050 | CARDINAL VALLEY | R-1C - SINGLE FAMILY RESIDENTIAL |
| 25.702.800 | 137 SUBURBAN CT | PISGAH PROPERTIES LLC | 31/03/2023 | 225000 | ARMS LENGTH TRANSACTION | 0.1722 | R | 5 | 170000 | 1928 | 1072 | PENNSACOLA PARK | R-1C - SINGLE FAMILY RESIDENTIAL |
| 25.702.800 | 137 SUBURBAN CT | PISGAH PROPERTIES LLC | 31/03/2023 | 0 | AFFILIATED ORGANIZATIONS | 0.1722 | R | 5 | 170000 | 1928 | 1072 | PENNSACOLA PARK | R-1C - SINGLE FAMILY RESIDENTIAL |
| 31.872.900 | 1014 MCCLAIN DR | BUFORD THOMAS H JR | 31/03/2023 | 141000 | ARMS LENGTH TRANSACTION | 0.1722 | R | 1 | 123500 | 1950 | 1973 | BROADVIEW WITHERS & KEES | R-1C - SINGLE FAMILY RESIDENTIAL |
| 38.076.080 | 2512 KNIGHTSBRIDGE LN | CNF PROPERTIES LLC | 31/03/2023 | 140000 | ARMS LENGTH TRANSACTION | 0.0496 | R | 3 | 124700 | 2002 | 1043 | LIBERTY WOODS TOWNHOMES | R-3 - PLANNED NBHD RESIDENTIAL |
| 38.261.350 | 3598 RABBITS FOOT TRL | BARNETT BARRY AND DEE | 31/03/2023 | 875000 | ARMS LENGTH TRANSACTION | 0 | R | 3 | 873200 | 2015 | 4580 | THE VILLAGE @ RABBIT RUN SECTION 1 | R-4 - HIGH DENSITY APARTMENT |
| 47.076.600 | 331 RICHMOND AVE | KAUFMANN COLBY STATION LLC | 31/03/2023 | 273500 | ARMS LENGTH TRANSACTION | 0.1102 | R | 1 | 230500 | 1930 | 983 | KENWICK II | B-4 - WAREHOUSE/ WHOLESALE BUSINESS |
| 38.295.470 | 3536 NIGHT HERON WAY | CAROZZA NICHOLAS T AND KATHRYN | 31/03/2023 | 715900 | NEW CONSTRUCTION | 0.2059 | R | 1 | 236900 | 2023 | 3390 | THE PENINSULA | R-3 - PLANNED NBHD RESIDENTIAL |
| 14.476.520 | 750 SHAKER DR UNIT 615 | TILLEY AMY HONEYCUT AND ADAM RICHARD | 31/03/2023 | 117500 | ARMS LENGTH TRANSACTION | 0 | R | 1 | 95200 | 1972 | 795 | HARRODSBURG SQUARE | R-4 - HIGH DENSITY APARTMENT |
| 38.297.400 | 2825 PEAKS MILL DR | ANDERSON ACQUISITIONS LLC | 31/03/2023 | 265000 | VACANT LOTS/ BUILDERS | 0.1713 | R | 2 | 50000 | | 0 | SEBASTIAN PROPERTY | R-1D - SINGLE FAMILY RESIDENTIAL |
| 10.686.100 | 1414 COCHRAN RD | CKD HOLDINGS LLC | 31/03/2023 | 575000 | ARMS LENGTH TRANSACTION | 0.1722 | R | 1 | 395000 | 1933 | 2313 | CHEVY CHASE | R-1C - SINGLE FAMILY RESIDENTIAL |
| 16.384.600 | 517 WILLY ST | MIBORN VENTURES LLC | 31/03/2023 | 90000 | MULTIPLE PROPERTIES | 0.1058 | R | 1 | 17500 | | 0 | PRICE | R-3 - PLANNED NBHD RESIDENTIAL |
| 19.974.150 | 3537 LAURENHAVEN CT | FRISBY NOAH B | 31/03/2023 | 224000 | ARMS LENGTH TRANSACTION | 0.1359 | R | 1 | 145000 | 1997 | 1128 | SQUIRES WOODS 96 | R-1E - SINGLE FAMILY RESIDENTIAL |
| 19.990.680 | 1760 BRYAN STATION RD | RENFRO ELIZABETH ANN PRIBBLE TTEE | 31/03/2023 | 0 | TRANSFER-TAX NOT PAID | 0.1837 | R | 1 | 210000 | 2001 | 1396 | ROOKWOOD & KENAWOOD | R-1C - SINGLE FAMILY RESIDENTIAL |
| 25.522.750 | 1279 CROSS KEYS RD | MONTANO SMITH REBECCA MARIA | 31/03/2023 | 430000 | CHANGED TRANSFERRED SALE | 0.495 | R | 2 | 352300 | 1964 | 2526 | GARDENSIDE II | R-1B - SINGLE FAMILY RESIDENTIAL |
| 38.126.360 | 4135 TRADITION WAY | MAGGARD ROBERT E AND PATRICIA B | 31/03/2023 | 500000 | ARMS LENGTH TRANSACTION | 0.1017 | R | 3 | 386100 | 2006 | 2912 | DORIS G PHELPS PROPERTY | EAR-1 - EXPANSION AREA RESIDENTIAL |
| 38.126.370 | 4137 TRADITION WAY | MASON LILLA S | 31/03/2023 | 0 | TRANSFER-TAX NOT PAID | 0.154 | R | 3 | 466000 | 2005 | 2725 | DORIS G PHELPS PROPERTY | EAR-1 - EXPANSION AREA RESIDENTIAL |
| 38.140.780 | 333 HAYS BLVD | FIOLA WILLIAM F JR AND ILEANA P | 31/03/2023 | 342500 | ARMS LENGTH TRANSACTION | 0.1758 | R | 1 | 290600 | 2008 | 1956 | RICHARDSON PROPERTY | EAR-2 - EXPANSION AREA RESIDENTIAL |
| 38.172.610 | 250 S MARTIN LUTHER KING BLVD UNIT 311 | BECKMAN ALAN CLARK AND DIANA MARIE | 31/03/2023 | 152000 | ARMS LENGTH TRANSACTION | 0 | R | 1 | 125000 | 2006 | 572 | CITYCOURTS CONDOMINIUMS | B-2A - DOWNTOWN FRAME BUSINESS |
| 38.272.590 | 2676 LUCCA PL | NICHOLS ALIAH FUELLER & LOGAN JENNINGS | 31/03/2023 | 640000 | ARMS LENGTH TRANSACTION | 0.1756 | R | 1 | 605000 | 2020 | 2572 | TUSCANY 06 | R-3 - PLANNED NBHD RESIDENTIAL |
| 38.292.520 | 1528 HAYFIELD FLT | BROWNING REALITY LLC | 31/03/2023 | 351000 | NEW CONSTRUCTION | 0.1735 | R | 1 | 117200 | 2023 | 2032 | BLACKFORD PROPERTY III | EAR-1 - EXPANSION AREA RESIDENTIAL |
| 43.878.700 | 304 LINCOLN AVE | SMASH HOMES LLC | 31/03/2023 | 150000 | ARMS LENGTH TRANSACTION | 0.1722 | R | 1 | 90000 | 1930 | 672 | WICKLIFFE | R-2 - TWO-FAMILY RESIDENTIAL |
| 10.172.100 | 221 LIVERPOOL RD | DOORS TO DESTINY INVESTMENTS LLC | C/O CRYSTAL LITTLEFIELD | 31/03/2023 | 0 | OTHER | 0.2185 | R | 1 | 106000 | 1961 | 925 | CARDINAL VALLEY | R-1C - SINGLE FAMILY RESIDENTIAL |
| 23.612.750 | 240 GREENBRIAR RD | KRAMER PLACE LLC | 31/03/2023 | 215000 | AFFILIATED ORGANIZATIONS | 0.3935 | R | 4 | 213100 | 1957 | 1334 | GLENDOVER | R-1C - SINGLE FAMILY RESIDENTIAL |
| 26.078.063 | 300 ATWOOD DR | FERGUSON RACHAEL JORDAN | 31/03/2023 | 360059 | ARMS LENGTH TRANSACTION | 0.4157 | R | 1 | 235000 | 1976 | 2032 | SOUTHPOINT | R-1C - SINGLE FAMILY RESIDENTIAL |
| 13.617.400 | 807 E HIGH ST | BUCKMAN INVESTMENTS LLC | 31/03/2023 | 760000 | ARMS LENGTH TRANSACTION | 0.2112 | M | 1 | 326000 | 1940 | 3600 | CHEVY CHASE | R-3 - PLANNED NBHD RESIDENTIAL |
| 14.476.474 | 750 SHAKER DR UNIT 427 | SMITH DERRICK L | 31/03/2023 | 110000 | ARMS LENGTH TRANSACTION | 0 | R | 1 | 95200 | 1972 | 795 | HARRODSBURG SQUARE | R-4 - HIGH DENSITY APARTMENT |
| 16.116.900 | 511 WILLY ST | MIBORN VENTURES LLC | 31/03/2023 | 90000 | MULTIPLE PROPERTIES | 0.0501 | R | 1 | 17500 | | 0 | PRICE | R-3 - PLANNED NBHD RESIDENTIAL |
| 16.384.500 | 507 WILLY ST | MIBORN VENTURES LLC | 31/03/2023 | 60000 | MULTIPLE PROPERTIES | 0.0501 | R | 1 | 17500 | | 0 | PRICE | R-3 - PLANNED NBHD RESIDENTIAL |
| 38.044.350 | 2104 NAPLES LN | QI LEI | 31/03/2023 | 650000 | ARMS LENGTH TRANSACTION | 0.24 | R | 1 | 497900 | 2002 | 3960 | BEAUMONT FARM 94 | R-1C - SINGLE FAMILY RESIDENTIAL |
| 38.211.540 | 2288 ICE HOUSE WAY | HCF T&C LEX II LLC | 31/03/2023 | 0 | AFFILIATED ORGANIZATIONS | 0.101 | R | 1 | 244800 | 2008 | 1350 | CLARK PROPERTY | EAR-2 - EXPANSION AREA RESIDENTIAL |
| 44.878.775 | 181 PRESTON AVE | LYONS AARON SCOTT | 31/03/2023 | 474900 | ARMS LENGTH TRANSACTION | 0.1722 | R | 1 | 420000 | 1927 | 1932 | KENWICK II | R-2 - TWO-FAMILY RESIDENTIAL |
| 10.360.600 | 202 RIDGEWAY RD | MERRIL DYLAN SCOTT | 31/03/2023 | 705000 | ARMS LENGTH TRANSACTION | 0.1722 | R | 1 | 505000 | 1930 | 2796 | ASHLAND PARK | R-1C - SINGLE FAMILY RESIDENTIAL |
| 16.459.375 | 1095 REDWOOD DR | ISKULAZ HOLDINGS LLC | 31/03/2023 | 173500 | ANNUAL TWICE-SOLD PROPERTY | 0.2192 | R | 1 | 149900 | 1970 | 1000 | OAKWOOD | R-1D - SINGLE FAMILY RESIDENTIAL |
| 20.005.030 | 312 BENT BOUGH PL | OSBORNE LAUREN E | BEAZLEY CHRISTIAN | 31/03/2023 | 228000 | ARMS LENGTH TRANSACTION | 0.1085 | R | 1 | 168400 | 1984 | 1965 | SHADOW WOOD | R-1T - TOWNHOUSE RESIDENTIAL |
| 20.048.830 | 661 GALATA DR | BURKE CYNTHIA MARIE AND LEWIS EUGENE JR | 31/03/2023 | 300000 | ARMS LENGTH TRANSACTION | 0.236 | R | 1 | 222200 | 1989 | 1802 | PERA PLACE & CLAYS MEADOW 88 | R-1D - SINGLE FAMILY RESIDENTIAL |
| 25.342.400 | 1740 TRAVELLER RD | ERICKSON WILLIAM JASON | 31/03/2023 | 0 | OTHER | 0.2833 | R | 4 | 135300 | 1960 | 1999 | GARDENSIDE | R-1C - SINGLE FAMILY RESIDENTIAL |
| 25.631.800 | 3795 LEESTOWN RD | SVINTOZELSKY BOGDAN | 31/03/2023 | 110000 | ANNUAL TWICE-SOLD PROPERTY | 0.23 | R | 2 | 69300 | 1954 | 950 | RURAL UNDER 10 ACRES SW QUAD | A-R - AGRICULTURAL RURAL |
| 25.631.800 | 3795 LEESTOWN RD | SVINTOZELSKY BOGDAN | 31/03/2023 | 100000 | ARMS LENGTH TRANSACTION | 0.23 | R | 2 | 69300 | 1954 | 950 | RURAL UNDER 10 ACRES SW QUAD | A-R - AGRICULTURAL RURAL |
| 12.965.500 | 224 BARROW RD | 224 BARROW LLC | 30/03/2023 | 0 | AFFILIATED ORGANIZATIONS | 0.3673 | R | 7 | 1100000 | 1936 | 4427 | ASHWOOD | R-1B - SINGLE FAMILY RESIDENTIAL |
| 12.965.500 | 224 BARROW RD | 224 BARROW LLC | 30/03/2023 | 0 | CLOSE RELATIVE SALES/TRANSFERS | 0.3673 | R | 7 | 1100000 | 1936 | 4427 | ASHWOOD | R-1B - SINGLE FAMILY RESIDENTIAL |
| 19.995.230 | 2657 CRYSTAL FALLS RD | QUISEHUATL SARAH AND EMILIANO | 30/03/2023 | 114046 | OTHER | 0.1125 | R | 1 | 184300 | 1999 | 1266 | LIBERTY CORNERS 2000 | R-3 - PLANNED NBHD RESIDENTIAL |
| 20.019.280 | 1016 STOWBRIDGE LN | BURRIS JESSICA L | 30/03/2023 | 0 | CLOSE RELATIVE SALES/TRANSFERS | 0.2479 | R | 1 | 215000 | 1985 | 2244 | CUMBERLAND HILL | R-1C - SINGLE FAMILY RESIDENTIAL |
| 38.120.360 | 1440 SADDLE CLUB WAY | LARSEN TORREY AND CAROL | 30/03/2023 | 470000 | NEW CONSTRUCTION | 0.4859 | R | 1 | 297500 | 2023 | 2495 | PARTERRE PLACE | R-1C - SINGLE FAMILY RESIDENTIAL |
| 38.293.150 | 1113 SQUIRREL NEST LN | KING KELLY J | 30/03/2023 | 581850 | NEW CONSTRUCTION | 0.1841 | R | 1 | 484500 | 2022 | 2982 | CLARK PROPERTY | EAR-2 - EXPANSION AREA RESIDENTIAL |
| 38.297.720 | 1219 TWILIGHT SHADOW DR | EIRECON LLC | 30/03/2023 | 220500 | MULTIPLE PROPERTIES | 0.1335 | R | 2 | 75000 | | 0 | NEWMARKET PROPERTY | EAR-2 - EXPANSION AREA RESIDENTIAL |
| 10.038.480 | 3673 ARBOR DR | MANSFIELD J PATRICK AND ALISON | 30/03/2023 | 180000 | ARMS LENGTH TRANSACTION | 0.1162 | R | 1 | 125700 | 1988 | 1022 | MELODY VILLAGE & RIVER PARK | R-3 - PLANNED NBHD RESIDENTIAL |
| 20.128.340 | 3009 REDBUD CT | SMITH MARTHA | 30/03/2023 | 0 | CLOSE RELATIVE SALES/TRANSFERS | 0.1515 | R | 4 | 208200 | 1993 | 1474 | PERA PLACE & CLAYS MEADOW 88 | R-1D - SINGLE FAMILY RESIDENTIAL |
| 20.001.040 | 1640 PRAIRIE CIR | BOWMAN MATTHEW | 30/03/2023 | 234900 | ANNUAL TWICE-SOLD PROPERTY | 0.0918 | R | 1 | 217600 | 1983 | 1472 | CENTURY HILLS | R-1T - TOWNHOUSE RESIDENTIAL |
| 20.122.750 | 4588 FIELDMOOR DR | BOWER PAUL VINCENT AND JUDITH JEANNE | 30/03/2023 | 335000 | ARMS LENGTH TRANSACTION | 0.1914 | R | 1 | 220900 | 1993 | 2048 | MEADOW CREEK | R-1D - SINGLE FAMILY RESIDENTIAL |
| 38.022.780 | 4312 CALAIS PL | BALTENBERGER RYAN AND GRACE | 30/03/2023 | 400000 | ARMS LENGTH TRANSACTION | 0.1791 | R | 1 | 264500 | 2002 | 2724 | PINNACLE | R-3 - PLANNED NBHD RESIDENTIAL |
| 38.119.390 | 2508 MORAY PL | HARGROVE SARAH ELIZABETH | 30/03/2023 | 280000 | ARMS LENGTH TRANSACTION | 0.1419 | R | 1 | 217700 | 2005 | 1606 | COVENTRY (BELMONT FARM) | R-3 - PLANNED NBHD RESIDENTIAL |
| 38.297.610 | 1171 TWILIGHT SHADOW DR | EIRECON LLC | 30/03/2023 | 220500 | MULTIPLE PROPERTIES | 0.1509 | R | 2 | 75000 | | 0 | NEWMARKET PROPERTY | EAR-2 - EXPANSION AREA RESIDENTIAL |
| 38.297.710 | 1215 TWILIGHT SHADOW DR | EIRECON LLC | 30/03/2023 | 220500 | MULTIPLE PROPERTIES | 0.136 | R | 2 | 75000 | | 0 | NEWMARKET PROPERTY | EAR-2 - EXPANSION AREA RESIDENTIAL |
| 38.265.280 | 2930 PEAKS MILL DR | KAVANAUGH JESSICA LYNN | 30/03/2023 | 460000 | ARMS LENGTH TRANSACTION | 0.2149 | R | 1 | 372500 | 2017 | 3102 | MARSHALL PROPERTY 01 | R-1D - SINGLE FAMILY RESIDENTIAL |
| 10.486.600 | 409 COCHRAN RD | HOWLAND MEAGAN AND MATTHEW | 30/03/2023 | 460000 | ARMS LENGTH TRANSACTION | 0.1908 | R | 1 | 368800 | 1947 | 1961 | CHEVY CHASE | R-1C - SINGLE FAMILY RESIDENTIAL |
| 10.032.350 | 3644 LEISURE CREEK CT | COPELAND DION | 30/03/2023 | 179500 | ARMS LENGTH TRANSACTION | 0.4178 | R | 3 | 124900 | 1995 | 1178 | MILLCREEK COURT | R-1T - TOWNHOUSE RESIDENTIAL |
| 14.476.170 | 395 REDDING RD UNIT 186 | CORBIN CHRIS | 30/03/2023 | 0 | TRANSFER-TAX NOT PAID | 0 | R | 1 | 158200 | 1980 | 1144 | THE OAKS | R-3 - PLANNED NBHD RESIDENTIAL |
| 19.316.920 | 4720 FIREBROOK BLVD | PAIGE KELLEY PAIGE | 30/03/2023 | 0 | NAME CHANGE/MERGER | 0.2504 | R | 1 | 450900 | 1995 | 3043 | FIREBROOK 91 | R-3 - PLANNED NBHD RESIDENTIAL |
| 38.095.700 | 3320 CLAYS MILL RD STE 113 | DDC INVESTMENT GROUP LLC | 30/03/2023 | 156000 | ARMS LENGTH TRANSACTION | 0 | C | 1 | 135000 | 2002 | 1129 | SOUTHLAND | P-1 - PROFESSIONAL OFFICE |
| 38.236.570 | 1740 BATTERY ST | SMALLWOOD TERRY L TTEE | TERRY L SMALLWOOD REVOCABLE TRUST | 30/03/2023 | 0 | AFFILIATED ORGANIZATIONS | 0.3068 | R | 1 | 390000 | 2011 | 2124 | SUMMERFIELD | R-3 - PLANNED NBHD RESIDENTIAL |
| 38.266.970 | 3573 POLO CLUB BLVD | GILMORE ANTHONY AND MAYU | 30/03/2023 | 367500 | ARMS LENGTH TRANSACTION | 0.1712 | R | 1 | 367500 | 2017 | 2773 | NEWMARKET PROPERTY | EAR-2 - EXPANSION AREA RESIDENTIAL |
| 22.280.500 | 2775 PARIS PIKE | SCHROEDER CAROL | 29/03/2023 | 385000 | ARMS LENGTH TRANSACTION | 0.7612 | R | 2 | 237700 | 1930 | 1731 | RURAL UNDER 10 ACRES NW QUAD | A-R - AGRICULTURAL RURAL |
| 12.868.833 | 3500 WARWICK DR UNIT 34 | GRACED PROPERTIES LLC | 29/03/2023 | 0 | AFFILIATED ORGANIZATIONS | 0 | R | 1 | 120000 | 1974 | 1104 | HANOVER HILL | R-3 - PLANNED NBHD RESIDENTIAL |
| 13.523.625 | 2476 WOODHILL DR | GRACED PROPERTIES LLC | 29/03/2023 | 0 | MULTIPLE PROPERTIES | 0.0413 | R | 1 | 107000 | 1971 | 1296 | HEDGEWOOD CT OSAGE CIR WOODHILL DR | R-1T - TOWNHOUSE RESIDENTIAL |
| 19.321.200 | 808 KEENE WOOD DR | FIGAL MARIO N ALCARAZ | 29/03/2023 | 415000 | ARMS LENGTH TRANSACTION | 0.1377 | R | 1 | 279000 | 1995 | 2531 | HEADLEY GREEN 95 | R-1D - SINGLE FAMILY RESIDENTIAL |
| 19.965.010 | 2275 STONEWOOD LN | DEWING LINDSEY ALLEN | 29/03/2023 | 0 | CLOSE RELATIVE SALES/TRANSFERS | 0.1647 | R | 1 | 176100 | 1997 | 1304 | EASTWOOD 91 | R-1D - SINGLE FAMILY RESIDENTIAL |
| 20.117.960 | 1013 DOE MEADOW CT | HANIEH RAJAE K | 29/03/2023 | 444000 | ARMS LENGTH TRANSACTION | 0.2242 | R | 1 | 380200 | 1992 | 2778 | AUTUMN RIDGE 90 | R-1D - SINGLE FAMILY RESIDENTIAL |
| 22.851.400 | 546 JUDY LN | HOTOFF PEREZ SAMUEL | 29/03/2023 | 80000 | OTHER | 0.3264 | R | 1 | 115900 | 1957 | 1704 | THOROUGHBRED | R-1C - SINGLE FAMILY RESIDENTIAL |
| 38.201.900 | 3933 LOBLOLLY WAY | GOMEZ HILDA | 29/03/2023 | 275000 | ARMS LENGTH TRANSACTION | 0.1389 | R | 1 | 205800 | 2009 | 1578 | SUNNY SLOPE FARM | R-3 - PLANNED NBHD RESIDENTIAL |
| 43.304.800 | 1132 BIRCH DR | GRACED PROPERTIES LLC | 29/03/2023 | 0 | MULTIPLE PROPERTIES | 0.1377 | R | 1 | 134900 | 1958 | 925 | HIGHLANDS | R-1D - SINGLE FAMILY RESIDENTIAL |
| 14.986.607 | 425 WHISPERING HILLS DR | GRACED PROPERTIES LLC | 29/03/2023 | 0 | MULTIPLE PROPERTIES | 0.1977 | R | 1 | 139400 | 1979 | 2177 | DOWNING SPANGLER & LAREDO | R-1T - TOWNHOUSE RESIDENTIAL |
| 10.684.100 | 638 N UPPER ST | BEATTY YVONNE L | 29/03/2023 | 0 | CLOSE RELATIVE SALES/TRANSFERS | 0.0861 | R | 1 | 63600 | 1900 | 720 | DOWNTOWN | R-3 - PLANNED NBHD RESIDENTIAL |
| 19.309.520 | 1080 EXPORT ST | THOROUGHBRED HOLDINGS OF BROADWAY LLC | C/O THOROUGHBRED HOSPITALITY GROUP LLC | 29/03/2023 | 2750000 | ARMS LENGTH TRANSACTION | 1.75 | C | 1 | 2286900 | 1995 | 20790 | UNIVERSITY | B-6P - PLANNED SHOPPING CENTER |
| 19.318.120 | 304 TURFWAY DR | MULLINS BERNIE A AND TAMMY F | 29/03/2023 | 0 | PARTIAL SALES | 0.0877 | R | 1 | 125000 | 1995 | 1134 | NORTH POINTE 89 | R-1T - TOWNHOUSE RESIDENTIAL |
| 19.970.330 | 808 REVERE RUN DR | ALIKER DENIS | 29/03/2023 | 239000 | ARMS LENGTH TRANSACTION | 0.1743 | R | 1 | 162500 | 1999 | 1104 | EASTWOOD 91 | R-1E - SINGLE FAMILY RESIDENTIAL |
| 20.055.480 | 4153 PALMETTO DR | HUNTER GEORGE G AND ELLA F | 29/03/2023 | 465000 | ARMS LENGTH TRANSACTION | 0.1793 | R | 6 | 450000 | 1988 | 3130 | PALOMAR 88 | R-1D - SINGLE FAMILY RESIDENTIAL |
| 24.716.473 | 2004 DES COGNETS LN | AICKLEN DONALD NEIL AND KAREN H | 29/03/2023 | 727000 | ARMS LENGTH TRANSACTION | 0.3222 | R | 1 | 470000 | 1979 | 2868 | LANSDOWNE MERRICK | R-1C - SINGLE FAMILY RESIDENTIAL |
| 15.498.100 | 134 LONDONDERRY DR | GARCIA KAREN ANN TRUSTEE | 29/03/2023 | 0 | TRANSFER-TAX NOT PAID | 0.2436 | R | 1 | 118200 | 1958 | 1989 | CARDINAL VALLEY | R-1C - SINGLE FAMILY RESIDENTIAL |
| 38.196.800 | 117 REGENCY POINT PATH | YALLARHAMMER LLC | 29/03/2023 | 125000 | OTHER | 0 | R | 1 | 140300 | 1970 | 1088 | REGENCY POINT (TOWNHOMES OF LEXINGTON) | R-3 - PLANNED NBHD RESIDENTIAL |
| 10.324.600 | 1204 TATES CREEK RD | PPAT PROPERTIES LLC | 29/03/2023 | 440000 | ARMS LENGTH TRANSACTION | 0.322 | R | 1 | 287500 | 1958 | 2852 | MONTCLAIR & MT VERNON | R-1C - SINGLE FAMILY RESIDENTIAL |
| 19.341.440 | 2541 LINDENHURST LOOP | WEST 5TH PROPERTIES LLC | 29/03/2023 | 110000 | ARMS LENGTH TRANSACTION | 0.042 | R | 1 | 117000 | 1994 | 1000 | CRESTVIEW 96 | R-4 - HIGH DENSITY APARTMENT |
| 19.341.440 | 2541 LINDENHURST LOOP | WEST 5TH PROPERTIES LLC | 29/03/2023 | 92000 | OTHER | 0.042 | R | 1 | 117000 | 1994 | 1000 | CRESTVIEW 96 | R-4 - HIGH DENSITY APARTMENT |
| 19.974.240 | 3501 LAURENHAVEN CT | RADER SARAH AND JONATHAN | 29/03/2023 | 135000 | ARMS LENGTH TRANSACTION | 0.1337 | R | 1 | 134200 | 1997 | 948 | SQUIRES WOODS 96 | R-1E - SINGLE FAMILY RESIDENTIAL |
| 20.082.140 | 3992 TERRACE WOODS LN | PREZBY LYNNE L | 29/03/2023 | 322500 | ANNUAL TWICE-SOLD PROPERTY | 0.1227 | R | 2 | 280000 | 1990 | 1822 | ROCK LEDGE STONE GARDEN & TERRACE WOOD | R-3 - PLANNED NBHD RESIDENTIAL |
| 22.879.300 | 860 DELLA DR | WURTELE DAVID F TTEE | THE WURTELE LIVING TRUST | 29/03/2023 | 0 | CLOSE RELATIVE SALES/TRANSFERS | 0.2066 | R | 5 | 196400 | 1953 | 1701 | GARDENSIDE PROSPECT HILL & SKY CREST | R-1C - SINGLE FAMILY RESIDENTIAL |
| 40.724.800 | 1636 STRADER DR | GRACED PROPERTIES LLC | 29/03/2023 | 0 | MULTIPLE PROPERTIES | 0.2491 | R | 5 | 130000 | 1953 | 1109 | HENRY CLAY | R-1C - SINGLE FAMILY RESIDENTIAL |
| 43.721.900 | 128 BROWN AVE | KIPLING CAPITAL LLC | 29/03/2023 | 89900 | ARMS LENGTH TRANSACTION | 0.4132 | E | 5 | 90200 | 1953 | 955 | LEXINGTON MANOR | R-1C - SINGLE FAMILY RESIDENTIAL |
| 43.721.900 | 128 BROWN AVE | KIPLING CAPITAL LLC | 28/03/2023 | 0 | AFFILIATED ORGANIZATIONS | 0.4132 | E | 5 | 90200 | 1953 | 955 | LEXINGTON MANOR | R-1C - SINGLE FAMILY RESIDENTIAL |
| 53.291.000 | 245 LEAWOOD DR | MISCHNER S JAMES AND JOYCE R | 17/03/2023 | 425000 | ARMS LENGTH TRANSACTION | 0.4185 | R | 4 | 308800 | 1960 | 2307 | BROOKHAVEN | R-1C - SINGLE FAMILY RESIDENTIAL |
| 53.291.000 | 245 LEAWOOD DR | MISCHNER S JAMES AND JOYCE R | 29/03/2023 | 425000 | ANNUAL TWICE-SOLD PROPERTY | 0.4185 | R | 4 | 308800 | 1960 | 2307 | BROOKHAVEN | R-1C - SINGLE FAMILY RESIDENTIAL |
| 10.038.620 | 3649 ARBOR DR | FIRST CHOICE CAPITAL HOLDINGS LLC | 28/03/2023 | 60000 | OTHER | 0.0624 | R | 1 | 129100 | 1989 | 1160 | ARBOR COURT & DRIVE | R-3 - PLANNED NBHD RESIDENTIAL |
| 12.497.125 | 220 CODELL DR | BBRR LLC | 28/03/2023 | 182000 | ARMS LENGTH TRANSACTION | 0.18 | R | 1 | 173800 | 1969 | 1722 | WOODHILL | R-2 - TWO-FAMILY RESIDENTIAL |
| 16.323.400 | 317 WITHROW WAY | WILSON RONALD SCOTT | 28/03/2023 | 20000 | VACANT LOTS/ BUILDERS | 0.0776 | R | 1 | 20000 | | 0 | DOWNTOWN | I-1 - LIGHT INDUSTRIAL |
| 20.039.500 | 3424 WOODSPRING DR | ASAOLU AKINOLA SINMILOLU | 28/03/2023 | 254400 | ANNUAL TWICE-SOLD PROPERTY | 0.1389 | R | 1 | 217000 | 1987 | 1359 | CENTURY HILLS | R-1T - TOWNHOUSE RESIDENTIAL |
| 20.135.010 | 2242 STONEWOOD LN | GILCHREST PROPERTIES LLC | 28/03/2023 | 0 | AFFILIATED ORGANIZATIONS | 0.2314 | R | 1 | 187700 | 1993 | 1474 | EASTWOOD 91 | R-1D - SINGLE FAMILY RESIDENTIAL |
| 25.321.400 | 549 JUDY LN | SULLIVAN ARTHUR J | 28/03/2023 | 140000 | ARMS LENGTH TRANSACTION | 0.241 | R | 1 | 140000 | 1958 | 1021 | THOROUGHBRED | R-1C - SINGLE FAMILY RESIDENTIAL |
| 38.093.470 | 2809 BELLE HAVEN PL | JONES JOSEPH JR AND CARLA | 28/03/2023 | 0 | CLOSE RELATIVE SALES/TRANSFERS | 0.1873 | R | 1 | 260800 | 2004 | 3037 | MASTERSON STATION III | R-3 - PLANNED NBHD RESIDENTIAL |
| 38.172.250 | 250 S MARTIN LUTHER KING BLVD UNIT 111 | PENG LIN | 28/03/2023 | 142000 | ARMS LENGTH TRANSACTION | 0 | R | 1 | 120000 | 2006 | 572 | CITYCOURTS CONDOMINIUMS | B-2A - DOWNTOWN FRAME BUSINESS |
| 40.261.200 | 1445 BRYAN AVE | HERNANDEZ RICARDO | 28/03/2023 | 52000 | MASTER COMMISSIONER SALE | 0.2138 | R | 1 | 45100 | 1920 | 1007 | HIGHLAWN | R-1C - SINGLE FAMILY RESIDENTIAL |
| 20.054.200 | 3131 CUSTER DR UNIT 10 | 3131 CUSTER DRIVE OWNERS ASSOCIATION INC | 28/03/2023 | 0 | VACANT LOTS/ BUILDERS | 0.48 | C | 1 | 0 | | 0 | TATES CREEK | P-1 - PROFESSIONAL OFFICE |
| 14.158.600 | 116 N HANOVER AVE | HIXON ELIZABETH L | 28/03/2023 | 370000 | ARMS LENGTH TRANSACTION | 0.1722 | R | 1 | 250000 | 1924 | 1616 | KENWICK II | R-2 - TWO-FAMILY RESIDENTIAL |
| 11.047.500 | 2257 HARRODSBURG RD | LWM PROPERTIES LLC | 28/03/2023 | 1325000 | ARMS LENGTH TRANSACTION | 0.5729 | C | 1 | 1209000 | 1967 | 3500 | SOUTHLAND | P-1 - PROFESSIONAL OFFICE |
| 14.197.800 | 1104 GREENTREE CT | SALASH AMAEL AND NAZIR | SALASH AMANI | 28/03/2023 | 215000 | ARMS LENGTH TRANSACTION | 0.2285 | R | 1 | 188000 | 1969 | 1539 | GAINESWAY | R-1C - SINGLE FAMILY RESIDENTIAL |
| 20.066.540 | 3508 TOPAZ CT | ROSS TRICIA | MARTIN KODIE | 28/03/2023 | 0 | TRANSFER-TAX NOT PAID | 0.2429 | R | 4 | 185700 | 1989 | 2294 | STONE CREEK 88 | R-1D - SINGLE FAMILY RESIDENTIAL |
| 38.214.920 | 629 BLANDVILLE RD | ORTMAYER MERYLEE N TTEE | ORTMAYER FAMILY REVOCABLE TRUST 3-28-23 | 28/03/2023 | 0 | AFFILIATED ORGANIZATIONS | 0.1376 | R | 3 | 319000 | 2007 | 1896 | GESS PROPERTY | EAR-1 - EXPANSION AREA RESIDENTIAL |
| 12.601.300 | 1615 ASTAIRE DR | EDMUNDS MICHELLE AND BILLY RAY | 28/03/2023 | 142500 | ARMS LENGTH TRANSACTION | 0.1515 | R | 1 | 69400 | 1973 | 960 | HOLLOW CREEK & WINBURN | R-1D - SINGLE FAMILY RESIDENTIAL |
| 15.605.600 | 3299 SUTHERLAND DR | SPROUL JAYNE ALLISON TRUSTEE | 28/03/2023 | 0 | TRANSFER-TAX NOT PAID | 0.2427 | R | 1 | 200500 | 1971 | 1640 | GAINESWAY | R-1C - SINGLE FAMILY RESIDENTIAL |
| 38.037.010 | 2005 BALTUSROL LN | LE HUNG VAN | C/O SUE PHAM | 28/03/2023 | 264900 | ARMS LENGTH TRANSACTION | 0.1011 | R | 1 | 209900 | 2000 | 1269 | GLENEAGLES II | EAR-2 - EXPANSION AREA RESIDENTIAL |
| 10.038.120 | 121 129 PROSPEROUS PL UNIT 5A | JT BARRETT LAND HOLDING LLC | 28/03/2023 | 289000 | MULTIPLE PROPERTIES | 0 | C | 1 | 107800 | 1988 | 981 | RICHMOND | P-1 - PROFESSIONAL OFFICE |
| 10.038.130 | 121 129 PROSPEROUS PL UNIT 6A | JT BARRETT LAND HOLDING LLC | 28/03/2023 | 289000 | MULTIPLE PROPERTIES | 0 | C | 1 | 106200 | 1988 | 1020 | RICHMOND | P-1 - PROFESSIONAL OFFICE |
| 16.488.500 | 545 LIN WAL RD | PENNIE BENJAMIN JR AND BIBI S | 28/03/2023 | 209900 | ARMS LENGTH TRANSACTION | 0.2029 | R | 1 | 155700 | 1965 | 1102 | RADCLIFFE | R-1D - SINGLE FAMILY RESIDENTIAL |
| 16.488.500 | 545 LIN WAL RD | PENNIE BENJAMIN JR AND BIBI S | 17/03/2023 | 0 | TRANSFER-TAX NOT PAID | 0.2029 | R | 1 | 155700 | 1965 | 1102 | RADCLIFFE | R-1D - SINGLE FAMILY RESIDENTIAL |
| 16.912.000 | 1147 FLOYD DR | MKR PROPERTIES LLC | 28/03/2023 | 550000 | ARMS LENGTH TRANSACTION | 0.49 | C | 1 | 459400 | 1975 | 6756 | WINCHESTER | I-1 - LIGHT INDUSTRIAL |
| 22.429.000 | 1722 YORKTOWN RD | CHANEY KENNEDY | 28/03/2023 | 250000 | ARMS LENGTH TRANSACTION | 0.2425 | R | 5 | 172600 | 1955 | 1335 | GARDENSIDE PROSPECT HILL & SKY CREST | R-1C - SINGLE FAMILY RESIDENTIAL |
| 22.515.500 | 517 CROMWELL WAY | OTTE DAVID | RITCHIE HENRIETTA | 28/03/2023 | 340000 | ARMS LENGTH TRANSACTION | 0.241 | R | 4 | 208200 | 1973 | 2320 | ROBINWOOD | R-1C - SINGLE FAMILY RESIDENTIAL |
| 15.064.400 | 2125 OLEANDER DR | DAZEN MICHAEL A | 27/03/2023 | 233000 | ARMS LENGTH TRANSACTION | 0.1736 | R | 1 | 203000 | 1962 | 1146 | GARDEN SPRINGS | R-1D - SINGLE FAMILY RESIDENTIAL |
| 20.068.400 | 4501 ALIGAN WAY | ALI ISMAEL M | KAFAFI EMAN F | 27/03/2023 | 0 | AFFILIATED ORGANIZATIONS | 0.2574 | R | 4 | 150000 | 1974 | 2593 | SOUTHPOINT | R-1C - SINGLE FAMILY RESIDENTIAL |
| 16.899.750 | 1921 GLENGARRY WAY | GERGELY DONALD A JR AND ANGELA NASH | 27/03/2023 | 310000 | NEW CONSTRUCTION | 0.1653 | R | 1 | 215500 | 2022 | 2400 | DEEP SPRINGS PRT OF DIXIE HERMITAGE HILL | R-1D - SINGLE FAMILY RESIDENTIAL |
| 38.240.010 | 4781 WILLMAN WAY | ODONNELL ALLISON | 27/03/2023 | 439000 | ARMS LENGTH TRANSACTION | 0.1482 | R | 1 | 376600 | 2016 | 2758 | GESS PROPERTY | EAR-2 - EXPANSION AREA RESIDENTIAL |
| 11.960.000 | 924 DELAWARE AVE | JPKVL LLC | 15/03/2023 | 59100 | MASTER COMMISSIONER SALE | 0.1194 | R | 1 | 120000 | 1920 | 2068 | LIBERTY HEIGHTS | R-2 - TWO-FAMILY RESIDENTIAL |
| 11.960.000 | 924 DELAWARE AVE | JPKVL LLC | 27/03/2023 | 120000 | 1ST SALE AFTER FORECLOSURE | 0.1194 | R | 1 | 120000 | 1920 | 2068 | LIBERTY HEIGHTS | R-2 - TWO-FAMILY RESIDENTIAL |
| 12.336.000 | 1936 GREENLEAF DR | MARTIN KASEY LYNN | 27/03/2023 | 170000 | ANNUAL TWICE-SOLD PROPERTY | 0.1421 | R | 1 | 130000 | 1965 | 1190 | DEEP SPRINGS PRT OF DIXIE HERMITAGE HILL | R-1D - SINGLE FAMILY RESIDENTIAL |
| 12.820.800 | 820 FOXCROFT CT | BROCKMAN BRENDA TRUSTEE | 27/03/2023 | 0 | TRANSFER-TAX NOT PAID | 0.1653 | R | 1 | 153000 | 1969 | 1600 | RADCLIFFE | R-2 - TWO-FAMILY RESIDENTIAL |
| 15.326.000 | 807 TREMONT AVE | HIRSH JAMES B | 27/03/2023 | 270000 | ARMS LENGTH TRANSACTION | 0.1607 | R | 1 | 270000 | 1929 | 1814 | HOLLYWOOD TERRACE | R-1D - SINGLE FAMILY RESIDENTIAL |
| 38.069.490 | 1467 PINE NEEDLES LN UNIT 0904 | BRUMLEY DON AND CHANNELL SHANNON W | CO TTEES SHELDON L MAUNTER REV TRUST | 27/03/2023 | 0 | TRANSFER-TAX NOT PAID | 0 | R | 3 | 369900 | 2001 | 2055 | HERITAGE PLACE 00 | R-3 - PLANNED NBHD RESIDENTIAL |
| 38.119.250 | 2049 DRUMMOND DR | IGLEHART SARAH ELIZABETH | IGLEHART ANDREW DAVID | 27/03/2023 | 257500 | ARMS LENGTH TRANSACTION | 0.1894 | R | 1 | 206800 | 2004 | 1427 | COVENTRY (BELMONT FARM) | R-3 - PLANNED NBHD RESIDENTIAL |
| 38.170.170 | 133 TOWNE SQUARE PARK | GNADINER GLEN | 27/03/2023 | 260000 | ARMS LENGTH TRANSACTION | 0.0851 | R | 1 | 260000 | 2006 | 1282 | SHARKEY PROPERTY | R-3 - PLANNED NBHD RESIDENTIAL |
| 53.712.850 | 926 WOLF RUN DR | BLUECHIP PROPERTY GROUP LLC | 27/03/2023 | 195000 | ARMS LENGTH TRANSACTION | 0.4325 | R | 4 | 175600 | 1957 | 1675 | PINE MEADOWS | R-1C - SINGLE FAMILY RESIDENTIAL |
| 20.023.550 | 1704 BROOK PARK DR | BARNHART MONIQUE TRUSTEE | 27/03/2023 | 0 | TRANSFER-TAX NOT PAID | 0.1389 | R | 1 | 167800 | 1990 | 1359 | SQUIRE OAK | R-1D - SINGLE FAMILY RESIDENTIAL |
| 20.075.580 | 4056 WEBER WAY | SLONE JIMPY D AND DEBORAH | 27/03/2023 | 0 | CLOSE RELATIVE SALES/TRANSFERS | 0.3285 | R | 4 | 244600 | 1989 | 1993 | WYNDHAM HILLS 87 | R-1D - SINGLE FAMILY RESIDENTIAL |
| 38.230.100 | 650 S MILL ST UNIT 212 | BENNETT CAMILLE NAYLOR | 27/03/2023 | 187900 | ARMS LENGTH TRANSACTION | 0 | R | 1 | 130000 | 2009 | 582 | CENTERCOURT CONDOMINIUMS | MU-2 - NEIGHBORHOOD CORRIDOR |
| 13.995.100 | 2691 PENWAY CT | HOLMES ANTWUAN RASHAAN | 27/03/2023 | 282000 | CHANGED TRANSFERRED SALE | 0.2716 | R | 1 | 114000 | 1967 | 2091 | MT TABOR HEIGHTS | R-1D - SINGLE FAMILY RESIDENTIAL |
| 38.041.290 | 3021 ASHLEY OAKS DR | MIDBOE PENN PAMELA RUTH | 27/03/2023 | 0 | CLOSE RELATIVE SALES/TRANSFERS | 0.1864 | R | 1 | 399800 | 2002 | 2680 | ROBERTSON'S PROPERTY 00 | R-1C - SINGLE FAMILY RESIDENTIAL |
| 38.175.460 | 648 LUCILLE DR | SWENO ETHAN | 27/03/2023 | 323000 | ARMS LENGTH TRANSACTION | 0.1188 | R | 1 | 323000 | 2006 | 2214 | GREENDALE HILLS | R-3 - PLANNED NBHD RESIDENTIAL |
| 11.177.400 | 3673 CROSBY DR | HUDSON THEODORE J | 27/03/2023 | 0 | CLOSE RELATIVE SALES/TRANSFERS | 0.1887 | R | 1 | 169300 | 1973 | 1463 | MELODY VILLAGE & RIVER PARK | R-2 - TWO-FAMILY RESIDENTIAL |
| 11.177.400 | 3673 CROSBY DR | HUDSON THEODORE J | 23/03/2023 | 240000 | ARMS LENGTH TRANSACTION | 0.1887 | R | 1 | 169300 | 1973 | 1463 | MELODY VILLAGE & RIVER PARK | R-2 - TWO-FAMILY RESIDENTIAL |
| 11.709.500 | 432 E FIFTH ST | WHITSON ZACHARY KANE | 27/03/2023 | 177300 | ARMS LENGTH TRANSACTION | 0.1237 | R | 1 | 186900 | 1948 | 1900 | DOWNTOWN | R-3 - PLANNED NBHD RESIDENTIAL |
| 19.315.960 | 3208 JOI CIR | MAC 8 LLC | 27/03/2023 | 205000 | ARMS LENGTH TRANSACTION | 0.2414 | R | 1 | 205000 | 1996 | 1363 | FOREST HILLS | R-1D - SINGLE FAMILY RESIDENTIAL |
| 19.963.410 | 2088 BELMONT DR | NAVARRO SALVADOR GAYTAN | 27/03/2023 | 220000 | ARMS LENGTH TRANSACTION | 0.0962 | R | 1 | 220000 | 1997 | 1027 | NORTH POINTE 89 | R-1E - SINGLE FAMILY RESIDENTIAL |
| 20.129.490 | 679 MINT HILL LN | BARKER WILLIAM S | 27/03/2023 | 500000 | ARMS LENGTH TRANSACTION | 0.2011 | R | 1 | 457800 | 1995 | 4674 | ANDOVER II | R-1D - SINGLE FAMILY RESIDENTIAL |
| 23.996.746 | 1925 MINT JULEP LN | GRIFFORD REALTY LLC | 27/03/2023 | 220000 | ARMS LENGTH TRANSACTION | 0.2009 | R | 4 | 204600 | 1977 | 2381 | PLANTATION A | R-1D - SINGLE FAMILY RESIDENTIAL |
| 23.996.746 | 1925 MINT JULEP LN | GRIFFORD REALTY LLC | 27/03/2023 | 240000 | ANNUAL TWICE-SOLD PROPERTY | 0.2009 | R | 4 | 204600 | 1977 | 2381 | PLANTATION A | R-1D - SINGLE FAMILY RESIDENTIAL |
| 17.139.700 | 673 BERRY LN | WILSON DAVID L | 26/03/2023 | 0 | AFFILIATED ORGANIZATIONS | 0.2007 | R | 1 | 217400 | 1957 | 1260 | MONTCLAIR & MT VERNON | R-1C - SINGLE FAMILY RESIDENTIAL |
| 14.027.017 | 175 MALABU DR UNIT 18 | REYES CENTENO HUGO | PRIETO VALLE MIGUEL | 24/03/2023 | 95645 | ARMS LENGTH TRANSACTION | 0 | R | 1 | 60000 | 1969 | 638 | MALABU TERRACE | R-4 - HIGH DENSITY APARTMENT |
| 10.248.950 | 2413 COGNAC TER | RAMIREZ ROYVER VELAZQUEZ | MARTINEZ LUCRECIA | 24/03/2023 | 180000 | ARMS LENGTH TRANSACTION | 0.2634 | R | 1 | 145800 | 1972 | 1025 | HOLIDAY HILLS | R-1C - SINGLE FAMILY RESIDENTIAL |
| 11.406.800 | 545 EUCLID AVE | 545 EUCLID LLC | 24/03/2023 | 185000 | ARMS LENGTH TRANSACTION | 0.08 | C | 1 | 127700 | 1949 | 984 | UNIVERSITY | P-1 - PROFESSIONAL OFFICE |
| 12.430.800 | 1528 GREEN HILLS RD | GONA DEBORAH A | 24/03/2023 | 0 | CLOSE RELATIVE SALES/TRANSFERS | 0.4131 | R | 1 | 255600 | 1973 | 2672 | EASTLAND PARK & PART OF DIXIE PLANTATION | R-1C - SINGLE FAMILY RESIDENTIAL |
| 17.195.346 | 3028 TUSCALOOSA LN | VANDERVEER PATRICIA AND PATRICK | 24/03/2023 | 270000 | ARMS LENGTH TRANSACTION | 0.2716 | R | 1 | 171900 | 1978 | 1924 | COVE LAKE | R-1D - SINGLE FAMILY RESIDENTIAL |
| 20.097.680 | 4440 HARTLAND PKWY | ROSA LLC | 24/03/2023 | 195000 | ARMS LENGTH TRANSACTION | 0.2181 | R | 1 | 188700 | 1991 | 1564 | MEADOW CREEK | R-1D - SINGLE FAMILY RESIDENTIAL |
| 27.169.014 | 320 RENO CT | DM2 PROPERTIES LLC | 24/03/2023 | 165000 | ARMS LENGTH TRANSACTION | 0.101 | R | 1 | 143200 | 1983 | 1190 | WAGON WHEEL ESTATES | R-1T - TOWNHOUSE RESIDENTIAL |
| 38.288.490 | 645 WINDFLOWER WAY | BENNETT DERRICK AND BRITTANY | 24/03/2023 | 397900 | NEW CONSTRUCTION | 0.1789 | R | 1 | 292400 | 2022 | 2016 | MYERS PROPERTY | R-3 - PLANNED NBHD RESIDENTIAL |
| 38.297.960 | 1093 SQUIRREL NEST LN | MCCARTY HOME BUILDERS LLC | 24/03/2023 | 73500 | VACANT LOTS/ BUILDERS | 0.1616 | R | 2 | 75000 | | 0 | NEWMARKET PROPERTY | EAR-2 - EXPANSION AREA RESIDENTIAL |
| 18.879.000 | 3625 BARROW WOOD LN | WADAMS MARK R AND STEFANIE F | 24/03/2023 | 1127500 | ARMS LENGTH TRANSACTION | 0.573 | R | 3 | 900000 | 2001 | 10745 | CASTLEGATE 88 | R-1C - SINGLE FAMILY RESIDENTIAL |
| 20.068.700 | 4858 HARTLAND PKWY | UNBRIDLED HARTLAND LLC | 24/03/2023 | 0 | AFFILIATED ORGANIZATIONS | 0.3414 | R | 1 | 380000 | 1989 | 4664 | HARTLAND 2B | R-1T - TOWNHOUSE RESIDENTIAL |
| 38.169.730 | 3340 SWEET CLOVER LN | MORRISON THOMAS BENTON | 24/03/2023 | 359900 | ARMS LENGTH TRANSACTION | 0.0947 | R | 1 | 315300 | 2009 | 1883 | CLARK PROPERTY | EAR-2 - EXPANSION AREA RESIDENTIAL |
| 15.582.100 | 446 EMERSON DR | DEATON ENTERPRISES LLC | 24/03/2023 | 125000 | ARMS LENGTH TRANSACTION | 0.2296 | R | 1 | 125000 | 1950 | 1206 | THE MEADOWS | R-1C - SINGLE FAMILY RESIDENTIAL |
| 26.431.100 | 5350 ATHENS BOONESBORO RD | P&T PROPERTY LLC | 24/03/2023 | 2569403 | CHANGED TRANSFERRED SALE | 1.06 | C | 2 | 2298600 | 2021 | 4920 | INTERSTATE | B-5P - INTERCHANGE BUSINESS |
| 32.400.100 | 241 HENRY CLAY BLVD | VANDY JOSHUA B | 24/03/2023 | 535000 | ARMS LENGTH TRANSACTION | 0.1584 | R | 1 | 455000 | 1938 | 2443 | FAIRWAY | R-1C - SINGLE FAMILY RESIDENTIAL |
| 38.083.310 | 1156 APPIAN CROSSING WAY UNIT 205 | KEENE LARRY DAVID & HANNAH ELIZABETH | 24/03/2023 | 205000 | ARMS LENGTH TRANSACTION | 0.0344 | R | 1 | 145200 | 2003 | 1240 | GLEN CREEK UNIT 4 (DOVE CREEK) | R-4 - HIGH DENSITY APARTMENT |
| 38.296.420 | 1125 MARLENA LN | LOGAN TAVIS M AND ASHLEY L | 24/03/2023 | 334868 | NEW CONSTRUCTION | 0.1181 | R | 1 | 149300 | 2022 | 2312 | WOODWARD LANDER PROPERTY | R-3 - PLANNED NBHD RESIDENTIAL |
| 11.488.500 | 448 SHAWNEE AVE | FIRST CHOICE CAPITAL HOLDINGS LLC | 24/03/2023 | 0 | AFFILIATED ORGANIZATIONS | 0.1377 | R | 1 | 78500 | 1942 | 792 | HIGHLAWN | R-1C - SINGLE FAMILY RESIDENTIAL |
| 12.111.350 | 446 SHAWNEE AVE | FIRST CHOICE CAPITAL HOLDINGS LLC | 24/03/2023 | 0 | AFFILIATED ORGANIZATIONS | 0.1377 | R | 1 | 78900 | 1939 | 832 | HIGHLAWN | R-1C - SINGLE FAMILY RESIDENTIAL |
| 20.051.010 | 2449 HARDEN LN | BROWNELL BILLIE | 24/03/2023 | 615000 | ARMS LENGTH TRANSACTION | 11.13 | F | 2 | 560500 | 1970 | 1280 | NORTHWEST QUADRANT | A-R - AGRICULTURAL RURAL |
| 20.074.330 | 4712 SCENICVIEW RD | FERGUSON JOHN R | CONLEE KIMBERLY ANN | 24/03/2023 | 530000 | CHANGED TRANSFERRED SALE | 0.316 | R | 4 | 426900 | 1990 | 3504 | DOGWOOD TRACE 88 | R-1C - SINGLE FAMILY RESIDENTIAL |
| 25.288.075 | 4042 LONGFORD CT | CAUDILL RAY E TTEE | CAUDILL FAMILY TRUST | 24/03/2023 | 0 | CLOSE RELATIVE SALES/TRANSFERS | 1.2637 | R | 1 | 237700 | 1969 | 1796 | ROLLING HILLS | A-R - AGRICULTURAL RURAL |
| 26.128.156 | 389 391 WOODVIEW DR | EVERSOLE MICHAEL AND JULIA | 24/03/2023 | 216000 | ARMS LENGTH TRANSACTION | 0.2517 | R | 1 | 186100 | 1978 | 2360 | COVE LAKE | R-1T - TOWNHOUSE RESIDENTIAL |
| 27.281.107 | 3418 WINTHROP DR | SEARCY JAMES D AND CYNTHIA MULLINS | 24/03/2023 | 0 | CLOSE RELATIVE SALES/TRANSFERS | 0.1722 | R | 4 | 189300 | 1976 | 1930 | MONTICELLO | R-1C - SINGLE FAMILY RESIDENTIAL |
| 38.089.960 | 1526 MCGRATHIANA PKWY | ETJ HOLDINGS INCORPORATED | 24/03/2023 | 1155000 | OTHER | 5.58 | E | 1 | 558000 | | 0 | COLDSTREAM | P-2 - OFFICE/INDUSTRY/RESEARCH PARK |
| 38.263.180 | 3408 SWEET CLOVER LN | MCKAY PROPERTIES LLC | 24/03/2023 | 0 | AFFILIATED ORGANIZATIONS | 0.1194 | R | 1 | 246800 | 2016 | 1295 | CLARK PROPERTY | EAR-2 - EXPANSION AREA RESIDENTIAL |
| 38.169.450 | 2156 MILLSTONE WAY | MCKAY PROPERTIES LLC | 24/03/2023 | 0 | AFFILIATED ORGANIZATIONS | 0.1285 | R | 1 | 310300 | 2009 | 2088 | CLARK PROPERTY | EAR-2 - EXPANSION AREA RESIDENTIAL |
| 38.297.980 | 1101 SQUIRREL NEST LN | MCCARTY HOME BUILDERS LLC | 24/03/2023 | 73500 | VACANT LOTS/ BUILDERS | 0.1494 | R | 2 | 75000 | | 0 | NEWMARKET PROPERTY | EAR-2 - EXPANSION AREA RESIDENTIAL |
| 38.090.890 | 2208 PRESCOTT LN | GUTIERREZ CLAUDIA IVETE RODRIGUEZ | OLVERA DANIEL PANOLA | 24/03/2023 | 270000 | ANNUAL TWICE-SOLD PROPERTY | 0.1222 | R | 1 | 205000 | 2004 | 1613 | GIVENS PROPERTY (BELMONT PLACE) | R-3 - PLANNED NBHD RESIDENTIAL |
| 19.335.380 | 888 GERARDI RD | MCKAY PROPERTIES LLC | 24/03/2023 | 0 | AFFILIATED ORGANIZATIONS | 0.1302 | R | 1 | 242000 | 1999 | 2280 | EASTWOOD 91 | R-1E - SINGLE FAMILY RESIDENTIAL |
| 10.044.400 | 2049 ST CHRISTOPHER DR | HAAS & HAAS PROPERTIES LLC | 24/03/2023 | 115000 | ARMS LENGTH TRANSACTION | 0.1148 | R | 1 | 110000 | 1957 | 1025 | IDLE HOUR | R-2 - TWO-FAMILY RESIDENTIAL |
| 12.809.050 | 2016 ALEXANDRIA DR | TUTTLE BILLIE | 24/03/2023 | 250000 | ARMS LENGTH TRANSACTION | 0.2634 | R | 1 | 213300 | 1961 | 1804 | GARDEN SPRINGS | R-1D - SINGLE FAMILY RESIDENTIAL |
| 17.195.585 | 2805 EASTHILLS DR | WATTERSON ALEC | 24/03/2023 | 210000 | ARMS LENGTH TRANSACTION | 0.1738 | R | 1 | 135000 | 1977 | 1377 | MT TABOR HEIGHTS | R-1D - SINGLE FAMILY RESIDENTIAL |
| 19.346.550 | 1230 BEL MAR LN | KIRN VICKIE SWORD TTEE | VICKI SWORD KIRN REVOCABLE TRUST 5-6-22 | 24/03/2023 | 0 | AFFILIATED ORGANIZATIONS | 10.07 | R | 2 | 1254000 | 2006 | 4910 | RURAL UNDER 10 ACRES SE QUAD | A-R - AGRICULTURAL RURAL |
| 20.004.560 | 2112 WOODLEY CIR | HOUSEFIELD TIMOTHY RYAN TTEE | TIMOTHY RYAN HOUSEFIELD TRUST 3-21-23 | 24/03/2023 | 0 | AFFILIATED ORGANIZATIONS | 0.4591 | R | 1 | 950000 | 1985 | 4735 | THE WOODS & TABORLAKE | R-1C - SINGLE FAMILY RESIDENTIAL |
| 25.586.459 | 474 MONTICELLO BLVD | HIBPSHMAN FREDDA S | 24/03/2023 | 0 | CLOSE RELATIVE SALES/TRANSFERS | 0.186 | R | 5 | 158200 | 1974 | 1625 | MONTICELLO | R-1C - SINGLE FAMILY RESIDENTIAL |
| 26.985.600 | 1713 BLUE LICKS RD | COWAN SETH | 24/03/2023 | 287000 | ARMS LENGTH TRANSACTION | 0.2425 | R | 5 | 217000 | 1957 | 2233 | GARDENSIDE PROSPECT HILL & SKY CREST | R-1C - SINGLE FAMILY RESIDENTIAL |
| 38.120.350 | 1436 SADDLE CLUB WAY | MEEHAN MILES | CONLEY CATLIN | 24/03/2023 | 443250 | NEW CONSTRUCTION | 0.4777 | R | 1 | 412000 | 2022 | 2004 | PARTERRE PLACE | R-1C - SINGLE FAMILY RESIDENTIAL |
| 38.130.120 | 3876 WINTHROP DR | FOSTER SHANNON | 24/03/2023 | 142000 | OTHER | 0.1295 | R | 1 | 218400 | 2005 | 1476 | SUNNY SLOPE FARM | R-3 - PLANNED NBHD RESIDENTIAL |
| 38.130.120 | 3876 WINTHROP DR | FOSTER SHANNON | 24/03/2023 | 210000 | ANNUAL TWICE-SOLD PROPERTY | 0.1295 | R | 1 | 218400 | 2005 | 1476 | SUNNY SLOPE FARM | R-3 - PLANNED NBHD RESIDENTIAL |
| 38.248.670 | 1338 CAMDEN AVE | MERIDA ADISON DYLAN AND MO CHEN | 24/03/2023 | 170000 | ARMS LENGTH TRANSACTION | 0.1726 | R | 5 | 115300 | 2013 | 1184 | LYNN GROVE | R-1D - SINGLE FAMILY RESIDENTIAL |
| 38.296.600 | 1144 MARLENA RD | WILLS JOHNNY | 24/03/2023 | 327093 | NEW CONSTRUCTION | 0.1086 | R | 1 | 142200 | 2022 | 2064 | WOODWARD LANDER PROPERTY | R-3 - PLANNED NBHD RESIDENTIAL |
| 44.692.105 | 147 149 BURLEY AVE | SJM HOMES LLC | 24/03/2023 | 0 | AFFILIATED ORGANIZATIONS | 0.1435 | R | 5 | 121000 | | 0 | UNIVERSITY | R-1D - SINGLE FAMILY RESIDENTIAL |
| 11.385.628 | 1435 N FORBES RD UNIT 19 | MORIN JOSEPH COLIN | 23/03/2023 | 119000 | ARMS LENGTH TRANSACTION | 0 | R | 1 | 85000 | 1963 | 958 | FORBES ROAD 1435 | R-4 - HIGH DENSITY APARTMENT |
| 26.331.800 | 1465 GREENDALE RD | ZULA NELLIE MWAMBA | 23/03/2023 | 245000 | ARMS LENGTH TRANSACTION | 1 | R | 2 | 153700 | 1949 | 1978 | GARDEN MEADOWS (DOTSON PROPERTY) | A-R - AGRICULTURAL RURAL |
| 42.608.100 | 111 LEESWAY DR | KENT SCOTT | 23/03/2023 | 127475 | ARMS LENGTH TRANSACTION | 0.1722 | R | 5 | 137000 | 1950 | 1078 | LEESWAY DR | R-1C - SINGLE FAMILY RESIDENTIAL |
| 47.273.400 | 430 KINGSWOOD | RINER SHELBY K | 23/03/2023 | 0 | CLOSE RELATIVE SALES/TRANSFERS | 0.1832 | R | 5 | 292000 | 1950 | 2069 | FAIRWAY | R-1C - SINGLE FAMILY RESIDENTIAL |
| 38.028.730 | 721 WHISPERING BROOK TRCE | SCOTT JOHN WEDDINGTON | 23/03/2023 | 0 | CLOSE RELATIVE SALES/TRANSFERS | 0.1071 | R | 1 | 186700 | 2000 | 1260 | LIBERTY CORNERS 2000 | R-3 - PLANNED NBHD RESIDENTIAL |
| 13.233.625 | 2068 MANOR DR | BRINKER SHELBY HILLIARD | BRINKER KORY NATHANIEL | 23/03/2023 | 0 | CLOSE RELATIVE SALES/TRANSFERS | 0.3038 | R | 1 | 656500 | 1974 | 2667 | LAKEVIEW | R-1B - SINGLE FAMILY RESIDENTIAL |
| 16.793.150 | 340 RADCLIFFE RD | BAILEY RONALD DAVID | BEASLEY LORY BAILEY | 23/03/2023 | 0 | CLOSE RELATIVE SALES/TRANSFERS | 0.3116 | R | 1 | 119900 | 1968 | 1582 | RADCLIFFE | R-2 - TWO-FAMILY RESIDENTIAL |
| 17.080.350 | 702 COOPER DR | KOVALIK CINDY L TTEE | CINDY L KOVALIK TRUST 9-06-13 | 23/03/2023 | 0 | AFFILIATED ORGANIZATIONS | 0.4783 | R | 1 | 625000 | | 0 | MONTCLAIR & MT VERNON | R-1C - SINGLE FAMILY RESIDENTIAL |
| 38.198.720 | 857 MALABU DR UNIT 6102 | RODRIGUES JOHN C CO TRUSTEE | RODRIGUES JOINT REVOCABLE TRUST 1-24-23 | 23/03/2023 | 0 | AFFILIATED ORGANIZATIONS | 0 | R | 4 | 146600 | 2006 | 1319 | 858 MALABU DRIVE | R-4 - HIGH DENSITY APARTMENT |
| 56.242.475 | 320 LEAWOOD DR | KLEPPE TYLER AND ASHLEY | 23/03/2023 | 435000 | ARMS LENGTH TRANSACTION | 0.2479 | R | 4 | 268200 | 1962 | 2366 | BROOKHAVEN | R-1C - SINGLE FAMILY RESIDENTIAL |
| 10.278.819 | 543 LAKETOWER DR UNIT 134 | CONWAY KATHRYN | 23/03/2023 | 459000 | ARMS LENGTH TRANSACTION | 0.1199 | R | 1 | 321300 | 1980 | 2518 | 500-543 LAKETOWER | R-4 - HIGH DENSITY APARTMENT |
| 11.251.250 | 2056 NORBORNE DR | HILLIARD OGDEN H AND BETH R | 23/03/2023 | 0 | CLOSE RELATIVE SALES/TRANSFERS | 0.6021 | R | 1 | 934600 | 1976 | 4414 | LAKEVIEW | R-1B - SINGLE FAMILY RESIDENTIAL |
| 14.057.110 | 503 505 LISA DR | BAILEY RONALD DAVID | BEASLEY LORY BAILEY | 23/03/2023 | 0 | CLOSE RELATIVE SALES/TRANSFERS | 0.3555 | R | 1 | 132400 | 1973 | 1672 | THOROUGHBRED | R-2 - TWO-FAMILY RESIDENTIAL |
| 14.744.100 | 1701 CHICKASAW CT | HUMPHRIES JEREMY AND MORGAN | 23/03/2023 | 272000 | ANNUAL TWICE-SOLD PROPERTY | 0.1389 | R | 1 | 250000 | 1963 | 1594 | DEEP SPRINGS PRT OF DIXIE HERMITAGE HILL | R-1D - SINGLE FAMILY RESIDENTIAL |
| 19.966.490 | 3945 N CLEVELAND RD | WATERS KENNETH R TRUSTEE | 23/03/2023 | 0 | TRANSFER-TAX NOT PAID | 13.38 | F | 2 | 1425000 | 1999 | 8401 | NORTHEAST QUADRANT | A-R - AGRICULTURAL RURAL |
| 20.013.970 | 2808 CLAYS MILL RD | SUTHERLAND SHELBY TOWLER | 23/03/2023 | 270000 | ARMS LENGTH TRANSACTION | 0.29 | R | 5 | 180000 | 1984 | 1696 | SOUTHLAND & HILL N DALE | R-1C - SINGLE FAMILY RESIDENTIAL |
| 23.108.000 | 621 LANE ALLEN RD | EK&S INVESTMENTS LLC | 22/03/2023 | 232000 | ARMS LENGTH TRANSACTION | 0.197 | R | 5 | 195800 | 1952 | 1358 | LAFAYETTE & CHATHAM VILLAGE | R-1C - SINGLE FAMILY RESIDENTIAL |
| 23.127.800 | 639 WORCESTER RD | QUARLES SARAH A | TRAVIS MILLER M | 22/03/2023 | 425000 | CHANGED TRANSFERRED SALE | 0.2267 | R | 5 | 212000 | 1965 | 1932 | MONTICELLO | R-1C - SINGLE FAMILY RESIDENTIAL |
| 38.163.330 | 1809 GOODPASTER WAY | DHILLON HARTEJ SINGH AND CLARE | 22/03/2023 | 0 | CLOSE RELATIVE SALES/TRANSFERS | 0.2138 | R | 1 | 675600 | 2016 | 4922 | PATCHEN WILKES | R-1C - SINGLE FAMILY RESIDENTIAL |
| 38.206.900 | 535 S UPPER ST UNIT 175 | MMG REO II LLC | 22/03/2023 | 180000 | OTHER | 0 | C | 1 | 296300 | 2007 | 1975 | UNIVERSITY | MU-2 - NEIGHBORHOOD CORRIDOR |
| 38.269.100 | 526 ESTRELLA DR | BRUNER JAMES LAWRENCE | 22/03/2023 | 365000 | ARMS LENGTH TRANSACTION | 0.1563 | R | 1 | 365000 | 2019 | 2047 | GREENDALE HILLS | R-3 - PLANNED NBHD RESIDENTIAL |
| 20.012.810 | 1574 SUMMERHILL DR | SHADWICK RICHARD | 22/03/2023 | 170000 | ARMS LENGTH TRANSACTION | 0.1389 | R | 1 | 130900 | 1984 | 1203 | CENTURY HILLS | R-1T - TOWNHOUSE RESIDENTIAL |
| 38.287.410 | 1264 BARLEYS PASS | CARTER DONALD LEE TRUSTEE | CARTER LIVING TRUST 3-22-23 | 22/03/2023 | 0 | AFFILIATED ORGANIZATIONS | 0.1241 | R | 1 | 226600 | 2021 | 1600 | WOODWARD LANDER PROPERTY | R-3 - PLANNED NBHD RESIDENTIAL |
| 19.341.370 | 2560 LINDENHURST LOOP | KEMP STEPHEN THOMAS & KERRY TUTTLE | 22/03/2023 | 130000 | CHANGED TRANSFERRED SALE | 0.0379 | R | 1 | 65200 | 1996 | 1000 | CRESTVIEW 96 | R-4 - HIGH DENSITY APARTMENT |
| 20.086.020 | 1345 COPPER RUN BLVD | SALLEY KRISTY LOKLYN | 22/03/2023 | 0 | NAME CHANGE/MERGER | 0.241 | R | 1 | 434100 | 1991 | 2482 | COPPERFIELD | R-1D - SINGLE FAMILY RESIDENTIAL |
| 24.694.825 | 4744 BRYAN STATION RD | SANFORD DOUG AND DENISE | 22/03/2023 | 770000 | OTHER | 10.16 | F | 2 | 866500 | 1988 | 5000 | NORTHEAST QUADRANT | A-R - AGRICULTURAL RURAL |
| 26.732.700 | 4057 FOXE BASIN RD | KELLER REBECCA PAIGE | C/O CARLA GRIGALIS ADM | 22/03/2023 | 0 | TRANSFER-TAX NOT PAID | 0.1712 | R | 4 | 138100 | 1967 | 2023 | PICKWAY | R-1D - SINGLE FAMILY RESIDENTIAL |
| 27.248.000 | 328 ARCADIA PARK | SWANSON MARK ALBERT TRUSTEE | SCHOENBERG NANCY ELLEN TRUSTEE | 22/03/2023 | 0 | TRANSFER-TAX NOT PAID | 0.1653 | R | 3 | 334600 | 1939 | 2334 | TAHOMA TERRACE & CRESTWOOD | R-1C - SINGLE FAMILY RESIDENTIAL |
| 38.294.810 | 1513 FLEMISHBOND PATH | PIENAAR RUDOLPH JOHANNES & DESTINY LEE | 22/03/2023 | 386900 | NEW CONSTRUCTION | 0.1161 | R | 1 | 300000 | 2022 | 2352 | BLACKFORD PROPERTY III | EAR-1 - EXPANSION AREA RESIDENTIAL |
| 19.998.270 | 4604 FITZROY CT | COUCH TYLER ANDREW | 22/03/2023 | 325000 | ARMS LENGTH TRANSACTION | 0.1064 | R | 1 | 212900 | 1999 | 1964 | HIGHLAND LAKES 95 | R-3 - PLANNED NBHD RESIDENTIAL |
| 13.405.850 | 940 IDLEWILD CT | FRANTZ SYBIL | 22/03/2023 | 0 | MASTER COMMISSIONER SALE | 0.1568 | R | 1 | 144300 | 1952 | 1966 | THE MEADOWS | R-1C - SINGLE FAMILY RESIDENTIAL |
| 13.620.340 | 3332 CARRIAGE LN | PAUL EDWIN WYNN AND TAMMY IRENE | 22/03/2023 | 0 | CLOSE RELATIVE SALES/TRANSFERS | 0.3512 | R | 1 | 209500 | 1978 | 2557 | PARK HILLS & CARRIAGE LANE ESTATES | R-1C - SINGLE FAMILY RESIDENTIAL |
| 14.929.100 | 1126 OAK HILL DR | STEFFEN JAMIE JOHN | 22/03/2023 | 190000 | CHANGED TRANSFERRED SALE | 0.1773 | R | 1 | 96700 | 1955 | 1201 | THE MEADOWS | R-1C - SINGLE FAMILY RESIDENTIAL |
| 23.193.900 | 256 SHADY LN | ANTHONY JONES | 22/03/2023 | 716000 | ANNUAL TWICE-SOLD PROPERTY | 0.5234 | R | 5 | 660000 | 1949 | 4078 | TAHOMA TERRACE & CRESTWOOD | R-1C - SINGLE FAMILY RESIDENTIAL |
| 23.193.900 | 256 SHADY LN | ANTHONY JONES | 22/03/2023 | 71600 | OTHER | 0.5234 | R | 5 | 660000 | 1949 | 4078 | TAHOMA TERRACE & CRESTWOOD | R-1C - SINGLE FAMILY RESIDENTIAL |
| 12.029.700 | 1155 ALEXANDRIA DR | ZURUTUZA RICARDO ANTHOLIN MOTA | VAZQUEZ ALICE MARLEN RIVERA | 21/03/2023 | 240000 | ARMS LENGTH TRANSACTION | 0.3761 | R | 1 | 204500 | 1966 | 2100 | HOLIDAY HILLS | R-1D - SINGLE FAMILY RESIDENTIAL |
| 12.352.625 | 1156 ANDERSON ST | COMMUNITY ACTION COUNCIL FOR LEX FAYETTE | BOURBON HARRISON & NICHOLAS CO INC | 21/03/2023 | 140000 | CHANGED TRANSFERRED SALE | 0.0826 | R | 1 | 30000 | 1994 | 1152 | IRISHTOWN | R-3 - PLANNED NBHD RESIDENTIAL |
| 20.012.710 | 3461 WINDYKNOLL DR | SIMON SAVANNAH M | HAMILTON STEVEN A JR | 21/03/2023 | 213000 | ARMS LENGTH TRANSACTION | 0.1312 | R | 1 | 140000 | 1984 | 1107 | CENTURY HILLS | R-1T - TOWNHOUSE RESIDENTIAL |
| 20.046.840 | 349 FOX HARBOUR DR | LEWIS DREW C | 21/03/2023 | 0 | NAME CHANGE/MERGER | 0.1377 | R | 5 | 180000 | 1987 | 1596 | FOX HARBOUR 88 | R-1E - SINGLE FAMILY RESIDENTIAL |
| 38.282.700 | 3800 STOLEN HORSE TRCE | KEARNS KRISTOPHER D AND CHRISTIA S | 21/03/2023 | 574900 | NEW CONSTRUCTION | 0.1542 | R | 1 | 574900 | 2022 | 2521 | NEWMARKET PROPERTY | EAR-2 - EXPANSION AREA RESIDENTIAL |
| 13.302.940 | 1348 PRATHER RD | NICHOLS WILLIAM W AND SUSAN P | 21/03/2023 | 730000 | CHANGED TRANSFERRED SALE | 0.4792 | R | 1 | 451700 | 1969 | 2719 | ASHLAND | R-1B - SINGLE FAMILY RESIDENTIAL |
| 38.296.360 | 1149 MARLENA LN | BOWLING GREG L AND KAREN A | 21/03/2023 | 324900 | NEW CONSTRUCTION | 0.1194 | R | 1 | 324900 | 2022 | 2032 | WOODWARD LANDER PROPERTY | R-3 - PLANNED NBHD RESIDENTIAL |
| 14.716.202 | 2029 IMPALA LN | CAMAC CHARLES CHRISTOPHER & ERIN R | 21/03/2023 | 555000 | CHANGED TRANSFERRED SALE | 0.509 | R | 1 | 220000 | 1979 | 2456 | LANSDOWNE MERRICK | R-1C - SINGLE FAMILY RESIDENTIAL |
| 19.333.960 | 328 FOREST HILL DR | ZHENG XIAOCHUN | 21/03/2023 | 235000 | ARMS LENGTH TRANSACTION | 0.2565 | R | 1 | 200100 | 1995 | 1143 | FOREST HILLS | R-4 - HIGH DENSITY APARTMENT |
| 20.059.610 | 2304 OLD KEENE PL | COLLINS MICHAEL GEORGE AND TRISTEN BEARD | 21/03/2023 | 725000 | ARMS LENGTH TRANSACTION | 0.3994 | R | 1 | 375000 | 1987 | 4211 | HARTLAND 2B | R-1C - SINGLE FAMILY RESIDENTIAL |
| 38.198.710 | 857 MALABU DR UNIT 6101 | BLOCK STANLEY L | 21/03/2023 | 157350 | ARMS LENGTH TRANSACTION | 0 | R | 4 | 147200 | 2006 | 1334 | 858 MALABU DRIVE | R-4 - HIGH DENSITY APARTMENT |
| 20.421.500 | 615 FREEMAN DR | 605 FREEMAN DRIVE LLC | 21/03/2023 | 0 | AFFILIATED ORGANIZATIONS | 0.2213 | R | 1 | 140600 | 1960 | 1426 | THOROUGHBRED | R-1C - SINGLE FAMILY RESIDENTIAL |
| 10.790.400 | 1043 JANE ST | JENNA LLC | 21/03/2023 | 121000 | CHANGED TRANSFERRED SALE | 0.1569 | R | 1 | 121000 | 1992 | 1056 | IRISHTOWN | R-3 - PLANNED NBHD RESIDENTIAL |
| 11.037.100 | 357 CORRAL ST | COMMUNITY ACTION COUNCIL FOR LEX FAYETTE | BOURBON HARRISON & NICHOLAS CO INC | 21/03/2023 | 130000 | CHANGED TRANSFERRED SALE | 0.0611 | R | 1 | 45600 | 2004 | 918 | RACE & E THIRD ST (DOWNTOWN) | R-3 - PLANNED NBHD RESIDENTIAL |
| 14.986.614 | 453 WHISPERING HILLS DR | SHMIGELSKIY MARYAN AND NELIA | 21/03/2023 | 0 | TRANSFER-TAX NOT PAID | 0.4427 | R | 1 | 265000 | 1977 | 2580 | DOWNING SPANGLER & LAREDO | R-1T - TOWNHOUSE RESIDENTIAL |
| 38.028.930 | 716 RAMBLING CREEK DR | BENNETT TOMMIE GAIL | 21/03/2023 | 284000 | ARMS LENGTH TRANSACTION | 0.1443 | R | 1 | 212100 | 2000 | 1549 | LIBERTY CORNERS 2000 | R-3 - PLANNED NBHD RESIDENTIAL |
| 38.074.030 | 561 MILLPOND RD | JANG MISUK | C/O BETHANY YUN HUGHES | 21/03/2023 | 0 | CLOSE RELATIVE SALES/TRANSFERS | 0.1343 | R | 1 | 264000 | 2003 | 1843 | THE GLEN AT LOCHDALE 02 | R-3 - PLANNED NBHD RESIDENTIAL |
| 38.167.940 | 2192 ICE HOUSE WAY | IBRAHIM WAEL | 21/03/2023 | 277500 | ARMS LENGTH TRANSACTION | 0.101 | R | 1 | 277500 | 2007 | 1402 | CLARK PROPERTY | EAR-2 - EXPANSION AREA RESIDENTIAL |
| 38.289.360 | 628 SNOWY EGRET WAY | WOLAK MEGAN | YEE SCOTT | 21/03/2023 | 529900 | NEW CONSTRUCTION | 0.1666 | R | 1 | 405500 | 2022 | 2022 | THE PENINSULA | R-3 - PLANNED NBHD RESIDENTIAL |
| 38.290.750 | 113 JAMES CT | FIRST CHOICE CAPITAL HOLDINGS LLC | 21/03/2023 | 59000 | ARMS LENGTH TRANSACTION | 0.3632 | R | 1 | 55000 | 1964 | 929 | LEXINGTON MANOR | R-1C - SINGLE FAMILY RESIDENTIAL |
| 20.618.650 | 668 CARDINAL LN | RIEBERS PROPERTIES LLC | 20/03/2023 | 125000 | ARMS LENGTH TRANSACTION | 0.3416 | R | 5 | 126000 | 1957 | 1136 | SOUTHLAND & ROSEMILL | R-1C - SINGLE FAMILY RESIDENTIAL |
| 38.299.470 | 3088 BOBWHITE TRL | THOMPSON TROY M AND ROBYN M | 20/03/2023 | 250000 | VACANT LOTS/ BUILDERS | 0.3754 | R | 3 | 225000 | | 0 | MEADOW OAKS | EAR-1 - EXPANSION AREA RESIDENTIAL |
| 15.133.750 | 549 RADCLIFFE RD | FLEMING CORA A AND NICHOLAS C | 20/03/2023 | 217000 | ARMS LENGTH TRANSACTION | 0.2102 | R | 1 | 170100 | 1965 | 1947 | RADCLIFFE | R-1D - SINGLE FAMILY RESIDENTIAL |
| 19.310.740 | 652 HONEY LOCUST WAY | MARCUM HANNAH | 20/03/2023 | 0 | CLOSE RELATIVE SALES/TRANSFERS | 0.1424 | R | 4 | 206800 | 1994 | 1494 | PERA PLACE & CLAYS MEADOW 88 | R-1D - SINGLE FAMILY RESIDENTIAL |
| 38.286.000 | 2589 POLO CLUB BLVD | BELHURST PARK PARTNERS LLC | 20/03/2023 | 0 | DEED OF CORRECTION | 7.33 | F | 2 | 51300 | | 0 | DEVELOPMENT LAND | EAR-1 - EXPANSION AREA RESIDENTIAL |
| 38.294.770 | 1500 HAYFIELD FLT | RICKARDS WEBER BRITTANY | 20/03/2023 | 414900 | NEW CONSTRUCTION | 0.1564 | R | 1 | 414900 | 2022 | 2776 | BLACKFORD PROPERTY III | EAR-1 - EXPANSION AREA RESIDENTIAL |
| 12.742.400 | 142 ST JAMES DR | CRUZ ASUNCION LAZARO | C/O ANTHONY LAZARO CRUZ | 20/03/2023 | 0 | CLOSE RELATIVE SALES/TRANSFERS | 0.2066 | R | 1 | 173200 | 1954 | 1365 | IDLE HOUR | R-1C - SINGLE FAMILY RESIDENTIAL |
| 12.742.400 | 142 ST JAMES DR | CRUZ ASUNCION LAZARO | C/O ANTHONY LAZARO CRUZ | 13/03/2023 | 0 | TRANSFER-TAX NOT PAID | 0.2066 | R | 1 | 173200 | 1954 | 1365 | IDLE HOUR | R-1C - SINGLE FAMILY RESIDENTIAL |
| 12.860.800 | 221 MANDALAY RD | URIAS UBALDO ROJAS | 20/03/2023 | 0 | TRANSFER-TAX NOT PAID | 0.2254 | R | 1 | 102200 | 1960 | 1366 | CARDINAL VALLEY | R-1C - SINGLE FAMILY RESIDENTIAL |
| 12.860.800 | 221 MANDALAY RD | URIAS UBALDO ROJAS | 20/03/2023 | 110000 | ARMS LENGTH TRANSACTION | 0.2254 | R | 1 | 102200 | 1960 | 1366 | CARDINAL VALLEY | R-1C - SINGLE FAMILY RESIDENTIAL |
| 13.484.050 | 182 ST MARGARET DR | JACKIE WAYNE PROPERTIES LLC | 20/03/2023 | 173800 | ARMS LENGTH TRANSACTION | 0.2479 | R | 1 | 193100 | 1955 | 1400 | IDLE HOUR | R-1C - SINGLE FAMILY RESIDENTIAL |
| 15.097.000 | 2309 MAPLEWOOD DR | TOLLIVER EMILY D AND SAMUEL R | 20/03/2023 | 260000 | ARMS LENGTH TRANSACTION | 0.2066 | R | 1 | 195600 | 1952 | 1323 | SOUTHLAND & HILL N DALE | R-1C - SINGLE FAMILY RESIDENTIAL |
| 20.090.420 | 1064 AUTUMN RIDGE DR | COX EMMA | LIFE ESTATE | 20/03/2023 | 0 | CLOSE RELATIVE SALES/TRANSFERS | 0.1873 | R | 1 | 255200 | 1990 | 1713 | AUTUMN RIDGE 90 | R-1D - SINGLE FAMILY RESIDENTIAL |
| 20.090.420 | 1064 AUTUMN RIDGE DR | COX EMMA | LIFE ESTATE | 20/03/2023 | 0 | TRANSFER-TAX NOT PAID | 0.1873 | R | 1 | 255200 | 1990 | 1713 | AUTUMN RIDGE 90 | R-1D - SINGLE FAMILY RESIDENTIAL |
| 25.352.664 | 384 PASADENA DR | WIDES ALYSON MICHELE | 20/03/2023 | 0 | PARTIAL SALES | 0.36 | R | 1 | 290000 | 1980 | 2093 | OPEN GATES | R-1C - SINGLE FAMILY RESIDENTIAL |
| 38.075.290 | 2156 CAROLINA LN | TURCOTTE DAVID ERNEST AND DAWN | 20/03/2023 | 893500 | ARMS LENGTH TRANSACTION | 0.3198 | R | 1 | 695000 | 2003 | 6246 | BEAUMONT FARM 94 | R-1C - SINGLE FAMILY RESIDENTIAL |
| 38.075.290 | 2156 CAROLINA LN | TURCOTTE DAVID ERNEST AND DAWN | 20/03/2023 | 0 | CLOSE RELATIVE SALES/TRANSFERS | 0.3198 | R | 1 | 695000 | 2003 | 6246 | BEAUMONT FARM 94 | R-1C - SINGLE FAMILY RESIDENTIAL |
| 51.299.500 | 3316 OVERBROOK DR | CONNOR JONATHAN P | 20/03/2023 | 0 | PARTIAL SALES | 0.5859 | R | 2 | 467600 | 1972 | 4082 | LANSDOWNE | R-1C - SINGLE FAMILY RESIDENTIAL |
| 10.012.740 | 996 TATESBROOK DR | MALOKU ALBULENA | 20/03/2023 | 0 | CLOSE RELATIVE SALES/TRANSFERS | 0.194 | R | 1 | 129900 | 1987 | 1375 | MELODY VILLAGE & RIVER PARK | R-1T - TOWNHOUSE RESIDENTIAL |
| 10.004.590 | 1281 VILLAGE DR UNIT B14 | RETANA MIRIAM SALGADO | 20/03/2023 | 60000 | ARMS LENGTH TRANSACTION | 0 | R | 1 | 44900 | 1970 | 903 | WOLF RUN CONDOS | R-3 - PLANNED NBHD RESIDENTIAL |
| 13.841.800 | 1618 CANTERBURY CT | LACY HENRY | 20/03/2023 | 190000 | ARMS LENGTH TRANSACTION | 0.2204 | R | 1 | 174400 | 1965 | 1594 | ROOKWOOD & KENAWOOD | R-1D - SINGLE FAMILY RESIDENTIAL |
| 14.476.513 | 750 SHAKER DR UNIT 608 | GARY MINTON REAL ESTATE INC | 20/03/2023 | 130000 | ARMS LENGTH TRANSACTION | 0 | R | 1 | 111100 | 1972 | 1039 | HARRODSBURG SQUARE | R-4 - HIGH DENSITY APARTMENT |
| 19.326.000 | 2576 WOODHILL DR | CONLEY KAMEREN SHANELE | 20/03/2023 | 190000 | ARMS LENGTH TRANSACTION | 0.1266 | R | 1 | 166400 | 1999 | 1027 | SHADOW WOOD | R-1E - SINGLE FAMILY RESIDENTIAL |
| 19.981.180 | 261 SIMPSON AVE UNIT 228 | HUMBLE HOMES PROPERTIES LLC | 20/03/2023 | 0 | AFFILIATED ORGANIZATIONS | 0 | R | 1 | 120900 | 1998 | 1025 | CAMPUS DOWNS & SIMPSON | R-4 - HIGH DENSITY APARTMENT |
| 32.138.516 | 840 MALABU DR UNIT 205 | BERRY MATTHEW A | 20/03/2023 | 75000 | ARMS LENGTH TRANSACTION | 0 | R | 4 | 74100 | 1968 | 665 | FOUNTAIN SQUARE | R-3 - PLANNED NBHD RESIDENTIAL |
| 38.207.560 | 535 S UPPER ST UNIT 317 | MUELLER HANNA K | 20/03/2023 | 240000 | ARMS LENGTH TRANSACTION | 0 | R | 1 | 187900 | 2007 | 790 | CENTERCOURT CONDOMINIUMS | MU-2 - NEIGHBORHOOD CORRIDOR |
| 38.220.760 | 980 JOUETT CREEK DR | ROYALTY INVESTMENT GROUP LLC | 20/03/2023 | 350000 | ARMS LENGTH TRANSACTION | 0.1561 | R | 1 | 350000 | 2009 | 1831 | GESS PROPERTY | EAR-2 - EXPANSION AREA RESIDENTIAL |
| 38.297.660 | 1195 TWILIGHT SHADOW DR | CUSTOM KENTUCKY HOMES LLC | 17/03/2023 | 73500 | VACANT LOTS/ BUILDERS | 0.1405 | R | 2 | 75000 | | 0 | NEWMARKET PROPERTY | EAR-2 - EXPANSION AREA RESIDENTIAL |
| 38.047.620 | 568 HADLOW ST | ANDEL LAURA M | 17/03/2023 | 0 | CLOSE RELATIVE SALES/TRANSFERS | 0.197 | R | 1 | 315000 | 2001 | 1915 | WELLINGTON 00 | R-3 - PLANNED NBHD RESIDENTIAL |
| 15.247.750 | 253 IRVINE RD | LAWRENCE PATRICIA F | NELSON ADRIANNE | 17/03/2023 | 0 | CLOSE RELATIVE SALES/TRANSFERS | 0.1527 | R | 1 | 280000 | 1924 | 1628 | ASHLAND PARK | R-2 - TWO-FAMILY RESIDENTIAL |
| 19.969.980 | 864 MARBLEHEAD DR | GARCIA FELICIANO OCHOA | 17/03/2023 | 237000 | ARMS LENGTH TRANSACTION | 0.1056 | R | 1 | 170300 | 1997 | 1228 | EASTWOOD 91 | R-1E - SINGLE FAMILY RESIDENTIAL |
| 20.007.140 | 3397 ROYAL WOOD RD | ZHANG MINGXI | 17/03/2023 | 185000 | PARTIAL SALES | 0.0758 | R | 1 | 112100 | 1984 | 972 | CENTURY HILLS | R-1T - TOWNHOUSE RESIDENTIAL |
| 20.062.520 | 516 MARBLEROCK WAY | BUSH ARIS H | 17/03/2023 | 335000 | ARMS LENGTH TRANSACTION | 0.1865 | R | 4 | 221100 | 1988 | 2032 | STONE CREEK 88 | R-1D - SINGLE FAMILY RESIDENTIAL |
| 20.484.325 | 3805 WALHAMPTON DR | HOWARD KAITLIND AND ADAM K | 17/03/2023 | 264900 | ARMS LENGTH TRANSACTION | 0.243 | R | 4 | 215200 | 1968 | 1798 | DEVONDALE | R-1D - SINGLE FAMILY RESIDENTIAL |
| 24.514.000 | 3420 CORNWALL DR | WARD KEVIN R TRUSTEE | KEVIN R WARD 2023 REVOCABLE TRUST | 17/03/2023 | 0 | AFFILIATED ORGANIZATIONS | 0.5096 | R | 4 | 310000 | 1965 | 1708 | STONEWALL ESTATES | R-1B - SINGLE FAMILY RESIDENTIAL |
| 26.078.153 | 4513 GRAVES DR | GRIT & GRACE PROPERTY MANAGEMENT LTD | 17/03/2023 | 239900 | ARMS LENGTH TRANSACTION | 0.3326 | R | 4 | 202600 | 1979 | 2298 | SOUTHPOINT | R-1C - SINGLE FAMILY RESIDENTIAL |
| 38.273.310 | 1171 PROVIDENCE PLACE PKWY | MAHALAXMI HOST 4 LLC | 17/03/2023 | 1824000 | NEW CONSTRUCTION | 3.9166 | C | 1 | 1824200 | | 0 | INTERSTATE | ED - ECONOMIC DEVELOPMENT |
| 38.280.020 | 773 HALFORD PL | DAVIS CANDICE | 17/03/2023 | 325000 | ARMS LENGTH TRANSACTION | 0.1107 | R | 1 | 257500 | 2020 | 2080 | MASTERSON STATION IV | R-3 - PLANNED NBHD RESIDENTIAL |
| 38.283.380 | 938 ENTERPRISE CT | FRANCO INVESTMENTS LLC | 17/03/2023 | 0 | AFFILIATED ORGANIZATIONS | 3.5 | C | 1 | 829900 | | 0 | LEESTOWN | I-1 - LIGHT INDUSTRIAL |
| 38.296.610 | 1148 MARLENA RD | HARERIMANA MARTIN | 17/03/2023 | 350483 | NEW CONSTRUCTION | 0.1128 | R | 1 | 350500 | 2023 | 2496 | WOODWARD LANDER PROPERTY | R-3 - PLANNED NBHD RESIDENTIAL |
| 38.296.660 | 1289 BARLEYS PASS | CHILTON PROPERTIES LLC | 17/03/2023 | 1291173 | AFFILIATED ORGANIZATIONS | 0.1499 | R | 2 | 320500 | 2022 | 2496 | WOODWARD LANDER PROPERTY | R-3 - PLANNED NBHD RESIDENTIAL |
| 38.297.670 | 1199 TWILIGHT SHADOW DR | CUSTOM KENTUCKY HOMES LLC | 17/03/2023 | 73500 | VACANT LOTS/ BUILDERS | 0.1409 | R | 2 | 75000 | | 0 | NEWMARKET PROPERTY | EAR-2 - EXPANSION AREA RESIDENTIAL |
| 10.136.400 | 1742 RUSSELL CAVE RD | KIBAMBALA BASIMISE | 17/03/2023 | 200000 | ARMS LENGTH TRANSACTION | 0.241 | R | 1 | 200000 | 1966 | 1926 | RADCLIFFE | R-1D - SINGLE FAMILY RESIDENTIAL |
| 14.401.600 | 316 NELSON AVE | RENEW HOLDINGS LLC | 17/03/2023 | 150000 | ARMS LENGTH TRANSACTION | 0.2202 | R | 1 | 150000 | 1904 | 1631 | DOWNTOWN | R-3 - PLANNED NBHD RESIDENTIAL |
| 15.619.201 | 2401 RICHMOND RD | TWAS PROPERTIES LLC | 17/03/2023 | 2500000 | ARMS LENGTH TRANSACTION | 1.667 | C | 1 | 1025000 | | 0 | RICHMOND | B-6P - PLANNED SHOPPING CENTER |
| 19.995.420 | 2692 CRYSTAL FALLS RD | LEBARON PETER MORGAN AND MICHELLE ANN | 17/03/2023 | 262500 | ARMS LENGTH TRANSACTION | 0.1178 | R | 1 | 180800 | 2000 | 1248 | LIBERTY CORNERS 2000 | R-3 - PLANNED NBHD RESIDENTIAL |
| 15.599.650 | 411 CARLISLE AVE | CRAIG COREY AND KARLY | 17/03/2023 | 150000 | ARMS LENGTH TRANSACTION | 0.2152 | R | 1 | 130500 | 1947 | 1165 | THE MEADOWS | R-1C - SINGLE FAMILY RESIDENTIAL |
| 17.001.500 | 448 PRICE RD | JOHNS GABRIEL | 17/03/2023 | 174150 | CHANGED TRANSFERRED SALE | 0.2435 | R | 1 | 65000 | 1931 | 1064 | FORREST HILL LAND CO & DOUGLAS HEIGHTS | R-2 - TWO-FAMILY RESIDENTIAL |
| 20.260.875 | 1833 OLD PARIS RD | WILLIAMS CONSTRUCTION & INVESTMENTS INC | 17/03/2023 | 145000 | ARMS LENGTH TRANSACTION | 0.303 | R | 4 | 145000 | 1947 | 1432 | OLD PARIS RD | R-1B - SINGLE FAMILY RESIDENTIAL |
| 38.226.770 | 4168 SPERLING DR | ROUTT WILLIAM MICHAEL | 17/03/2023 | 489000 | ARMS LENGTH TRANSACTION | 0.1847 | R | 1 | 489000 | 2016 | 3353 | GESS PROPERTY | EAR-2 - EXPANSION AREA RESIDENTIAL |
| 38.248.940 | 1702 AMETHYST WAY | GADDAM MANEESH | 17/03/2023 | 500000 | ARMS LENGTH TRANSACTION | 0.2134 | R | 1 | 500000 | 2014 | 3099 | BLACKFORD PROPERTY II | EAR-2 - EXPANSION AREA RESIDENTIAL |
| 38.277.600 | 4020 LIVINGSTON LN | MAYNARD NELSON M AND KATHRYN T | 17/03/2023 | 644348 | NEW CONSTRUCTION | 0.1448 | R | 3 | 401000 | 2023 | 3833 | DENTON FARMS TH(ELLERSLIE AT DELONG) 10 | EAR-1 - EXPANSION AREA RESIDENTIAL |
| 38.292.350 | 3509 BAY SPRINGS PARK | CHILTON PROPERTIES LLC | 17/03/2023 | 1291173 | AFFILIATED ORGANIZATIONS | 0.1479 | R | 1 | 347900 | 2022 | 2508 | BLACKFORD PROPERTY III | EAR-1 - EXPANSION AREA RESIDENTIAL |
| 10.326.400 | 925 BOXWOOD CT | ERIC COLE REALTOR LLC | 17/03/2023 | 70000 | OTHER | 0.22 | R | 1 | 112100 | 1965 | 900 | OAKWOOD | R-1D - SINGLE FAMILY RESIDENTIAL |
| 38.289.730 | 680 SUNNY LANDING TRL | TAI EDMUND | 17/03/2023 | 983900 | NEW CONSTRUCTION | 0.2026 | R | 1 | 260200 | 2022 | 4236 | THE PENINSULA | R-3 - PLANNED NBHD RESIDENTIAL |
| 10.276.537 | 3209 TRAVIS CT | OSWALD BETTY J TTEE | OSWALD FAMILY LIVING TRUST 3-17-23 | 17/03/2023 | 0 | AFFILIATED ORGANIZATIONS | 0.2997 | R | 1 | 209200 | 1978 | 1485 | EAST LAKE | R-1T - TOWNHOUSE RESIDENTIAL |
| 11.163.975 | 2068 ST CHRISTOPHER DR | RELEVATE PROPERTIES LLC | 17/03/2023 | 164000 | ANNUAL TWICE-SOLD PROPERTY | 0.1397 | R | 1 | 120000 | 1958 | 1391 | IDLE HOUR | R-2 - TWO-FAMILY RESIDENTIAL |
| 11.163.975 | 2068 ST CHRISTOPHER DR | RELEVATE PROPERTIES LLC | 03/03/2023 | 139000 | ARMS LENGTH TRANSACTION | 0.1397 | R | 1 | 120000 | 1958 | 1391 | IDLE HOUR | R-2 - TWO-FAMILY RESIDENTIAL |
| 12.946.300 | 1714 BILOXI CT | 1714 BILOXI COURT LLC | 17/03/2023 | 0 | AFFILIATED ORGANIZATIONS | 0.1818 | R | 1 | 160100 | 1961 | 1075 | DEEP SPRINGS PRT OF DIXIE HERMITAGE HILL | R-1D - SINGLE FAMILY RESIDENTIAL |
| 14.578.600 | 3511 NEWPORT DR | WILKINS DIANE ALLISON | 17/03/2023 | 305000 | ARMS LENGTH TRANSACTION | 0.2719 | R | 1 | 243000 | 1958 | 2552 | GAINESWAY | R-1C - SINGLE FAMILY RESIDENTIAL |
| 15.151.950 | 353 NOTTINGHAM RD | GRAVES JACQUELYN A | 17/03/2023 | 194900 | ARMS LENGTH TRANSACTION | 0.1722 | R | 1 | 159600 | 1970 | 1050 | KING ARTHUR-STONEYBROOK | R-1D - SINGLE FAMILY RESIDENTIAL |
| 19.300.450 | 3829 MCGARRY DR | FARLEY KELLEY S | CORUM JACQUELINE E | 17/03/2023 | 248500 | CHANGED TRANSFERRED SALE | 0.2125 | R | 4 | 150400 | 1994 | 1401 | HIDDEN SPRINGS & HIGH PLAIN | R-3 - PLANNED NBHD RESIDENTIAL |
| 19.338.710 | 3804 SCARLET OAK LN | HANA GROUP MANAGEMENT INC | 17/03/2023 | 240000 | ARMS LENGTH TRANSACTION | 0.1136 | R | 1 | 186600 | 1995 | 1189 | WILLOW BEND 95 | R-1T - TOWNHOUSE RESIDENTIAL |
| 19.344.670 | 101 ELLEMOOR LN | WATTS INVESTMENTS LLC | 17/03/2023 | 78500 | OTHER | 0.1302 | R | 1 | 118700 | 1997 | 924 | SQUIRES WOODS 96 | R-1E - SINGLE FAMILY RESIDENTIAL |
| 38.087.280 | 660 COFFEE TREE LN | GARNER DONALD N | 17/03/2023 | 0 | QUIT CLAIM DEED | 0.1084 | R | 1 | 117600 | 2003 | 1254 | CHARLOTTE CT THE ARBORS | R-4 - HIGH DENSITY APARTMENT |
| 38.212.480 | 3216 ORCHARD GRASS RD | SEKELA JONATHAN | 17/03/2023 | 345000 | ARMS LENGTH TRANSACTION | 0.101 | R | 1 | 345000 | 2014 | 1986 | CLARK PROPERTY | EAR-2 - EXPANSION AREA RESIDENTIAL |
| 38.274.330 | 2370 CALENDULA RD | CHILTON PROPERTIES LLC | 17/03/2023 | 1291173 | AFFILIATED ORGANIZATIONS | 0.2338 | R | 1 | 326100 | 2018 | 2551 | MYERS PROPERTY | R-3 - PLANNED NBHD RESIDENTIAL |
| 38.285.940 | 298 SQUIRES CIR | CHILTON PROPERTIES LLC | 17/03/2023 | 1291173 | AFFILIATED ORGANIZATIONS | 0.2 | R | 1 | 270300 | 2021 | 2585 | THE PENINSULA | R-3 - PLANNED NBHD RESIDENTIAL |
| 42.395.600 | 312 GLENDALE AVE | SHEERAN WILLIAM CODY & SHELBY STEIN | 17/03/2023 | 176000 | ARMS LENGTH TRANSACTION | 0.2066 | R | 5 | 166800 | 1952 | 975 | MEADOWTHORPE | R-1C - SINGLE FAMILY RESIDENTIAL |
| 17.260.125 | 1777 BELLECHASSE DR | SEMI NSIMIRE ADELINE | 16/03/2023 | 315000 | ARMS LENGTH TRANSACTION | 0.3099 | R | 1 | 315000 | 1974 | 2525 | ROOKWOOD & KENAWOOD | R-1C - SINGLE FAMILY RESIDENTIAL |
| 12.007.072 | 1231 WINBURN DR | WILLIAMS VERNON L AND DORIS ANN | 16/03/2023 | 75000 | ARMS LENGTH TRANSACTION | 0.2002 | R | 1 | 79900 | 1972 | 1125 | HOLLOW CREEK & WINBURN | R-1D - SINGLE FAMILY RESIDENTIAL |
| 21.797.300 | 1404 BRYAN AVE | ASTRA INVESTMENTS LLC | 16/03/2023 | 385000 | MULTIPLE PROPERTIES | 0.2975 | C | 1 | 142400 | 1926 | 1984 | NORTHSIDE | B-1 - NEIGHBORHOOD BUSINESS |
| 26.164.900 | 610 JUDY LN | LAGUNES MARIA FERNANDA | 16/03/2023 | 192000 | ARMS LENGTH TRANSACTION | 0.241 | R | 1 | 192000 | 1957 | 1301 | THOROUGHBRED | R-1C - SINGLE FAMILY RESIDENTIAL |
| 38.015.740 | 812 FOREST LAKE DR | HATTON WILLIAM SPENCER AND ANNA | 16/03/2023 | 348000 | ARMS LENGTH TRANSACTION | 0.1935 | R | 1 | 312600 | 2000 | 3648 | WOODFIELD 89 | R-1D - SINGLE FAMILY RESIDENTIAL |
| 38.244.530 | 3518 RABBITS FOOT TRL | SHAY INVESTMENTS LLC | 16/03/2023 | 530000 | ARMS LENGTH TRANSACTION | 0 | R | 3 | 413500 | 2012 | 2060 | THE VILLAGE @ RABBIT RUN SECTION 1 | R-4 - HIGH DENSITY APARTMENT |
| 14.214.250 | 1402 BRYAN AVE | ASTRA INVESTMENTS LLC | 16/03/2023 | 385000 | MULTIPLE PROPERTIES | 0.1972 | R | 1 | 167000 | 1951 | 1127 | NORTHSIDE | B-1 - NEIGHBORHOOD BUSINESS |
| 17.289.770 | 500 LAKETOWER DR UNIT 26 | BARRY GUY W | 16/03/2023 | 260000 | ARMS LENGTH TRANSACTION | 0.0468 | R | 1 | 172200 | 1976 | 1826 | 500-543 LAKETOWER | R-4 - HIGH DENSITY APARTMENT |
| 20.095.840 | 2817 BAYBROOK RD | NORTH LEX PROPERTIES LLC | 16/03/2023 | 0 | AFFILIATED ORGANIZATIONS | 0.2619 | R | 1 | 200000 | 1990 | 1116 | MT TABOR HEIGHTS | R-1D - SINGLE FAMILY RESIDENTIAL |
| 20.138.460 | 3554 CAVE HILL PL | TRPKOVSKI FILIP I | 16/03/2023 | 0 | CLOSE RELATIVE SALES/TRANSFERS | 0.1099 | R | 1 | 179600 | 1993 | 1560 | THE GLADES & PALOMAR HILLS | R-3 - PLANNED NBHD RESIDENTIAL |
| 20.504.400 | 6600 MAN O WAR BLVD | AVERY PARTNERS LLC | 16/03/2023 | 0 | AFFILIATED ORGANIZATIONS | 36.47 | C | 2 | 2000000 | | 0 | HAMBURG | EAR-2 - EXPANSION AREA RESIDENTIAL |
| 27.169.000 | 3057 BONANZA DR | NORTH LEX PROPERTIES LLC | 16/03/2023 | 0 | AFFILIATED ORGANIZATIONS | 0.101 | R | 1 | 180000 | 1982 | 1160 | WAGON WHEEL ESTATES | R-1T - TOWNHOUSE RESIDENTIAL |
| 38.035.160 | 2269 SHAKER RUN RD | MANGIONE TUCKER AND ANNE | 16/03/2023 | 450000 | ARMS LENGTH TRANSACTION | 0.2246 | R | 1 | 417700 | 2000 | 3630 | GLENEAGLES II | EAR-2 - EXPANSION AREA RESIDENTIAL |
| 38.102.340 | 2585 BUCK LN | GONZALEZ BARBARA AND HUMBERTO | 16/03/2023 | 275000 | ARMS LENGTH TRANSACTION | 0.0918 | R | 1 | 275000 | 2004 | 1300 | GREAT ACRES | R-3 - PLANNED NBHD RESIDENTIAL |
| 10.023.620 | 224 SHRINERS LN UNIT 1 | HAYTER MIDORI | C/O JANET COWAN | 16/03/2023 | 0 | PARTIAL SALES | 0 | R | 1 | 184300 | 1985 | 1592 | SHRINERS LANE CONDOS | R-2 - TWO-FAMILY RESIDENTIAL |
| 10.023.630 | 224 SHRINERS LN UNIT 2 | HAYTER MIDORI | 16/03/2023 | 0 | PARTIAL SALES | 0 | R | 1 | 184300 | 1985 | 1592 | SHRINERS LANE CONDOS | R-2 - TWO-FAMILY RESIDENTIAL |
| 10.276.610 | 3308 ALVA CT | SOUTH LEX PROPERTIES LLC | 16/03/2023 | 0 | AFFILIATED ORGANIZATIONS | 0.1538 | R | 1 | 182000 | 1980 | 1107 | CENTURY HILLS | R-3 - PLANNED NBHD RESIDENTIAL |
| 12.163.100 | 436 W SIXTH ST | ALBERTSON INVESTMENT GROUP LLC | 16/03/2023 | 895711 | CHANGED TRANSFERRED SALE | 0.4338 | M | 1 | 250000 | 1910 | 7174 | NORTHSIDE | R-2 - TWO-FAMILY RESIDENTIAL |
| 12.816.000 | 133 CARLISLE AVE | ASTRA INVESTMENTS LLC | 16/03/2023 | 385000 | MULTIPLE PROPERTIES | 0.1317 | R | 1 | 75700 | 1920 | 1352 | HIGHLAWN | R-1C - SINGLE FAMILY RESIDENTIAL |
| 16.328.800 | 411 MORGAN AVE | ASTRA INVESTMENTS LLC | 16/03/2023 | 120000 | ARMS LENGTH TRANSACTION | 0.1377 | R | 1 | 19000 | 1930 | 1160 | HIGHLAWN | R-1C - SINGLE FAMILY RESIDENTIAL |
| 38.064.460 | 848 HIDDEN STREAM DR | MORRISON BRADLEY T TTEE | MORRISON & TRUE FAMILY TRUST | 16/03/2023 | 0 | AFFILIATED ORGANIZATIONS | 0.145 | R | 1 | 184000 | 2001 | 1200 | COLDSTREAM STATION | R-1E - SINGLE FAMILY RESIDENTIAL |
| 38.112.320 | 472 MCCONNELLS TRCE | HOLUB JAMES | 16/03/2023 | 285000 | ARMS LENGTH TRANSACTION | 0.0967 | R | 1 | 285000 | 2004 | 1738 | MARSHALL PROPERTY 01 | R-1E - SINGLE FAMILY RESIDENTIAL |
| 38.208.280 | 2405 LADY BEDFORD PL | OSBORNE JOHN ANDREW | 16/03/2023 | 252500 | ARMS LENGTH TRANSACTION | 0 | R | 1 | 211400 | 2007 | 1700 | HAMBURG FARMS CONDOMINIUMS | R-3 - PLANNED NBHD RESIDENTIAL |
| 14.716.239 | 3520 COLTNECK LN | SKEES JERRY R | 15/03/2023 | 395000 | CLOSE RELATIVE SALES/TRANSFERS | 0.2741 | R | 1 | 331400 | 1983 | 2805 | LANSDOWNE MERRICK | R-1C - SINGLE FAMILY RESIDENTIAL |
| 19.971.860 | 1016 CHASEWOOD WAY | ROESCHLEY AARON | 15/03/2023 | 0 | CLOSE RELATIVE SALES/TRANSFERS | 0.2009 | R | 1 | 559200 | 1999 | 4853 | BEAUMONT CENTRE UNIT 4 | R-3 - PLANNED NBHD RESIDENTIAL |
| 38.091.400 | 2340 PRESCOTT LN | WEILAGE RYAN L | 15/03/2023 | 275000 | CHANGED TRANSFERRED SALE | 0.1402 | R | 1 | 156400 | 2003 | 1570 | GIVENS PROPERTY (BELMONT PLACE) | R-3 - PLANNED NBHD RESIDENTIAL |
| 38.196.030 | 908 DAWSON CREEK WAY | GARCIA JOSE QUEVEDO | 15/03/2023 | 348000 | ARMS LENGTH TRANSACTION | 0.1628 | R | 1 | 322000 | 2008 | 2967 | NEWTOWN SPRINGS LLC | R-1D - SINGLE FAMILY RESIDENTIAL |
| 38.296.580 | 1136 MARLENA LN | SHRESTHA SUNIL BABU AND BHAGAWATI | 15/03/2023 | 325800 | NEW CONSTRUCTION | 0.1084 | R | 1 | 325800 | 2022 | 2064 | WOODWARD LANDER PROPERTY | R-3 - PLANNED NBHD RESIDENTIAL |
| 12.518.100 | 367 COLONY BLVD | ECKERLINE CHRISTIE ROSE | 15/03/2023 | 499000 | ARMS LENGTH TRANSACTION | 0.1676 | R | 1 | 245000 | 1949 | 1425 | CHEVY CHASE | R-1C - SINGLE FAMILY RESIDENTIAL |
| 14.700.300 | 559 BRECKENRIDGE ST | MOCK EMMANUEL T AND JENNY L | 15/03/2023 | 214000 | ARMS LENGTH TRANSACTION | 0.1722 | R | 1 | 101700 | 1900 | 1180 | DOWNTOWN | R-3 - PLANNED NBHD RESIDENTIAL |
| 15.836.900 | 509 STONEHAVEN DR | BROUWER AARON J | 15/03/2023 | 220000 | ARMS LENGTH TRANSACTION | 0.2009 | R | 1 | 213700 | 1966 | 1588 | ROOKWOOD & KENAWOOD | R-1D - SINGLE FAMILY RESIDENTIAL |
| 19.321.930 | 3009 WAVECREST WAY | CRISDEN PROPERTIES LLC | 15/03/2023 | 211500 | ARMS LENGTH TRANSACTION | 0.0453 | R | 1 | 211500 | 1994 | 1120 | WAVECREST WAY | R-3 - PLANNED NBHD RESIDENTIAL |
| 19.334.810 | 630 MINT HILL LN | WALKER TAYLOR P AND AMY | 15/03/2023 | 555000 | ARMS LENGTH TRANSACTION | 0.1906 | R | 1 | 555000 | 1999 | 4669 | ANDOVER II | R-1D - SINGLE FAMILY RESIDENTIAL |
| 20.101.810 | 1084 LAKEFRONT DR | DAVIS GREGORY AND DEBORAH | 15/03/2023 | 125000 | OTHER | 0.053 | R | 3 | 139600 | 1991 | 1172 | SPRINGLAKE DR & LAKEFRONT DR | R-1T - TOWNHOUSE RESIDENTIAL |
| 20.114.780 | 1481 CORONA DR | ANDERSON WARREN HUNGATE TRUSTEE | WARREN HUNGATE ANDERSON LIVING TRUST | 15/03/2023 | 0 | AFFILIATED ORGANIZATIONS | 0.3044 | R | 1 | 391000 | 1992 | 3216 | COPPERFIELD | R-1D - SINGLE FAMILY RESIDENTIAL |
| 20.114.780 | 1481 CORONA DR | ANDERSON WARREN HUNGATE TRUSTEE | WARREN HUNGATE ANDERSON LIVING TRUST | 15/03/2023 | 0 | CLOSE RELATIVE SALES/TRANSFERS | 0.3044 | R | 1 | 391000 | 1992 | 3216 | COPPERFIELD | R-1D - SINGLE FAMILY RESIDENTIAL |
| 21.821.200 | 1728 TRAVELLER RD | WATSON TAMARA H | 15/03/2023 | 256000 | CHANGED TRANSFERRED SALE | 0.241 | R | 4 | 135000 | 1961 | 1512 | GARDENSIDE | R-1C - SINGLE FAMILY RESIDENTIAL |
| 22.020.200 | 642 CARDINAL LN | DAWSON SARA AND KYLE | 15/03/2023 | 260000 | CHANGED TRANSFERRED SALE | 0.2612 | R | 5 | 200000 | 1957 | 1332 | SOUTHLAND & ROSEMILL | R-1C - SINGLE FAMILY RESIDENTIAL |
| 27.104.550 | 2572 MILLBROOK DR | SZCZYGIELSKI THOMAS P | 15/03/2023 | 0 | TRANSFER-TAX NOT PAID | 0.241 | R | 1 | 196200 | 1955 | 1545 | SOUTHLAND & HILL N DALE | R-1C - SINGLE FAMILY RESIDENTIAL |
| 38.014.280 | 648 POPLAR SPRINGS LN | CONDON CELENA M | 15/03/2023 | 0 | CLOSE RELATIVE SALES/TRANSFERS | 0.1799 | R | 1 | 370000 | 2000 | 3912 | HIGHLAND LAKES 95 | R-1D - SINGLE FAMILY RESIDENTIAL |
| 38.122.680 | 2056 CORNERSTONE DR | ESCOBAR JOSE WILLIAM | 15/03/2023 | 228000 | ARMS LENGTH TRANSACTION | 0.1723 | R | 3 | 228000 | 2004 | 2088 | LIBERTY WOODS | R-4 - HIGH DENSITY APARTMENT |
| 11.457.400 | 122 WITTLAND LN | MENDOZA KEVIN GABRIEL MUNOZ | MENDOZA FRANS MUN0Z500 | 15/03/2023 | 86000 | MASTER COMMISSIONER SALE | 0.0779 | R | 1 | 43300 | 1910 | 786 | HIGHLAWN | R-1C - SINGLE FAMILY RESIDENTIAL |
| 12.294.900 | 3504 GALAHAD DR | SMITH RYAN H AND KIMBERLY A | 15/03/2023 | 270000 | CHANGED TRANSFERRED SALE | 0.1722 | R | 1 | 270000 | 1972 | 2050 | KING ARTHUR-STONEYBROOK | R-1D - SINGLE FAMILY RESIDENTIAL |
| 13.325.100 | 754 FLORIDA ST | GRACED PROPERTIES LLC | 15/03/2023 | 140000 | ARMS LENGTH TRANSACTION | 0.0712 | R | 1 | 135100 | 2004 | 1248 | DOWNTOWN | R-3 - PLANNED NBHD RESIDENTIAL |
| 19.329.150 | 4516 LANGLEY CIR | LEA AMY M | HENDRICKS SUE W | 15/03/2023 | 0 | CLOSE RELATIVE SALES/TRANSFERS | 0.1528 | R | 1 | 186300 | 1996 | 1582 | MEADOW CREEK | R-1D - SINGLE FAMILY RESIDENTIAL |
| 19.987.210 | 1449 PLEASANT RIDGE DR | MURRELL CHARLES W | 15/03/2023 | 0 | TRANSFER-TAX NOT PAID | 0.0919 | R | 1 | 144300 | 1998 | 1046 | TIMBER CREEK 94 | R-1E - SINGLE FAMILY RESIDENTIAL |
| 38.065.310 | 212 SPRINTERS TRL | DA SILVA ANDRE SIQUEIRA PEREIRA | 15/03/2023 | 259000 | ARMS LENGTH TRANSACTION | 0.124 | R | 1 | 259000 | 2001 | 1440 | MAREHAVEN | R-3 - PLANNED NBHD RESIDENTIAL |
| 38.128.230 | 3641 POLO CLUB BLVD | MOEHLMAN DONALD C AND KIMBERLY A | 15/03/2023 | 320000 | ARMS LENGTH TRANSACTION | 0.1709 | R | 1 | 271100 | 2005 | 1756 | NEWMARKET PROPERTY | EAR-2 - EXPANSION AREA RESIDENTIAL |
| 10.034.550 | 101 S HANOVER AVE UNIT 2C | GABBARD JASON | 15/03/2023 | 159900 | ARMS LENGTH TRANSACTION | 0 | R | 1 | 148100 | 1964 | 750 | HANOVER TOWERS | R-4 - HIGH DENSITY APARTMENT |
| 10.040.090 | 355 S BROADWAY UNIT 705 | BARR GARY W AND ANN K | 15/03/2023 | 418500 | ARMS LENGTH TRANSACTION | 0 | R | 1 | 246300 | 1987 | 1435 | CITY DEVELOPMENT CORPORATION | B-2B - DOWNTOWN CENTER BUSINESS |
| 38.291.170 | 700 DAWSON SPRINGS WAY | LOGAN MIKE KIERAN AND MARY BROOKS | 15/03/2023 | 399900 | NEW CONSTRUCTION | 0.2022 | R | 1 | 298200 | 2022 | 2236 | NEWTOWN SPRINGS LLC | R-1D - SINGLE FAMILY RESIDENTIAL |
| 38.295.770 | 712 HOLLYHOCK DR | WILKINSON GREGORY | 15/03/2023 | 403259 | NEW CONSTRUCTION | 0.1604 | R | 2 | 120200 | 2022 | 2568 | MYERS PROPERTY | R-3 - PLANNED NBHD RESIDENTIAL |
| 38.109.800 | 600 VINCENT WAY UNIT 2305 | ADIS PROPERTIES LLC | 15/03/2023 | 177000 | ARMS LENGTH TRANSACTION | 0 | R | 1 | 165000 | 2004 | 1124 | WELLINGTON CHASE CONDOMINIUMS | R-4 - HIGH DENSITY APARTMENT |
| 10.030.440 | 3185 PIMLICO PKWY | CURTSINGER ALAN ROSS AND TARA LYNNETTE | 15/03/2023 | 186000 | ARMS LENGTH TRANSACTION | 0.0891 | R | 1 | 101000 | 1986 | 1196 | PARK HILLS & CARRIAGE LANE ESTATES | R-1T - TOWNHOUSE RESIDENTIAL |
| 19.341.210 | 2528 LINDENHURST LOOP | SHAFEI FAMILY PROPERTIES LLC | 15/03/2023 | 107000 | ARMS LENGTH TRANSACTION | 0.0941 | R | 1 | 107000 | 1995 | 1000 | CRESTVIEW 96 | R-4 - HIGH DENSITY APARTMENT |
| 23.429.200 | 1229 COLONIAL DR | THIES JOSHUA WAYNE & CANDICE NACHELLE | 15/03/2023 | 591500 | ARMS LENGTH TRANSACTION | 0.6457 | R | 2 | 423300 | 1957 | 4333 | THE COLONY | R-1A - SINGLE FAMILY RESIDENTIAL |
| 38.021.790 | 2204 SAVANNAH LN | PICHE AMANDA | 15/03/2023 | 1055000 | CHANGED TRANSFERRED SALE | 0.3645 | R | 1 | 735000 | 2000 | 6114 | BEAUMONT FARM 94 | R-1C - SINGLE FAMILY RESIDENTIAL |
| 38.033.340 | 2210 GEORGETOWN RD | FUQUA BCDC CITATION PROJECT OWNER LLC | 15/03/2023 | 8800000 | MULTIPLE PROPERTIES | 22.7 | F | 1 | 4994000 | | 0 | NORTHWEST QUADRANT | B-3 - HIGHWAY SERVICE BUSINESS |
| 38.128.690 | 3085 RIVER RUN TRL | FREEMAN HANNAH | 15/03/2023 | 262000 | ANNUAL TWICE-SOLD PROPERTY | 0.101 | R | 1 | 242000 | 2005 | 1256 | MASTERSON STATION IV | R-1E - SINGLE FAMILY RESIDENTIAL |
| 38.283.850 | 1132 TWILIGHT SHADOW DR | BRIGGS PROPERTIES LLC | 15/03/2023 | 0 | AFFILIATED ORGANIZATIONS | 0.1358 | R | 1 | 386000 | 2021 | 2334 | NEWMARKET PROPERTY | EAR-2 - EXPANSION AREA RESIDENTIAL |
| 14.561.600 | 2010 BIXBY WAY | HEDRICK ANDREW | POTTS CASEY A | 14/03/2023 | 631000 | ARMS LENGTH TRANSACTION | 0.3535 | R | 1 | 511400 | 1966 | 2304 | LAKEVIEW | R-1C - SINGLE FAMILY RESIDENTIAL |
| 38.124.220 | 4372 WALNUT CREEK DR | NGUYEN HUNG | 14/03/2023 | 0 | CLOSE RELATIVE SALES/TRANSFERS | 0.1413 | R | 1 | 239600 | 2004 | 1597 | WALNUT CREEK | EAR-1 - EXPANSION AREA RESIDENTIAL |
| 38.296.000 | 605 WINDFLOWER WAY | WOODRUFF REBECCA RANDALL AND RYAN DAVID | 14/03/2023 | 464950 | NEW CONSTRUCTION | 0.1849 | R | 2 | 124000 | 2023 | 3376 | MYERS PROPERTY | R-3 - PLANNED NBHD RESIDENTIAL |
| 12.580.302 | 3598 NIAGARA DR | STAHLMAN PHILLIP HATFIELD | 14/03/2023 | 0 | CLOSE RELATIVE SALES/TRANSFERS | 0.191 | R | 1 | 132200 | 1976 | 1053 | MELODY VILLAGE & RIVER PARK | R-1D - SINGLE FAMILY RESIDENTIAL |
| 15.553.400 | 201 CONN TER | COMMONWEALTH OF KENTUCKY FBO UK | UK REAL ESTATE SERVICES | 14/03/2023 | 945000 | FORCED SALES/GOVT AGCY/NON-PROFIT | 0.1515 | R | 1 | 430000 | 1951 | 3904 | UNIVERSITY | R-2 - TWO-FAMILY RESIDENTIAL |
| 20.105.140 | 3513 INDIAN SUMMER TRL | EVANS WILLIAM HARRIS AND BREAH MICHELLE | 14/03/2023 | 443000 | ARMS LENGTH TRANSACTION | 0.1897 | R | 1 | 443000 | 1992 | 3370 | AUTUMN RIDGE 90 | R-1D - SINGLE FAMILY RESIDENTIAL |
| 21.664.100 | 130 132 STATE ST | COMMONWEALTH OF KENTUCKY FBO UK | C/O UK REAL ESTATE SERVICES | 14/03/2023 | 945000 | FORCED SALES/GOVT AGCY/NON-PROFIT | 0.2066 | R | 3 | 515000 | 1921 | 2232 | UNIVERSITY | R-2 - TWO-FAMILY RESIDENTIAL |
| 22.896.500 | 627 LANE ALLEN RD | DEROSSITT LINDA CAROL HOUSE | DEROSSITT GARY W JR | 14/03/2023 | 0 | CLOSE RELATIVE SALES/TRANSFERS | 0.2012 | R | 5 | 190900 | 1948 | 1351 | LAFAYETTE & CHATHAM VILLAGE | R-1C - SINGLE FAMILY RESIDENTIAL |
| 38.120.270 | 222 BOLIVAR ST UNIT 215 | HEUSER ROBERT AND THU | 14/03/2023 | 240000 | ARMS LENGTH TRANSACTION | 0 | R | 1 | 198000 | 2005 | 1325 | SOUTH HILL STATION LOFTS CONDOMINIUMS | R-5 - HIGH RISE APARTMENT |
| 10.278.825 | 543 LAKETOWER DR UNIT 140 | NASH KATHRYN AMANDA | 14/03/2023 | 365000 | ARMS LENGTH TRANSACTION | 0.1199 | R | 1 | 334200 | 1980 | 3096 | 500-543 LAKETOWER | R-1C - SINGLE FAMILY RESIDENTIAL |
| 21.892.800 | 415 GREENLAWN CT | KEITH JOEY AND MICHELLE | 14/03/2023 | 160000 | ARMS LENGTH TRANSACTION | 0.2039 | R | 4 | 160000 | 1965 | 975 | KING ARTHUR-STONEYBROOK | R-1D - SINGLE FAMILY RESIDENTIAL |
| 22.788.900 | 708 PORTLAND DR | HOLLOWAY DOUGLAS MCGINNIS | 14/03/2023 | 0 | TRANSFER-TAX NOT PAID | 0.3318 | R | 5 | 205000 | 1958 | 1296 | TWIN OAKS | R-1C - SINGLE FAMILY RESIDENTIAL |
| 22.788.900 | 708 PORTLAND DR | HOLLOWAY DOUGLAS MCGINNIS | 14/03/2023 | 0 | CLOSE RELATIVE SALES/TRANSFERS | 0.3318 | R | 5 | 205000 | 1958 | 1296 | TWIN OAKS | R-1C - SINGLE FAMILY RESIDENTIAL |
| 38.160.460 | 820 TIFFANIE CT | CLARK KRISTOPHER JACOB TTEE | CLARK FAMILY TRUST 3-14-23 | 14/03/2023 | 0 | AFFILIATED ORGANIZATIONS | 0.1815 | R | 1 | 354100 | 2006 | 3323 | SUNNY SLOPE FARM | R-1D - SINGLE FAMILY RESIDENTIAL |
| 38.290.720 | 392 WESTON PARK | EVERS NANCY ANN PHD CO TRUSTEE | EVERS FULKS REVOCABLE LIVING TRUST | 14/03/2023 | 725097 | NEW CONSTRUCTION | 0.3758 | R | 3 | 370000 | 2022 | 3018 | DENTON FARMS INC (ELLERSLIE AT DELONG) | EAR-1 - EXPANSION AREA RESIDENTIAL |
| 13.652.200 | 3728 NIAGARA DR | BLUEGRASS ENTERPRISES LLC | 13/03/2023 | 164000 | ARMS LENGTH TRANSACTION | 0.188 | R | 1 | 164000 | 1974 | 1533 | MELODY VILLAGE & RIVER PARK | R-1D - SINGLE FAMILY RESIDENTIAL |
| 38.128.670 | 3077 RIVER RUN TRL | HUTTERLI WILLIAM P AND ANASTASIA R | 13/03/2023 | 252000 | ARMS LENGTH TRANSACTION | 0.101 | R | 1 | 205000 | 2005 | 1222 | MASTERSON STATION IV | R-1E - SINGLE FAMILY RESIDENTIAL |
| 10.346.300 | 2020 ST MICHAEL DR | DAROB RENTALS LLC | 13/03/2023 | 0 | AFFILIATED ORGANIZATIONS | 0.1263 | R | 1 | 190000 | 1958 | 1049 | IDLE HOUR | R-2 - TWO-FAMILY RESIDENTIAL |
| 20.083.800 | 4808 DODDER PL | ASHGROVE SALES AND INVESTMENTS LLC | 13/03/2023 | 225000 | ARMS LENGTH TRANSACTION | 0.2055 | R | 6 | 188800 | 1992 | 1235 | HARRODS POINTE TRACE 87 | R-1D - SINGLE FAMILY RESIDENTIAL |
| 22.060.800 | 299 PICADOME PARK | HARRISON NED JACK | 13/03/2023 | 288000 | ARMS LENGTH TRANSACTION | 0.1722 | R | 5 | 235000 | 1938 | 1296 | LAFAYETTE | R-1C - SINGLE FAMILY RESIDENTIAL |
| 24.535.250 | 574 JUDY LN | DINNISON RANDY | 13/03/2023 | 215000 | CHANGED TRANSFERRED SALE | 0.241 | R | 1 | 215000 | 1957 | 1053 | THOROUGHBRED | R-1C - SINGLE FAMILY RESIDENTIAL |
| 38.198.750 | 857 MALABU DR UNIT 5001 | ATKINS HOMES LLC | 13/03/2023 | 127000 | ARMS LENGTH TRANSACTION | 0 | R | 4 | 84300 | 2006 | 753 | 858 MALABU DRIVE | R-4 - HIGH DENSITY APARTMENT |
| 38.216.800 | 350 E SHORT ST UNIT 423 | DAROB RENTALS LLC | 13/03/2023 | 0 | AFFILIATED ORGANIZATIONS | 0 | R | 1 | 190000 | 2007 | 826 | THE LOFTS AT MAIN & ROSE | B-2A - DOWNTOWN FRAME BUSINESS |
| 38.295.800 | 724 HOLLYHOCK DR | BOATENG GODFRED | 13/03/2023 | 411000 | NEW CONSTRUCTION | 0.1633 | R | 2 | 123400 | 2022 | 2672 | MYERS PROPERTY | R-3 - PLANNED NBHD RESIDENTIAL |
| 21.068.000 | 787 HILDEEN DR | PARKER KELLY JO | PARKER KRISTIE M | 13/03/2023 | 380000 | ARMS LENGTH TRANSACTION | 0.2755 | R | 5 | 316600 | 1957 | 2190 | GLENDOVER | R-1C - SINGLE FAMILY RESIDENTIAL |
| 38.254.360 | 613 SPADELEAF PARK | SATASIA SANDIP AND DARSHNA | 13/03/2023 | 500000 | ARMS LENGTH TRANSACTION | 0.2474 | R | 1 | 407400 | 2014 | 3307 | GESS PROPERTY | EAR-2 - EXPANSION AREA RESIDENTIAL |
| 38.261.960 | 142 YORK ST | MACIAS FRANCISCO JR | 13/03/2023 | 125000 | ARMS LENGTH TRANSACTION | 0.0612 | R | 1 | 83000 | 2016 | 660 | DOWNTOWN WEST | PUD-2 - PLANNED UNIT DEV-LUIGART |
| 38.268.370 | 625 LUCILLE DR | JARBOE JOHN S | 13/03/2023 | 370000 | ARMS LENGTH TRANSACTION | 0.1368 | R | 1 | 370000 | 2020 | 2288 | GREENDALE HILLS | R-3 - PLANNED NBHD RESIDENTIAL |
| 11.688.200 | 820 N LIMESTONE | BIG BLUE ASSET HOLDINGS LLC | 13/03/2023 | 190000 | ARMS LENGTH TRANSACTION | 0.0976 | C | 1 | 89000 | 1942 | 1285 | NORTHSIDE | B-1 - NEIGHBORHOOD BUSINESS |
| 23.237.700 | 222 E LOWRY LN | STEWART PAUL S AND KEEGAN M | 13/03/2023 | 278000 | ARMS LENGTH TRANSACTION | 0.241 | R | 5 | 219900 | 1955 | 1330 | ZANDALE | R-1C - SINGLE FAMILY RESIDENTIAL |
| 20.058.950 | 788 LYNN RD | FRANKLIN ISABELLE M AND ROGER J | 13/03/2023 | 208000 | CHANGED TRANSFERRED SALE | 0.1837 | R | 5 | 122800 | 1951 | 1008 | GARDENSIDE PROSPECT HILL & SKY CREST | R-1C - SINGLE FAMILY RESIDENTIAL |
| 19.329.160 | 4517 LANGLEY CIR | SHARFF STACIA LAINE | 13/03/2023 | 0 | CLOSE RELATIVE SALES/TRANSFERS | 0.1909 | R | 1 | 222000 | 1995 | 2020 | MEADOW CREEK | R-1D - SINGLE FAMILY RESIDENTIAL |
| 20.120.600 | 153 E TIVERTON WAY | RAMSEY KENNETH L | 13/03/2023 | 265000 | ARMS LENGTH TRANSACTION | 0.2017 | R | 5 | 265000 | 1968 | 1583 | DEVONDALE | R-1D - SINGLE FAMILY RESIDENTIAL |
| 26.606.650 | 1120 BRIDLEWOOD LN | BAILEYWOOD FARM LLC | ATTN MASON MILLER | 13/03/2023 | 738000 | AFFILIATED ORGANIZATIONS | 10.39 | R | 2 | 966400 | 1974 | 6218 | RURAL UNDER 10 ACRES SE QUAD | A-U - AGRICULTURAL URBAN |
| 38.091.500 | 1536 PINE NEEDLES LN UNIT 2803 | PIKE JANET DIANE | 13/03/2023 | 407000 | ARMS LENGTH TRANSACTION | 0 | R | 3 | 405100 | 2003 | 2125 | HERITAGE PLACE 00 | R-3 - PLANNED NBHD RESIDENTIAL |
| 38.242.290 | 4151 KATHERINE PL | LUCCHESE HEATHER N | 13/03/2023 | 0 | CLOSE RELATIVE SALES/TRANSFERS | 0.1102 | R | 1 | 225000 | 2011 | 1846 | MAHAN PROPERTY | R-3 - PLANNED NBHD RESIDENTIAL |
| 38.290.840 | 3182 SANDERSVILLE RD | HARRISS KAYLA AND CHLOE | 13/03/2023 | 365000 | NEW CONSTRUCTION | 0.1957 | R | 1 | 365000 | 2022 | 2136 | WOODWARD LANDER PROPERTY | R-3 - PLANNED NBHD RESIDENTIAL |
| 20.965.059 | 3633 SULIER CT | SMITH TROY | 12/03/2023 | 0 | CLOSE RELATIVE SALES/TRANSFERS | 0.2935 | R | 1 | 161600 | 1978 | 1400 | MELODY VILLAGE & RIVER PARK | R-1D - SINGLE FAMILY RESIDENTIAL |
| 21.585.300 | 130 JESSELIN DR | DAVIS DANIEL W | 11/03/2023 | 0 | CLOSE RELATIVE SALES/TRANSFERS | 0.2927 | R | 4 | 242500 | 1947 | 2400 | GLENDOVER | R-1C - SINGLE FAMILY RESIDENTIAL |
| 19.993.130 | 2221 KENWOOD DR | KAMINSKY MARC W AND KARA L | 10/03/2023 | 269900 | ARMS LENGTH TRANSACTION | 0.1383 | R | 1 | 177800 | 1999 | 1436 | EASTWOOD 91 | R-1E - SINGLE FAMILY RESIDENTIAL |
| 38.234.780 | 444 WESTON PARK | GOODWIN DANNY WALDROP II TTEE | GOODWIN FAMILY LIVING TRUST 3-10-23 | 10/03/2023 | 0 | AFFILIATED ORGANIZATIONS | 0.2752 | R | 3 | 606300 | 2012 | 4193 | DENTON FARMS INC (ELLERSLIE AT DELONG) | EAR-1 - EXPANSION AREA RESIDENTIAL |
| 38.289.580 | 620 SUNNY LANDING TRL | HAIMAN PHILLIP | 10/03/2023 | 929900 | NEW CONSTRUCTION | 0.2024 | R | 1 | 601800 | 2022 | 4282 | THE PENINSULA | R-3 - PLANNED NBHD RESIDENTIAL |
| 38.297.320 | 505 WHITE OAK TRCE | ANDERSON ACQUISITIONS LLC | 10/03/2023 | 1202380 | MULTIPLE PROPERTIES | 0.1341 | R | 2 | 50000 | | 0 | SEBASTIAN PROPERTY | R-1D - SINGLE FAMILY RESIDENTIAL |
| 38.297.300 | 513 WHITE OAK TRCE | ANDERSON ACQUISITIONS LLC | 10/03/2023 | 1202380 | MULTIPLE PROPERTIES | 0.1107 | R | 2 | 50000 | 2023 | 1928 | SEBASTIAN PROPERTY | R-1D - SINGLE FAMILY RESIDENTIAL |
| 10.003.664 | 3793 SUNDART DR | HORSLEY OTIS | FARLEY SUMMER | 10/03/2023 | 203800 | ARMS LENGTH TRANSACTION | 0.2332 | R | 1 | 203800 | 1978 | 1160 | PARK HILLS & CARRIAGE LANE ESTATES | R-1D - SINGLE FAMILY RESIDENTIAL |
| 14.027.050 | 175 MALABU DR UNIT 52 | WATTS FAMILY PROPERTIES LLC | 10/03/2023 | 63000 | ARMS LENGTH TRANSACTION | 0 | R | 1 | 67000 | 1969 | 602 | MALABU TERRACE | R-4 - HIGH DENSITY APARTMENT |
| 38.082.040 | 1000 BOONE CREEK CT | SAGALA TEOFISTA | 10/03/2023 | 315000 | ARMS LENGTH TRANSACTION | 0.2353 | R | 1 | 315000 | 2003 | 1638 | GESS PROPERTY | EAR-2 - EXPANSION AREA RESIDENTIAL |
| 38.110.160 | 1795 ALYSHEBA WAY UNIT 3201 | GLOBESIL INC | 10/03/2023 | 150000 | ARMS LENGTH TRANSACTION | 0 | C | 1 | 110000 | 2003 | 982 | HAMBURG | P-1 - PROFESSIONAL OFFICE |
| 38.256.850 | 1842 RACHELS RUN | EGGENSCHWILER EMILY ANNE | EGGENSCHWILER BRANDON DANIEL | 10/03/2023 | 374900 | ARMS LENGTH TRANSACTION | 0.1343 | R | 1 | 329600 | 2016 | 2192 | BLACKFORD PROPERTY II | EAR-1 - EXPANSION AREA RESIDENTIAL |
| 38.296.430 | 1121 MARLENA LN | MUTHONI DENNIS | 10/03/2023 | 349058 | NEW CONSTRUCTION | 0.1213 | R | 1 | 308500 | 2022 | 2496 | WOODWARD LANDER PROPERTY | R-3 - PLANNED NBHD RESIDENTIAL |
| 38.299.250 | 1793 ATOMA DR | GOODWILL INDUSTRIES OF KENTUCKY INC | 10/03/2023 | 1200000 | NEW CONSTRUCTION | 0.82 | C | 4 | 200000 | | 0 | COLDSTREAM | B-3 - HIGHWAY SERVICE BUSINESS |
| 38.045.040 | 5048 IVYBRIDGE DR | SIPE BRIAN RUSSELL AND KAITLYN | 10/03/2023 | 605000 | ARMS LENGTH TRANSACTION | 0.1642 | R | 1 | 462100 | 2004 | 4588 | GARDENS OF HARTLAND | R-1D - SINGLE FAMILY RESIDENTIAL |
| 38.297.310 | 509 WHITE OAK TRCE | ANDERSON ACQUISITIONS LLC | 10/03/2023 | 1202380 | MULTIPLE PROPERTIES | 0.1147 | R | 2 | 50000 | 2023 | 3084 | SEBASTIAN PROPERTY | R-1D - SINGLE FAMILY RESIDENTIAL |
| 38.297.330 | 501 WHITE OAK TRCE | ANDERSON ACQUISITIONS LLC | 10/03/2023 | 1202380 | MULTIPLE PROPERTIES | 0.1259 | R | 2 | 50000 | 2023 | 1908 | SEBASTIAN PROPERTY | R-1D - SINGLE FAMILY RESIDENTIAL |
| 19.961.880 | 4483 ROSE DALE CT | BEBROWSKY RUTH | C/O ANNE IRENE HARRIS | 10/03/2023 | 0 | CLOSE RELATIVE SALES/TRANSFERS | 0.2508 | R | 1 | 235200 | 1998 | 2322 | HIGHLAND LAKES 95 | R-1D - SINGLE FAMILY RESIDENTIAL |
| 20.276.598 | 3209 MT BISON CT | LOWE RYAN ODELL AND MARY | 10/03/2023 | 235000 | CHANGED TRANSFERRED SALE | 0.1293 | R | 1 | 235000 | 1980 | 2022 | CENTURY HILLS | R-1C - SINGLE FAMILY RESIDENTIAL |
| 38.027.680 | 444 SKYVIEW LN | EHNEY WILLIAM H JR TRUSTEE | EHNEY FAMILY PROTECTION TRUST 3-10-23 | 10/03/2023 | 0 | AFFILIATED ORGANIZATIONS | 0.1713 | R | 1 | 196700 | 2000 | 1638 | MASTERSON STATION III | R-1D - SINGLE FAMILY RESIDENTIAL |
| 38.287.730 | 2420 LORENZO WAY | ARSHAD MOHAMMAD AND ASMA | 10/03/2023 | 890000 | NEW CONSTRUCTION | 0.0238 | R | 1 | 616500 | 2023 | 3096 | TUSCANY 06 | R-3 - PLANNED NBHD RESIDENTIAL |
| 42.861.600 | 280 BASSETT AVE | RIDDLE DAVIS | KENNON MCNEEL YOUNG | 10/03/2023 | 485000 | ARMS LENGTH TRANSACTION | 0.1574 | R | 1 | 392000 | 1938 | 1662 | KENWICK II | R-2 - TWO-FAMILY RESIDENTIAL |
| 55.342.026 | 525 ASHLEY WAY | WELLMAN JENNIFER | 10/03/2023 | 0 | CLOSE RELATIVE SALES/TRANSFERS | 0.1846 | R | 1 | 244900 | 1980 | 1947 | OPEN GATES | R-1C - SINGLE FAMILY RESIDENTIAL |
| 38.237.730 | 499 E HIGH ST STE 208 | LEE WEI HAO | 10/03/2023 | 275000 | ARMS LENGTH TRANSACTION | 0 | R | 1 | 224500 | 2010 | 960 | THE WOODLANDS | P-1 - PROFESSIONAL OFFICE |
| 38.286.880 | 1124 BARLEYS PARK | MUFF DEVERIN H AND ADELINE | 10/03/2023 | 305000 | ARMS LENGTH TRANSACTION | 0.1031 | R | 1 | 280200 | 2020 | 2064 | WOODWARD LANDER PROPERTY | R-3 - PLANNED NBHD RESIDENTIAL |
| 38.289.660 | 652 SUNNY LANDING TRL | JAYAVARAPU RAVI | HENSON MARY | 10/03/2023 | 945900 | NEW CONSTRUCTION | 0.2678 | R | 1 | 273500 | 2023 | 3754 | THE PENINSULA | R-3 - PLANNED NBHD RESIDENTIAL |
| 40.923.500 | 417 HOLIDAY RD | DAUER DOUGLAS AND KATELYN | 10/03/2023 | 840000 | ARMS LENGTH TRANSACTION | 0.2497 | R | 5 | 624000 | 1950 | 4002 | FAIRWAY | R-1C - SINGLE FAMILY RESIDENTIAL |
| 38.297.290 | 517 WHITE OAK TRCE | ANDERSON ACQUISITIONS LLC | 10/03/2023 | 1202380 | MULTIPLE PROPERTIES | 0.0951 | R | 2 | 50000 | 2023 | 1957 | SEBASTIAN PROPERTY | R-1D - SINGLE FAMILY RESIDENTIAL |
| 10.004.780 | 1281 VILLAGE DR UNIT D 5 | MAGALLANES OMAR | 10/03/2023 | 20000 | LESS THAN 40,000 CONSIDERATION | 0 | R | 1 | 46200 | 1970 | 890 | WOLF RUN CONDOS | R-3 - PLANNED NBHD RESIDENTIAL |
| 11.686.600 | 2432 WOODHILL DR | BRYANT TYLER | 10/03/2023 | 131500 | CHANGED TRANSFERRED SALE | 0.0323 | R | 1 | 38800 | 1970 | 864 | HEDGEWOOD CT OSAGE CIR WOODHILL DR | R-1T - TOWNHOUSE RESIDENTIAL |
| 12.796.950 | 1706 LIN WAL CT | SPARKS RYAN S | 10/03/2023 | 187000 | ARMS LENGTH TRANSACTION | 0.1955 | R | 1 | 187000 | 1964 | 1914 | RADCLIFFE | R-1D - SINGLE FAMILY RESIDENTIAL |
| 20.102.710 | 832 KINGSBURY RD | KEENUM CARL AND NATALIE | 10/03/2023 | 235500 | ARMS LENGTH TRANSACTION | 0.1837 | R | 1 | 178500 | 1991 | 1106 | EASTWOOD 91 | R-1D - SINGLE FAMILY RESIDENTIAL |
| 38.022.810 | 4300 CALAIS PL | CAWOOD JAMIE AND CHRIS | 10/03/2023 | 380000 | ARMS LENGTH TRANSACTION | 0.2684 | R | 1 | 380000 | 2000 | 2840 | PINNACLE | R-3 - PLANNED NBHD RESIDENTIAL |
| 38.294.930 | 3869 WADING CREEK TRL | TAYLOR MELANIE DENISE PRESTON | 10/03/2023 | 439950 | NEW CONSTRUCTION | 0.2033 | R | 2 | 156600 | 2023 | 2508 | BLACKFORD PROPERTY III | EAR-1 - EXPANSION AREA RESIDENTIAL |
| 43.140.800 | 377 BOB O LINK DR | ISLA PROPERTIES LLC | 10/03/2023 | 0 | AFFILIATED ORGANIZATIONS | 0.1722 | R | 5 | 235000 | 1949 | 1250 | OAKS & OAKDALE | R-1D - SINGLE FAMILY RESIDENTIAL |
| 10.399.750 | 1914 BEDINGER CT | LARA EUGENIO | 09/03/2023 | 100000 | ANNUAL TWICE-SOLD PROPERTY | 0.1722 | R | 1 | 85000 | 1972 | 1215 | HOLLOW CREEK & WINBURN | R-1T - TOWNHOUSE RESIDENTIAL |
| 14.752.200 | 464 N MARTIN LUTHER KING BLVD | MINT PILLOWS PROPERTY MANAGEMENT LLC | 09/03/2023 | 0 | OTHER | 0.1515 | R | 1 | 650000 | 1900 | 3004 | DOWNTOWN WEST | R-3 - PLANNED NBHD RESIDENTIAL |
| 24.620.750 | 3521 ROCKY HILL TER | CREATIVE RENOVATIONS LLC | 09/03/2023 | 176475 | ARMS LENGTH TRANSACTION | 0.2013 | R | 4 | 176500 | 1965 | 1500 | KING ARTHUR-STONEYBROOK | R-1D - SINGLE FAMILY RESIDENTIAL |
| 38.290.520 | 2400 SANDERSVILLE RD | SPRING LAKE TOWNHOMES PARTNERS LLC | 09/03/2023 | 1063957 | VACANT LOTS/ BUILDERS | 14.29 | R | 2 | 1400000 | | 0 | MYERS PROPERTY | R-3 - PLANNED NBHD RESIDENTIAL |
| 16.221.725 | 3502 WILLOWOOD RD | SOHNER MICHELLE PATRICIA | 09/03/2023 | 0 | TRANSFER-TAX NOT PAID | 0.2516 | R | 1 | 206700 | 1958 | 1620 | GAINESWAY | R-1C - SINGLE FAMILY RESIDENTIAL |
| 17.223.800 | 609 DARTMOOR DR | HULL BARBARA | 09/03/2023 | 0 | CLOSE RELATIVE SALES/TRANSFERS | 0.194 | R | 1 | 180500 | 1965 | 1380 | ROOKWOOD & KENAWOOD | R-1D - SINGLE FAMILY RESIDENTIAL |
| 25.927.200 | 773 CHERYL LN | GRIGGS LAURA | 09/03/2023 | 30000 | OTHER | 0.2074 | R | 5 | 127900 | 1953 | 1116 | GARDENSIDE PROSPECT HILL & SKY CREST | R-1C - SINGLE FAMILY RESIDENTIAL |
| 38.205.870 | 2856 SULLIVANS TRCE | HALFHILL HUNTER | 09/03/2023 | 250000 | ARMS LENGTH TRANSACTION | 0.1534 | R | 1 | 210800 | 2017 | 1370 | RAMSEY/SULLIVAN PROPERTY (KEARNEY RIDGE) | R-3 - PLANNED NBHD RESIDENTIAL |
| 11.909.600 | 579 W SHORT ST | MINT PILLOWS PROPERTY MANAGEMENT LLC | 09/03/2023 | 0 | OTHER | 0.1512 | R | 1 | 750000 | 1812 | 3562 | FAYETTE PARK | R-4 - HIGH DENSITY APARTMENT |
| 19.314.520 | 1165 IRON LACE CT | PAYNE ERIC | 09/03/2023 | 221400 | ARMS LENGTH TRANSACTION | 0.1244 | R | 1 | 221400 | 1995 | 1719 | THE VILLAGE AT BANBURY HUNT | R-3 - PLANNED NBHD RESIDENTIAL |
| 19.314.520 | 1165 IRON LACE CT | PAYNE ERIC | 09/03/2023 | 180000 | OTHER | 0.1244 | R | 1 | 221400 | 1995 | 1719 | THE VILLAGE AT BANBURY HUNT | R-3 - PLANNED NBHD RESIDENTIAL |
| 19.341.010 | 2113 BELMONT DR | ALEX PROPERTY LLC | 09/03/2023 | 220000 | ARMS LENGTH TRANSACTION | 0.0973 | R | 1 | 220000 | 1996 | 1752 | NORTH POINTE 89 | R-1E - SINGLE FAMILY RESIDENTIAL |
| 23.885.317 | 456 LENNEY DR | HILL MATTHEW W AND LAURA C | 09/03/2023 | 300000 | ARMS LENGTH TRANSACTION | 0.27 | M | 1 | 219900 | 1978 | 3648 | TATES CREEK | R-3 - PLANNED NBHD RESIDENTIAL |
| 38.296.480 | 1101 MARLENA LN | BARNES ANTHONY | 09/03/2023 | 361961 | NEW CONSTRUCTION | 0.1791 | R | 1 | 156000 | 2023 | 2500 | WOODWARD LANDER PROPERTY | R-3 - PLANNED NBHD RESIDENTIAL |
| 19.976.260 | 692 GRAFTONS MILL LN | PURLEY ASSOCIATE LLC | 09/03/2023 | 233500 | ARMS LENGTH TRANSACTION | 0.0918 | R | 1 | 233500 | 1997 | 1141 | DANBY CORNERS UNIT 1A 98 | R-1E - SINGLE FAMILY RESIDENTIAL |
| 23.718.281 | 8806 OLD RICHMOND RD | SOHNER AMY TRUSTEE | 09/03/2023 | 0 | TRANSFER-TAX NOT PAID | 8.64 | R | 2 | 321000 | 1979 | 3051 | RURAL UNDER 10 ACRES SE QUAD | A-R - AGRICULTURAL RURAL |
| 38.029.920 | 808 GUNPOWDER DR | MINT PILLOWS PROPERTY MANAGEMENT LLC | 09/03/2023 | 0 | OTHER | 0.1699 | R | 1 | 450000 | 2001 | 2922 | SHETLANDS PHASE 1 | R-3 - PLANNED NBHD RESIDENTIAL |
| 38.294.200 | 2436 SANDERSVILLE RD | BALL HOMES LLC | 09/03/2023 | 1923526 | VACANT LOTS/ BUILDERS | 27.02 | R | 2 | 2700000 | | 0 | MYERS PROPERTY | R-3 - PLANNED NBHD RESIDENTIAL |
| 14.646.000 | 532 POPLAR ST | MURPHY MARY C TRUSTEE | 08/03/2023 | 0 | TRANSFER-TAX NOT PAID | 0.0538 | R | 1 | 9500 | | 0 | DAVIS BOTTOM | R-4 - HIGH DENSITY APARTMENT |
| 19.968.880 | 1016 RIDGETREE LN | BRUNER ELISABETH | 08/03/2023 | 408500 | ARMS LENGTH TRANSACTION | 0.1653 | R | 1 | 306800 | 1998 | 2634 | COPPER TRACE | R-1D - SINGLE FAMILY RESIDENTIAL |
| 20.017.120 | 404 DARBY CREEK RD UNIT A | NAIR SUNIL K AND SMITHA SUNIL | 08/03/2023 | 157600 | ARMS LENGTH TRANSACTION | 0.0802 | R | 1 | 157600 | 1984 | 1332 | AFFIRMED ALYDAR & DARBY CREEK | R-4 - HIGH DENSITY APARTMENT |
| 10.020.610 | 400 REDDING RD UNIT 8 | MOSLEY BRADLEY NEIL TRUSTEE | 08/03/2023 | 0 | DEED OF CORRECTION | 0.1021 | R | 1 | 461800 | 1985 | 3060 | REDDING ROAD | R-3 - PLANNED NBHD RESIDENTIAL |
| 10.034.210 | 112 CONSTITUTION ST | GINOCCHIO MARY ROSALIA TTEE | MARTIN HANNIBAL GINOCCHIO IRREV TRUST | 08/03/2023 | 0 | AFFILIATED ORGANIZATIONS | 0.0312 | R | 1 | 127700 | 1984 | 1618 | DOWNTOWN WEST | B-2A - DOWNTOWN FRAME BUSINESS |
| 10.278.722 | 500 LAKETOWER DR UNIT 13 | WRIGHT MIKI | 08/03/2023 | 145000 | ARMS LENGTH TRANSACTION | 0.0474 | R | 1 | 137000 | 1976 | 1302 | 500-543 LAKETOWER | R-4 - HIGH DENSITY APARTMENT |
| 11.302.795 | 2121 NICHOLASVILLE RD UNIT 603 | BOND ANNA MARIE | 08/03/2023 | 138900 | ARMS LENGTH TRANSACTION | 0 | R | 1 | 125000 | 1965 | 696 | CONTINENTAL TOWERS | R-4 - HIGH DENSITY APARTMENT |
| 11.948.750 | 343 OLDHAM AVE | MANOR BRUCE AND CATHERINE | 08/03/2023 | 190000 | ARMS LENGTH TRANSACTION | 0.0724 | R | 1 | 194000 | 1900 | 988 | WOODLAND PARK | R-1E - SINGLE FAMILY RESIDENTIAL |
| 14.476.526 | 750 SHAKER DR UNIT 705 | KIRKLAND WHITNEY MORGAN | KIRKLAND THOMAS LLOYD | 08/03/2023 | 157520 | ARMS LENGTH TRANSACTION | 0 | R | 1 | 155200 | 1972 | 1154 | HARRODSBURG SQUARE | R-4 - HIGH DENSITY APARTMENT |
| 14.637.400 | 330 CLAY AVE | MURPHY MARY C TRUSTEE | 08/03/2023 | 0 | TRANSFER-TAX NOT PAID | 0.1699 | C | 1 | 342400 | 1930 | 2634 | UNIVERSITY | P-1 - PROFESSIONAL OFFICE |
| 38.116.560 | 856 WHITE WOOD FLT | MARTIN MARK | 08/03/2023 | 265000 | ARMS LENGTH TRANSACTION | 0.1088 | R | 1 | 265000 | 2005 | 1584 | MASTERSON STATION IV | R-1E - SINGLE FAMILY RESIDENTIAL |
| 38.270.290 | 2220 WALCOT WAY | BAF ASSETS 6 LLC | 08/03/2023 | 0 | AFFILIATED ORGANIZATIONS | 0.1115 | R | 1 | 234700 | 2018 | 1350 | COVENTRY (BELMONT FARM) | R-3 - PLANNED NBHD RESIDENTIAL |
| 38.270.330 | 2501 GUILDHALL LN | BAF ASSETS 6 LLC | 08/03/2023 | 0 | AFFILIATED ORGANIZATIONS | 0.1477 | R | 1 | 242100 | 2019 | 2402 | COVENTRY (BELMONT FARM) | R-3 - PLANNED NBHD RESIDENTIAL |
| 38.270.470 | 1957 DRUMMOND DR | BAF ASSETS 6 LLC | 08/03/2023 | 0 | AFFILIATED ORGANIZATIONS | 0.197 | R | 1 | 234700 | 2019 | 1350 | COVENTRY (BELMONT FARM) | R-3 - PLANNED NBHD RESIDENTIAL |
| 38.291.140 | 758 DE ROODE ST | NCHAMUKONG HANNAH NUBONIN | 08/03/2023 | 0 | NAME CHANGE/MERGER | 0 | R | 1 | 132800 | 2021 | 1894 | DAVIS BOTTOM | R-3 - PLANNED NBHD RESIDENTIAL |
| 38.205.990 | 2808 SULLIVANS TRCE | RECICAR TATIANA | 08/03/2023 | 271000 | ARMS LENGTH TRANSACTION | 0.1212 | R | 1 | 232200 | 2018 | 1504 | RAMSEY/SULLIVAN PROPERTY (KEARNEY RIDGE) | R-3 - PLANNED NBHD RESIDENTIAL |
| 14.638.400 | 2105 EASTWAY DR | MURPHY MARY C TRUSTEE | 08/03/2023 | 0 | TRANSFER-TAX NOT PAID | 0.3195 | C | 1 | 108000 | 1955 | 1199 | SOUTHLAND | P-1 - PROFESSIONAL OFFICE |
| 14.645.900 | 531 535 PATTERSON ST | MURPHY MARY C TRUSTEE | 08/03/2023 | 0 | TRANSFER-TAX NOT PAID | 0.1054 | R | 1 | 20500 | | 0 | DAVIS BOTTOM | R-4 - HIGH DENSITY APARTMENT |
| 13.388.700 | 477 ASBURY LN | JEFFRIES ALEX LEE | 08/03/2023 | 161150 | ARMS LENGTH TRANSACTION | 0.1791 | R | 1 | 117100 | 1969 | 1461 | HOLLOW CREEK & WINBURN | R-1D - SINGLE FAMILY RESIDENTIAL |
| 13.110.800 | 332 OHIO ST | MODERN PROPERTY GROUP LLC | 08/03/2023 | 105000 | ARMS LENGTH TRANSACTION | 0.0922 | R | 1 | 76600 | 1900 | 936 | DOWNTOWN | R-3 - PLANNED NBHD RESIDENTIAL |
| 14.638.600 | 940 942 WINCHESTER RD | MURPHY MARY C TRUSTEE | 08/03/2023 | 0 | TRANSFER-TAX NOT PAID | 0.13 | C | 1 | 310700 | 1956 | 5000 | WINCHESTER | B-3 - HIGHWAY SERVICE BUSINESS |
| 17.197.800 | 1567 LA SALLE RD | CUNNINGHAM JACQUELYN AWAKENED | 08/03/2023 | 0 | NAME CHANGE/MERGER | 0.1722 | R | 1 | 117300 | 1970 | 1190 | HOLLOW CREEK & WINBURN | R-1D - SINGLE FAMILY RESIDENTIAL |
| 38.037.750 | 2189 BIRKDALE DR | MULLINS TAYLOR AND JOSHALYN T | 08/03/2023 | 282000 | ARMS LENGTH TRANSACTION | 0.1537 | R | 1 | 230900 | 2000 | 1550 | GLENEAGLES II | EAR-2 - EXPANSION AREA RESIDENTIAL |
| 38.256.550 | 3274 TRANQUILITY PT | HOWELL HILTON | 08/03/2023 | 389900 | ARMS LENGTH TRANSACTION | 0.1818 | R | 1 | 332300 | 2015 | 2008 | BLACKFORD PROPERTY II | EAR-2 - EXPANSION AREA RESIDENTIAL |
| 38.270.140 | 2221 WALCOT WAY | BAF ASSETS 6 LLC | 08/03/2023 | 0 | AFFILIATED ORGANIZATIONS | 0.1115 | R | 1 | 242100 | 2018 | 1488 | COVENTRY (BELMONT FARM) | R-3 - PLANNED NBHD RESIDENTIAL |
| 38.270.460 | 1961 DRUMMOND DR | BAF ASSETS 6 LLC | 08/03/2023 | 0 | AFFILIATED ORGANIZATIONS | 0.1481 | R | 1 | 221700 | 2019 | 1488 | COVENTRY (BELMONT FARM) | R-3 - PLANNED NBHD RESIDENTIAL |
| 54.645.701 | 3412 NANTUCKET DR | MURPHY MARY C TRUSTEE | 08/03/2023 | 0 | TRANSFER-TAX NOT PAID | 0.5149 | R | 4 | 476000 | 1963 | 4775 | LANSDOWNE | R-1B - SINGLE FAMILY RESIDENTIAL |
| 10.043.140 | 1502 PLAYER DR | HERSHBERGER JOHN TRUSTEE | 08/03/2023 | 0 | TRANSFER-TAX NOT PAID | 0.1436 | R | 3 | 352300 | 1989 | 2216 | GRIFFIN GATE 82 | R-3 - PLANNED NBHD RESIDENTIAL |
| 19.326.760 | 1032 ALBERT LN | SPOTTS JOHN C AND JULIE F | 08/03/2023 | 315000 | ARMS LENGTH TRANSACTION | 0.1849 | R | 1 | 215000 | 1995 | 1648 | COPPER TRACE | R-1D - SINGLE FAMILY RESIDENTIAL |
| 27.235.900 | 301 TULANE DR | WYNN MICHAEL BRYAN | 08/03/2023 | 92000 | PARTIAL SALES | 0.3245 | R | 5 | 196900 | 1960 | 1521 | BLUEBERRY HILLS | R-1C - SINGLE FAMILY RESIDENTIAL |
| 10.797.900 | 216 N LIMESTONE | GINOCCHIO MARY ROSALIA TTEE | MARTIN HANNIBAL GINOCCHIO IRREV TRUST | 08/03/2023 | 0 | AFFILIATED ORGANIZATIONS | 0.3204 | C | 1 | 639100 | 1920 | 6200 | CENTRAL BUSINESS DISTRICT | B-2A - DOWNTOWN FRAME BUSINESS |
| 14.638.500 | 2109 EASTWAY DR | MURPHY MARY C TRUSTEE | 08/03/2023 | 0 | TRANSFER-TAX NOT PAID | 0.2959 | C | 1 | 108000 | 1955 | 1205 | SOUTHLAND | P-1 - PROFESSIONAL OFFICE |
| 16.723.250 | 2937 MONTAVESTA RD | SIMPSON NOVA JR | 08/03/2023 | 0 | TRANSFER-TAX NOT PAID | 0.3561 | R | 1 | 232700 | 1972 | 2117 | LANSDOWNE MERRICK | R-1C - SINGLE FAMILY RESIDENTIAL |
| 16.723.250 | 2937 MONTAVESTA RD | SIMPSON NOVA JR | 08/03/2023 | 0 | TRANSFER-TAX NOT PAID | 0.3561 | R | 1 | 232700 | 1972 | 2117 | LANSDOWNE MERRICK | R-1C - SINGLE FAMILY RESIDENTIAL |
| 38.270.220 | 1993 DRUMMOND DR | BAF ASSETS 6 LLC | 08/03/2023 | 0 | AFFILIATED ORGANIZATIONS | 0.1584 | R | 1 | 242100 | 2019 | 1644 | COVENTRY (BELMONT FARM) | R-3 - PLANNED NBHD RESIDENTIAL |
| 38.270.310 | 2228 WALCOT WAY | BAF ASSETS 6 LLC | 08/03/2023 | 0 | AFFILIATED ORGANIZATIONS | 0.1105 | R | 1 | 234700 | 2018 | 1350 | COVENTRY (BELMONT FARM) | R-3 - PLANNED NBHD RESIDENTIAL |
| 38.270.580 | 2500 GUILDHALL LN | BAF ASSETS 6 LLC | 08/03/2023 | 0 | AFFILIATED ORGANIZATIONS | 0.152 | R | 1 | 242100 | 2019 | 1704 | COVENTRY (BELMONT FARM) | R-3 - PLANNED NBHD RESIDENTIAL |
| 11.538.100 | 1607 ATLANTA DR | ECTON DAN W & SUSAN K TRUSTEES | 07/03/2023 | 0 | TRANSFER-TAX NOT PAID | 0.287 | R | 1 | 248100 | 1960 | 2395 | EASTLAND PARK & PART OF DIXIE PLANTATION | R-1D - SINGLE FAMILY RESIDENTIAL |
| 38.283.320 | 964 ENTERPRISE CT | JDH ALEXANDRIA LLC | 07/03/2023 | 607405 | ARMS LENGTH TRANSACTION | 2.256 | C | 1 | 539800 | | 0 | LEESTOWN | I-1 - LIGHT INDUSTRIAL |
| 45.467.200 | 228 PEPPER DR | HEIST E PATRICK TTEE | E PATRICK HEIST REVOCABLE TRUST 11-16-22 | 07/03/2023 | 455000 | CHANGED TRANSFERRED SALE | 0.2066 | R | 5 | 455000 | 1954 | 2405 | MEADOWTHORPE | R-1C - SINGLE FAMILY RESIDENTIAL |
| 38.140.030 | 2629 FLYING EBONY DR UNIT 1402 | SCHOENBAECHLER ROZALIN | 07/03/2023 | 0 | AFFILIATED ORGANIZATIONS | 0 | R | 3 | 300000 | 2005 | 2055 | PRESTWICK TOWNHOMES CONDOMINIUMS | R-3 - PLANNED NBHD RESIDENTIAL |
| 20.122.940 | 1208 FOUR WYNDS TRL | KLAREN RENEE DELONG | 07/03/2023 | 0 | PARTIAL SALES | 0.1482 | R | 1 | 227500 | 1994 | 1876 | MEADOW CREEK | R-1D - SINGLE FAMILY RESIDENTIAL |
| 25.655.800 | 609 LONGVIEW DR | ABNEY CHELSIE HANNAH RENAA | 07/03/2023 | 250000 | ARMS LENGTH TRANSACTION | 0.2066 | R | 5 | 167900 | 1949 | 1554 | SOUTHLAND & ROSEMILL | R-1C - SINGLE FAMILY RESIDENTIAL |
| 38.222.630 | 121 N MARTIN LUTHER KING BLVD UNIT 101 | COE JANNA CATHERINE | 07/03/2023 | 250000 | ARMS LENGTH TRANSACTION | 0 | R | 1 | 209200 | 2008 | 832 | NUNN BUILDING LOFTS | B-2B - DOWNTOWN CENTER BUSINESS |
| 10.252.000 | 685 HI CREST DR | DOPP TYLER AUBREY AND SAMANTHA ASHLEY | 07/03/2023 | 199500 | CHANGED TRANSFERRED SALE | 0.3347 | R | 1 | 199500 | 1962 | 1924 | HI ACRES | R-1C - SINGLE FAMILY RESIDENTIAL |
| 11.887.795 | 3900 SUNDART DR | YOUR HOME SOLUTIONS LLC | 07/03/2023 | 175000 | ARMS LENGTH TRANSACTION | 0.3821 | R | 1 | 175000 | 1978 | 2170 | PARK HILLS & CARRIAGE LANE ESTATES | R-1C - SINGLE FAMILY RESIDENTIAL |
| 12.613.700 | 1109 MCCLAIN DR | TMH CONSTRUCTION LIMITED LIABILITY | COMPANY | 07/03/2023 | 30000 | OTHER | 0.2219 | R | 1 | 124000 | 1951 | 1132 | BROADVIEW WITHERS & KEES | R-1C - SINGLE FAMILY RESIDENTIAL |
| 12.613.700 | 1109 MCCLAIN DR | TMH CONSTRUCTION LIMITED LIABILITY | COMPANY | 07/03/2023 | 10000 | OTHER | 0.2219 | R | 1 | 124000 | 1951 | 1132 | BROADVIEW WITHERS & KEES | R-1C - SINGLE FAMILY RESIDENTIAL |
| 19.333.780 | 365 SHADOW GLEN CT | COMPTON DOROTHY KAY | 07/03/2023 | 0 | CLOSE RELATIVE SALES/TRANSFERS | 0.0934 | R | 1 | 168600 | 2000 | 1040 | SHADOW WOOD | R-1E - SINGLE FAMILY RESIDENTIAL |
| 20.965.177 | 1030 TRENT BLVD | CASTILLO SANDRA | 07/03/2023 | 0 | OTHER | 0.1102 | R | 1 | 116100 | 1983 | 1248 | MELODY VILLAGE & RIVER PARK | R-1T - TOWNHOUSE RESIDENTIAL |
| 27.281.124 | 3407 WINTHROP DR | GALLAWAY TIMOTHY JAMES | 07/03/2023 | 290000 | ARMS LENGTH TRANSACTION | 0.1722 | R | 4 | 218000 | 1975 | 2172 | MONTICELLO | R-1C - SINGLE FAMILY RESIDENTIAL |
| 38.122.010 | 3209 CHERRY MEADOW PATH | GLANZER ALYSSA | WEIR STEVEN LUON | 07/03/2023 | 430000 | ARMS LENGTH TRANSACTION | 0.2595 | R | 1 | 439400 | 2005 | 2973 | BLACKFORD PROPERTY II | EAR-2 - EXPANSION AREA RESIDENTIAL |
| 44.987.700 | 346 PRESTON AVE | J MILLER DESIGN LLC | 07/03/2023 | 165000 | CHANGED TRANSFERRED SALE | 0.1722 | E | 1 | 165000 | 1920 | 938 | WICKLIFFE | R-2 - TWO-FAMILY RESIDENTIAL |
| 15.904.100 | 841 BENNETT AVE | WHEELOCK LLC | 06/03/2023 | 0 | AFFILIATED ORGANIZATIONS | 0.168 | R | 1 | 83000 | 1910 | 1386 | CURRY AVE RED MILE & ANGLIANA | R-2 - TWO-FAMILY RESIDENTIAL |
| 10.014.500 | 2905 AFFIRMED CT UNIT C | DENTON PROPERTIES LLC | 06/03/2023 | 100000 | ARMS LENGTH TRANSACTION | 0 | R | 1 | 100000 | 1984 | 1104 | KEENE RIDGE TOWNHOUSE CONDOMINIUMS | R-4 - HIGH DENSITY APARTMENT |
| 16.429.300 | 563 COLUMBIA AVE | RUPP FAMILY RENTALS LLC | 06/03/2023 | 262500 | ARMS LENGTH TRANSACTION | 0.1212 | R | 1 | 154000 | 1924 | 1008 | UNIVERSITY | R-2 - TWO-FAMILY RESIDENTIAL |
| 17.195.525 | 637 EUREKA SPRINGS DR | HM PARTNERS LLC | 06/03/2023 | 175000 | MULTIPLE PROPERTIES | 0.1045 | R | 1 | 74900 | 1978 | 885 | MT TABOR HEIGHTS | R-2 - TWO-FAMILY RESIDENTIAL |
| 17.289.675 | 561 EUREKA SPRINGS DR | WETZLAR PETER C | 06/03/2023 | 230000 | ARMS LENGTH TRANSACTION | 0.2246 | R | 1 | 175000 | 1975 | 1632 | MT TABOR HEIGHTS | R-2 - TWO-FAMILY RESIDENTIAL |
| 38.165.310 | 2292 BARNWELL LN | KOUL PRIYA S TRUSTEE | 06/03/2023 | 0 | TRANSFER-TAX NOT PAID | 0.3586 | R | 1 | 880000 | 2007 | 6699 | BEAUMONT FARM 94 | R-1D - SINGLE FAMILY RESIDENTIAL |
| 38.193.720 | 201 PRICE RD UNIT 216 | STRAWSER MICHAEL J SR AND MARTHA C | 06/03/2023 | 220000 | ARMS LENGTH TRANSACTION | 0 | R | 6 | 218300 | 2006 | 1565 | LORILLARD LOFTS | R-4 - HIGH DENSITY APARTMENT |
| 38.206.880 | 535 S UPPER ST UNIT 145 | ARKA CENTERCOURT LLC | 06/03/2023 | 700000 | MULTIPLE PROPERTIES | 0 | C | 1 | 378000 | 2007 | 2668 | UNIVERSITY | MU-2 - NEIGHBORHOOD CORRIDOR |
| 45.702.550 | 114 PARIS AVE | HM PARTNERS LLC | 06/03/2023 | 0 | AFFILIATED ORGANIZATIONS | 0.1522 | R | 5 | 15000 | | 0 | BROADVIEW WITHERS & KEES | R-1C - SINGLE FAMILY RESIDENTIAL |
| 45.840.300 | 100 HAZEL AVE | WHEELOCK LLC | 06/03/2023 | 0 | AFFILIATED ORGANIZATIONS | 0.1102 | R | 1 | 92600 | 1997 | 432 | WICKLIFFE | R-2 - TWO-FAMILY RESIDENTIAL |
| 10.276.303 | 3165 DALE HOLLOW DR | BORTZ ALLISON RENEE AND DAMION | 06/03/2023 | 0 | CLOSE RELATIVE SALES/TRANSFERS | 0.2238 | R | 1 | 176800 | 1977 | 1956 | EAST LAKE | R-1D - SINGLE FAMILY RESIDENTIAL |
| 16.033.200 | 170 LEISURE LN | MONTANEZ SARA | 06/03/2023 | 185000 | CHANGED TRANSFERRED SALE | 0.2133 | R | 1 | 135000 | 1960 | 1025 | CARDINAL VALLEY | R-1D - SINGLE FAMILY RESIDENTIAL |
| 16.760.300 | 1995 BRYNELL DR | LEWIS BRIAN M AND SHAIKILA T | 06/03/2023 | 206000 | ARMS LENGTH TRANSACTION | 0.1543 | R | 1 | 206000 | 1963 | 1369 | DEEP SPRINGS PRT OF DIXIE HERMITAGE HILL | R-1D - SINGLE FAMILY RESIDENTIAL |
| 20.064.130 | 3905 KILGARY CIR | BOLTON KANDICE AND EVAN | 06/03/2023 | 275000 | ARMS LENGTH TRANSACTION | 0.1329 | R | 1 | 180000 | 1988 | 1981 | BRADFORD COLONY 88 | R-3 - PLANNED NBHD RESIDENTIAL |
| 38.206.860 | 535 S UPPER ST UNIT 105 | ARKA CENTERCOURT LLC | 06/03/2023 | 700000 | MULTIPLE PROPERTIES | 0 | C | 1 | 322000 | 2007 | 2240 | UNIVERSITY | MU-2 - NEIGHBORHOOD CORRIDOR |
| 20.027.620 | 639 EUREKA SPRINGS DR | HM PARTNERS LLC | 06/03/2023 | 175000 | MULTIPLE PROPERTIES | 0.1029 | R | 1 | 74900 | 1978 | 885 | MT TABOR HEIGHTS | R-2 - TWO-FAMILY RESIDENTIAL |
| 11.475.450 | 2036 ALEXANDRIA DR | CERVANTES & ASSOCIATES LLC | 06/03/2023 | 260000 | CHANGED TRANSFERRED SALE | 0.1928 | R | 1 | 175200 | 1961 | 1726 | GARDEN SPRINGS | R-1D - SINGLE FAMILY RESIDENTIAL |
| 10.967.407 | 3684 CLAREDON DR | VAN DYKE EMELENE JOY | 06/03/2023 | 180000 | CHANGED TRANSFERRED SALE | 0.1582 | R | 1 | 180000 | 1976 | 1000 | MELODY VILLAGE & RIVER PARK | R-2 - TWO-FAMILY RESIDENTIAL |
| 11.181.400 | 330 GEORGETOWN PL | SHARE LEXINGTON | 06/03/2023 | 2000 | VACANT LOTS/ BUILDERS | 0.0465 | E | 1 | 12700 | | 0 | FORREST HILL LAND CO & DOUGLAS HEIGHTS | R-4 - HIGH DENSITY APARTMENT |
| 20.024.140 | 4954 HARTLAND PKWY | JOSEPH SCOTT PROPERTIES LLC | 06/03/2023 | 355000 | ANNUAL TWICE-SOLD PROPERTY | 0.3053 | R | 1 | 355000 | 1985 | 2992 | HARTLAND 2B | R-1C - SINGLE FAMILY RESIDENTIAL |
| 20.024.140 | 4954 HARTLAND PKWY | JOSEPH SCOTT PROPERTIES LLC | 04/03/2023 | 320000 | ARMS LENGTH TRANSACTION | 0.3053 | R | 1 | 355000 | 1985 | 2992 | HARTLAND 2B | R-1C - SINGLE FAMILY RESIDENTIAL |
| 21.212.450 | 524 CROMWELL WAY | MORGAN DONALD S | 06/03/2023 | 305000 | ARMS LENGTH TRANSACTION | 0.2668 | R | 4 | 184900 | 1974 | 2186 | ROBINWOOD | R-1C - SINGLE FAMILY RESIDENTIAL |
| 12.424.000 | 830 MELROSE AVE | HANDY REMODELING LLC | 03/03/2023 | 492000 | ARMS LENGTH TRANSACTION | 0.1607 | R | 1 | 467100 | 1927 | 1895 | HOLLYWOOD TERRACE | R-1D - SINGLE FAMILY RESIDENTIAL |
| 16.090.000 | 138 E SIXTH ST | MCMAHAN JOSEPH MICHAEL | INTARTAGLIO ANNA KATHLEEN | 03/03/2023 | 172900 | CHANGED TRANSFERRED SALE | 0.1887 | R | 1 | 128500 | 1900 | 1488 | DOWNTOWN | R-3 - PLANNED NBHD RESIDENTIAL |
| 16.096.425 | 1348 DALE DR | A & G HOMES LLC | 03/03/2023 | 123000 | ARMS LENGTH TRANSACTION | 0.1983 | R | 1 | 123000 | 1973 | 1000 | MELODY VILLAGE & RIVER PARK | R-2 - TWO-FAMILY RESIDENTIAL |
| 38.032.790 | 2848 ASHBY GLEN PL | COMMUNITY ACTION COUNCIL FOR LEX FAYETTE | BOURBON HARRISON & NICHOLAS CO INC | 03/03/2023 | 219500 | CHANGED TRANSFERRED SALE | 0.1566 | R | 1 | 219500 | 2002 | 1232 | SHADOW WOOD | R-3 - PLANNED NBHD RESIDENTIAL |
| 38.051.060 | 236 SPRING VALLEY LN | GAIDZIK ALEX | 03/03/2023 | 198000 | ARMS LENGTH TRANSACTION | 0.097 | R | 1 | 167600 | 2002 | 1275 | MASTERSON STATION II | R-3 - PLANNED NBHD RESIDENTIAL |
| 10.243.800 | 207 YORK ST | NEST B LEXINGTON LLC | 03/03/2023 | 38000 | LESS THAN 40,000 CONSIDERATION | 0.0606 | R | 1 | 54600 | 1910 | 832 | DOWNTOWN | R-3 - PLANNED NBHD RESIDENTIAL |
| 19.301.710 | 581 TWIN PINES WAY | HENDERSON LORI | 03/03/2023 | 325000 | ARMS LENGTH TRANSACTION | 0.2325 | R | 1 | 221300 | 1994 | 1699 | WILLOW BEND 95 | R-3 - PLANNED NBHD RESIDENTIAL |
| 20.048.440 | 2961 WACO RD | SMITH KATHERINE AND BRANDON | 03/03/2023 | 235000 | ARMS LENGTH TRANSACTION | 0.2704 | R | 4 | 155200 | 1991 | 1176 | PERA PLACE & CLAYS MEADOW 88 | R-1D - SINGLE FAMILY RESIDENTIAL |
| 20.279.224 | 3804 TROUT CT | FARMER & RESCH DEVELOPMENTS LLC | 03/03/2023 | 120000 | ARMS LENGTH TRANSACTION | 0.1515 | R | 1 | 120000 | 1980 | 1145 | MELODY VILLAGE & RIVER PARK | R-1D - SINGLE FAMILY RESIDENTIAL |
| 26.758.500 | 105 HALLS LN | SPILLMAN PROPERTIES LLC | 03/03/2023 | 135000 | ARMS LENGTH TRANSACTION | 0.1492 | R | 1 | 109300 | 1948 | 1274 | WESTGATE | R-1C - SINGLE FAMILY RESIDENTIAL |
| 38.037.080 | 2016 BALTUSROL LN | CROLLEY AARON LYNDON AND ELIZABETH | 03/03/2023 | 325000 | CHANGED TRANSFERRED SALE | 0.1142 | R | 1 | 230000 | 2000 | 1570 | GLENEAGLES II | EAR-2 - EXPANSION AREA RESIDENTIAL |
| 38.058.390 | 172 BITTERSWEET WAY | BROWN MICHAEL RYAN AND WHITNEY | 03/03/2023 | 365000 | ARMS LENGTH TRANSACTION | 0.172 | R | 1 | 365000 | 2003 | 2201 | HIGHLAND LAKES 95 | R-1D - SINGLE FAMILY RESIDENTIAL |
| 38.109.730 | 600 VINCENT WAY UNIT 2206 | LOMBARDI SALVATORE | LOMBARDI WILLIAM WHITWORTH | 03/03/2023 | 170000 | ARMS LENGTH TRANSACTION | 0 | R | 1 | 140000 | 2004 | 1124 | WELLINGTON CHASE CONDOMINIUMS | R-4 - HIGH DENSITY APARTMENT |
| 38.175.510 | 656 LUCILLE DR | BEATTY EMBRY | 03/03/2023 | 332000 | ARMS LENGTH TRANSACTION | 0.1188 | R | 1 | 332000 | 2007 | 2602 | GREENDALE HILLS | R-3 - PLANNED NBHD RESIDENTIAL |
| 38.225.990 | 500 E FOURTH ST | CUMPSTON JORDAN | 03/03/2023 | 264500 | ARMS LENGTH TRANSACTION | 0.272 | R | 1 | 147900 | 2011 | 1868 | HAMMONS SUBDIVISION 00 | R-3 - PLANNED NBHD RESIDENTIAL |
| 38.289.180 | 633 SNOWY EGRET WAY | KIMMEL ROGER AND MELISSA | 03/03/2023 | 619900 | NEW CONSTRUCTION | 0.1824 | R | 1 | 619900 | 2022 | 2517 | THE PENINSULA | R-3 - PLANNED NBHD RESIDENTIAL |
| 16.745.600 | 167 ALABAMA AVE | RUTLEDGE CORY | 03/03/2023 | 0 | CLOSE RELATIVE SALES/TRANSFERS | 0.1102 | R | 1 | 155000 | 1920 | 1339 | DOWNTOWN WEST | R-3 - PLANNED NBHD RESIDENTIAL |
| 19.990.360 | 897 BURKEWOOD DR | WALLACE MADISON LEA | 03/03/2023 | 229000 | ARMS LENGTH TRANSACTION | 0.3091 | R | 1 | 178000 | 1998 | 1448 | EASTWOOD 91 | R-1E - SINGLE FAMILY RESIDENTIAL |
| 20.965.134 | 1058 TRENT BLVD | COONTS JASON | 03/03/2023 | 159500 | ARMS LENGTH TRANSACTION | 0.2534 | R | 1 | 159500 | 1983 | 1350 | MELODY VILLAGE & RIVER PARK | R-1D - SINGLE FAMILY RESIDENTIAL |
| 13.545.100 | 155 DELMONT DR | BLAKEMAN JAMES HERMAN TRUSTEE | 03/03/2023 | 90000 | ARMS LENGTH TRANSACTION | 0.1983 | R | 1 | 88000 | 1960 | 1593 | CARDINAL VALLEY | R-1D - SINGLE FAMILY RESIDENTIAL |
| 14.476.441 | 750 SHAKER DR UNIT 318 | HOLDEN PATRICIA M TRUSTEE | 03/03/2023 | 150000 | ARMS LENGTH TRANSACTION | 0 | R | 1 | 127500 | 1972 | 1154 | HARRODSBURG SQUARE | R-4 - HIGH DENSITY APARTMENT |
| 10.850.700 | 336 HOLLYHILL DR | SMITH ALYSSA AND KEVIN | 03/03/2023 | 545000 | ARMS LENGTH TRANSACTION | 0.32 | R | 1 | 427000 | 1954 | 2651 | SOUTHLAND & HILL N DALE | R-1C - SINGLE FAMILY RESIDENTIAL |
| 38.189.820 | 3221 TIBURON WAY | GERRING SAM M | 03/03/2023 | 250000 | CHANGED TRANSFERRED SALE | 0.1377 | R | 1 | 204800 | 2009 | 1297 | WOODWARD LANDER PROPERTY | R-3 - PLANNED NBHD RESIDENTIAL |
| 15.451.200 | 1708 NEW ORLEANS CT | HOSKINS JACOB | 03/03/2023 | 194900 | CHANGED TRANSFERRED SALE | 0.1566 | R | 1 | 194900 | 1964 | 1053 | DEEP SPRINGS PRT OF DIXIE HERMITAGE HILL | R-1D - SINGLE FAMILY RESIDENTIAL |
| 19.313.500 | 1112 CARTERS CLOSE | LITTLE ROYCE PROPERTIES LLC | 03/03/2023 | 0 | AFFILIATED ORGANIZATIONS | 0.1906 | R | 1 | 269100 | 1996 | 2205 | COPPER TRACE | R-1D - SINGLE FAMILY RESIDENTIAL |
| 38.100.150 | 600 VINCENT WAY UNIT 4107 | ROBERTS WAYNE D | 03/03/2023 | 0 | CLOSE RELATIVE SALES/TRANSFERS | 0 | R | 1 | 175600 | 2004 | 1124 | WELLINGTON CHASE CONDOMINIUMS | R-4 - HIGH DENSITY APARTMENT |
| 38.200.410 | 3361 BAY SPRINGS PARK | STRAUTMAN CRYSTAL L AND BRIAN J | 03/03/2023 | 383000 | ARMS LENGTH TRANSACTION | 0.101 | R | 1 | 325000 | 2018 | 2457 | BLACKFORD PROPERTY III | EAR-1 - EXPANSION AREA RESIDENTIAL |
| 38.269.820 | 4297 STEAMBOAT RD | LITTLE ROYCE PROPERTIES LLC | 03/03/2023 | 0 | AFFILIATED ORGANIZATIONS | 0.2308 | R | 1 | 410000 | 2019 | 2421 | WYNDHAM DOWNS | R-3 - PLANNED NBHD RESIDENTIAL |
| 38.292.530 | 1524 HAYFIELD FLT | AZEEM MISBAH | KHAN SAKINA | 03/03/2023 | 334900 | NEW CONSTRUCTION | 0.1731 | R | 1 | 117200 | 2023 | 2080 | BLACKFORD PROPERTY III | EAR-1 - EXPANSION AREA RESIDENTIAL |
| 38.294.760 | 1504 HAYFIELD FLT | BOSOMTWI CHRISTIANA | 03/03/2023 | 344900 | NEW CONSTRUCTION | 0.1035 | R | 1 | 344900 | 2022 | 2080 | BLACKFORD PROPERTY III | EAR-1 - EXPANSION AREA RESIDENTIAL |
| 38.027.990 | 421 SKYVIEW LN | CARBUCCIA KOWAL JEREMY M | 03/03/2023 | 0 | NAME CHANGE/MERGER | 0.1732 | R | 1 | 222300 | 2000 | 2186 | MASTERSON STATION III | R-1D - SINGLE FAMILY RESIDENTIAL |
| 44.767.300 | 1604 HARRODSBURG RD | A E COLEMAN LLC | 03/03/2023 | 475000 | ARMS LENGTH TRANSACTION | 0.2633 | C | 1 | 385000 | 1948 | 2240 | UNIVERSITY | P-1 - PROFESSIONAL OFFICE |
| 12.344.450 | 531 PEMBERTON ST | TWIN WILLOWS PROPERTIES LLC | 03/03/2023 | 60000 | ARMS LENGTH TRANSACTION | 0.0832 | R | 1 | 54100 | 1910 | 930 | DOWNTOWN | R-3 - PLANNED NBHD RESIDENTIAL |
| 12.344.450 | 531 PEMBERTON ST | TWIN WILLOWS PROPERTIES LLC | 03/03/2023 | 75000 | ANNUAL TWICE-SOLD PROPERTY | 0.0832 | R | 1 | 54100 | 1910 | 930 | DOWNTOWN | R-3 - PLANNED NBHD RESIDENTIAL |
| 13.468.000 | 424 PLAINVIEW RD | HARDEN WILLIAM AND KIMBERLY DANIELLE | 03/03/2023 | 215000 | CHANGED TRANSFERRED SALE | 0.1803 | R | 1 | 109400 | 1970 | 1264 | MT TABOR HEIGHTS | R-1D - SINGLE FAMILY RESIDENTIAL |
| 20.069.200 | 392 CROMWELL WAY | GIBSON DAVID MITCHEL AND JENNIFER | 03/03/2023 | 290000 | ARMS LENGTH TRANSACTION | 0.1818 | R | 4 | 229500 | 1991 | 1614 | MAN O WAR VILLAGE 89 | R-1D - SINGLE FAMILY RESIDENTIAL |
| 20.649.400 | 410 NORTHSIDE DR | LOCKHART STEVEN BAILEY | 03/03/2023 | 245000 | ARMS LENGTH TRANSACTION | 0.2415 | R | 1 | 245000 | 1955 | 1861 | HI ACRES | R-1C - SINGLE FAMILY RESIDENTIAL |
| 38.073.750 | 505 MILLPOND RD | LITTLE ROYCE PROPERTIES LLC | 03/03/2023 | 0 | AFFILIATED ORGANIZATIONS | 0.1611 | R | 1 | 261400 | 2002 | 1843 | THE GLEN AT LOCHDALE 02 | R-3 - PLANNED NBHD RESIDENTIAL |
| 38.106.850 | 1044 KIAWAH DR | SATTERLY TOMI P | 03/03/2023 | 400000 | ARMS LENGTH TRANSACTION | 0.1951 | R | 1 | 400000 | 2005 | 2071 | HELLARD PROPERTY | R-1C - SINGLE FAMILY RESIDENTIAL |
| 38.120.280 | 222 BOLIVAR ST UNIT 217 | SCARAVILLI MICHAEL | 03/03/2023 | 222310 | ARMS LENGTH TRANSACTION | 0 | R | 1 | 190000 | 2005 | 1025 | SOUTH HILL STATION LOFTS CONDOMINIUMS | R-5 - HIGH RISE APARTMENT |
| 38.287.770 | 2436 LORENZO WAY | PATEL GHANSHYAMBHAI B & ANANDIBEN G | 03/03/2023 | 822650 | NEW CONSTRUCTION | 0.2537 | R | 1 | 218300 | 2022 | 3620 | TUSCANY 06 | R-3 - PLANNED NBHD RESIDENTIAL |
| 42.626.800 | 1443 TOWNLEY DR | WARD THOMAS | 03/03/2023 | 150000 | OTHER | 0.2424 | R | 5 | 150000 | 1954 | 975 | MEADOWTHORPE | R-1C - SINGLE FAMILY RESIDENTIAL |
| 12.821.700 | 1665 MARGATE DR | SADR RENTALS INC | 02/03/2023 | 155500 | 1ST SALE AFTER FORECLOSURE | 0.1653 | R | 1 | 190100 | 1964 | 1748 | ROOKWOOD & KENAWOOD | R-1D - SINGLE FAMILY RESIDENTIAL |
| 14.562.400 | 1136 GAINESWAY DR | MARTIN ERIC | 02/03/2023 | 173000 | ARMS LENGTH TRANSACTION | 0.23 | R | 1 | 188700 | 1971 | 1300 | GAINESWAY | R-1C - SINGLE FAMILY RESIDENTIAL |
| 14.562.400 | 1136 GAINESWAY DR | MARTIN ERIC | 02/03/2023 | 189500 | ANNUAL TWICE-SOLD PROPERTY | 0.23 | R | 1 | 188700 | 1971 | 1300 | GAINESWAY | R-1C - SINGLE FAMILY RESIDENTIAL |
| 19.341.460 | 2537 LINDENHURST LOOP | GARTON JACKSON CRISTOFER | 02/03/2023 | 130000 | ARMS LENGTH TRANSACTION | 0.0436 | R | 1 | 65200 | 1994 | 1000 | CRESTVIEW 96 | R-4 - HIGH DENSITY APARTMENT |
| 20.197.800 | 448 LIN WAL RD | GHARRETT JOHN W | 02/03/2023 | 0 | TRANSFER-TAX NOT PAID | 0.2419 | R | 1 | 143100 | 1957 | 1038 | RADCLIFFE | R-1C - SINGLE FAMILY RESIDENTIAL |
| 38.038.920 | 761 NICKWOOD TRL | JC INVESTMENT PROPERTIES LLC | 02/03/2023 | 0 | AFFILIATED ORGANIZATIONS | 0.112 | R | 1 | 209800 | 2001 | 1425 | LIBERTY CORNERS 2000 | R-3 - PLANNED NBHD RESIDENTIAL |
| 42.662.400 | 206 BROADVIEW DR | MODERN PROPERTY GROUP LLC | 02/03/2023 | 0 | DEED OF CORRECTION | 0.176 | R | 1 | 128400 | 1950 | 832 | BROADVIEW WITHERS & KEES | R-1C - SINGLE FAMILY RESIDENTIAL |
| 38.066.880 | 3245 KEITHSHIRE WAY | YAU KEVIN KAT SAN | 02/03/2023 | 0 | LESS THAN 40,000 CONSIDERATION | 0.1432 | R | 1 | 273100 | 2003 | 2186 | WELLINGTON 00 | R-3 - PLANNED NBHD RESIDENTIAL |
| 16.113.300 | 138 ST ANN DR | STINNETT REAL ESTATE LLC | 02/03/2023 | 137000 | ARMS LENGTH TRANSACTION | 0.2066 | R | 1 | 130000 | 1954 | 1050 | IDLE HOUR | R-1C - SINGLE FAMILY RESIDENTIAL |
| 16.113.300 | 138 ST ANN DR | STINNETT REAL ESTATE LLC | 02/03/2023 | 155000 | ANNUAL TWICE-SOLD PROPERTY | 0.2066 | R | 1 | 130000 | 1954 | 1050 | IDLE HOUR | R-1C - SINGLE FAMILY RESIDENTIAL |
| 19.344.930 | 3517 SQUIRES WOODS WAY | CURTIS VALORIE | 02/03/2023 | 166000 | ARMS LENGTH TRANSACTION | 0.0477 | R | 3 | 128800 | 1996 | 1032 | SQUIRES WOODS 99 | R-3 - PLANNED NBHD RESIDENTIAL |
| 19.972.360 | 2288 SAVANNAH LN | BUSCH HALEY AND ROBERT | 02/03/2023 | 845000 | ARMS LENGTH TRANSACTION | 0.3096 | R | 1 | 750000 | 2000 | 4839 | BEAUMONT FARM 94 | R-1C - SINGLE FAMILY RESIDENTIAL |
| 20.008.220 | 465 CHANNING WAY | BAILEY STEVEN | 02/03/2023 | 240000 | CHANGED TRANSFERRED SALE | 0.1694 | R | 1 | 130400 | 1982 | 1446 | MT TABOR HEIGHTS | R-1D - SINGLE FAMILY RESIDENTIAL |
| 25.473.100 | 163 TARTAN DR | HUSTON SUZANNE C | 02/03/2023 | 325000 | CHANGED TRANSFERRED SALE | 0.2149 | R | 4 | 325000 | 1965 | 2050 | LOCHNESS/BRIGADOON | R-1C - SINGLE FAMILY RESIDENTIAL |
| 26.019.200 | 238 E VISTA ST | HOGG LINSEY K | 02/03/2023 | 250000 | ARMS LENGTH TRANSACTION | 0.2391 | R | 5 | 199000 | 1951 | 1710 | LAFAYETTE | R-1C - SINGLE FAMILY RESIDENTIAL |
| 38.127.580 | 2621 LONGLEAF PL | WRIGHT J PROPERTIES LLC | 02/03/2023 | 0 | AFFILIATED ORGANIZATIONS | 0.0684 | R | 3 | 213000 | 2006 | 1680 | LONGLEAF PLACE | R-3 - PLANNED NBHD RESIDENTIAL |
| 38.291.190 | 1321 SILVER SPRINGS DR | JIANG JING HUA | 02/03/2023 | 356610 | NEW CONSTRUCTION | 0.207 | R | 1 | 326300 | 2022 | 1779 | NEWTOWN SPRINGS LLC | R-1D - SINGLE FAMILY RESIDENTIAL |
| 16.800.400 | 466 GREENWOOD AVE | COMMUNITY ACTION COUNCIL FOR LEX FAYETTE | BOURBON HARRISON & NICHOLAS CO INC | 02/03/2023 | 135000 | CHANGED TRANSFERRED SALE | 0.1166 | R | 1 | 65300 | 2005 | 1200 | FORREST HILL LAND CO & DOUGLAS HEIGHTS | R-2 - TWO-FAMILY RESIDENTIAL |
| 19.961.790 | 4462 ROSE DALE CT | BELL JORDAN R AND SARAH M | 02/03/2023 | 420000 | ARMS LENGTH TRANSACTION | 0.2122 | R | 1 | 420000 | 1997 | 2297 | HIGHLAND LAKES 95 | R-1D - SINGLE FAMILY RESIDENTIAL |
| 11.975.500 | 1252 ATOKAD PARK | O C PROPERTY COMPANY LLC | 02/03/2023 | 177000 | ARMS LENGTH TRANSACTION | 0.1806 | R | 1 | 177000 | 1973 | 1000 | SOUTHEASTERN HILLS | R-1C - SINGLE FAMILY RESIDENTIAL |
| 14.394.550 | 452 LANCELOT LN | SAM MARYAM | 02/03/2023 | 180500 | ARMS LENGTH TRANSACTION | 0.1722 | R | 1 | 180500 | 1970 | 1241 | KING ARTHUR-STONEYBROOK | R-1D - SINGLE FAMILY RESIDENTIAL |
| 10.026.120 | 474 DARBY CREEK RD UNIT D | 40 ACRES AND THE MULE LLC | 02/03/2023 | 150000 | ARMS LENGTH TRANSACTION | 0.0684 | R | 1 | 123500 | 1985 | 1514 | AFFIRMED ALYDAR & DARBY CREEK | R-4 - HIGH DENSITY APARTMENT |
| 16.908.000 | 366 JEFFERSON ST | O C PROPERTY COMPANY LLC | 02/03/2023 | 0 | AFFILIATED ORGANIZATIONS | 0.0551 | R | 1 | 17500 | | 0 | PRICE | R-4 - HIGH DENSITY APARTMENT |
| 20.069.180 | 3531 WINTHROP DR | SOLID FOUNDATION 1 LLC | 02/03/2023 | 0 | AFFILIATED ORGANIZATIONS | 0.25 | R | 4 | 230800 | 1989 | 1501 | MAN O WAR VILLAGE 89 | R-1D - SINGLE FAMILY RESIDENTIAL |
| 21.180.000 | 5768 TATES CREEK RD | 5768 TATES CREEK RD LLC | 02/03/2023 | 0 | AFFILIATED ORGANIZATIONS | 10.218 | C | 2 | 1678000 | | 0 | RURAL & MISC | A-R - AGRICULTURAL RURAL |
| 26.560.700 | 301 ZANDALE DR | KOUGH TROY STEPHEN AND JULIE ANN | 02/03/2023 | 360000 | ARMS LENGTH TRANSACTION | 0.241 | R | 5 | 305000 | 1957 | 1470 | ZANDALE | R-1C - SINGLE FAMILY RESIDENTIAL |
| 38.289.340 | 636 SNOWY EGRET WAY | TRAYLOR ANTH0NY PAUL | LEWIS CHRISTOPHER BAKER | 01/03/2023 | 556479 | NEW CONSTRUCTION | 0.1499 | R | 1 | 556000 | 2022 | 3080 | THE PENINSULA | R-3 - PLANNED NBHD RESIDENTIAL |
| 10.027.740 | 111 WOODLAND AVE UNIT 810 | EAVES JOHN W JR CO TRUSTEE | JOHN W EAVES JR REVOCABLE TRUST 4-10-03 | 01/03/2023 | 850000 | MULTIPLE PROPERTIES | 0 | R | 1 | 431500 | 1985 | 1656 | THE WOODLANDS | B-2A - DOWNTOWN FRAME BUSINESS |
| 15.335.800 | 1660 BRITTANY LN | CREATIVE RENOVATIONS LLC | 01/03/2023 | 112000 | ARMS LENGTH TRANSACTION | 0.1653 | R | 1 | 103300 | 1959 | 1406 | CARDINAL VALLEY | R-1D - SINGLE FAMILY RESIDENTIAL |
| 15.335.800 | 1660 BRITTANY LN | CREATIVE RENOVATIONS LLC | 01/03/2023 | 150000 | ANNUAL TWICE-SOLD PROPERTY | 0.1653 | R | 1 | 103300 | 1959 | 1406 | CARDINAL VALLEY | R-1D - SINGLE FAMILY RESIDENTIAL |
| 16.789.400 | 936 DAYTON AVE | JONES RENA C | 01/03/2023 | 0 | CLOSE RELATIVE SALES/TRANSFERS | 0.1194 | R | 1 | 105900 | 1920 | 1274 | LIBERTY HEIGHTS | R-2 - TWO-FAMILY RESIDENTIAL |
| 26.790.800 | 585 LONGVIEW DR | HITE MARY JOANNE TTEE | MARY JOANNE HITE REVOCABLE LIVING TRUST | 01/03/2023 | 0 | AFFILIATED ORGANIZATIONS | 0.2238 | R | 5 | 176200 | 1949 | 1450 | SOUTHLAND & ROSEMILL | R-1C - SINGLE FAMILY RESIDENTIAL |
| 34.593.800 | 937 DELAWARE AVE | JONES RENA C | 01/03/2023 | 0 | CLOSE RELATIVE SALES/TRANSFERS | 0.1194 | R | 1 | 88800 | 1930 | 912 | LIBERTY HEIGHTS | R-2 - TWO-FAMILY RESIDENTIAL |
| 13.799.300 | 416 HAWKINS AVE | BANYAN HOLDINGS LLC | 01/03/2023 | 105000 | ARMS LENGTH TRANSACTION | 0.0488 | R | 1 | 95100 | 1991 | 1180 | DOWNTOWN | R-3 - PLANNED NBHD RESIDENTIAL |
| 13.384.250 | 1186 KELSEY DR | RIVAS EDWIN PERES | 01/03/2023 | 183000 | ARMS LENGTH TRANSACTION | 0.1722 | R | 1 | 183000 | 1967 | 1398 | HOLIDAY HILLS | R-1D - SINGLE FAMILY RESIDENTIAL |
| 38.296.450 | 1113 MARLENA LN | HABASH ANDREW RICHARD AND EMILY CREEL | 01/03/2023 | 359934 | NEW CONSTRUCTION | 0.1034 | R | 1 | 359900 | 2022 | 2032 | WOODWARD LANDER PROPERTY | R-3 - PLANNED NBHD RESIDENTIAL |
| 10.553.900 | 642 W MAIN ST | BANYAN HOLDINGS LLC | 01/03/2023 | 0 | AFFILIATED ORGANIZATIONS | 0.2468 | R | 1 | 550000 | 1900 | 4046 | FAYETTE PARK | B-2B - DOWNTOWN CENTER BUSINESS |
| 11.143.100 | 263 E LOUDON AVE | JONES RENA | 01/03/2023 | 0 | CLOSE RELATIVE SALES/TRANSFERS | 0.2181 | R | 1 | 118200 | 1910 | 1208 | THE MEADOWS | R-3 - PLANNED NBHD RESIDENTIAL |
| 11.446.800 | 565 LIN WAL RD | HALL WALTER JR & MARGARET | 01/03/2023 | 0 | CLOSE RELATIVE SALES/TRANSFERS | 0.287 | R | 1 | 166500 | 1964 | 2022 | RADCLIFFE | R-1D - SINGLE FAMILY RESIDENTIAL |
| 13.620.779 | 3229 CARRIAGE LN | ESTRADA ADEX STEWARD | 01/03/2023 | 0 | NAME CHANGE/MERGER | 0.2526 | R | 1 | 240000 | 1975 | 1871 | PARK HILLS & CARRIAGE LANE ESTATES | R-1C - SINGLE FAMILY RESIDENTIAL |
| 14.476.118 | 395 REDDING RD UNIT 134 | HURT SOPHIA | 01/03/2023 | 239500 | ARMS LENGTH TRANSACTION | 0 | R | 1 | 215000 | 1977 | 1144 | THE OAKS | R-3 - PLANNED NBHD RESIDENTIAL |
| 20.002.460 | 2140 FT HARRODS DR UNIT 26 | DYS JENNIFER GORDON | 01/03/2023 | 250000 | CHANGED TRANSFERRED SALE | 0.0813 | R | 6 | 250000 | 1984 | 1821 | FT HARRODS & LYON DR HARRODS HILL TOWNHO | R-1T - TOWNHOUSE RESIDENTIAL |
| 23.989.500 | 3899 BOWMAN MILL RD | NIETO GILBERT | KOCH PAULA KELLY | 01/03/2023 | 0 | CLOSE RELATIVE SALES/TRANSFERS | 1.39 | R | 2 | 275000 | 1950 | 2626 | RURAL UNDER 10 ACRES SW QUAD | A-R - AGRICULTURAL RURAL |
| 26.142.800 | 573 FREEMAN DR | FISTER DEBRA | 01/03/2023 | 131100 | OTHER | 0.241 | R | 1 | 184600 | 1959 | 1380 | THOROUGHBRED | R-1C - SINGLE FAMILY RESIDENTIAL |
| 38.049.230 | 900 PRINCESS DOREEN DR | TAYLOR BILLY JOE TRUSTEE | 01/03/2023 | 0 | TRANSFER-TAX NOT PAID | 0.228 | R | 1 | 448700 | 2003 | 3128 | WEST WIND SUBDIVISION 00 | R-3 - PLANNED NBHD RESIDENTIAL |
| 44.593.000 | 941 DELAWARE AVE | JONES RENA R | 01/03/2023 | 0 | CLOSE RELATIVE SALES/TRANSFERS | 0.1194 | R | 1 | 97700 | 1930 | 915 | LIBERTY HEIGHTS | R-2 - TWO-FAMILY RESIDENTIAL |
| 45.765.001 | 939 DELAWARE AVE | JONES RENA | 01/03/2023 | 0 | CLOSE RELATIVE SALES/TRANSFERS | 0.1194 | R | 1 | 89000 | 1930 | 875 | LIBERTY HEIGHTS | R-2 - TWO-FAMILY RESIDENTIAL |
| 20.006.560 | 2900 PALUMBO DR | VGP HOLDINGS LLC | 01/03/2023 | 5979400 | MULTIPLE PROPERTIES | 7.846 | C | 1 | 5979400 | 1998 | 42323 | RICHMOND | P-1 - PROFESSIONAL OFFICE |
| 12.011.550 | 214 E LOUDON AVE | JONES RENA C | 01/03/2023 | 0 | CLOSE RELATIVE SALES/TRANSFERS | 0.1697 | R | 1 | 114000 | 1910 | 1099 | THE MEADOWS | R-3 - PLANNED NBHD RESIDENTIAL |
| 10.027.750 | 111 WOODLAND AVE UNIT 811 | EAVES JOHN W JR CO TRUSTEE | JOHN W EAVES JR REVOCABLE TRUST 4-10-03 | 01/03/2023 | 850000 | MULTIPLE PROPERTIES | 0 | R | 1 | 408700 | 1985 | 1578 | THE WOODLANDS | B-2A - DOWNTOWN FRAME BUSINESS |
| 15.572.350 | 103 NINTH ST | JONES RENA | 01/03/2023 | 0 | CLOSE RELATIVE SALES/TRANSFERS | 0.0671 | R | 1 | 59200 | 1927 | 672 | BROADVIEW WITHERS & KEES | R-1C - SINGLE FAMILY RESIDENTIAL |
| 16.501.702 | 171 SAUNIER ST | SAUNIER LIVERY LLC | 01/03/2023 | 435000 | ARMS LENGTH TRANSACTION | 0.12 | C | 1 | 435000 | 1930 | 2440 | CENTRAL BUSINESS DISTRICT | B-2A - DOWNTOWN FRAME BUSINESS |
| 16.764.400 | 252 E LOUDON AVE | JONES RENA | 01/03/2023 | 0 | CLOSE RELATIVE SALES/TRANSFERS | 0.1068 | R | 1 | 82500 | 1915 | 995 | THE MEADOWS | R-3 - PLANNED NBHD RESIDENTIAL |
| 41.965.900 | 1705 LINDY CT | BECKER THOMAS BENSON | 01/03/2023 | 256500 | ARMS LENGTH TRANSACTION | 0.2424 | R | 5 | 215000 | 1955 | 1464 | HENRY CLAY | R-1C - SINGLE FAMILY RESIDENTIAL |
| 42.445.150 | 1733 COURTNEY AVE | GERGELY ALEX AND BRIANNE | 01/03/2023 | 219000 | ARMS LENGTH TRANSACTION | 0.1881 | R | 5 | 219000 | 1952 | 1680 | HENRY CLAY | R-1C - SINGLE FAMILY RESIDENTIAL |
Generated by wpDataTables
Source: Fayette PVA
Recommended Posts
Thu, June 1, 2023