New restaurant and event venue to open next to Manchester Street Hotel in fall 2023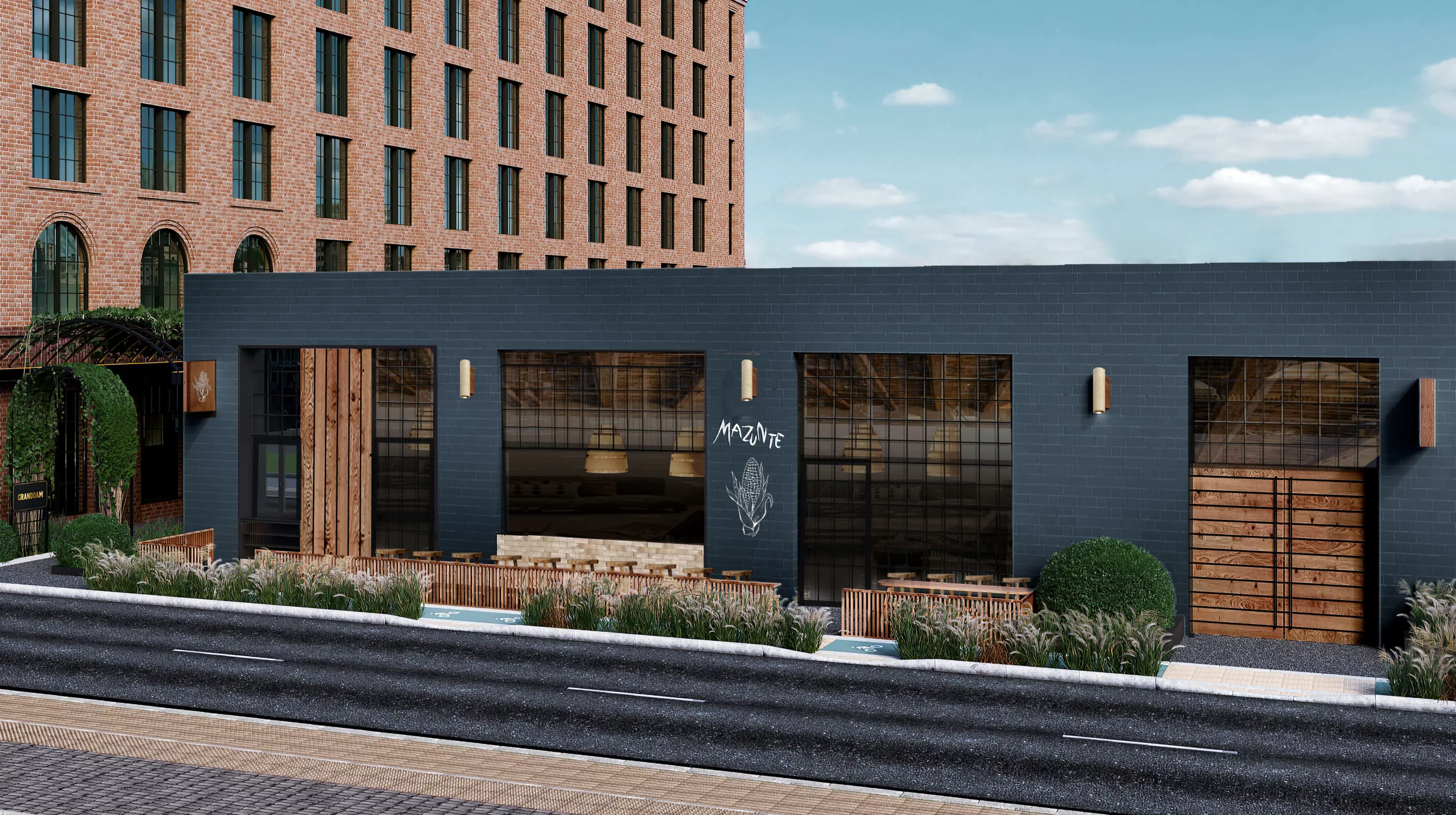 Lexington, Ky.–Cincinnati-based restaurant group Mazunte is set to open its first location outside of the Queen City in Lexington this fall. The Mazunte Bodega and La Brasa Event Venue will be located in the Distillery District at 903 Manchester Street, and will consist of approximately 4,200 square feet of bar, café, and restaurant space, and two full-service event venue spaces totaling 13,000 square feet.
The restaurant group, which is known for its vibrant fusion of traditional and new flavors, plans to offer best-selling items from its Cincinnati locations, as well as new products and a full bar and café. A grab-and-go market and carryout options will also be available to customers frequenting the adjacent Manchester Hotel, Town Branch Park & Trail, Rupp Arena & Convention Center, the University of Kentucky, downtown Lexington, and surrounding areas.
Mazunte has garnered extensive experience running catering and events over nearly 10 years of operation in Ohio, catering for events such as the Western & Southern ATP Tennis Tournament in Mason, OH, Bunbury Music Festival, Taste of Cincinnati, TequilaFest Cincinnati, Fountain Square Farmers' Market, and Salsa on the Square.
The restaurant group plans to work with the neighboring Manchester Hotel to book wedding receptions, corporate events, and other group gatherings in the approximate 13,000 square feet of event center space at La Brasa Event Venue. "We believe this presents a unique opportunity to further grow our Catering & Events business beyond what we have built in Cincinnati while paying respect to the storied history and traditions of Lexington," said John Johnston, CFO.
Mazunte's first location, Mazunte Taqueria, opened in August 2013 after founder Josh Wamsley spent time living and learning about the culture of Oaxaca, Mexico. Due to the company's success and growth, a second location opened down the road in 2016, Mazunte Catering & Mercado. Today, the Catering & Mercado location is the hub for the Catering & Events business and the center of production for Mazunte's wholesale business, which currently sells products in 19 stores in the Cincinnati and Dayton areas.
In 2019, Mazunte opened a new and distinct restaurant location in downtown Cincinnati called Mazunte Centro, which expanded the flavors and menus beyond Mazunte's traditional offerings to even more revered Mexican food specialties. During the COVID-19 pandemic, Mazunte made a strategic decision to simplify its processes and to focus on its core: its people, its products, and its protocols. Business has thrived as a result, marked by increasing sales and a growing labor force.
Mazunte's Creative Director, Wendy Enriquez, said, "Our food is a vibrant fusion of traditional and new flavors, and we're proud of the way it represents us. We're most excited that customers in Lexington will get to experience our food and culture."
Recommended Posts
Thu, December 7, 2023
Wed, December 6, 2023