TX district formerly led by husband of FCPS chief is placed into conservatorship over misconduct allegations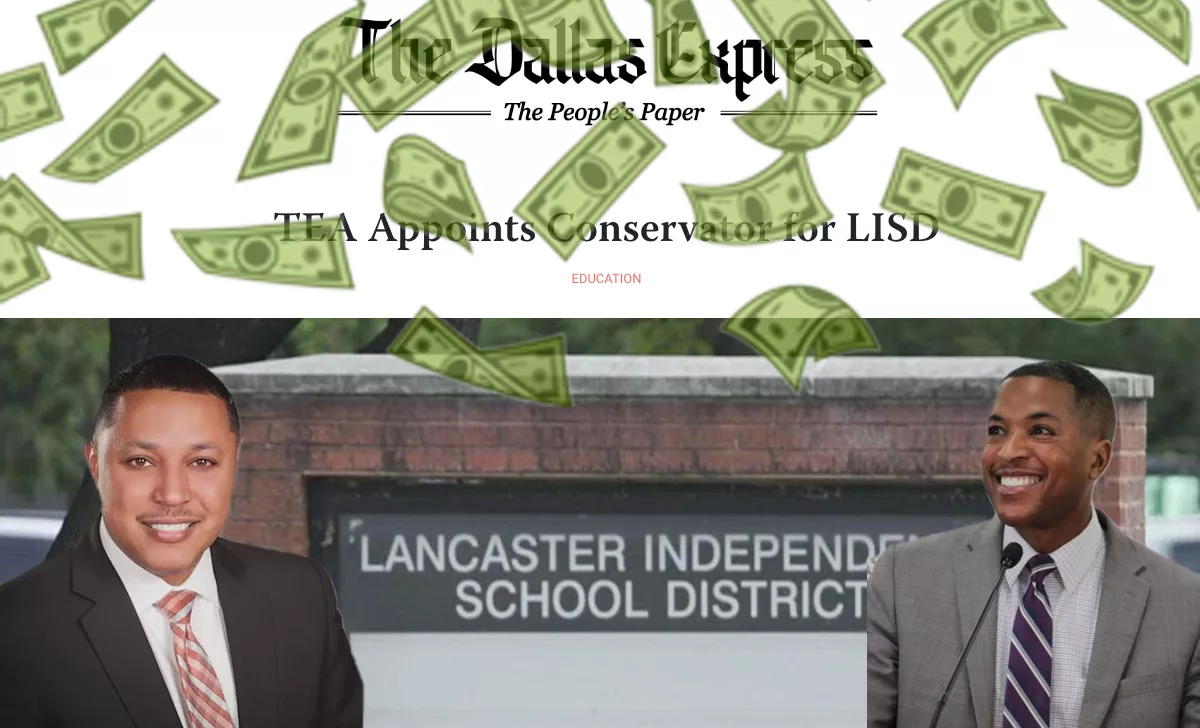 UPDATE: While a 2022 forensic audit report does refer to Liggins as Granger's spouse, the current status of their relationship is unclear and they do not appear to reside in the same state. Granger is currently listed as a real estate agent for a brokerage in Texas. He also maintains an active Texas real estate license, completing continuing education courses as recently as January 2023, according to the Texas Real Estate Commission.
Lexington, Ky.–Lancaster Independent Schools, the Texas school district previously led by Elijah Granger, the husband of Fayette County Public Schools superintendent Demetrus Liggins, has been placed into conservatorship by the Texas Education Agency after an investigation substantiated an allegation of misconduct against the district that occurred during Granger's tenure. The agency found that the actions of Granger and others violated the state constitution and education code and that the appointment "is necessary to prevent substantial or imminent harm to the welfare of the district's students or to the public interest."
Lancaster ISD detailed the allegations in a statement. Only the first accusation was found to be substantiated.
"The first allegation is that the Lancaster ISD Board of Trustees approved a new contract for the superintendent of schools, Dr. Elijah Granger, and 11 days later approved a separation agreement with the superintendent.

"The second allegation is that possible conflicts of interest existed regarding the former board president, Ellen Clark, simultaneously serving as Lancaster ISD Board President and the Lancaster Education Foundation President."

Lancaster ISD statement on the appointment of a conservator to oversee the district
The controversy started in 2020, when a lame duck Lancaster ISD school board voted to offer Granger a $2 million buyout, despite having signed a new contract only days prior. The payment was eventually blocked in court, and Liggins accepted the FCPS superintendent job just a month later.
A forensic audit found a "pattern" in which Granger had control and influence over the appointment and election of new board members. Granger also offered consulting contracts to some trustees in exchange for their resignation and collaborated with officials (including Liggins) from other districts to get favorable trustees jobs. These actions helped Granger maintain a four-vote majority that approved salary raises and the largest severance payout ever authorized to a school district superintendent. The findings were shared with the Texas Education Agency and the U.S. Department of Education, and the audit firm's auditors forwarded their concerns to the FBI.
Liggins, who was superintendent of a neighboring school district at the time, allegedly played a small role in the influence peddling scheme by offering a job to a school board member who later voted in favor of the $2 million buyout. According to the audit report:
"Dr. Granger's spouse [name redacted in document] served as the Superintendent for Greenville ISO from April 2017 – July 2021, located approximately 50 miles northeast of Dallas. Trustee Davis-Crawford was hired at Greenville ISO in June 2020 for an Accounts Payable position in the Finance Department after uploading her resume to the Teacher Job Network. Trustee Davis-Crawford informed Weaver that she was contacted by several school districts after posting her resume but ultimately selected the position at Greenville ISO because she was interested in a finance position due to her background and prior work experience. Based on information provided by Trustee Davis-Crawford, Dr. Granger was not one of her references posted to the Teacher Job Network with her resume. Trustee Davis-Crawford was one of the four Board members who voted to approve the Voluntary Severance Agreement in November 2020, which would have resulted in a severance payment to Dr. Granger in excess of $2 million."

Forensic audit report
Among the more outlandish allegations outlined in the audit report: Granger successfully lobbied the Texas state legislature to pass a law that would have barred one of Lancaster ISD's board members from serving on the board due to a prior conviction. After it was passed, he expressed disappointment that the final version of the law only pertained to members elected after 2019.
Granger's attorney dismissed the report as an attempt to discredit Granger with voters and the public, calling the recommendation to refer the matter to law enforcement agencies a "complete sham."
"No one – not the Board, the auditors, the TEA, the Department of Education, nor any official with any law enforcement agency – has ever contacted Dr. Granger to ask even a single question investigating the subject matter of this 'audit.'"

Walt Taylor, attorney for Elijah Granger
The full forensic audit report and investigative report are available to read or download below. (The Lexington Herald-Leader is aware of the allegations outlined in the forensic audit, but thus far has chosen not to report them to the public, for reasons unclear.)
Recommended Posts
Thu, December 7, 2023
Wed, December 6, 2023