Republican gubernatorial candidates make final-hour plea to voters during flurry of campaign stops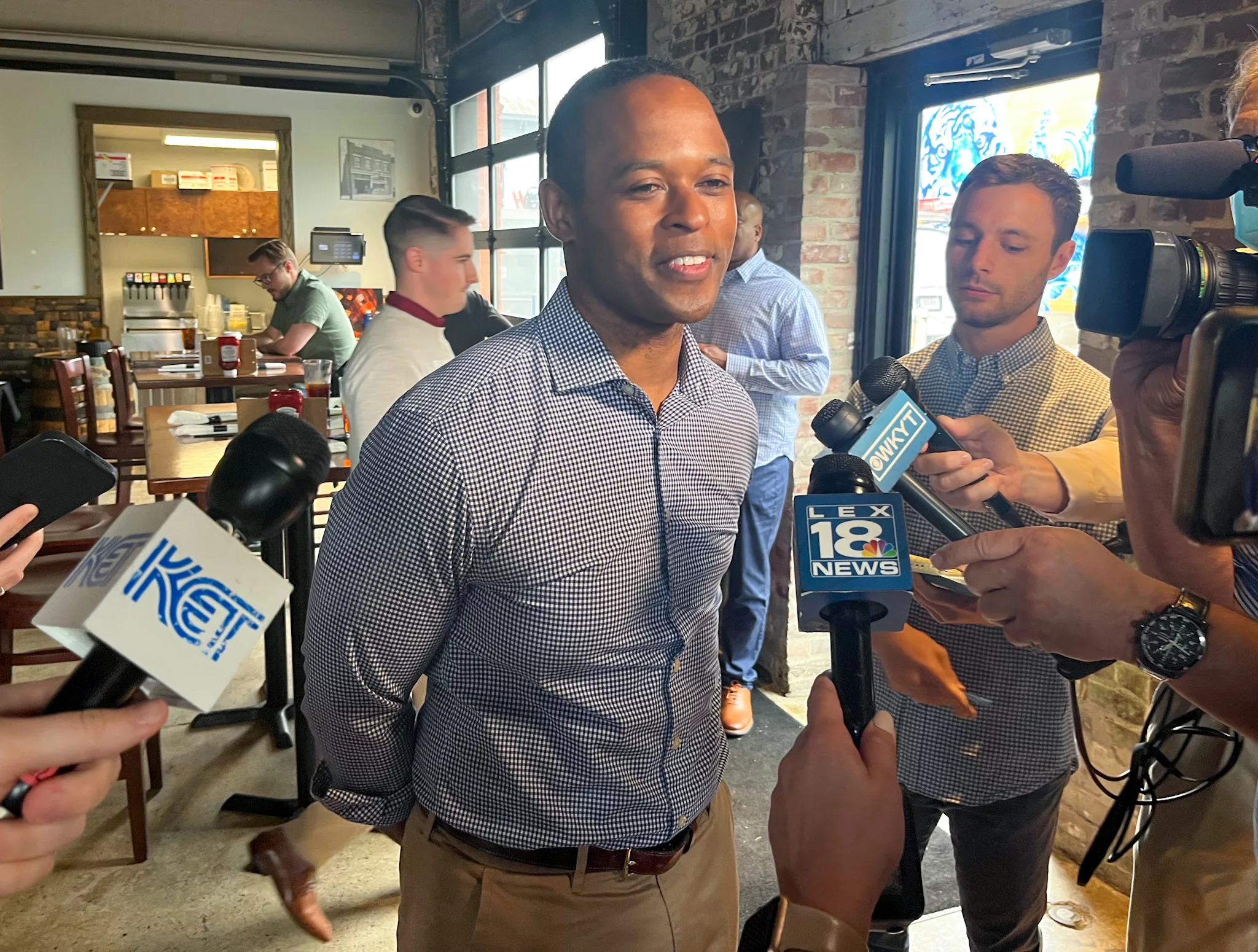 by McKenna Horsley, Kentucky Lantern
With a flurry of campaign stops and efforts to showcase high-profile endorsements, Republican candidates for governor are working down to the wire to make their final pitches to voters ahead of Tuesday's primary election.
Turnout on Tuesday is expected to be as low as 10%. Early in-person voting began last week, meaning some voters have already made their decisions.
Attorney General Daniel Cameron, who has continued his lead in the race according to a new poll, showcased his endorsement from former President Donald Trump in a Sunday evening tele-rally. The live event was brief, lasting about 15 minutes with Trump speaking five minutes.
"He's a great guy. Again, I've known him right from the beginning of his career," Trump said of Cameron. "I've been with him all the way and now he's doing this and I have no doubt he's gonna be a fantastic governor."
The president, who won Kentucky's electoral votes in 2016 and 2020, endorsed Cameron last year. On Sunday, Trump reiterated that he believed Cameron can defeat incumbent Democratic Gov. Andy Beshear in the fall, and connected the governor to the far-left throughout his remarks. Trump also highlighted other points Cameron has made central to his campaign: supporting law enforcement, fighting Kentucky's opioid crisis and bringing lawsuits against Beshear and President Joe Biden during the coronavirus pandemic.
On Saturday, former United Nations Ambassador Kelly Craft touted her endorsement from U.S. Sen. Ted Cruz of Texas. The two headlined rallies in Louisville and Richmond.
During the Louisville rally, Cruz joined Craft on stage as "Eye of the Tiger" played, energizing the crowd gathered at The Hockensmith Barn. Cruz said that when he looks at an endorsement, he chooses "the strongest conservative who can win." He noted Craft's work in renegotiating the North American Free Trade Agreement when she was U.S. ambassador to Canada, and being sanctioned by China.
"I let you in on a secret — she's got a pretty good life," Cruz said of Craft to the crowd. "If she wanted to spend every day of her life on a golf course or on a big boat or a big plane or a big whatever she could."
Trump appointed Craft to her ambassadorships for the United Nations and Canada. After the Louisville rally, Cruz said he believes she will win Tuesday and in November.
Brandon Judd, president for the National Border Patrol Council, also spoke in support of Craft during her Saturday campaign stops. Republican presidential candidate and biotech entrepreneur Vivek Ramaswamy is scheduled to stump for her today in Lexington. Last week, former Secretary of State Mike Pompeo, who also served during the Trump administration, voiced support for her in a video.
Later today, Craft is scheduled to have an election eve rally at Glasgow High School, where she graduated in 1980.
Will they support the nominee?
After a final round of vehicle maintenance, Agriculture Commissioner Ryan Quarles spent the last few days ahead of the primary election on his Big Red Truck tour. Between Thursday and Saturday, he made more than 20 campaign stops across central, eastern, western and northern Kentucky as well as in Louisville's metro region.
Quarles spoke with a handful of voters, some who had voted early for him, in Shepherdsville Saturday afternoon before going to a local festival. He told reporters he was spending the last days before the primary meeting voters and encouraging his base to vote Tuesday. He noted that his endorsements include more than 230 from elected Republicans across the state.
"We're the only campaign that has a natural base, the farmers and rural folks of Kentucky, but we're going after all conservatives," Quarles said. "And with 12 candidates in the race who are all my friends, the campaign with the biggest base and the most discipline will win."
Polling has had Quarles as a consistent third throughout the race. When asked if he plans to support the future Republican nominee in the fall, he replied: "I plan on winning the race on Tuesday and I'm going to be supporting the Republican ticket going into the fall. Andy Beshear is a blue governor in a red state and we need somebody who's going to work with our local officials instead of suing our local officials."
Cameron, who has been speaking to voters on his own Fight for the Commonwealth Tour with stops in Shelbyville, La Grange, and Glasgow, told reporters during a Friday stop in Frankfort he will support the eventual nominee.
"I'll absolutely support the Republican nominee for governor," Cameron said. "I absolutely will do that."
Craft was also asked if she would support the future nominee during her Louisville stop.
"I'm going to support bringing conservative values back to our state, making certain that our children are taught skills and knowledge not woke ideologies, making certain that we create jobs and opportunities for Kentuckians," she responded. "And every single day, I will fight to make sure I am the only candidate that can defeat Andy Beshear. I am the only candidate that is not owned by anyone, and I will not have the Washington establishment in Frankfort. There will be God at the table in Frankfort."
Somerset Mayor Alan Keck, who has set himself a moderate path in the crowded Republican primary, launched a 24-hour blitz today with stops in towns including Somerset, London, Manchester, Jackson and Paintsville before overnight stops at 24-hour restaurants in Louisville and Lexington.
State Auditor Mike Harmon has stops scheduled today for his Freedom Over Fear Tour in six Eastern Kentucky counties.
New poll
A new poll released Sunday night by Emerson College Polling and Fox 56 Lexington showed Cameron polling at 33%, followed by Craft at 18% and Quarles at 13%. Compared to the April poll, Cameron gained three points while Craft has lost six percentage points and Quarles lost two.
About 13% of voters are still undecided, the new poll showed.
The sample was 500 very likely Republican primary voters. April's poll surveyed 900.
---
Top photo: Attorney General Daniel Cameron, one of 12 GOP candidates for governor, speaks to reporters during a Friday stop in Frankfort. (Kentucky Lantern photo by McKenna Horsley)
Recommended Posts
Thu, December 7, 2023
Wed, December 6, 2023