Community Partnerships Combat Gun Violence: ONE Lexington's Approach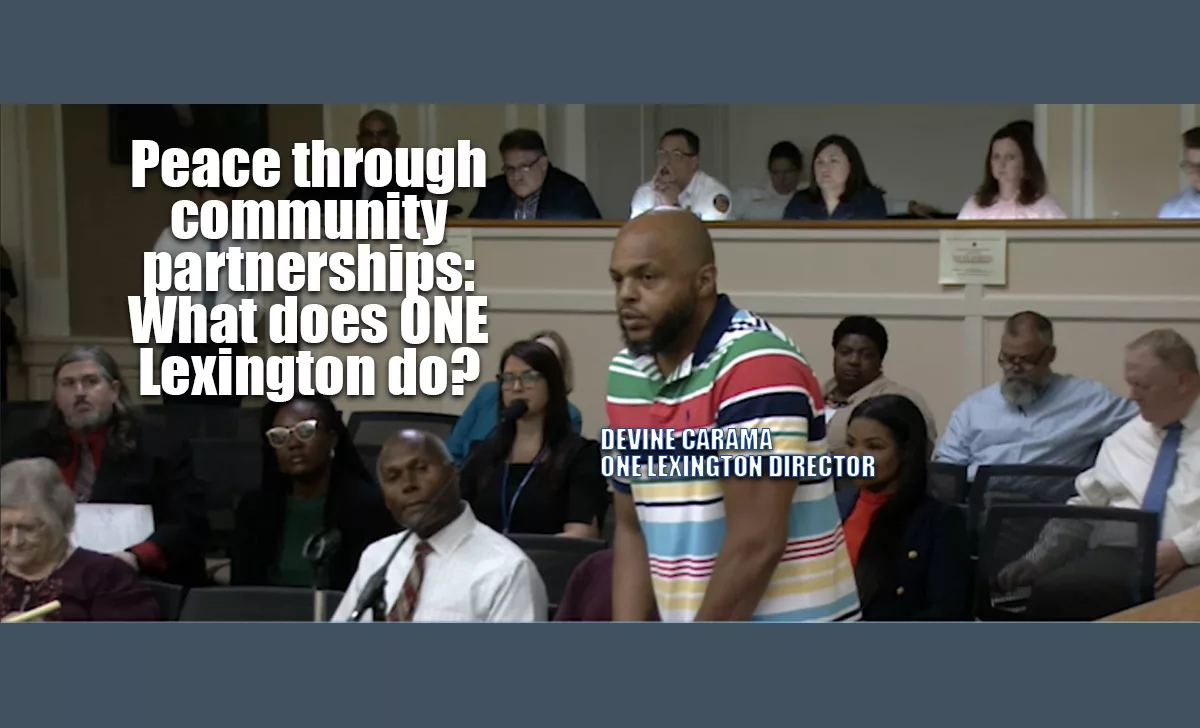 Lexington, Ky.–Gun violence among young people has become a pressing issue in Lexington, prompting the formation of ONE Lexington—a government agency focused on reducing gun violence among youth and young adults aged 13-29. By leveraging community resources and fostering partnerships with various organizations, ONE Lexington is working towards its mission.
ONE Lexington was established in the summer of 2017 in response to the growing concern of violent crime among youth and young adults in Lexington. Recognizing the need for increased intervention and collaboration, the initiative aims to coordinate efforts from various stakeholders, including city government, faith-based organizations, nonprofits, schools, and neighborhood leaders. Through their collective actions, ONE Lexington seeks to reduce gun violence and address systemic disparities in the city. Here's a closer look at their approach and the impact they say they are making in the community.
Rising Gun Violence Prompts Urgent Action
Lexington has witnessed a troubling surge in deadly gun violence, particularly among young people. With five homicides, including three victims under the age of 25, reported since April 20, the urgency to address this issue cannot be overstated. Recognizing the need for action, One Lexington recently hosted an event to rally Black Men of Lexington United, calling upon them to increase community service during the summer months—a period often associated with a rise in gun violence among young people.
Recognizing the Power of Community Organizations
To recognize and support the impactful work of its partner organizations, One Lexington distributed $100,000 in grants to 15 organizations in March. These grants assist organizations involved in mentoring, art, coaching, education, counseling, and more. By amplifying the reach and capabilities of these organizations, the government aims to empower them to work with an even larger number of young people and effect positive change.
Mentoring Programs: Nurturing Positive Growth
One Lexington's "It Takes a Village" mentoring program operates in 11 Fayette County schools, with a total of 15 mentoring groups. One Lexington Director Devine Carama, alongside other mentors, guides participants in conflict resolution strategies, money management, and practical life skills. This program, designed to uplift young individuals impacted by gun violence, aims to instill a sense of self-worth and empower them to overcome adversities.
Building Community Partnerships: The "Special Sauce"
Devine Carama emphasizes the crucial role played by community partners in the agency's success. These partners bring valuable experience and a deep understanding of the community's needs. Instead of reinventing the wheel, One Lexington collaborates with organizations that are already working on the ground. This approach ensures a coordinated response to gun violence, with the government and community resources working hand in hand.
Empowering Through Education: Lessons on Historical Context
Through engaging lessons, One Lexington mentors help students contextualize their life experiences. At a recent mentoring session documented by the Herald-Leader's Karla Ward, Carama used the example of Willie Lynch, a slave master from the West Indies who sought to pit black slaves against each other, to illustrate how historical tactics continue to affect young people today. By exploring the concept of division and its modern-day manifestations, mentors encourage students to break the cycle and promote unity and understanding within their communities.
A Director Driven by Passion and Experience
Carama brings a wealth of experience and a personal connection to the cause: his passion for youth work and community activism has been evident throughout his career as a hip-hop artist and mentor. He says his leadership at One Lexington is characterized by a genuine commitment to empowering young individuals and bridging the gap between generations.
Responding to Crises: Supporting Victims of Gun Violence
One Lexington extends support to victims and their families affected by gun violence. Crisis response advocates work closely with individuals who have experienced traumatic incidents, providing emotional support, resources for counseling, and helping them navigate the process of seeking justice. Additionally, for those facing ongoing threats, One Lexington offers relocation assistance to ensure their safety and well-being.
Engaging Faith-Based Organizations: A Holistic Approach
Recognizing the important role of faith-based organizations in promoting healing and support, One Lexington actively engages with local churches and religious institutions. These organizations provide spiritual guidance, counseling, and mentorship to individuals affected by gun violence. By addressing the emotional, psychological, and spiritual aspects of healing, this holistic approach seeks to empower individuals on their journey towards recovery and resilience.
Promoting Employment and Job Training Opportunities
One Lexington recognizes that providing employment opportunities and job training is crucial in breaking the cycle of gun violence. Through partnerships with local businesses and organizations, the agency facilitates internships, apprenticeships, and vocational training programs for at-risk youth. By equipping young individuals with valuable skills and meaningful employment, One Lexington aims to provide them with a path towards economic stability and a positive future.
Public Education and Awareness Campaigns
One Lexington conducts public education and awareness campaigns to foster a culture of gun violence prevention. These campaigns utilize various mediums such as social media, workshops, and community events to educate the public on the root causes of gun violence and ways to promote community safety. By raising awareness and promoting dialogue, One Lexington encourages community members to actively participate in the prevention efforts.
Recent Council Discussion
ONE Lexington Devine Carama recently addressed Council and answered questions at a work session.
The Bottom Line
One Lexington's approach to combat gun violence among youth in the community highlights the power of collaboration, mentorship, and community engagement. By leveraging community partnerships, providing mentoring programs, supporting victims, and addressing the underlying causes of violence, the agency aims to create a safer and more empowered environment for young individuals. Through these concerted efforts, One Lexington is working to reduce gun violence and fostering positive change in Lexington. With summer coming, a season where violence often spikes, many eyes will be on their efforts.
Recommended Posts
Sun, June 4, 2023