Key Takeaways from LexTran's & LexPark's FY24 Budget Presentations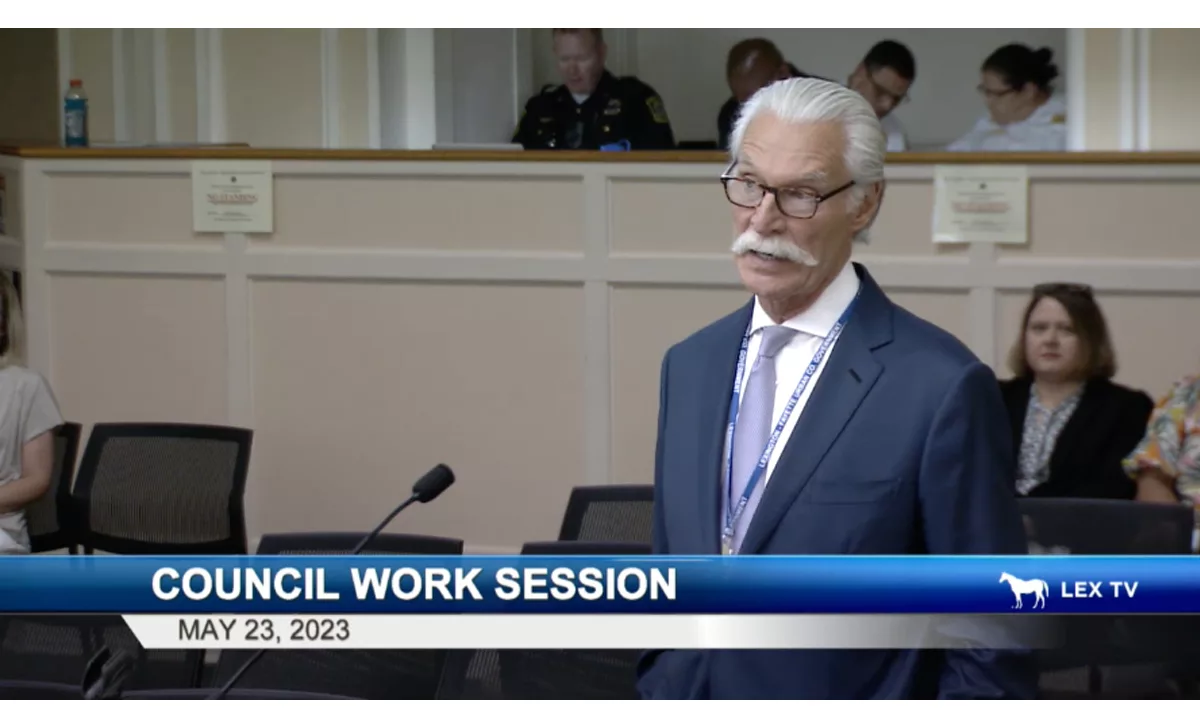 LexTran, the public transportation system serving Lexington-Fayette, and LexPark, the local parking authority, presented their FY2024 Operating Budgets on Tuesday. Here are some of our key takeaways.
Key Takeaways from LexTran's Budget Presentation
A snapshot of Lextran: Currently, Lextran operates 25 fixed routes with a diverse fleet of 77 vehicles. With 893 bus stops, they handle an impressive 10,372 trips per weekday, making them a crucial transportation lifeline for many.
Improving the passenger experience: In FY2023, Lextran made significant progress in enhancing passenger facilities. They completed on-route infrastructure improvement projects at 23 bus stops, including covered shelters and accessibility improvements like benches and boarding pads.
Grant success story: Lextran's hard work paid off with three competitive grant awards. They secured $6.3 million through the Federal Low or No Emissions program for fleet replacement and CNG station upgrades, $3 million through the Federal Congestion Mitigation Air Quality program for fleet replacement, and $754,865 through the Federal Carbon Reduction program for further fleet replacement.
Fleet upgrades: Lextran is dedicated to fleet modernization. They recently accepted delivery of four new CNG buses and two new electric buses. Additionally, they have ordered seven new CNG buses, nine paratransit vans, and four non-revenue service vehicles to further enhance their operations.
Exciting anniversary celebrations: Lextran is gearing up to celebrate its 50th anniversary in December 2023. This milestone is a testament to their enduring commitment to serving the community and providing reliable transportation options.
A focus on paratransit service: Looking ahead to FY2024, Lextran aims to improve paratransit service, addressing the specific needs of individuals with disabilities. By investing in service enhancements and implementing recommendations, they strive to make transportation more accessible and inclusive.
Capital projects in the pipeline: Lextran has an ambitious plan for capital projects in the next five years. This includes rehabilitating the Transit Center, installing canopies and electric bus charging stations, upgrading the CNG station, and exploring a potential CAD/AVL replacement project.
Thinking long-term: Lextran is not only focused on immediate improvements but also on strategic planning for the future. They anticipate embarking on a Long-Range Plan in coordination with the MPO MTP, ensuring they remain proactive in meeting the evolving needs of the community.
Collective bargaining and community engagement: Lextran anticipates kicking off negotiations with ATU Local 639 as their Collective Bargaining Agreement expires in June 2024. Moreover, they remain committed to professional development, employee engagement, and fostering strong relationships within the community.
Key Takeaways from LexPark's Budget
The Lexington & Fayette County Parking Authority has released its proposed budget for FY24, outlining the projected revenue and expenses for the upcoming fiscal year. This list presents 10 key highlights from the budget, shedding light on the expected changes and areas of focus for the parking authority.
OnStreet Revenue:
Monthly Rental: The projected revenue for monthly rentals shows a slight increase from FY23 to FY24, with a budgeted amount of $124,400.
Meter Collections: Significant growth is anticipated in meter collections, with an expected revenue of $1,227,000 for FY24, representing an increase of $131,652 from the previous fiscal year.
Fines: Despite a decrease of $104,261 in fines from FY23 to FY24, fines are still a significant source of revenue, projected at $796,000 for the upcoming year.
OffStreet Revenue:
Monthly Rental: OffStreet monthly rentals are expected to increase by $139,382, reaching a budgeted amount of $1,623,924.
Transient Rental: The projected revenue from transient rentals shows a moderate increase of $43,625, totaling $959,262 for FY24.
Event Parking: Revenue from event parking is estimated to reach $273,609, indicating a growth of $12,679 from the previous fiscal year.
Total Revenue:
OnStreet: The total projected revenue from OnStreet operations amounts to $2,147,400, showing an increase of $93,509 from FY23.
OffStreet: OffStreet operations are anticipated to generate $2,903,114 in revenue, representing a substantial increase of $193,797.
Commercial Property: The net revenue from commercial property rentals is budgeted at $85,000 for FY24, with a marginal increase of $239.
Operating Expenses:
OnStreet: The operating expenses for OnStreet operations are budgeted at $1,201,675, reflecting an increase of $73,630 from the previous fiscal year.
OffStreet: OffStreet operating expenses are projected to rise by $126,925, reaching a budgeted amount of $1,535,265.
Personnel Expenses: The personnel expenses for the parking authority are estimated to increase slightly by $4,137, totaling $350,626.
Administrative Expenses:
Professional Services: Other professional services expenses are expected to increase by $119,951, reaching $284,280, highlighting a significant focus area for the parking authority.
Business Travel & Training: The budget for business travel and training has seen a substantial increase of $19,694, totaling $36,900 for FY24.
Total Operating Expenses:
The projected total operating expenses amount to $3,729,116, reflecting an increase of $528,353 from FY23.
Change in Net Position Before Depreciation:
The parking authority anticipates a decrease in the net position before depreciation, with a budgeted amount of $1,406,398, indicating a decrease of $240,813 from the previous fiscal year.
Other Financing Sources:
Interest Income: The parking authority expects to earn $52,000 in interest income for FY24, reflecting a decrease of $8,606.
Unrealized Gain/Loss on Investments: An anticipated unrealized gain/loss on investments of $10,000 is projected, representing a decrease of $1,558.
Change in Net Position:
Considering the debt reduction and capital expenditures, the budget reflects a change in net position of -$304,102. However, after accounting for debt payoff and capital expenditures, the change in net position becomes a positive $2,020,993.
---
Photo: LexPark Chair James Frazier presents their FY 2024 budget to Council at the May 23 work session. (LexTV screenshot)
Recommended Posts
Wed, May 31, 2023