Committee to consider Red Mile mixed use, Greyline Station expansion, Cannabuzz dispensary redevelopment this week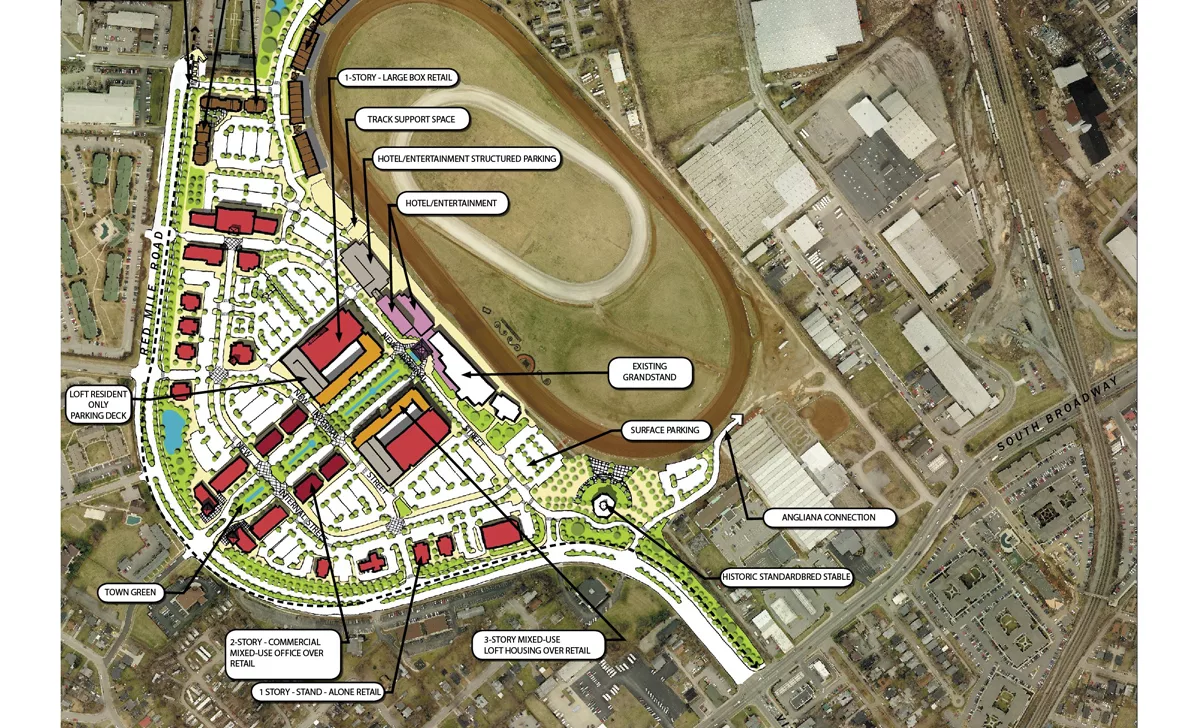 Lexington, Ky. — The Lexington-Fayette Urban County Government's Land Subdivision Technical Committee made several recommendations on May 24 regarding future development projects in Lexington. Their recommendations will go before the Subdivision Committee on Thursday. Here are some of their recommendations, which could have lasting impacts on each project's future.
Red Mile Mixed Use Development: Postponement.
Among the noteworthy developments is the Technical Committee's recommendation to postpone approval of a new mixed use development at Red Mile, citing questions regarding proposed townhomes and conditional zoning restrictions. The project, which was originally floated in 2009, would add 260 multifamily apartments, 126,888 square feet (SQFT) of structured parking, 171,250 SQFT of entertainment, and 326,000 SQFT of business/retail to the rear of the Red Mile harness racing track, which also currently houses an adjoining slots-only casino.
Greyline Station 5,000 SQFT Expansion: Approval
Another well known Lexington development is looking to expand. The technical committee recommended approval of a plan to add 5,000 square feet of building space on the Loudon side of Greyline Station, past the Herald-Leader building, and revise the parking layout. The plans call for a new 2,000 SQFT building as well as a 3,000 SQFT building. It was not immediately clear what the structures will be used for.
Cannabuzz Distillery District Project: Postponement
The technical committee recommended postponement for plans proposed by Cannabuzz, the Distillery District's new dispensary and cannabis bar, to redevelop their current home at 938 Manchester Street. According to the application submitted to the Commission, "The site (would) include the use of two existing buildings, adapting the current warehousing buildings into a mixed use space including a bar, retail venue, intimate live music, warehousing, offices and beer garden/outdoor space with food trucks. The space will include public art displayed on the side of the main building that faces Willard Street. The garden will be used for community organized events as well including speaker sessions, yoga and other educational classes," if approved. The Technical Committee cited concerns around compliance and the meeting of Adaptive Reuse Project criteria when making their recommendation.
Kingston Hall townhomes by Anderson Communities: Postponement
The Technical Committee recommended postponement for kingpin developer Dennis Anderson's plans for 360 new townhomes, citing zoning compliance concerns. The proposed site lies past I-64 between Newtown Pike and Russell Cave Road.
Recommended Posts
Fri, September 29, 2023
Fri, September 29, 2023
Thu, September 28, 2023