Kentucky's Leap: Beshear announces record low recidivism rate; sports wagering on track for NFL season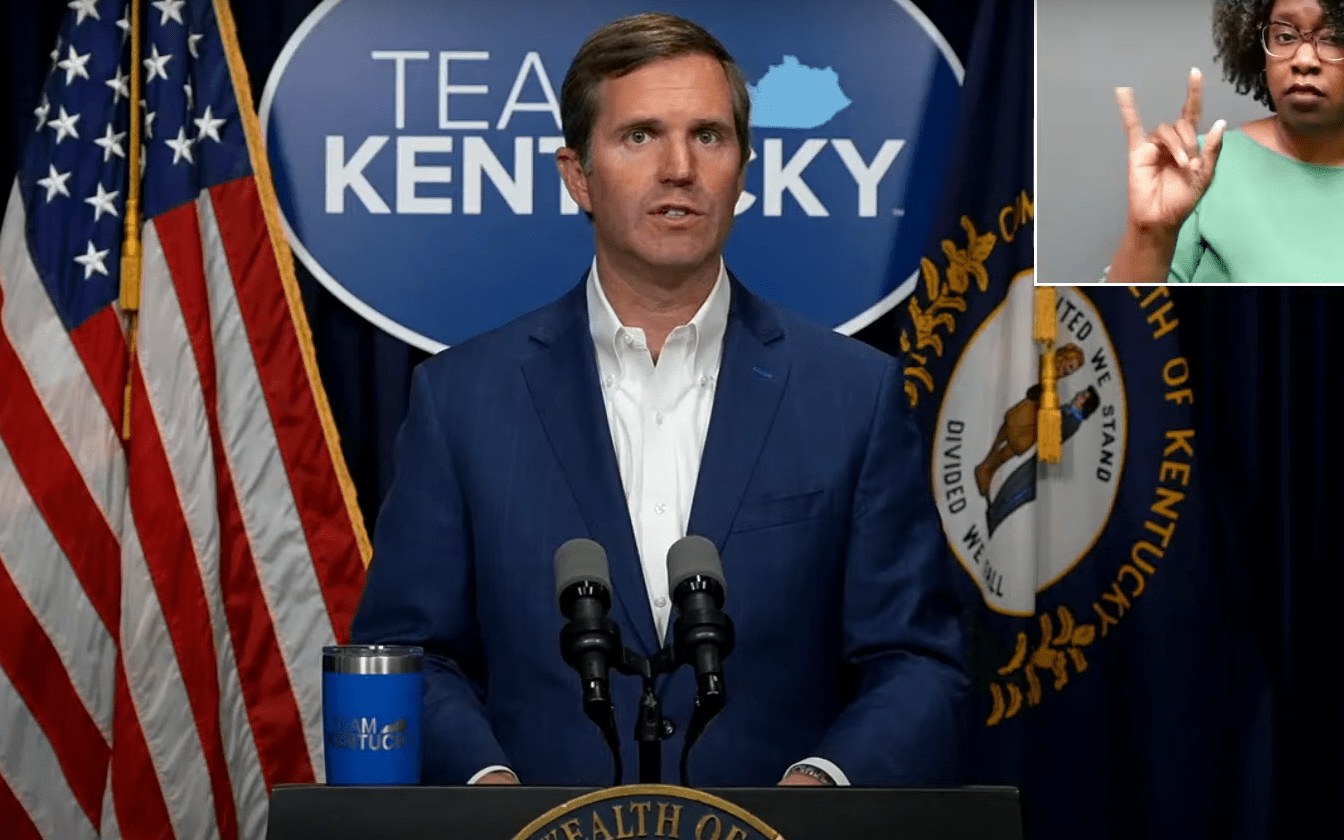 Frankfort, Ky.–In a wide-ranging briefing on Tuesday, Kentucky Governor Andy Beshear presented a suite of updates, underscoring the state's profound advancements in areas ranging from economic development to justice reform, while marking significant moments of community mourning and celebration.
Beginning on a somber note, Governor Beshear announced that he will attend the funeral service for Scott County Deputy Sheriff Caleb Conley, the first Kentucky peace officer killed in the line of duty this year. The Governor has ordered flags at state buildings to be lowered on June 1 in honor of Deputy Conley, who lost his life during a traffic stop on Interstate Highway 75 last week.
Gov. Beshear also underscored Kentucky's success in reducing recidivism. Programs introduced by his administration have helped increase employment rates among released inmates to 57%, increase corrections-based addiction treatment beds to the largest number ever, and record the lowest recidivism rate in state history at 27.15%.
The Kentucky Horse Racing Commission, according to Gov. Beshear, is now hiring employees in wagering compliance, preparing for the launch of sports wagering. The commission is actively engaged with officials from other states and industry experts, reviewing regulations and best practices.
On the economic front, Gov. Beshear shared encouraging figures regarding the state's labor market. Kentucky's nonfarm employment has risen by nearly 54,000 jobs compared with pre-pandemic levels, and the state's unemployment rate reached a new historic low of 3.7% in April. These figures represent the lowest unemployment rates for the longest period in the state's history.
"Thanks to our record low unemployment rates and historic job growth, Kentuckians across the commonwealth now have more opportunities available for quality, good-paying jobs," Gov. Beshear said. "Our record-breaking economy is what can happen when we put politics aside and focus on moving the state not left, not right, but forward for all of our Kentucky families."
Boosting the state's economic momentum, Governor Beshear announced that Toyota is set to establish the company's first U.S.-assembled battery electric vehicle at its Georgetown, Kentucky facility. This marks a significant $591 million commitment by Toyota to future projects at its Scott County location. The move, according to the Governor, "further cements Kentucky as the center of the electric vehicle sector."
In another move to bolster the state's economy, Gov. Beshear joined local officials and leaders from Bluegrass Bottling, a Kentucky-based, woman-owned business, to break ground on the company's new Lancaster bottling facility. The project is anticipated to create 27 new full-time positions with a $6.25 million investment.
In the wake of the passing of Rep. Lamin Swann, representing District 93 in Fayette County, Gov. Beshear signed an executive order calling for an election to fill the seat to be held Tuesday, Nov. 7, 2023.
During the briefing, Gov. Beshear also celebrated the dedication of a new home in Knott County for a family who lost their house during the devastating floods in July 2022. The home was funded with the help of the Team Eastern Kentucky Flood Relief Fund, which has raised over $13.2 million from more than 41,500 donors.
Finally, Gov. Beshear named 11-year-old Louisville singer, D'Corey Johnson, this week's Team Kentucky All-Star. Johnson's talent was showcased on the season 18 premiere of "America's Got Talent."
"Team Kentucky is so proud of you, D'Corey, and we can't wait to see how far you go," Gov. Beshear said.
---
Photo: Kentucky Governor Andy Beshear give his May 31 Team Kentucky update. (YouTube screenshot)
Recommended Posts
Wed, September 20, 2023
Wed, September 20, 2023