Kentucky had 5% fewer drug overdose deaths in 2022 than in '21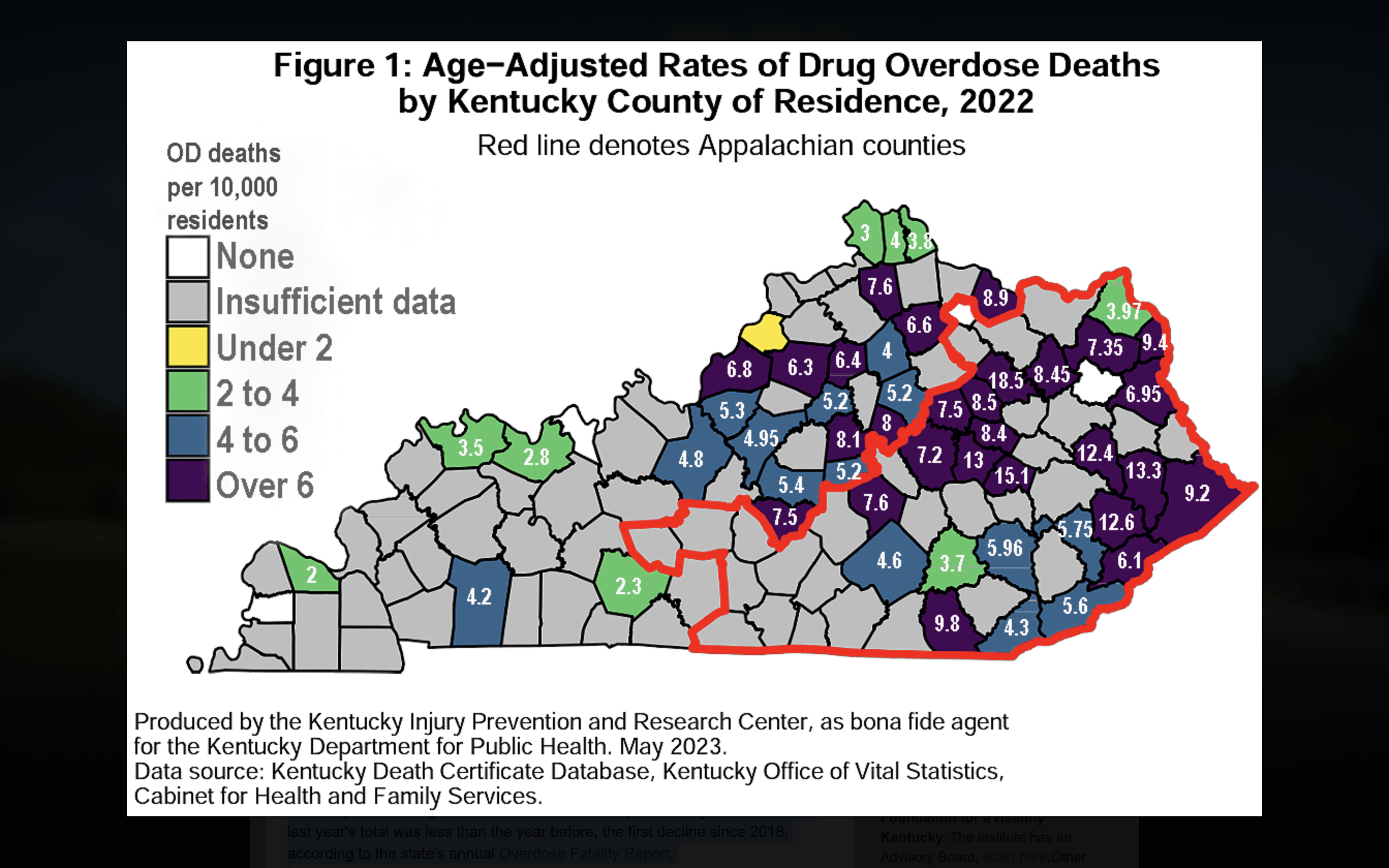 By Al Cross, Kentucky Health News
Kentucky is still losing more than 2,000 citizens a year to drug overdoses, but last year's total was less than the year before, the first decline since 2018, according to the state's annual Overdose Fatality Report.
The report, issued Thursday, says 2,135 Kentuckians died from overdoses in 2022. A preliminary report had put the number at 2,127. The final figure is 5.4 percent under the final 2021 figure of 2,257.
"However, addiction remains one of the most critical public health and safety issues facing the Commonwealth of Kentucky," says the report, issued by the state Office of Drug Control Policy.
The office's director, Van Ingram, said in a news release, "Over the past year, we have heavily focused on increasing access to clinical care for those suffering from addiction while offering more harm reduction measures," including distribution of naloxone (Narcan), which blocks the effect of overdoses.
Opioids were involved in 90 percent of overdose deathss, led by fentanyl with 72.5%, which was 6% less than in 2022. The number of overdose deaths "was also worsened by the widespread availability of potent inexpensive methamphetamine," the report says. Many victims had more than one drug in their system; 50.1% had fentanyl.
Among counties with 10 or more overdose deaths, Bath County, in east-central Kentucky, had the highest rate of overdose deaths in 2022, 18.5 per 10,000 residents. After it came Lee County, 15.1; Floyd County, 13.3; Estill County, 13; and Knott, 12.6. The state rate was 5 deaths per 10,000, down from 5.3 in 2021.
Rates for 65 of the state's 120 counties were not released because they had fewer than 10 drug overdose deaths. The actual numbers of overdose deaths in a county were not released if it had fewer than five.
The Centers for Disease Control and Prevention recently released a national overdose death report, which listed Kentucky as one of only eight states to record a significant decline (at least 100) in overdose deaths, the release from Beshear's office noted. It said "Beshear has increased the number of treatment beds in the community by 50% and secured the largest number ever of corrections-based addiction treatment beds."
The release also said "A recent article from The Associated Press noted that . . . the decrease in overdose deaths is due to Kentucky's intentional work to address addiction and offer more treatment services," but that is an overstatement. The article paraphrased Columbia University epidemiologist Katherine Keyes as saying that since Kentucky and other states with declines had high overdose-death rates during the epidemic, their declines (emphasis added) "might be a sign that years of concentrated work to address the problem is paying off. State officials cited various factors for the decline, like social media and health education campaigns to warn the public about the dangers of drug use; expanded addiction treatment — including telehealth — and wider distribution of the overdose-reversing medication naloxone."
---
Kentucky Health News is an independent news service of the Institute for Rural Journalism and Community Issues, based in the School of Journalism and Media at the University of Kentucky, with support from the Foundation for a Healthy Kentucky.
Top graphic: State Department for Public Health map, adapted by Kentucky Health News
Recommended Posts
Wed, September 20, 2023
Wed, September 20, 2023