Lexington-Fayette County Health Department Offers Back-to-School Immunizations for Students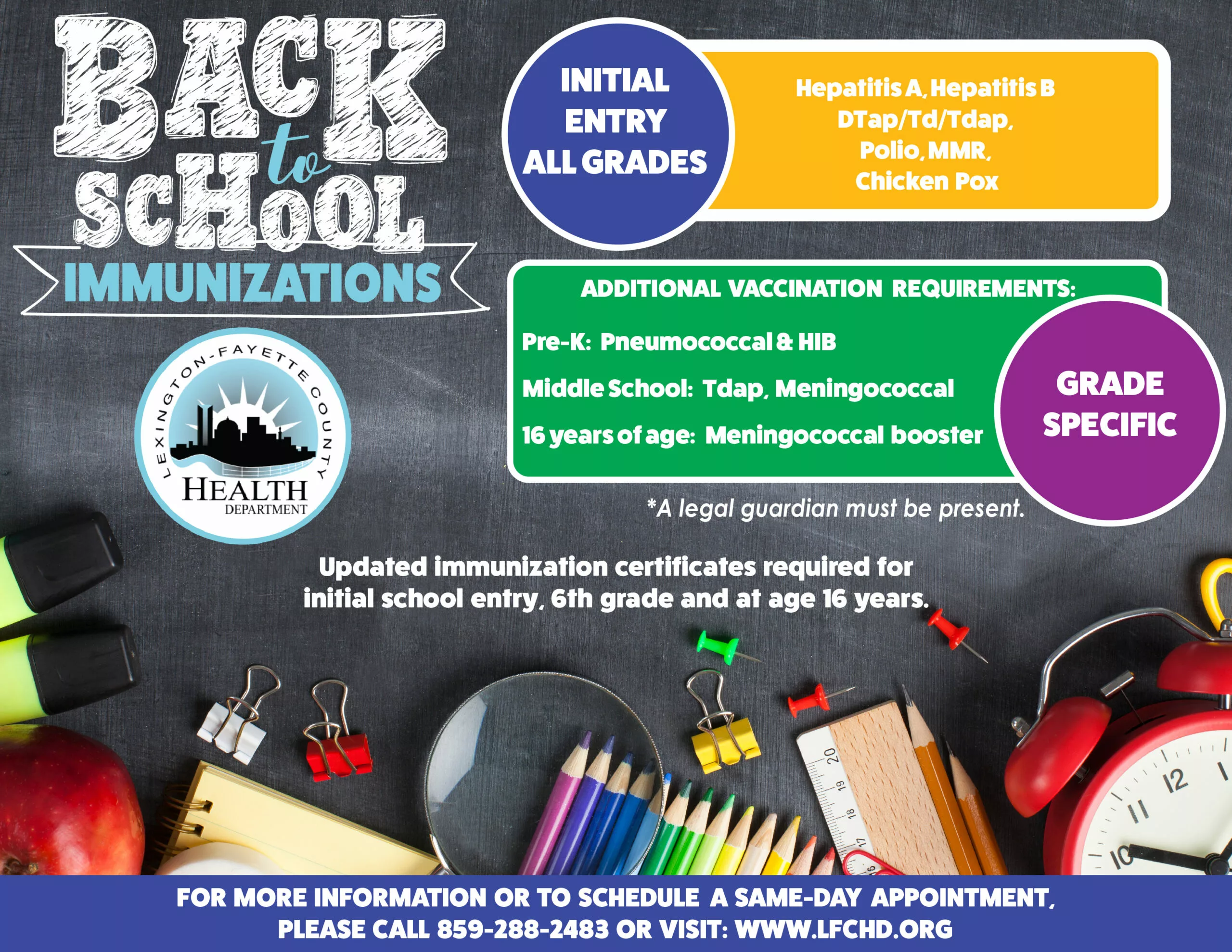 LEXINGTON, KY – As Fayette County students gear up for a new academic year, the Lexington-Fayette County Health Department is stepping in to ensure that students have ample opportunities to receive their necessary vaccinations before classes commence.
The health department has announced that it will be offering immunizations through same-day appointments at the Public Health Clinic, located at 650 Newtown Pike. This initiative aims to help students beat the back-to-school rush and ensure a healthy start to the new school year.
Parents or guardians interested in scheduling an appointment for their children can call the health department at (859) 288-2483. The department encourages families to make appointments as early as possible to avoid the last-minute rush.
The eligibility criteria for participating in this immunization drive include being 18 years or younger and being either uninsured or underinsured. Furthermore, the health department has stated that Medicaid will be accepted for these services. Participants are required to bring immunization records to the appointment, and it's important to note that physical examinations will not be provided. Additionally, a legal guardian must accompany the child to the appointment.
Health experts emphasize the importance of vaccinations for children, highlighting that unvaccinated children are at an increased risk of contracting and spreading diseases. This poses a risk not only to the child but also to classmates, family members, and the broader community, including infants too young for vaccinations and individuals with compromised immune systems.
For students new to the Fayette County School District or those entering kindergarten, it is mandatory to provide a Kentucky immunization certificate during the enrollment process. Moreover, sixth-grade students and those aged 16 are required to receive certain booster shots and must also bring an up-to-date immunization certificate. For additional information about these requirements, parents and guardians can reach out to the health department's school health division at (859) 288-2314.
With the start of the school year fast approaching, the Lexington-Fayette County Health Department is committed to safeguarding the health of students and the broader community through this timely immunization initiative. Parents and guardians are urged to take advantage of this opportunity to ensure their children are protected as they head back to school.
Recommended Posts
Fri, September 29, 2023
Fri, September 29, 2023
Thu, September 28, 2023