How much partisan gerrymandering does Kentucky's Constitution allow? Court to decide.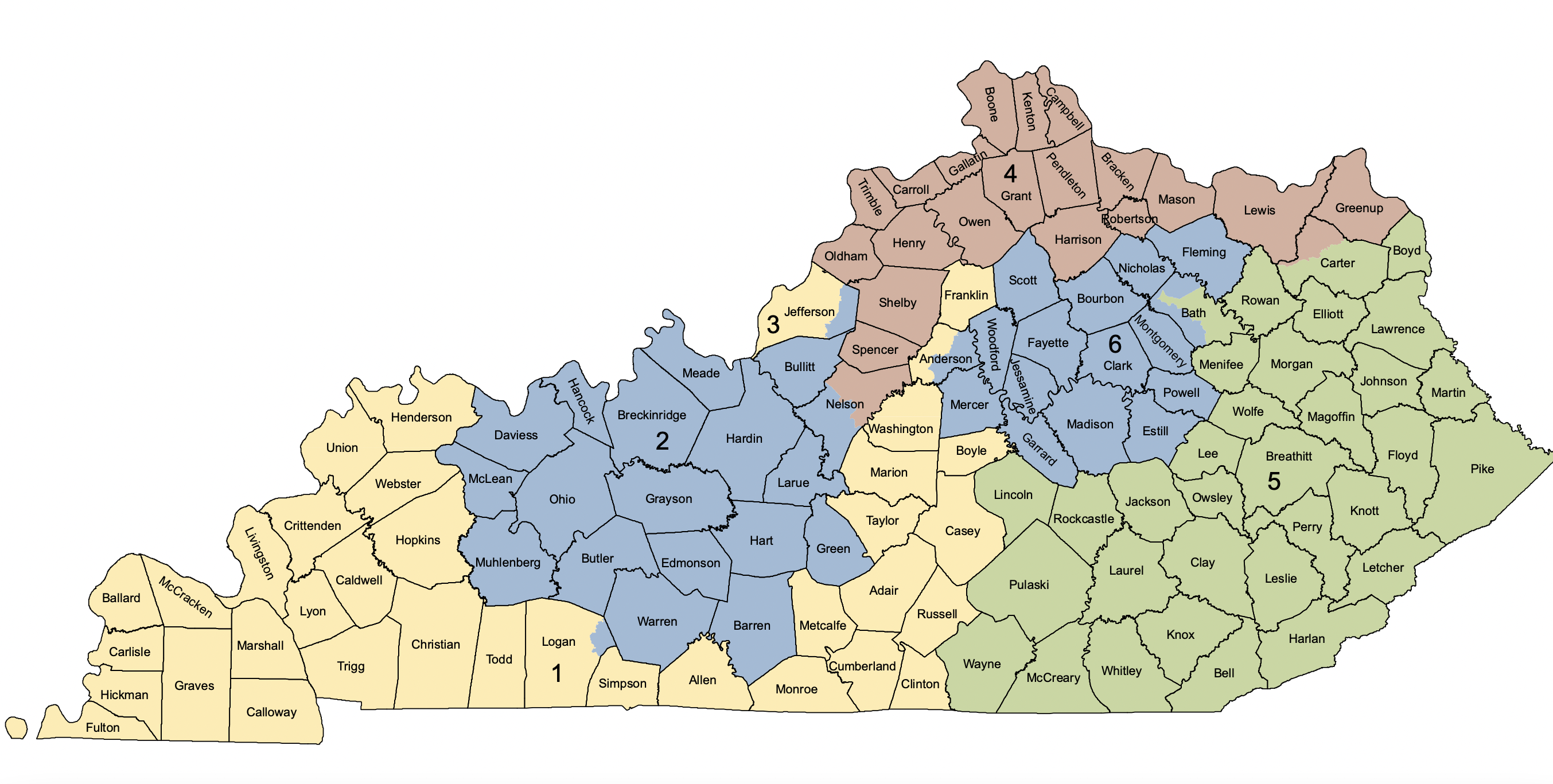 Democrats' redistricting challenge will be heard by state Supreme Court in September. It's unclear if a decision will come in time for the next round of elections.
A fight over Kentucky's state House and U.S. congressional districts is now before the state Supreme Court, more than a year after new maps were adopted by the Republican supermajority that controls the General Assembly.
On March 23, the high court agreed to take the challenge by state Democrats, bypassing the state Appeals Court, "in the interests of judicial economy."
Now it's up to the Supreme Court to decide whether the maps established through redistricting — which a lower court judge already found to be gerrymandered, or manipulated to favor one party — also are unconstitutional.
"This is purely a legal question, not a factual one on whether the maps are unfair," said Joshua Douglas,  a University of Kentucky law professor who studies election and constitutional law.
The Supreme Court has scheduled a hearing in the dispute on Sept. 19.
Districts, which define the area an elected official represents, are adjusted every 10 years by the legislature to reflect changes in population and generally favor the party in power.
The legal fight comes in advance of next year's primary and general elections in which all 100 House races and Kentucky's six congressional seats could be contested.
Two days after the Nov. 8, 2022 general election, Franklin Circuit Judge Thomas Wingate ruled that the state House and congressional districts enacted earlier that year resulted from "partisan gerrymanders" but he declined to find them unconstitutional.
The case wound up before the Supreme Court after Kentucky Democrats appealed the decision.
They argued the Republican maps split up many more counties in House districts than allowed by the state constitution.
Democrats also objected to the 1st Congressional District based in Western Kentucky, reconfigured to include Franklin County — an alleged move to dilute its Democratic votes and accommodate incumbent U.S. Rep. James Comer, a Republican who hails from Tompkinsville in Monroe County but owns a home in Frankfort.
Republicans have scoffed at the challenge, with a spokesman for the state GOP previously calling it a "frivolous lawsuit."
A spokesman for the Republican Party of Kentucky didn't immediately respond to a request for comment.
Democrats called on the Supreme Court to reject maps that resulted from Republicans working "behind closed doors to draw districts that cut up communities for partisan gain," Anna Breedlove, a spokeswoman for the Democratic Party of Kentucky, said in a statement.
"If this isn't stopped now, Republicans will only grow bolder in their partisan gerrymandering in coming decades allowing Frankfort politicians to decide who they represent, picking easier paths to power and reelection, rather than allowing Kentuckians to decide who represents them," her statement said.
Douglas said he believes Democrats stand a chance, based on Wingate's finding that both the House and congressional districts are gerrymandered.
"I think there's a decent chance of success for the plaintiffs," said Douglas, who is considering filing a brief in the case urging the court to "robustly construe the state constitution to protect against extreme partisan gerrymandering."
D. Stephen Voss, an associate professor of political science at UK, declined to speculate on the possible outcome of the case. But he said Republicans may find it difficult to defend what he called the "Comer hook," in which the 1st Congressional District was stretched to reach into Franklin County, presumably to benefit the incumbent.
The reconfiguration makes no sense and doesn't comport with the accepted standard that congressional districts are supposed to be compact, Voss said.
"Almost any realistic solution has Jamie Comer losing Franklin County," he said.
Voss said one theory about adding Franklin County, which tends to vote Democratic, to Comer's district is that it was to remove it from Republican Rep. Andy Barr's 6th District to protect him in future elections.
But if that were the goal, Voss said, it would have made more sense to add Franklin County to Republican Rep. Thomas Massie's 4th District which includes Northern Kentucky.
That makes more sense geographically than the Comer "hook,"he said. "That was just a liability for the Republicans," Voss said. "It gave them congressional districts that were hard to defend."
Still, there's no guarantee another version of the district maps, especially for the state House seats, will help Democrats in a state so heavily dominated by the GOP, Voss said.
Should the Supreme Court throw out the current maps and order the General Assembly to start over, "they can come back with a map that is no better for the Democrats," Voss said.
"Indeed, they could come back with a map that's worse," said Voss, who testified as an expert witness at the trial last year on behalf of Kentucky Attorney General Daniel Cameron, a Republican defending the redistricting plans.
And it's uncertain whether the Supreme Court will rule before the Jan. 5 filing deadline for candidates who wish to run in the May 2024 primary election.
A change to the maps could affect the decision of candidates about the district in which to seek office.
A decision sooner than later is better for Democrats when it comes to planning campaigns, Voss said.
"If Democrats are going to have any hope of clawing back territory, the earlier they know what the districts are going to be, the better," Voss said. "The longer this takes, the more likely Democrats are going to suffer what they suffered last time."
Last year, Democrats faulted the new districts for their loss of several House seats in the November election, increasing the Republicans' supermajority to 80 out of 100 representatives. 
And the 2024 election features a number of races that could be affected by any changes to districts with all 100 House and Kentucky's six congressional seats up for election.
The presidential race also on the 2024 ballot will heighten interest among voters, said Michon Lindstrom, communications director for the Kentucky Secretary of State.
"In presidential years, we have the best turnout," Lindstrom said. "There will be a lot of interest next year."
Douglas, the law professor, said he believes the case could be decided before the January filing deadline as well as in time for the legislature to act on new maps when it convenes in 2024, if necessary.
"I do think there's time for the court to rule and, if it strikes down the maps, for the legislature to redraw the maps — even next January," he said. "It passed the current maps in a matter of days."
Wingate ruled in favor of Republicans after deciding that the House and congressional districts, though gerrymandered, were not necessarily unconstitutional.
"The Kentucky Constitution does not explicitly prohibit the General Assembly from making partisan considerations during the apportionment process," Wingate's order said.
He added: "The court understands that partisan gerrymandering challenges have been sweeping the nation and that plaintiffs want this court to look at and rely upon decisions made by other states' high courts, but this court is only concerned with the Kentucky Constitution and what is permitted under it."
Recommended Posts
Sat, September 30, 2023
Fri, September 29, 2023
Fri, September 29, 2023