Devine Carama discusses ONE Lexington with legislative juvenile justice commission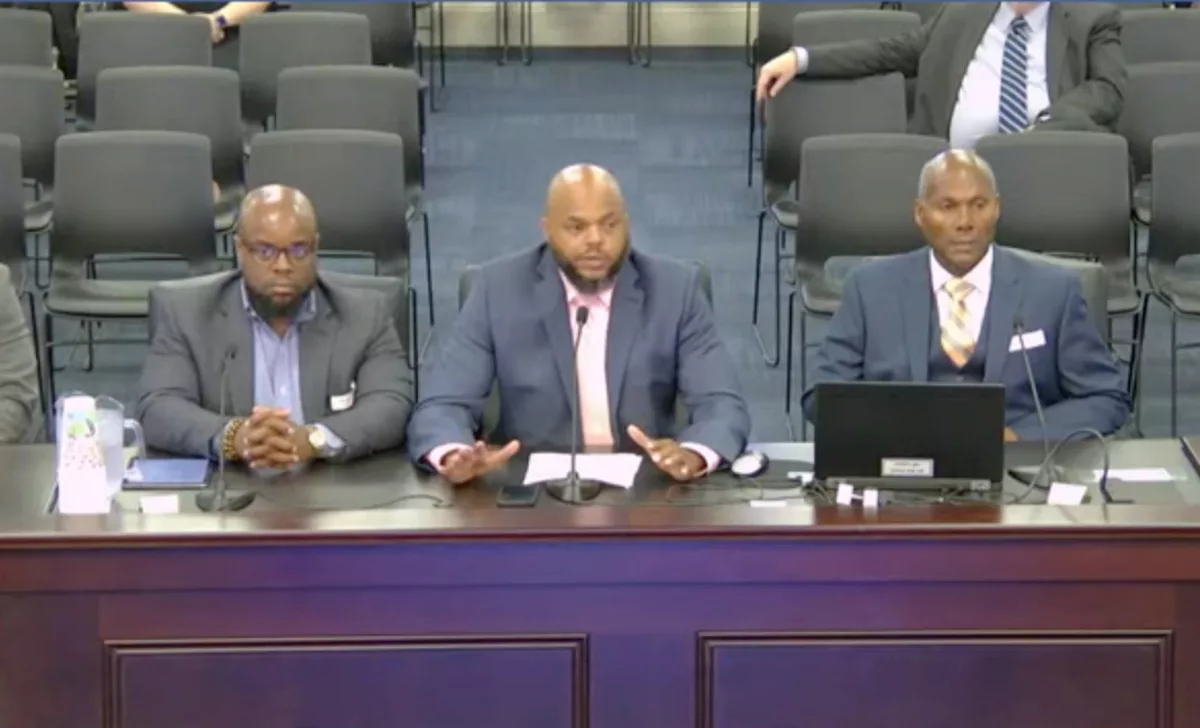 FRANKFORT, KY — Devine Carama, the director of ONE Lexington, recently discussed how his organization utilizes governmental resources and community partnerships to tackle youth gun violence with legislators on the Juvenile Justice Oversight Council and the Commission on Race & Access to Opportunity. His appearance came the same day as a presentation by Cortney Downs, Chief Equity Officer for Kentucky Youth Advocates, on the racial disparities that persist among Kentucky's youth in the juvenile justice system.
ONE Lexington has gained attention for its success in mediating youth arguments and facilitating connections with law enforcement to address the mistrust among younger generations. Carama detailed how the organization's grassroots efforts contributed to the reduction in shootings and violence in Lexington.
"Lord knows, and I come from a grassroots background, I'm literally in the streets doing the work, and we don't need government control in every single program," Carama emphasized, adding, "We have amazing organizations in Lexington who have been doing this work for years, well vetted, already connected to the community. And so our job is how do we get these resources into their hands so they can continue to do the great work, but then also amplify them."
Carama pointed out the importance of equipping these organizations with tools and resources. "Right. But they're doing great work. They don't know how to access resources. So how do we help them build their capacity, help them to get their 501c3, help them to build their boards so they can access other funding opportunities."
Moreover, he elaborated on the organization's use of technology for immediate resource allocation. "And so we all get on Zoom every week and we discuss the incidents from the week prior or the days prior. And now in real time, instead of us chasing our tail, we're able to get these resources, connect resources in real time on this call," Carama explained.
Acknowledging that violence and fear still prevail, he stated, "There's still harm, there's still fear, There's still things that need to be responded to." He highlighted the significance of focusing on mental health and mentoring. "Mental health focusing on the untreated trauma is a huge part of it. Mentoring is a huge part of it."
I had a 14-year-old tell me once: 'Mr. Devine, it's easier for me to get a gun than to get a job.' …. It's unfathomable the access that they have to high powered firearms and how many are in possession of firearms.

ONE Lexington Director Devine Carama on the availability of firearms to youth
One alarming issue Carama touched on was the accessibility of firearms among the youth. "Sometimes I wonder if we're chasing our tails," he said. "I had a 14-year-old tell me once: 'Mr. Devine, it's easier for me to get a gun than to get a job.' …. It's unfathomable the access that they have to high powered firearms and how many are in possession of firearms." he expressed.
The ONE Lexington director underlined the importance of building relationships with communities and families. "If I may add. I would like to definitely emphasize the value of building relationships with communities and with families." He continued, "We build those relationships with the community. We go up and down the streets after a shooting, and by building those relationships, we are able to have an influence as well."
He closed by highlighting that their approach is all about relationships, but admitted that some youth are harder to reach than others.
It's all about relationships. There's a lot of kids that I can reach, but there's some kids… My time in the street wasn't long. It wasn't extensive. I put in a little work, but…

ONE Lexington Director Devine Carama on the challenge of reaching some youth
Meanwhile, Greensburg Republican Sen. David P. Givens indicated that legislators will be examining several collaboration points, including ways to get youth working and "helping them find purpose and meaning" in life.
Devine Carama's remarks to the commission provide a crucial insight into the tangible efforts and strategies that can be employed to address the systemic issues facing Kentucky's youth, particularly those of color. His emphasis on community relationships, mental health, and resource allocation underscore the importance of multifaceted approaches in combating youth violence and fostering a more inclusive society.
---
Photo: Screenshot from LRC YouTube channel.
Recommended Posts
Fri, September 29, 2023
Fri, September 29, 2023
Thu, September 28, 2023