Fayette School District Moves Forward with $244 Million Investment in School Infrastructure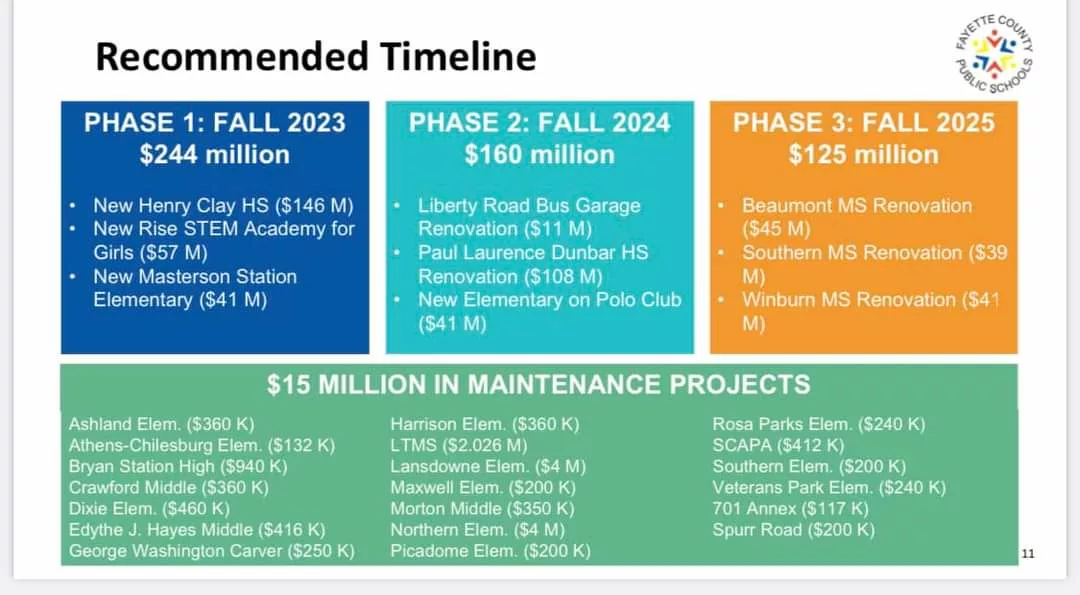 LEXINGTON, KY — At a pivotal school board meeting on Monday, FCPS School Board members reached a consensus regarding the implementation of a crucial phase in their District Facility Plan. A $244 million investment in education was discussed, with particular attention given to the construction of a new building for Henry Clay High School, a facility for the Rise STEM Academy for Girls, and an elementary school in the Masterson Station area, the Herald-Leader's Valarie Honeycutt Spears reports.
The proposal was showcased as a historic step towards enhancing the educational opportunities for students and families within the district. Board member Tyler Murphy shared the news through a Facebook post, lauding the community's dedication to investing in public schools.
"During tonight's Board meeting, the board discussed the latest proposals for proceeding with school projects listed in the District Facility Plan — presenting the board with a phased construction and renovation timeline," Murphy posted. "This proposal represents a key phase in our ongoing and historic work to expand opportunities and access for our students and our families, made possible by a community committed to meaningful investments in our public schools."
This decision comes in light of the pressing need to address the deteriorating conditions at Henry Clay High School, which has been beleaguered with environmental complaints. The school, which shifted to its present Fontaine Road facility in 1970, has not undergone significant renovation since 2006. Reports of vermin, including a snake and mouse falling from the ceilings, have raised safety concerns among parents and students. Documents revealed that the school was also plagued with additional infestation issues involving ants, flying birds, and a raccoon.
The district staff recommended a $146 million investment in a new building for Henry Clay High School. Though no official vote on the new building was held during Monday's meeting, preliminary planning is slated to commence this fall.
Additionally, the proposal includes the construction of a new $57 million facility for the Rise STEM Academy for Girls. The current Rise STEM Academy is housed in the aging Linlee Elementary School building, which parents have indicated has numerous shortcomings.
The Masterson Station area will also see the construction of a new $41 million elementary school to accommodate the region's booming population, as stated by Myron Thompson, the Chief Operating Officer of FCPS.
Board members expressed excitement and optimism regarding these developments. The next steps involve engaging architects and securing approval from the Kentucky Department of Education.
The Fayette School District's investment signals a renewed commitment to education and the welfare of its students and community. With these projects, the district takes a significant stride in modernizing its educational infrastructure and bolstering opportunities for current and future generations.
Recommended Posts
Wed, September 20, 2023
Wed, September 20, 2023