In an Unexpected Turn, Adrielle Camuel Clinches Democratic Nomination for Kentucky's House District 93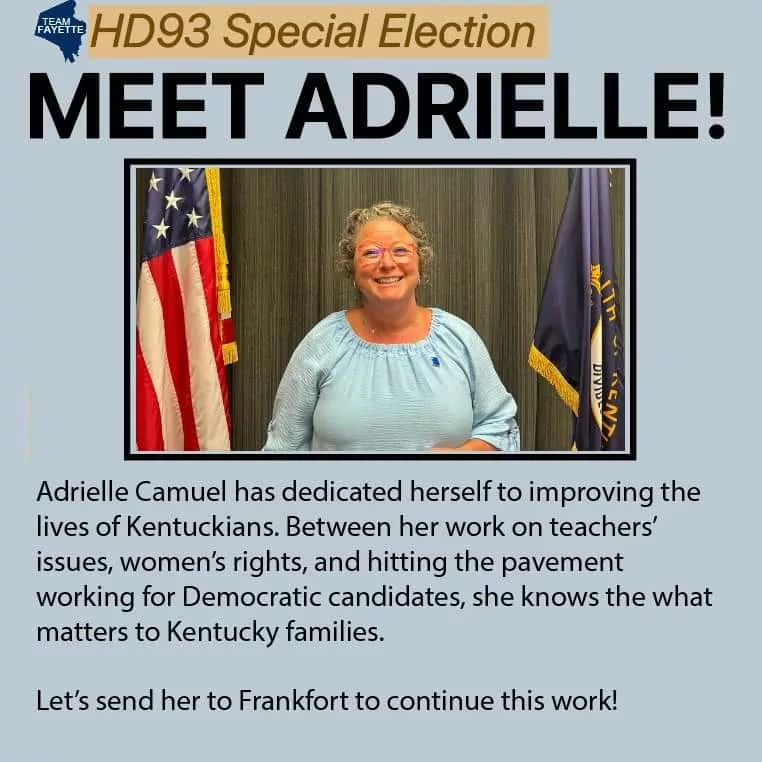 LEXINGTON, Ky. — In a surprising outcome, the Democratic Party's nominating committee has selected Adrielle Camuel as their nominee for House District 93 in South Lexington, Kentucky. Camuel, who was viewed as an underdog in the race to replace the late representative Lamin Swann, surpassed the widely considered front-runner, Emma Curtis, in the nomination process. The decision, announced via a Facebook post by the Democratic Party, sets the stage for a fervent general election campaign in this Democratic stronghold.
"MEET ADRIELLE! Our nominee for HD93 is Adrielle Camuel — and residents of the 93rd know her well. She's been on the frontlines of the biggest battles in Kentucky, and she's ready to take them on as a Representative," read the Facebook post, which also thanked all the candidates for their leadership.
Emma Curtis, a 26-year-old activist who could have become Kentucky's first transgender state legislator, was initially seen as the favorite. Curtis, known for her opposition to the GOP-led Senate Bill 150, had the endorsement of Swann's mother, Pam Dixon, and Swann's campaign team. In addition, she had secured the support of Louisville Democratic representatives Lisa Willner, Nima Kulkarni, and Daniel Grossberg.
However, Curtis' campaign raised concerns about the integrity of the nominating process, citing Camuel's position as a member of the nominating committee. Rebecca Blankenship, a spokesperson for Curtis' campaign, had previously urged Camuel to recuse herself from the vote.
"The Democratic Party is constantly accused of corruption and of unfairly opposing minority candidates. When members of the Party engage in blatant self-dealing, these accusations are given credence. Our opponent, who is a member of the nominating committee, must recuse herself from the voting on a nominee to preserve the integrity of the elections process," Blankenship said prior to the nomination.
Adrielle Camuel, an administrative assistant at Fayette County Public Schools, has been actively involved in various causes in Kentucky. The Democratic Party's post highlights her experience on the "frontlines of the biggest battles" in the state, although specific details of her platform have not yet been released.
As Camuel moves forward as the Democratic nominee, she will be facing Republican candidate Kyle Whalen in the general election. Whalen, a construction entrepreneur, is focused on limited government and raising Kentucky's workforce participation rate.
House District 93, which swung decisively for President Joe Biden in 2020, is an important battleground in the wider context of Kentucky politics, which is predominantly Republican. With the Democratic nomination now secured by Camuel, attention turns to how she will consolidate support within the party and appeal to the broader electorate in a district that has been a rare Democratic beacon in the state.
Recommended Posts
Fri, September 29, 2023
Fri, September 29, 2023
Thu, September 28, 2023