Genealogical investigation reveals Kentucky politicians' slaveholding ancestors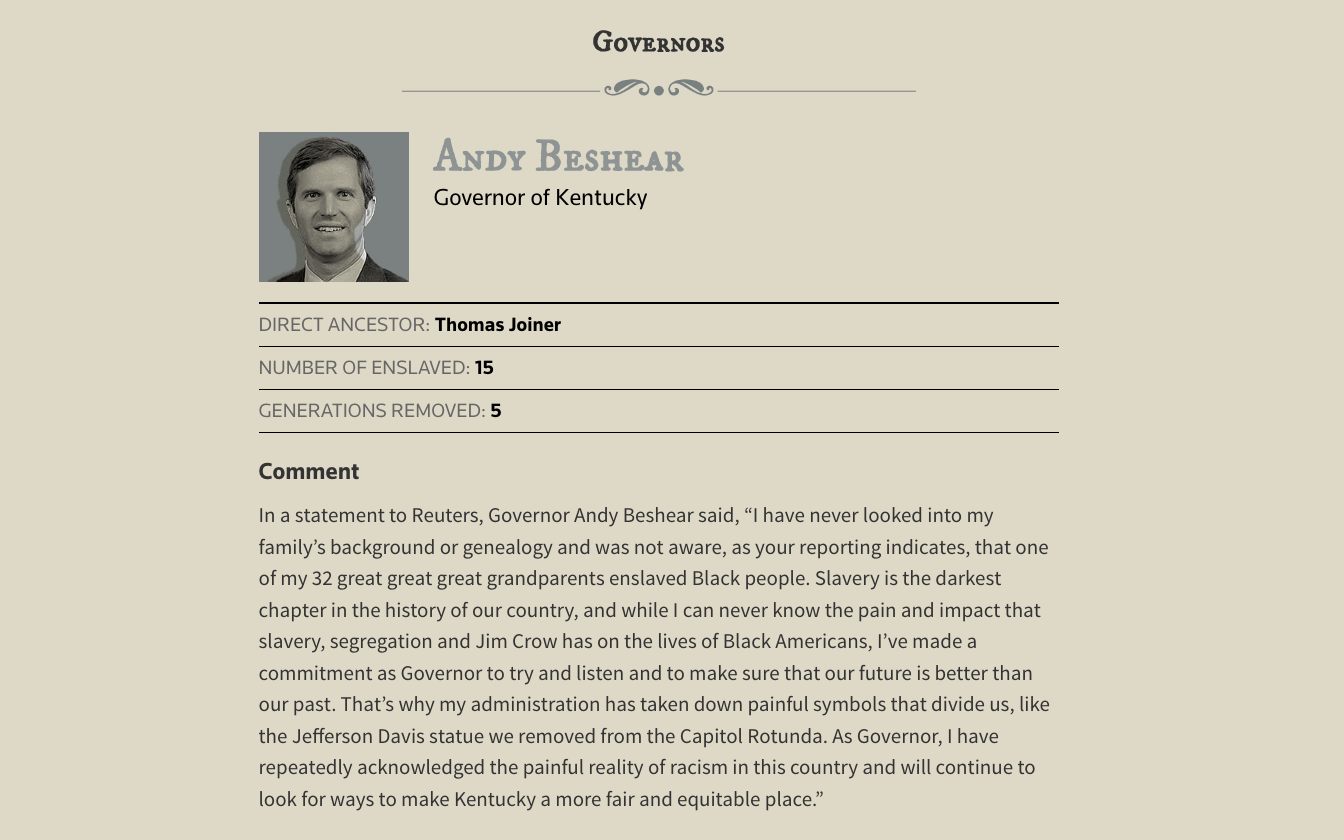 LEXINGTON, KY – A recent investigation by Reuters has shed light on the complex lineage of American political elite, revealing that a significant number of them have direct ancestors who were slaveholders. The investigation meticulously examines the family trees of prominent political figures including presidents, lawmakers, governors, and Supreme Court justices.
Among the 118 influential leaders cited by Reuters, six hail from Kentucky – U.S. Senator Mitch McConnell, U.S. Representatives Andy Barr, James Comer, Brett Guthrie, and Hal Rogers, along with Governor Andy Beshear.
According to Reuters, Senator Mitch McConnell's great-great-grandfather, Joseph Farrington, enslaved 12 individuals. In response to the report, an aide to Senator McConnell referenced a previous interview from 2019, in which McConnell voiced his stance against reparations for slavery, mentioning the Civil War, civil rights legislation, and the election of an African-American president as steps towards progress.
On the other hand, Governor Andy Beshear expressed that he was unaware of his ancestry linking back to Thomas Joiner, who enslaved 15 individuals. Acknowledging the gravity of slavery as a "dark chapter in the history of our country," Governor Beshear emphasized his commitment to creating a more inclusive and equitable Kentucky. Under his administration, divisive symbols such as the Jefferson Davis statue were removed from the Capitol Rotunda.
However, Representatives Andy Barr, James Comer, Brett Guthrie, and Hal Rogers did not offer comments in response to the Reuters investigation.
Reuters' findings highlight the importance of understanding the historical context in which the country's institutions and legacies were built, and how these histories may continue to shape attitudes and policies today. As America grapples with its history of racial injustice, the newfound awareness of the ancestry of public officials could have profound implications.
This investigation serves as a call for a candid examination of our past. For Kentucky, a state that has been central to America's history of slavery, it brings forward an opportunity for leaders to engage in dialogues on addressing the historic and ongoing disparities stemming from this dark chapter.
Notably, Reuters also identified documents that include the names of enslaved individuals, providing a rare glimpse into the lives and struggles of those who endured one of the most deplorable periods in American history.
While the investigation serves as an important historical record, it also raises questions about the responsibility and roles of today's leaders in reconciling the nation's fraught past with the aspirations for a more equitable future.
See Reuters' full list of influential American politicians with slaveholding ancestors here.
---
Image: A direct ancestor of Kentucky Governor Andy Beshear enslaved at least 15 people, according to a Reuters investigation. (Reuters screenshot)
Recommended Posts
Fri, September 29, 2023
Fri, September 29, 2023
Thu, September 28, 2023