Former Lexington Council candidate identified by Sedition Hunters as 'Denim Dad' from Capitol Riot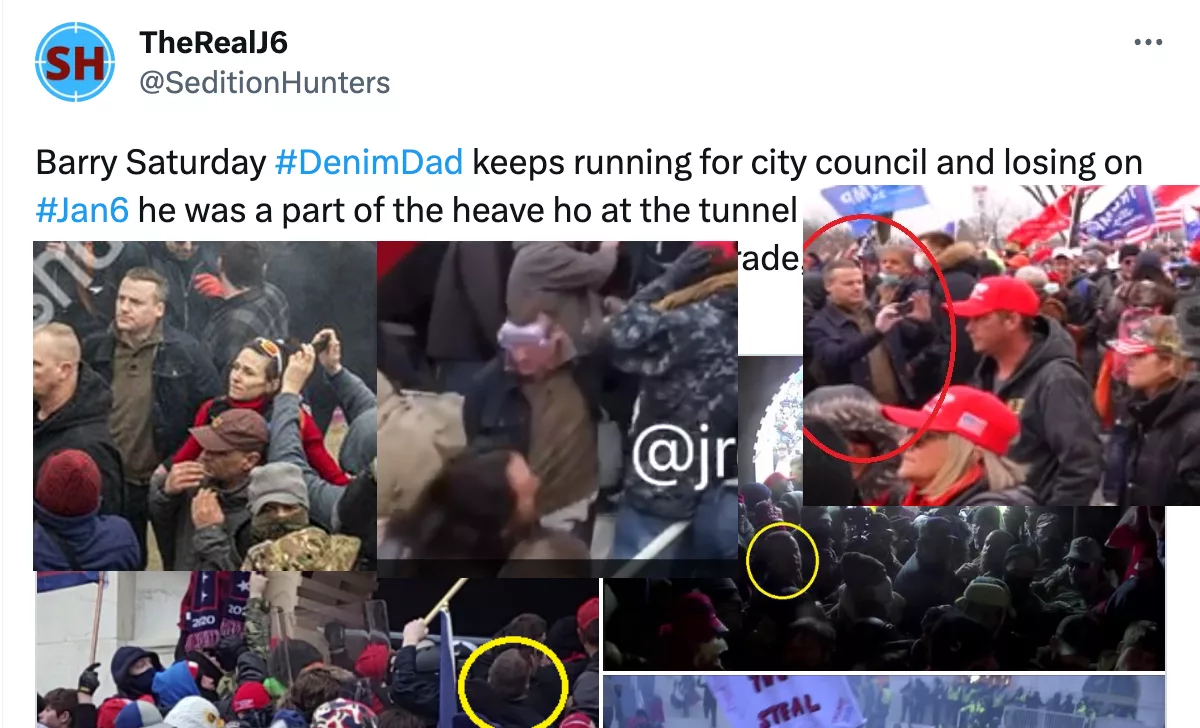 LEXINGTON, KY – Online sleuth group Sedition Hunters, known for its work identifying individuals present during the Capitol insurrection on January 6, 2021, has claimed to have identified a former council candidate from Lexington, Kentucky, as one of the rioters.
In a Tweet posted last Thursday, Sedition Hunters identified Barry Saturday, a repeated contender for a city council seat, as 'Denim Dad,' one of the many figures being pursued in connection to the violent incidents that occurred at the Capitol. The group claims Saturday was involved in the altercation at the tunnel entrance to the Capitol building.
Despite these online allegations, it's important to note that as of Wednesday, July 12, 2023, Saturday has not been criminally charged in connection with the events of January 6, 2021.
Saturday, a Lexington native, has been a vocal figure in local politics. He notably ran for the Lexington-Fayette Urban County Council District 4 seat in 2022, but ended third in the race. Following a ballot mix-up, he contested the election results and called for a special election. His appeal failed.
In addition to his political pursuits, Saturday is currently involved in a legal battle with the Fayette County Public Schools, accusing the district of denying his daughters their educational rights for financial gain. His lawsuit alleges that the district's methods of testing for gifted services violate state regulations.
The Lexington Times employed artificial intelligence facial recognition technology to examine photos of Barry Saturday and 'Denim Dad,' the previously unidentified participant in the Capitol Riots. The results suggest a match between the two, possibly confirming Saturday's identification as the elusive 'Denim Dad.'
However, these claims made by Sedition Hunters and preliminary confirmation by facial recognition technology serve as allegations and do not establish criminal culpability. To date, no formal charges have been filed against Saturday in connection with the Capitol insurrection. The identification by Sedition Hunters and subsequent media reports will likely add to the ongoing discussion about accountability and the role of citizen-led efforts in investigating the events of January 6, 2021.
Officials and legal professionals continue to emphasize the importance of a formal legal process, maintaining that determinations of guilt should be made through appropriate legal channels.
While Sedition Hunters' findings can contribute to these investigations, they cannot replace the formal legal processes necessary for prosecuting those involved in the Capitol insurrection. As such, it remains to be seen how these allegations will affect Saturday's standing in his community and his ongoing legal case against Fayette County Public Schools.
The Lexington Times sent messages requesting comment to both Barry Saturday and Sedition Hunters. Neither immediately responded.
Recommended Posts
Thu, December 7, 2023
Wed, December 6, 2023