Pen, Power, and Pett: The school controversy that changed how I saw journalism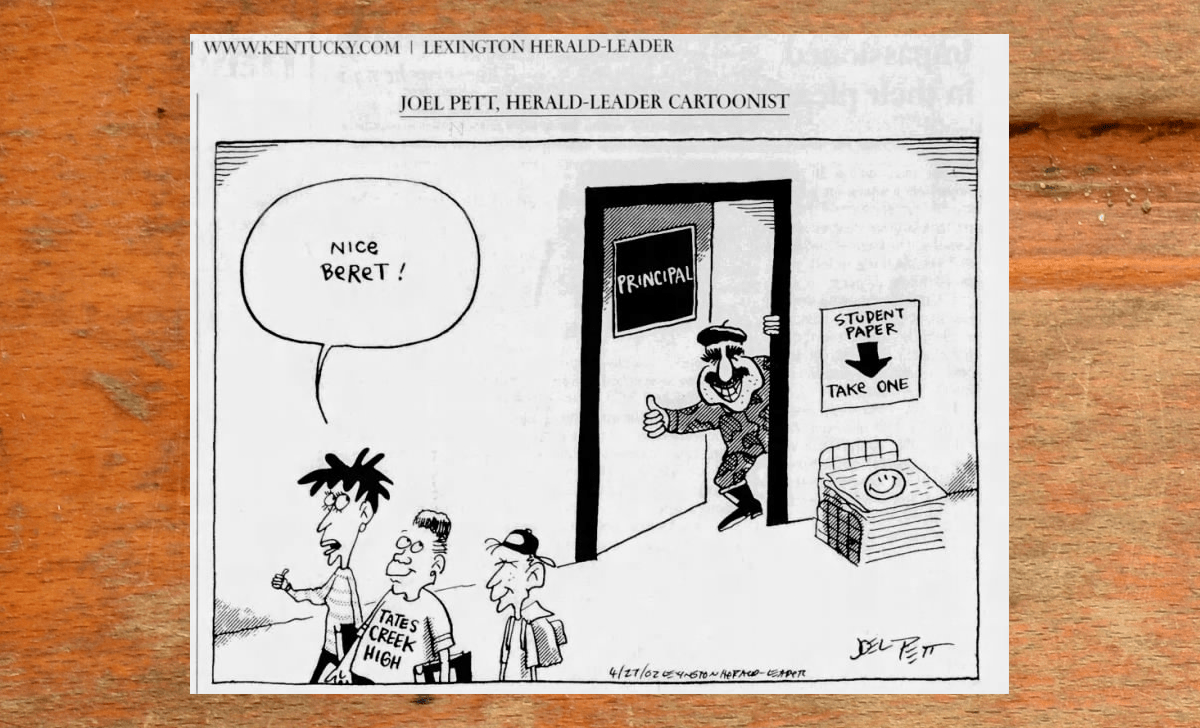 by Paul Oliva
As I sit here, nearly two decades removed from my time at Tates Creek High School, I can't help but reflect on a time when our school's newspaper, The Masthead, was both a source of scandal and a catalyst for my eventual interest in the world of journalism.
Let me take you back to April 2002. As a freshman, I was more interested in making friends, going to football practice, and getting good grades than any sort of journalistic endeavors. However, as fate would have it, I found myself thrown into a whirlwind when our school newspaper, edited by my friend's older brother, published an editorial that questioned the fairness of discipline at our school. To say it ruffled some feathers would be an understatement.
The article, based on unnamed sources, alleged that some students—particularly athletes—were getting preferential treatment when it came to disciplinary action. It was controversial with the administration. Controversial enough that our principal, Bob Gardner, considered suspending the paper's publication. I remember being in the cafeteria, hearing murmurs about the situation. There was a sense of uncertainty, a question of what would happen next.
But then, the very next day, the winds of change began to blow. A political cartoon appeared in the Saturday edition of the Lexington Herald-Leader, courtesy of Joel Pett. The audacious illustration depicted our very own principal as Saddam Hussein, the infamous Iraqi dictator. The shock I felt when I opened that page was palpable. Pett had hurled a symbolic gauntlet at the feet of authority with his cartoon. I remember the awe I felt, the incredulity. Could he really do that?
Clippings of the cartoon circulated rapidly among the student body. That was the moment I first understood the power and fearlessness of journalism. The ability to hold authority accountable, to spark dialogue, and to inspire change, all encapsulated in one simple cartoon.
As long-since confirmed rumors circulated that the author of the contentious editorial had personal motivations — having been punished for leaving campus for lunch while an athlete doing the same was let off — the entire episode took on a new depth.
In a surprising turn of events, Principal Gardner announced he would not be suspending the publication of The Masthead after all. It was a victory for the voice of students, for the school paper, for journalism.
Years later, as I find myself processing the news of Joel Pett's termination from the Herald-Leader, I can't help but reflect on the impact of that time on my life. It was a revelation of the importance of journalism, an induction into the ceaseless battle between the pen and power. Pett's dismissal from his longtime post is a reminder that journalism, when done right, is rarely without controversy.
Pett's cartoon in 2002 didn't just spark a school-wide controversy, it sparked a fire within me—a desire to question, to challenge, to tell the stories that needed telling. The unfolding drama at Tates Creek served as a window to the power of journalism, even satire. It taught me about courage, accountability, and the value of a free press. It was a testament to the importance of journalism—a testament I carry with me in my work today.
---
Top photo: Newspaper clipping of Joel Pett's Saturday, April 27, 2002 cartoon depicting Saddam Hussein as principal of Tates Creek High School.
Recommended Posts
Fri, September 29, 2023
Thu, September 28, 2023
Tue, September 26, 2023