McConnell vows this won't be his last Fancy Farm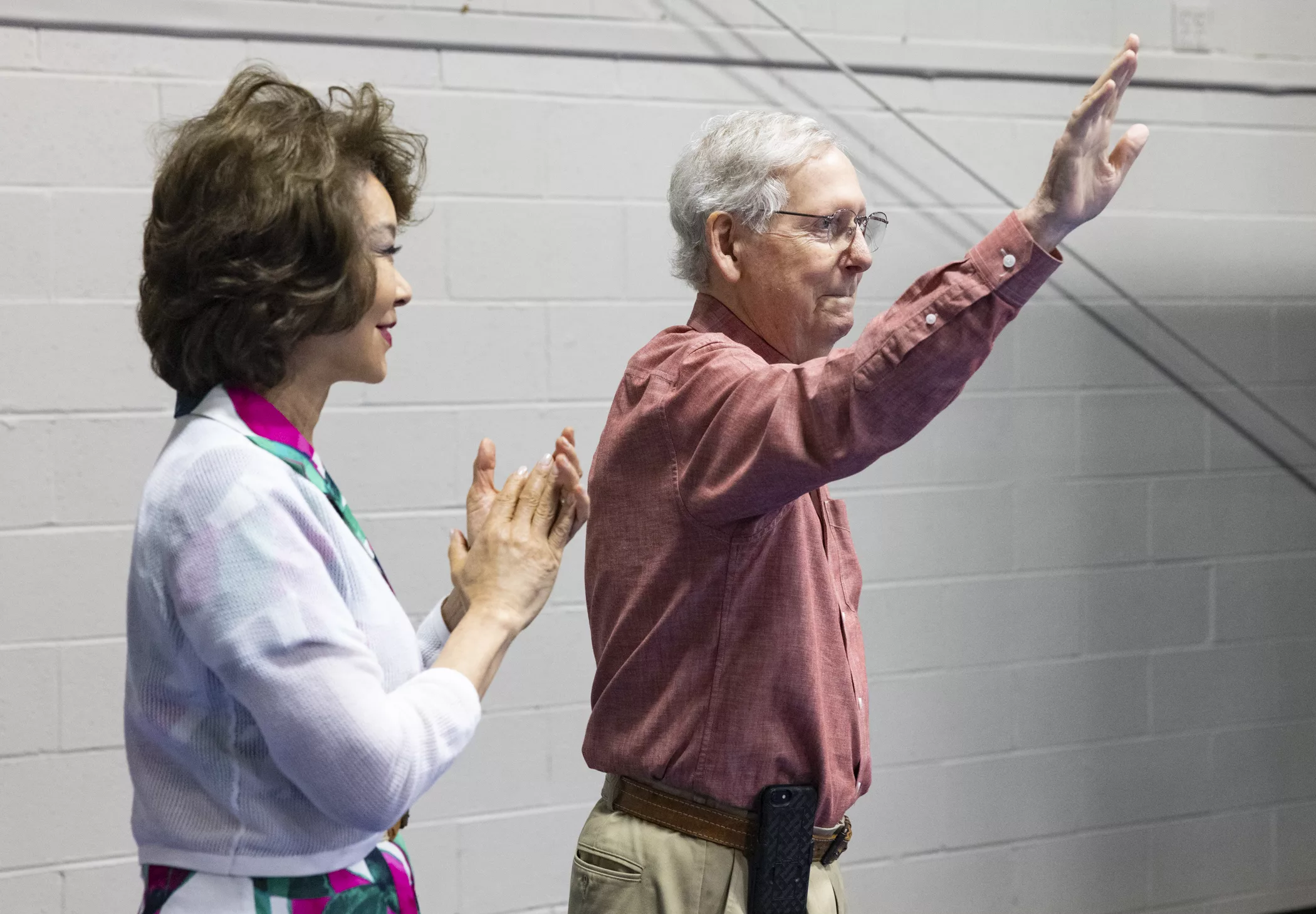 'We owe it to the next generation of Kentuckians to finish the job this November,' McConnell tells Republican breakfast
by McKenna Horsley, Kentucky Lantern
MAYFIELD — Nine days after he stopped speaking mid-sentence in a news conference in Washington, D.C., raising concerns about his health, Republican U.S. Sen. Mitch McConnell returned to Kentucky to take part in the annual Fancy Farm Picnic — and vowed it wouldn't be his last.
McConell, the Senate's Republican leader, addressed a crowd at the Graves County GOP Breakfast in West Kentucky Saturday morning. His remarks focused on when he came into power in Kentucky politics — a time when he was a member of the minority party — and said Republicans are now close to controlling the governor's mansion as well as the Kentucky General Assembly. 
"We owe it to the next generation of Kentuckians to finish the job this November," he said, referring to the 2023 governor's race. 
Voters will decide between Republican Attorney General Daniel Cameron , a McConnell protégé, and incumbent Democratic Gov. Andy Beshear. 
McConnell described what he sees as a recent rise in Republican power nationwide. During the Obama administration, he said, rural Americans switched from reliably Democratic voters to supporting Republicans at the ballot box after, he said, figuring out the other party was led by "East Coast elitists."
The breakfast preceded the Fancy Farm Picnic, a spectacle that brings Kentucky Republicans and Democrats together for a display of jabs and heckling in rural Graves County. McConnell followed Republican office seekers and elected officials, including Cameron, to the podium Saturday morning. 
McConnell first met Cameron at the age of 18 when he was a student at the University of Louisville. Cameron had a McConnell Scholarship, which is a prestigious award for Kentucky students. 
"I obviously have a great affinity for Leader McConnell and it's certainly good to see him here," Cameron told reporters after speeches were given.
Cameron also noted the applause and standing ovation McConnell received after entering the room with his wife, Elaine Chao, who has served as U.S. secretary of labor and transportation. 
Last week, McConnell, 81, suddenly paused while addressing reporters. After being escorted away by some of his colleagues, the senator returned moments later to resume taking questions. He said he was fine and able to do his job when asked if the long pause was related to a March fall and subsequent concussion, for which he was hospitalized. 
McConnell continued to make appearances in Washington, including returning to the Capitol the next day, as news reports were published that McConnell has had other falls in the last year, raising concerns about the childhood polio survivor's health.
The senator, who began representing Kentucky in the U.S. Senate in 1984, became the longest-serving party leader in the U.S. Senate earlier this year.
As of Wednesday, Fancy Farm Picnic organizers had listed McConnell's appearance as pending among the list of speakers, increasing the speculation around if the high-ranking Republican would attend
Steven Elder, the Fancy Farm Picnic's political chairman, previously told the Kentucky Lantern that McConnell has long supported the annual Kentucky political tradition. When the senator began attending in the 1980s, he bused supporters to the picnic while the event was dominated by Democratic speakers — a reflection of that era of Kentucky politics. 
---
Senate Republican Leader Mitch McConnell and his wife former U.S. Transportation Secretary Elaine Chao enter the Graves County Republican Breakfast Saturday morning. (Kentucky Lantern photo by Austin Anthony)
Recommended Posts
Fri, September 29, 2023
Fri, September 29, 2023
Thu, September 28, 2023