Devine Carama withdraws name from Lexington Hip-Hop Day proclamation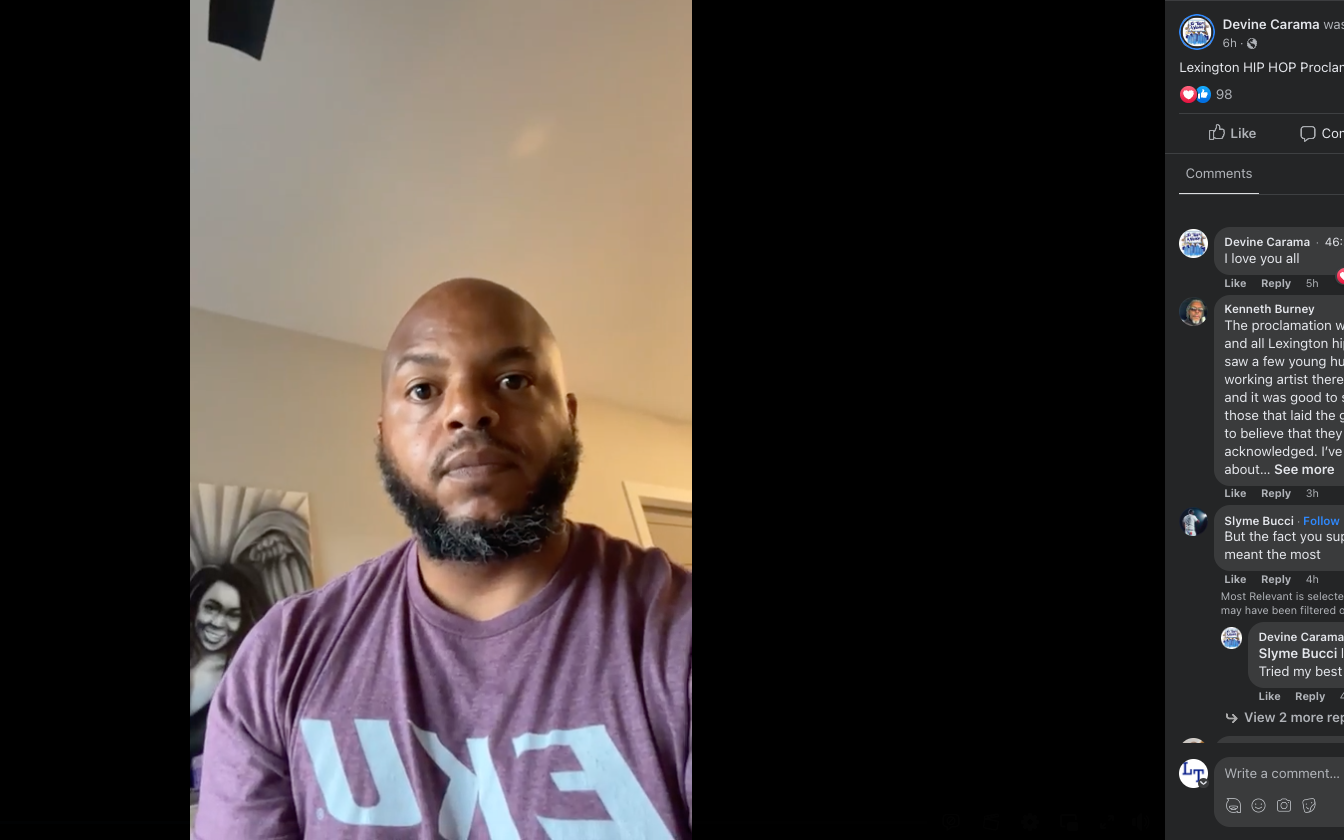 LEXINGTON, KY — In a heartfelt and candid Sunday Facebook Live session, local hip-hop artist and community activist Devine Carama announced his decision to remove his name from the artists honored on the Lexington Hip-Hop Day proclamation, emphasizing the importance of integrity, community, and the bigger message that "hip-hop is bigger than you."
Carama's decision comes in response to the recent controversy surrounding the proclamation, aimed at recognizing the cultural significance of hip-hop in Lexington. During the live session, Carama addressed community concerns about the proclamation's execution and the lack of inclusivity in the process.
In a passionate statement, Carama said, "First and foremost, I was a part of curating the honorees for this first round. I cannot be a part of curating this process and then have my name on it. That's not hip hop, bro. I do believe I deserve to be acknowledged and I put in my work so on and so forth, but I need to be chosen by the people."
Carama's says his decision to withdraw his name reflects his commitment to the core values of hip-hop culture and his belief in leading by example. He further explained, "So I can be a part of curating this process and in my name, be on the winner. Now, you know, I cringe now when I think of that, you know, and in hindsight, that should have never been allowed to go. So I'm going to remove my name from this first round because my bigger message to the community tonight is hip hop is bigger than you."
It's not even a debate. Like, God spoke that to me

Devine Carama on his decision to remove his name from the Lexington Hip-Hop Day proclamation
In his closing remarks, Carama called for unity and collaboration within the hip-hop community, urging fellow artists and enthusiasts to come together to create an environment that truly reflects the spirit and values of hip-hop in Lexington.
The Facebook Live session has since been shared widely on social media, with many expressing support for Carama's decision and others engaging in a broader conversation about the selection process and the role of hip-hop in the cultural landscape of Lexington.
---
Top photo: Screengrab from Devine Carama's Facebook Live session on Sunday.
Recommended Posts
Wed, September 20, 2023
Wed, September 20, 2023