Lexington Passenger Rail proposal sparks unprecedented community interest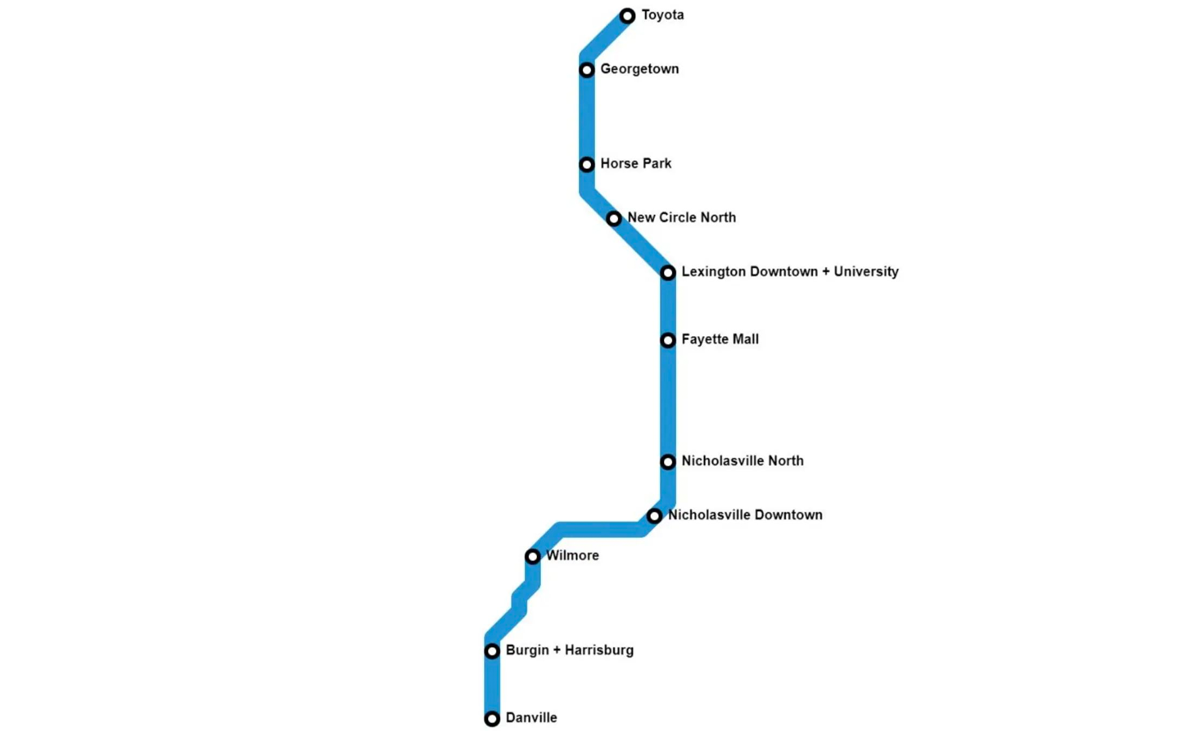 LEXINGTON, KY — A recent proposal for a passenger rail system in Lexington has ignited an extraordinary wave of community interest and support, marking a potentially transformative moment for the city's transportation landscape.
Spencer Stelzer-Weise, the visionary behind the proposal, presented the idea at the Lexington Public Library on July 30. The presentation, titled "Lexington Passenger Rail," outlined a comprehensive plan for implementing various types of rail systems, including commuter rail, light rail, and hybrid rail, with an estimated cost of $200 million.
The proposal's phases include a trial run between Nicholasville and the University of Kentucky Campus, extensions to Georgetown, infill stations, and southern expansion. Potential partners such as R J Corman and major employers along the route were identified, along with future projects like Bypass Rail and Amtrak connections.
The Lexington Times shared a map from Stelzer-Weise's proposal on Facebook, garnering an unprecedented response. The post reached over 518,000 people, with 55,200 engagements and 841 shares, making it the most popular post on the page by a factor of at least 10.
Paul Oliva, the Lexington Times Web Editor, expressed astonishment at the response, stating, "The interest in the Facebook post was like nothing I'd ever seen before. It's a testament to the community's desire for innovative transportation solutions and a reflection of the proposal's potential to reshape our city."
A Facebook group, set up on the recommendation of Lexington councilmember Dave Sevigny, has quickly grown to 925 members, with commenters expressing enthusiasm and support. Comments ranged from "This would be amazing!" to "Please!!! This would be awesome!" and "Make this happen, please!"
The proposal also resonates with historical efforts to establish a rail system in the region. A 2012 article by Smiley Pete detailed a similar proposal by Ralph Tharp, executive director of the Kentucky Capital Development Corporation, emphasizing the existing track and right of way and a potential cost of $110 to $120 million.
The current wave of community interest represents more than just support for a transportation project; it signifies a collective aspiration for sustainable and connected living. The social media engagement provides valuable insights into public opinion and offers a platform for continued dialogue and collaboration.
As Lexington explores the possibilities of passenger rail, the community's voice rings clear: the time for innovation is now, and the city is ready to embark on a journey toward a more connected and sustainable future.
---
Top photo: Proposed central Kentucky passenger rail route. (Spencer Stelzer-Weise)
Recommended Posts
Tue, September 26, 2023
Mon, September 25, 2023