One-fourth of Kentuckians say they have ever been diagnosed with depression; only W.Va. was higher in national CDC survey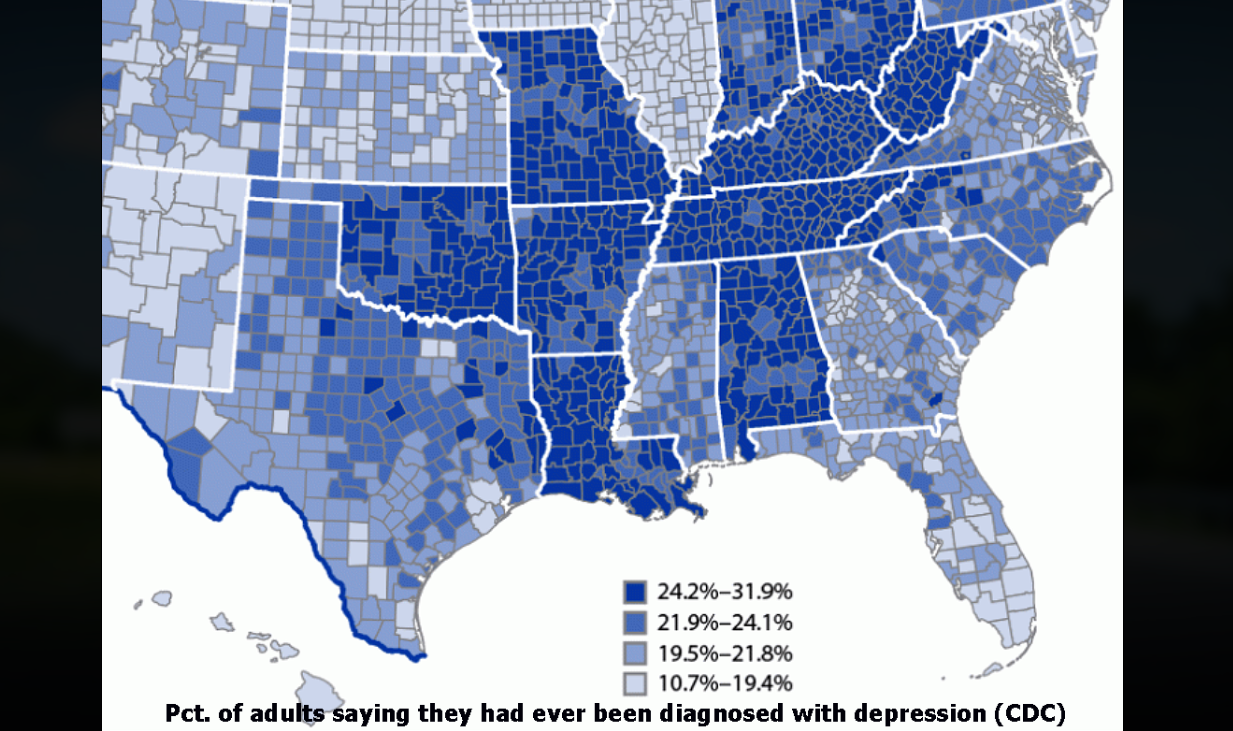 By Al Cross, Kentucky Health News
One in four Kentucky adults in a poll taken in 2020 said they had ever been diagnosed with depression, a higher share than in any state but West Virginia.
Kentucky's age-adusted percentage was 25%; West Virginia's was 27.5%. The national figure in the poll, taken by the Centers for Disease Control and Prevention, was 18.4%.
The poll was taken by the Behavioral Risk Factor Surveillance System, an ongoing CDC-state project in which state employees do random-digit–dialed landline and cell phone calls to adults. The question was, "Has a doctor, nurse, or other health professional ever told you that you had a depressive disorder, including depression, major depression, dysthymia, or minor depression?"
In Kentucky, the county with the highest age-adjusted percentage of people answering "yes" was Wolfe County, at an estimated 30.7%. (That was the most likely percentage in a range of 28.8% to 32.5%, at a confidence level of 95%, or 19 out of 20 cases.)
The rest of the top 10 were Harlan, 29.7% (27.9-31.6); Jackson, 28.9% (27.1-30.9); Casey, 28.9% (27.1-30.7); Clay and Magoffin, 28.8% (27.1-30.6); Bell and Knox, 28.7% (27-30.5); Letcher, 28.6% (26.9-30.5); and Lewis, 28.6% (26.9-30.4). Figures for all counties can be downloaded here.
The 29 counties with the highest estimated shares of reported depression, and 38 of the top 40, were in Appalachia as defined by the Appalachian Regional Commission, which includes 54 Kentucky counties. The highest estimated rate, 31.9%, was in Logan County, West Virginia.
Most states with the highest levels of reported depression were in Appalachia, the southern Mississippi Valley, Missouri, Oklahoma, and Washington, the CDC said in reporting the data. It noted, "Depression is a major contributor to death, illness, disability, and economic costs."
In Kentucky, the counties with the lowest rates of reported depression were Oldham, 21.9%; Boone, 22%; Lyon, 23.6%; Shelby, 23.8%; Fayette, Hardin and Woodford, 24%; Jefferson, 24.2%; Christian, 24.3%; Nelson, 24.4%; Jessamine, 24.5%; Scott and Spencer, 24.6%; Bullitt, 24.7%; and Boyle, 24.8%.
Generally, high-income counties had lower rates of reported depression, and low-income counties had higher rates. Reported depression was "higher in women, younger adults, and adults with lower education levels," the CDC said.
Having been diagnosed with depression is not the same thing as having had depression. Another CDC survey in 2020 asked people if they had suffered symptoms of depression, and at one point 31% of Kentuckians in the poll said they had.
---
Kentucky Health News is an independent news service of the Institute for Rural Journalism and Community Issues, based in the School of Journalism and Media at the University of Kentucky, with support from the Foundation for a Healthy Kentucky.
Image by Kentucky Health News
Recommended Posts
Fri, September 29, 2023
Fri, September 29, 2023
Thu, September 28, 2023