Cameron joins four AGs in warning law firms to end race-based hiring practices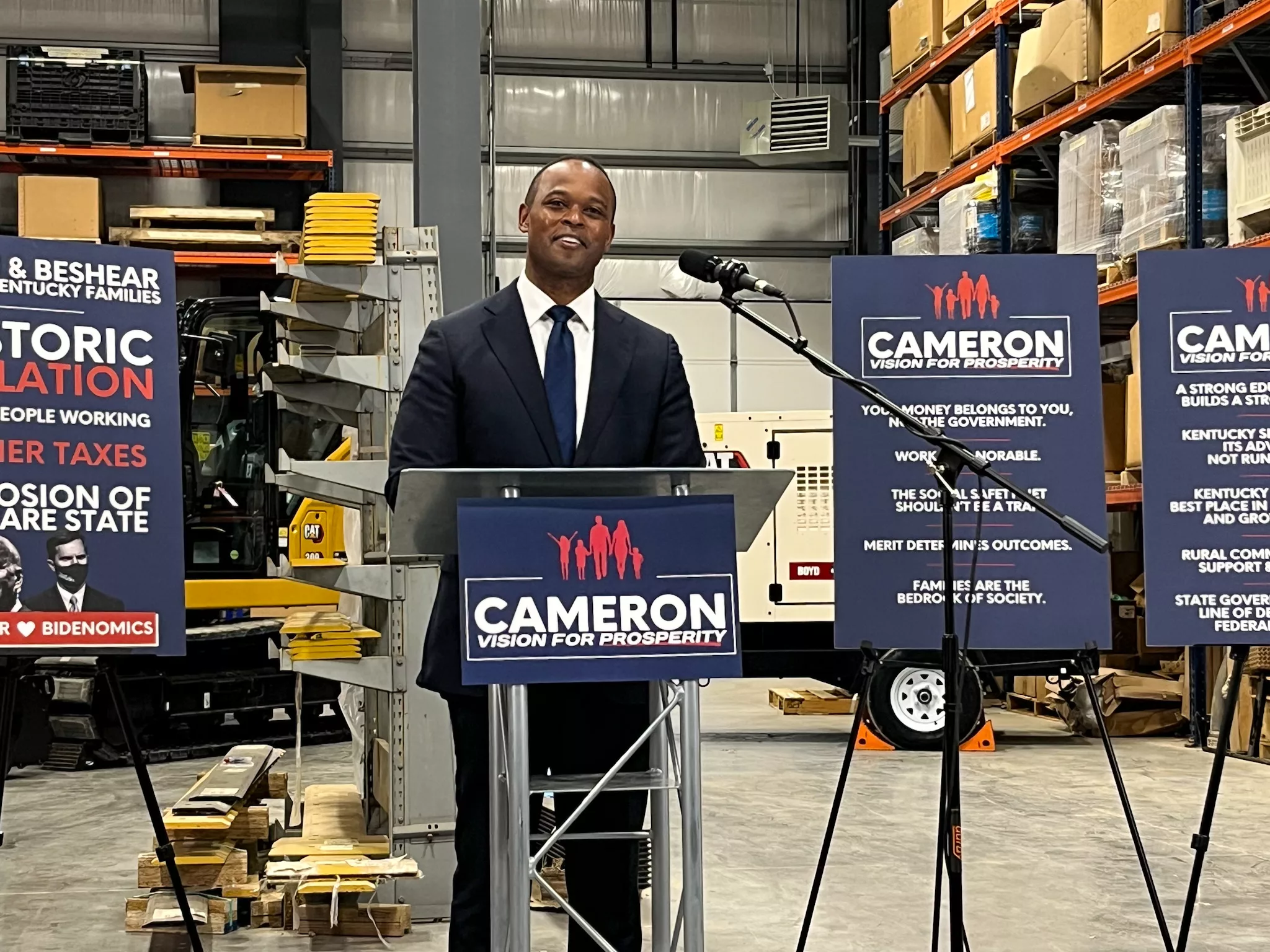 Kentucky Republican Attorney General Daniel Cameron joined a group of GOP attorneys general in warning 100 of the nation's largest law firms against using race-based hiring practices for employment and contract workers. 
The nine-page letter sent on Tuesday to executives of American Lawyer 100 Firms calls for the firms to "refrain from discriminating on the basis of race, whether under the label of 'diversity, equity, and inclusion,' or otherwise." It cites a recent Supreme Court ruling which overturned affirmative action policies in college admissions. 
"We strongly advise you to immediately terminate any unlawful race-based quotas or preferences that your firm has adopted for its employment and contracting practices," the letter reads. "If you choose not to do so, know that you will be held accountable — sooner rather than later — for treating individuals differently because of the color of their skin."
Montana Attorney General Austin Knudsen led the group in sending the letter. Along with Cameron, attorneys general in Arkansas, Iowa and Kansas signed on.  
"Kentucky should be a place where everyone can succeed, not just those who were born on third base to check a DEI (diversity, equity and inclusion) box."

– Daniel Cameron at a Wednesday campaign event
Cameron, who is seeking to unseat incumbent Democratic Gov. Andy Beshear this fall, signed a similar letter last month calling for the CEOs of Fortune 100 companies to "comply with these race-neutral principles in your employment and contracting practices" or face legal consequences. 
In a news release, his office said the letters were part of Cameron's "fight against woke ideology," which also includes telling asset managers to not push environmental, social, and governance (ESG) investments and calling out Target for its Pride campaign that caused controversy online for including "tuck-friendly" swimsuits for adults. 
"Suppressing equal opportunity in the name of identity politics is a slap in the face to the promise of the American Dream for all," Cameron said in the release. "There is no excuse for this racially discriminatory approach. Leaders of our largest law firms should be watchdogs against these crooked practices rather than contributing to race-based barriers themselves."
At a campaign event for media on Wednesday, Cameron unveiled  his guiding economic principles as governor, including "merit should determine outcomes."
"Kentucky should be a place where everyone can succeed, not just those who were born on third base to check a DEI (diversity, equity and inclusion) box," Cameron said at the news conference at Boyd CAT Rental in Louisville. 
Other economic policies touted by Cameron included directing the Cabinet for Health and Family Services to add work requirements for able-bodied individuals who receive Medicaid, eliminating the state income tax and launching a review of how state cabinets are interpreting federal rules.
In response to Cameron's "Vision for Prosperity," Alex Floyd, a spokesman for the Beshear campaign, said: "Andy Beshear has cut taxes while bringing record-breaking economic investment to Kentucky year after year. Daniel Cameron's reckless plan is just a rerun of the Matt Bevin playbook of cutting health care access, privatizing our public schools, and raising taxes on working families to pay for a tax giveaway for the wealthy. Andy Beshear has been one of the best governors for economic development in the history of the Commonwealth; Cameron is offering tired, failed ideas that would set us back."
Beshear earlier this year signed the Republican legislature's top priority, a cut in the state income tax, although Beshear said lowering the sales tax would have helped more Kentuckians. In 2022, Beshear vetoed legislation that lowered the state income tax rate while imposing sales taxes for the first time on some services; the Republican legislature overrode his veto.
---
Kentucky Lantern is part of States Newsroom, a network of news bureaus supported by grants and a coalition of donors as a 501c(3) public charity. Kentucky Lantern maintains editorial independence. Contact Editor Jamie Lucke for questions: info@kentuckylantern.com. Follow Kentucky Lantern on Facebook and Twitter.
Photo: Attorney General Daniel Cameron talks economy during campaign news conference at Boyd CAT Rental in Louisville. (Kentucky Lantern photo by McKenna Horsley)