Proposed development across from Jacobson Park includes gas station, restaurant, apartments; will go before Council next week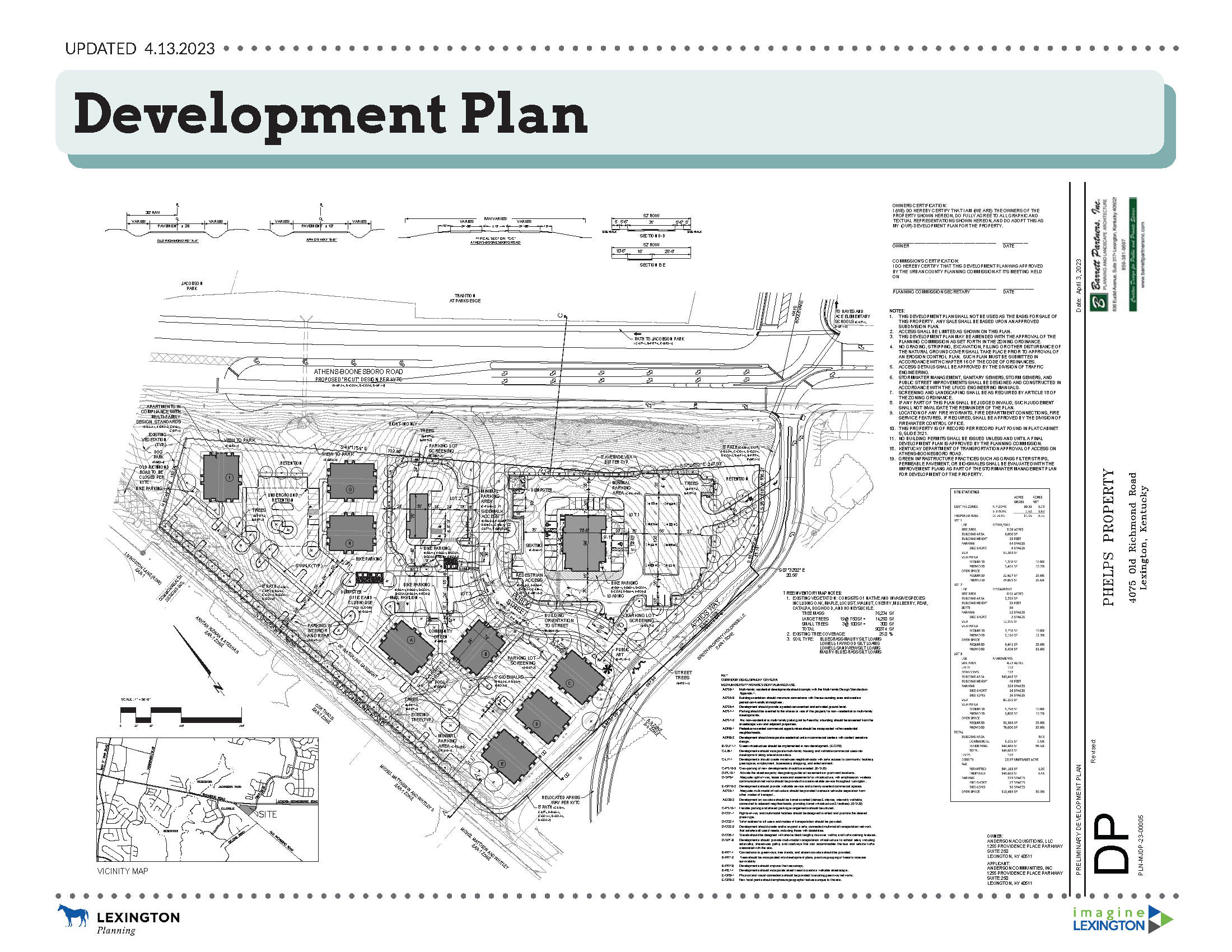 by Paul Oliva, The Lexington Times
Lexington, KY – A proposed mixed-use development across from Jacobson Park at 4075 Old Richmond Road is stirring up community debate as it heads for its first reading at the Urban County Council meeting on September 14. The developer, Anderson Communities, Inc., seeks to rezone the currently undeveloped land from Agricultural Rural (A-R) and Highway Service Business (B-3) to a Community Center (CC) zone.
Anderson Communities, Inc. has ambitious plans for the 8.36 net acres (11.95 gross acres) of previously undeveloped land. The proposal includes an automobile service station, a coffee shop, and eight multi-family apartment buildings. These four-story buildings will house a total of 192 single-bedroom units, boasting a density of 40.67 units per net acre. The development also promises amenities like a dog park, fitness center, and swimming pool. To accommodate both residential and commercial activities, 279 parking spaces are planned.
Community Concerns
The development's proximity to Jacobson Park and its location in a previously undeveloped area have raised several concerns among local residents. Objections range from worries about increased traffic and its impact on safety to concerns about the area's water supply. Additionally, the prospect of a 24-hour convenience store has led to apprehensions about noise and light pollution. One resident has even submitted a petition opposing the development, arguing that the voices of those in rural areas are often sidelined in such matters.
Planning Commission's Perspective
While the Planning Commission has noted that the proposal diverges from the Expansion Area Master Plan (EAMP)—which recommends low-intensity residential development with 0-3 units per acre—they have also pointed out that the plan doesn't align with the Community Center design elements required by both the Zoning Ordinance and EAMP.
The developer contends that the project aligns with the 2018 Comprehensive Plan, particularly in providing a variety of housing types and supporting strategic growth.
Next Steps
The ordinance is scheduled for its first reading at the upcoming Urban County Council meeting and must be heard by November 8, 2023. While the Planning Commission's vote did show some opposition, the focus now shifts to how the Council will weigh the development's potential benefits against the community's concerns.
As Lexington continues its trajectory of growth, the tension between development and community interests remains a hot-button issue, especially in transitional areas like the one across from Jacobson Park.
Recommended Posts
Fri, September 29, 2023
Fri, September 29, 2023
Thu, September 28, 2023