Town Branch Park receives $1M federal urban forestry grant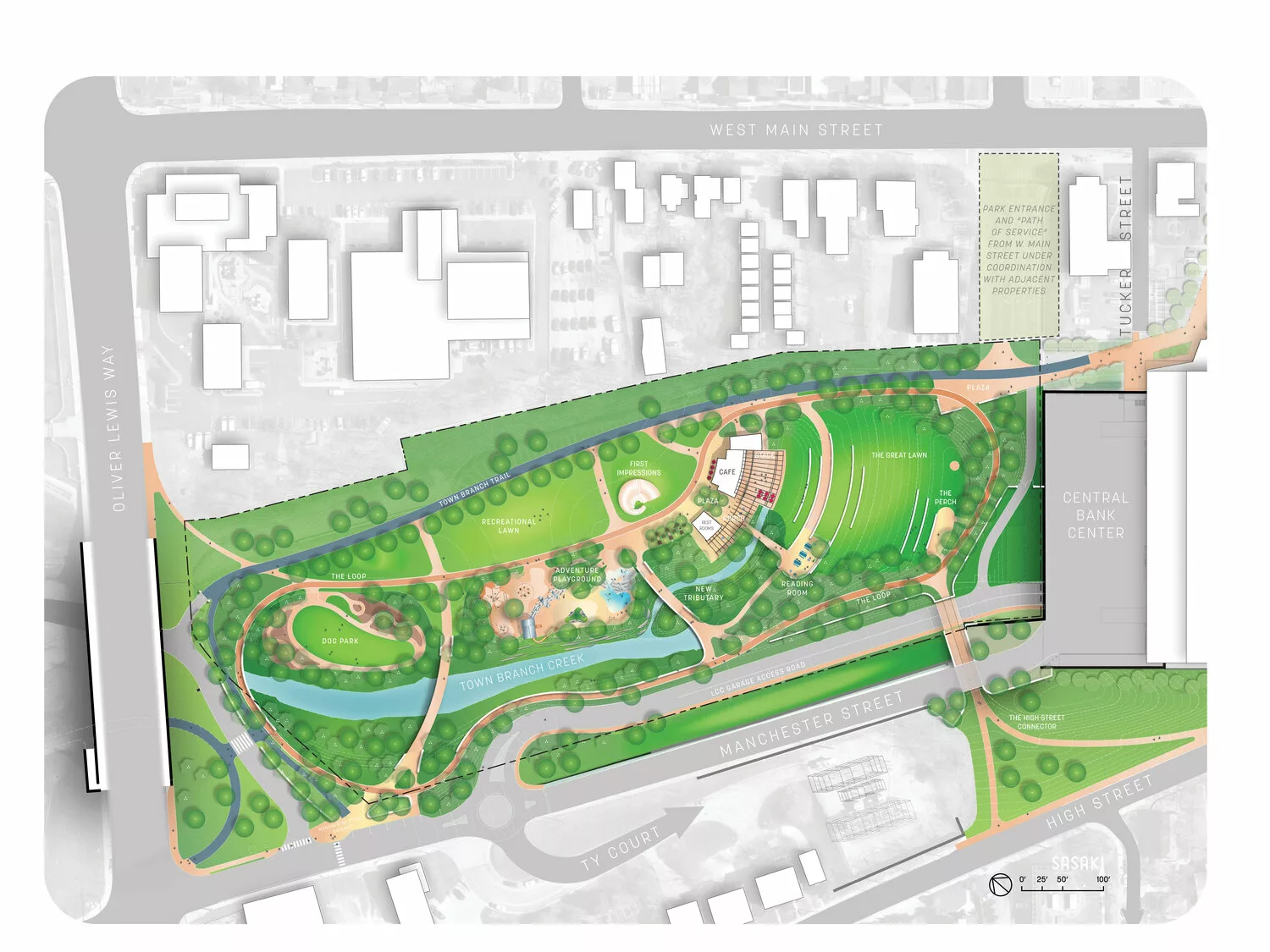 LEXINGTON, Ky. — Town Branch Park, an 11-acre land reuse project in downtown Lexington, has received a $1 million federal grant from the U.S. Department of Agriculture's Forest Service. The grant is part of a larger initiative announced by Agriculture Secretary Tom Vilsack on Thursday, which aims to invest more than $1 billion in nearly 400 projects across the United States.
The USDA's initiative is the largest single investment to date in urban and community forests. It targets communities where more than 84% of Americans live, work, and play. The funding is covered by the Justice40 Initiative and made possible by President Biden's Inflation Reduction Act, described as the largest climate investment in history.
Town Branch Park aims to transform asphalt parking into Lexington's first park conservancy-led green space. The USDA grant awards says the project focuses on increasing access to nature for BIPOC neighborhoods, reducing urban heat, improving stormwater management, and expanding the urban tree canopy. It aligns with the USDA's broader goals of combating extreme heat and climate change, and improving access to nature in urban areas.
According to the USDA, community input is a cornerstone of the Town Branch Park project. The park plans to involve local residents in its development, ensuring the green space meets the needs and expectations of the community it serves. This approach is in line with the USDA's emphasis on increasing equitable access to trees and nature, and the benefits they provide for cooling city streets, improving air quality, and promoting public health and safety.
Other Kentucky Projects
The grant is one of several awarded to Kentucky-based projects. The City of Newport received nearly $1 million for its Newport Westside Reforestation project. The Kentucky Association for Environmental Education was awarded $526,500 for initiatives that include green career exploration for students. Louisville Jefferson County Metro Government received $12 million for its Louisville Equitable Forest Initiative.
A Step Towards a Greener Future
The federal grant marks a significant step in Lexington's efforts to become a more sustainable and inclusive city. It not only addresses immediate environmental concerns but also lays the groundwork for future green initiatives, in line with the Biden-Harris Administration's commitment to environmental justice and the Justice40 Initiative.
For more information on the USDA's urban forestry grants and the projects they are funding, visit the USDA's official press release.
---
Top image: Town Branch Park rendering. (Town Branch Park Design Index)
Recommended Posts
Sat, September 23, 2023
Fri, September 22, 2023