'Picture of Homelessness in Lexington' a stark reality amidst claims of prosperity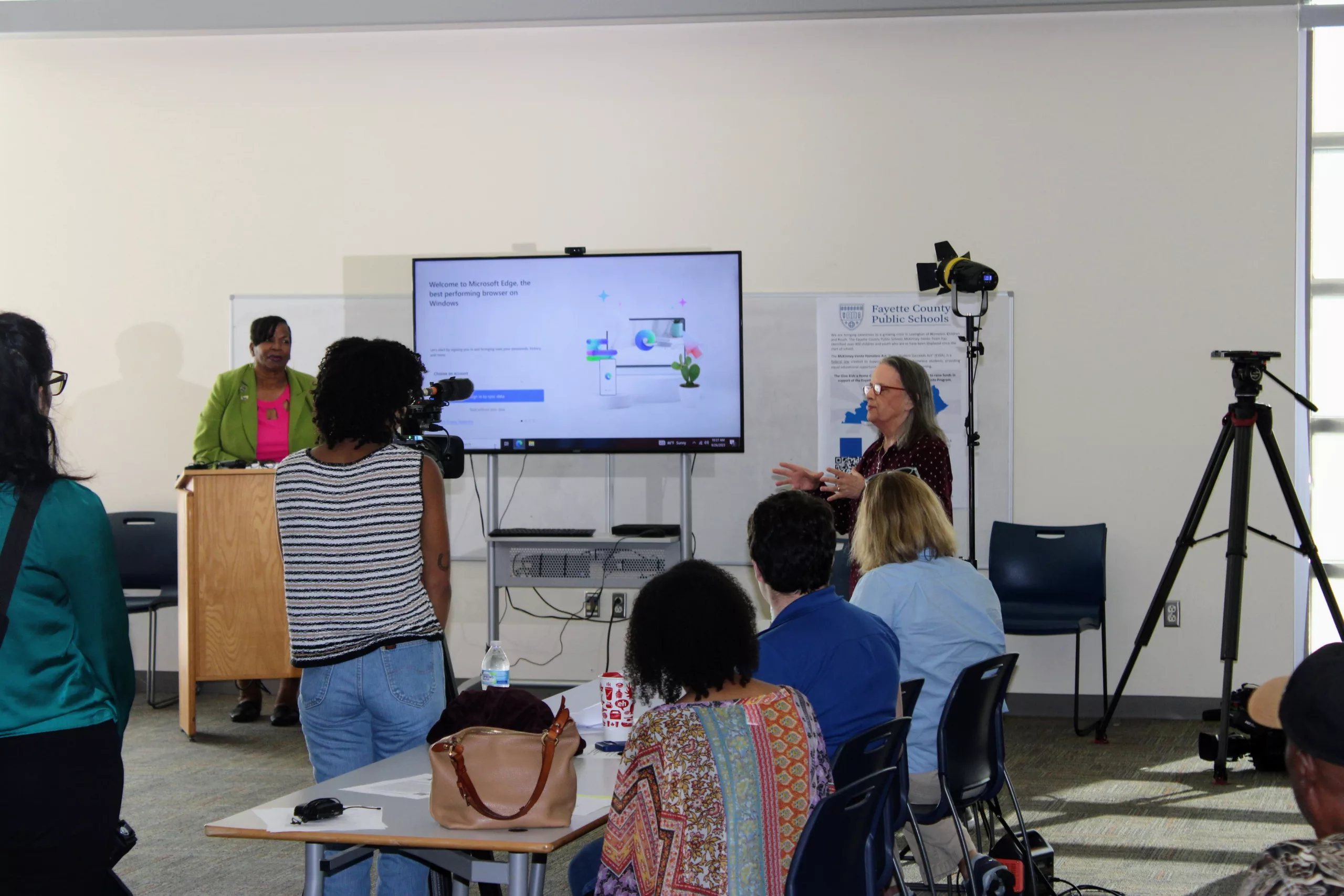 by Paul Oliva
LEXINGTON, Ky. — A press conference held Tuesday at Northside Library by "Picture of Homelessness in Lexington" revealed alarming statistics about the city's homeless population. A comprehensive survey conducted by Catholic Action Center (CAC), Central KY Housing and Homeless Initiative (CKHHI), and Street Voice Council, found that Lexington is home to 2,410 homeless individuals, including 453 children.
District 1 Councilmember Tayna Fogle expressed her dismay at the numbers, contrasting them with the often optimistic portrayal of Lexington by city officials. "We speak about, in City Council, how we are thriving in Lexington. But if there is one child who is homeless, that is not thriving. But 500. That's unbelievable. And not on my watch. Something must be done in the City of Lexington," said Fogle.
Discrepancy in Numbers
The survey's findings starkly contrast with the city's most recent official count of 815 homeless individuals. Jarred Paull, co-chair of CKHHI, noted that the city's previous numbers were "incorrect," but they lacked the data to dispute it at the time. "That is the origin of this survey," Paull said.
Breakdown of the Homeless Population
According to a presentation by Catholic Action Center board member Laura Babbage, the recent street survey found:
751 in homeless individuals in recovery programs
412 unsheltered (camps, vehicles, abandoned buildings)
406 in shelters
360 "doubled up" or couch surfing
257 adults and 91 children in hotels/motels
57 in hospitals
76 in detention centers
Funding Questions
The Lexington Council is contemplating an ordinance that would allocate 0.3% of the general fund budget per year to the Office of Homelessness Prevention and Intervention, totaling about $1.5 million. However, the office's effectiveness has recently been questioned, particularly after a $233,763 PR campaign aimed at 'permanently ending homelessness in Lexington' yielded negligible results.
Kentucky's Homeless Youth Crisis
TC Johnson, director of Fayette County Public Schools McKinney-Vento Program, said the number of homeless children in Lexington will likely top 900 before the end of the year. According to the National Center for Homeless Education, Kentucky has one of the highest percentages of homeless kids in schools. In the 2019-2020 academic year, approximately 3.1% of all children in Kentucky public schools were homeless.
Donations will be collected by the 501(c)3 Divine Providence, Inc dba Catholic Action Center from Sept. 26 to Jan. 31, 2024. All donations are tax-deductible and will be transferred in full to the McKinney-Vento Program for temporary or permanent housing assistance. Donations can be made by check or money order mailed to Give Kids a Home, P.O. Box 324, Lexington, KY 40588.
The sobering statistics and the city's lackluster response to the homelessness crisis raise questions about the gap between public perception and the lived experiences of Lexington's most vulnerable residents. As Councilmember Fogle emphasized, "Something must be done."
Listen to the full press conference audio here
---
Top photo: Catholic Action Center Executive Director Ginny Ramsey (right) speaks at Tuesday's press conference. (The Lexington Times)
Recommended Posts
Thu, November 30, 2023
Wed, November 29, 2023
Wed, November 29, 2023