Lexington Opioid Abatement Commission hears of funding strategies, lack of detox facilities at jail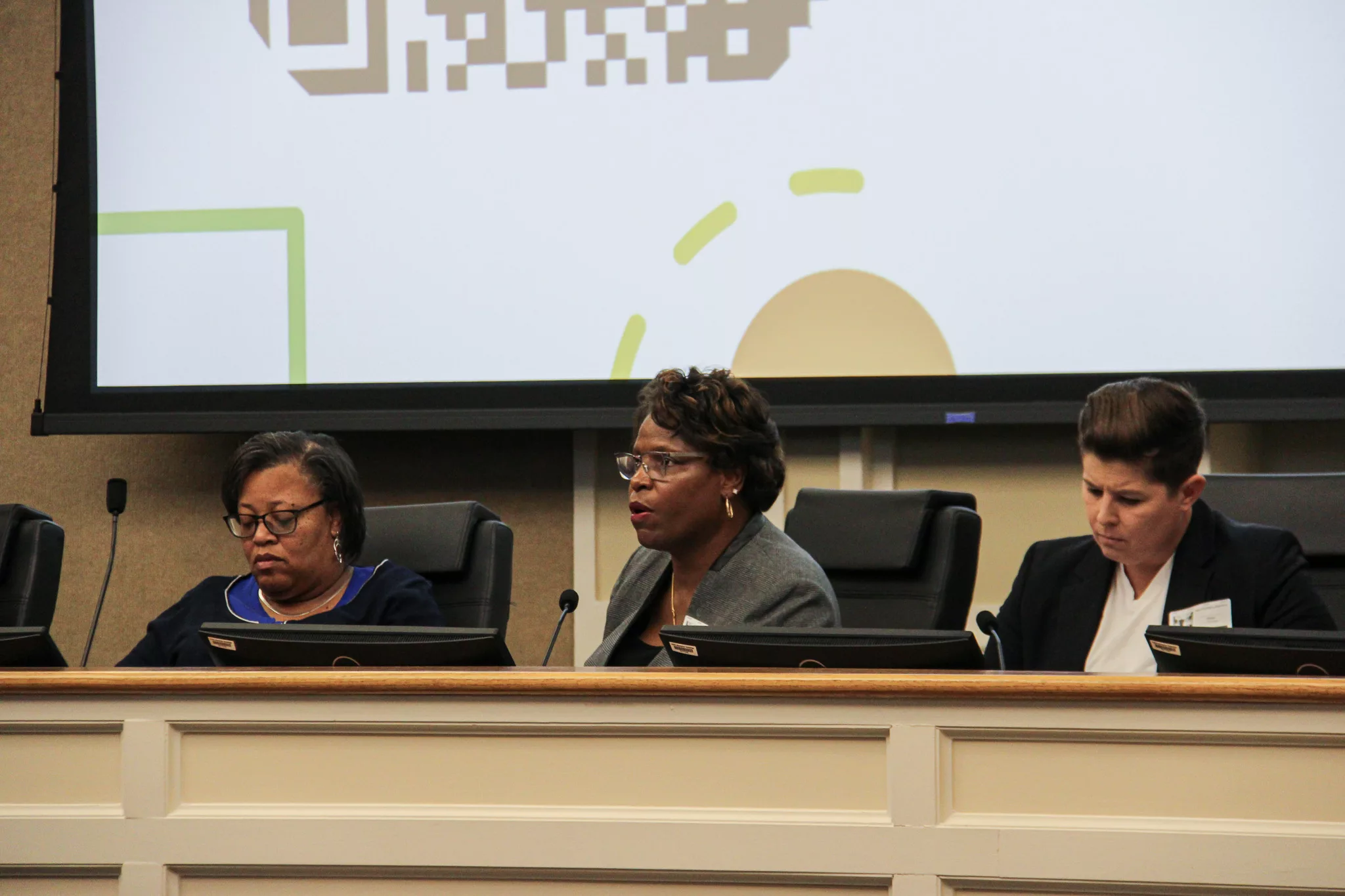 LEXINGTON, Ky.–Lexington's Opioid Abatement Commission met Friday in Council Chamber for its first regular meeting. The Commission's purpose is to recommend uses for Lexington's share of the National Opioid Litigation Settlement. The meeting featured a presentation that included nine strategies from Johns Hopkins for spending funds and a special public comment period which revealed concerns around the lack of medical detox facilities at the Fayette County Detention Center. Mayor Linda Gorton, who appointed the Commission, was present in the gallery for the first portion of the meeting.
Strategies for spending funds
Carmen Combs Marks, the City's new Substance Use Disorder Intervention (SUDI) Program coordinator, presented the commission with information on the national opioid crisis and the National Opioid Litigation Settlement. Her presentation included nine core abatement strategies from Johns Hopkins' "Primer on Spending Funds from the Opioid Litigation: A Guide for State and Local Decision Makers."
These nine core abatement strategies are:
Broaden access to naloxone
Increase use of medications to treat opioid use disorder
Provide treatment and supports during pregnancy and the postpartum period
Expand services for neonatal opioid withdrawal syndrome
Fund warm hand-off programs and recovery services
Improve treatment in jails and prisons
Enrich prevention strategies
Expand harm reduction programs
Support data collection and research
Marks said her office would use an assessment tool provided by "Recovery Ready Communities" to evaluate "what Lexington already has in place and how we […] can provide support to what's working." She recommended the Commission incorporate those results into the nine core abatement strategies.
Opioid withdrawal syndrome at Lexington's jail
Opioid addicts who abruptly cease usage of opioids experience debilitatingly painful symptoms for some time. According to the National Medical Library, opioid withdrawal syndrome is "a life-threatening condition resulting from opioid dependence." Despite these risks, one public commenter told commissioners that Lexington's jail, the Fayette County Detention Center (FCDC), does not provide medical detox for incarcerated people experiencing opioid withdrawal syndrome. 
In an emotional public comment, Laverne Zabielski said her daughter had recently been incarcerated at FCDC while withdrawing from opioids. "In order to detox, she was immediately placed in 'the hole,' a small cell, maybe four by six, where she was held for seven days," Zabielski stated. "On the second day, she called begging me to bail her out. It wasn't the request that was disturbing. It was her screaming, crying, begging and pleading […] it was as though I was watching a war movie and listening to a prisoner being tortured with their fingernails being ripped off […] What could she have done to deserve this treatment?"
Zabielski said her daughter's treatment while experiencing opioid withdrawal syndrome at FCDC demonstrates the need for better detox services there. "This treatment shows how little the jail understands that an opioid addiction is a disease and that detox is very painful," she told the Commission. She asked them to urgently consider recommending funds for detox services at the FCDC. "The abatement money is here, can we at least use some of it to heighten this type of awareness without having to wait 'til June? We need both elements of a calm panic to face this crisis. The urgency of panic, the calm of deliberation."
In November 2022, the US Attorney's Office reached a settlement agreement with FCDC to ensure that people who are prescribed medication to treat opioid use disorder (OUD) can remain on their medication while in custody, as required by the Americans with Disabilities Act (ADA). The settlement agreement resolved a compliance review that determined, "as a matter of policy," FCDC did not provide most individuals with OUD with methadone and buprenorphine, medications that treat OUD. The settlement agreement required FCDC to revise its policies to "provide access to all three forms of medications to people with OUD and ensure that decisions about treatment are based on an individualized determination by qualified medical personnel." OUD is considered a disability under the ADA.
An LFUCG spokesperson did not respond to emailed questions regarding FCDC's treatment of inmates experiencing opioid withdrawal syndrome.
---
Top photo: (From left) Commonwealth's Attorney Kimberly Baird, Chair Stephanie Raglin, and Vice Chair Tara Stanfield at Friday's Opioid Abatement Commission meeting. (The Lexington Times)
Recommended Posts
Thu, December 7, 2023
Wed, December 6, 2023