Where the Sidewalk Ends: One man's battle with Lexington City Hall ends in a lesson for all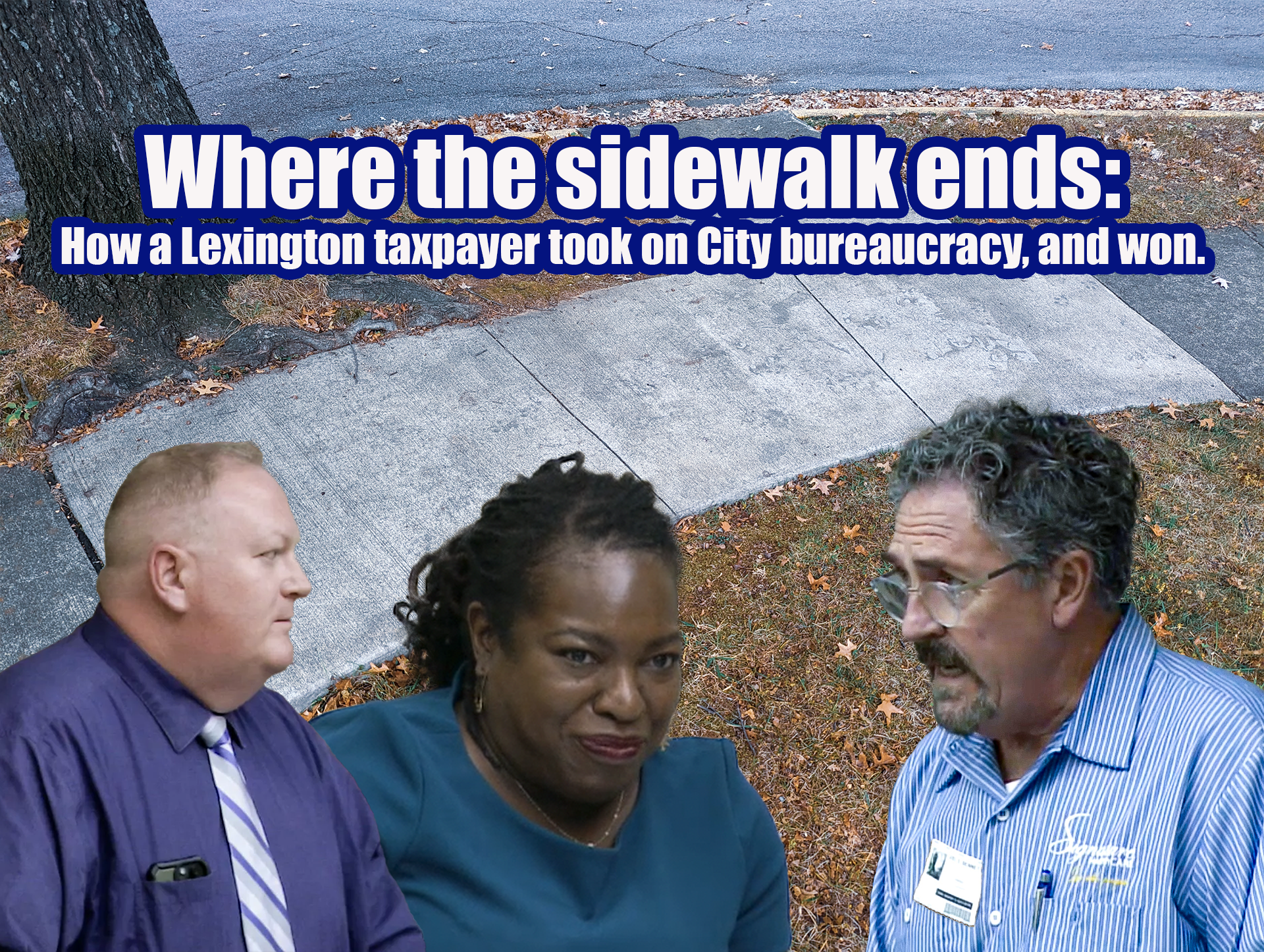 LEXINGTON, Ky. — Joel Bennett is a nursing home social worker, but he recently found himself fighting a different kind of battle — one with Lexington's city bureaucracy. Armed with persistence, Bennett has navigated a maze of red tape, setbacks, and disappointments, eventually taking his grievance directly to the Lexington-Fayette Urban County Council. His takeaway from the ordeal? "Don't be afraid to approach the throne," Bennett says, encouraging Lexington residents to demand accountability from their elected officials.
Bennett's journey began in January 2020 when he received a notice from Code Enforcement to repair the sidewalk outside his home off Liberty Road. He says he acted promptly, completing the necessary work within three weeks. Although he was given literature on the city's sidewalk repair grant program, Bennett was told he would have to wait for further funding to apply for reimbursement. With the pandemic taking hold shortly thereafter, he focused his energy on caring for COVID-19 patients and following strict safety protocols at his workplace.
After pandemic safeguards had been lifted and City workers returned to the office, Bennett contacted the City about his reimbursement application, which requested $529 to offset his repair cost of approximately $900. He received a response from staff stating that his application could not be processed because the deadline had passed. After receiving this notice, Bennett emailed his District 6 councilmember, Denise Gray, but received no response.
Feeling frustrated and unheard, Bennett took his grievance directly to the Urban County Council's September 12 work session. In his public comment, he cited inconsistencies in the city's handling of civic projects, particularly the recent extension given to a $4250 Neighborhood Match Program sidewalk repair project.
His public plea yielded some results. Housing Advocacy and Community Development Commissioner Charlie Lanter agreed to review his case and Councilmember Denise Gray, whom Bennett had unsuccessfully tried to contact earlier, also spoke with him after the meeting. Bennett says Gray claimed she never received his emails, even after he was able to show her the messages on his phone.
Housing Advocacy and Community Development Commissioner Charlie Lanter finally offered Bennett a reduced amount of $389. Lanter cited a change in the cost of concrete between 2020 and 2023 as the reason for the cut. This offer came after Lanter told Bennett staff had discovered that his application had been "misplaced" by the city, possibly because it was submitted two days before the onset of the COVID-19 shutdown.
Still, Bennett was not deterred. When Lanter emailed him the reduced reimbursement offer, Bennett countered, asking for an additional $96 to cover parking and time off work he had taken to attend the council meeting. "Six dollars for parking and three hours at $30 per hour," Bennett reasoned. Lanter did not honor this request and the City issued Bennett a $389 check in early October.
While Bennett's battle for reimbursement may be unique, his experience exposes gaps in the city's responsiveness and consistency. It's a lesson for all Lexingtonians who find themselves ensnared in the complexities of local government. "Don't be afraid to approach the throne," Bennett advises, believing that direct action can yield results, even if they are not as satisfying as one would hope. And as for Bennett himself, while he may not have received the full reimbursement, his willingness to take a stand proves that the individual still has a voice, even if they have to take it all the way to City Hall.
Updated Oct. 18, 2023.
Recommended Posts
Sun, December 3, 2023