Lexington's Soccer Stadium Deal: A Question of Priorities Amid Housing Crisis and Low-Wage Jobs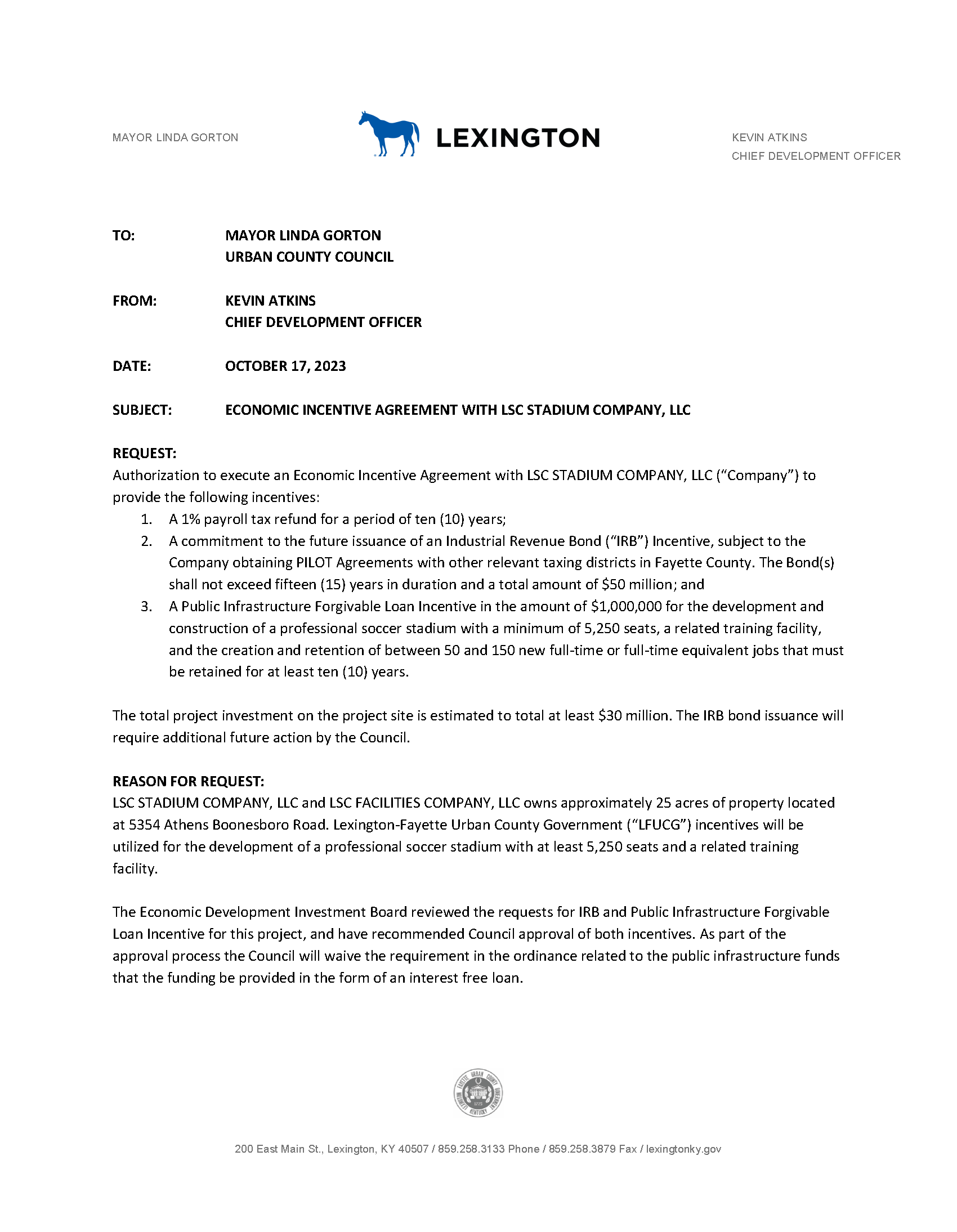 LEXINGTON, Ky. — As the Lexington-Fayette Urban County Government (LFUCG) prepares to finalize an Economic Incentive Agreement with LSC Stadium Company, LLC, the focus on a new professional soccer stadium raises questions about the city's priorities. The deal, set for discussion at Tuesday's Council Work Session, comes at a time when Fayette County is grappling with an affordable housing crisis and the recent allocation of $211,588.03 for a new welcome sign near the proposed complex.
The Incentive Details
The proposed agreement includes a 1% payroll tax refund for ten years, an Industrial Revenue Bond (IRB) not exceeding $50 million for up to 15 years, and a Public Infrastructure Forgivable Loan Incentive of $1 million.
In Fayette County, the standard payroll tax rate is 2.25%. The proposed 1% payroll tax refund for the stadium project would therefore equate to a 44.4% reduction in tax revenue from the newly created jobs over a ten-year period. 100 new jobs with an annual salary of $50,000 each would generate $112,500 in tax revenue per year, amounting to $1,125,000 over a decade. With the proposed 1% payroll tax refund, LSC Stadium Company stands to save $500,000 over the same ten-year period, representing a significant reduction in potential public funds.
These incentives aim to facilitate the construction of a professional soccer stadium with at least 5,250 seats, a related training facility, and the creation of between 50 and 150 new full-time or equivalent jobs for at least ten years.
Jobs: Quantity Over Quality?
While the project promises to create between 50 and 150 new jobs, the nature of these jobs remains a concern. Many are expected to be low-wage positions, which poses the question: Will these workers even be able to afford to live in Lexington? The irony of a welcome sign near the complex, funded to the tune of $211,588.03, becomes apparent. It may serve less as a welcome to visitors and more as a daily greeting to workers who can't afford to reside in the city they serve.
Housing Crisis: The Elephant in the Room
Fayette County is currently facing an affordable housing crisis, with a significant shortage of low-income housing options and rising rents. The decision to invest in a soccer stadium and a welcome sign, therefore, raises questions about the allocation of public funds. Is the city prioritizing the right kind of development to meet the most pressing needs of its residents?
Economic Development vs. Social Needs
The Economic Development Investment Board has recommended Council approval for the stadium project, citing it as an economic driver for an "underdeveloped" part of Fayette County. However, the term "underdeveloped" can be subjective. For residents struggling with housing, the development of affordable homes would be a more pressing need than a sports facility.
As the proposal heads to the Council for approval, it's crucial to scrutinize not just the economic benefits but also the social implications of such a project. The allocation of significant public funds for a soccer stadium and a welcome sign, especially when many residents are struggling with basic living costs, calls for a reevaluation of the city's priorities. The upcoming Council meeting offers an opportunity for the community to voice these concerns and demand a more equitable distribution of resources.
Recommended Posts
Thu, December 7, 2023
Wed, December 6, 2023