Poll shows Beshear, Cameron in dead heat; most voters say they oppose current abortion law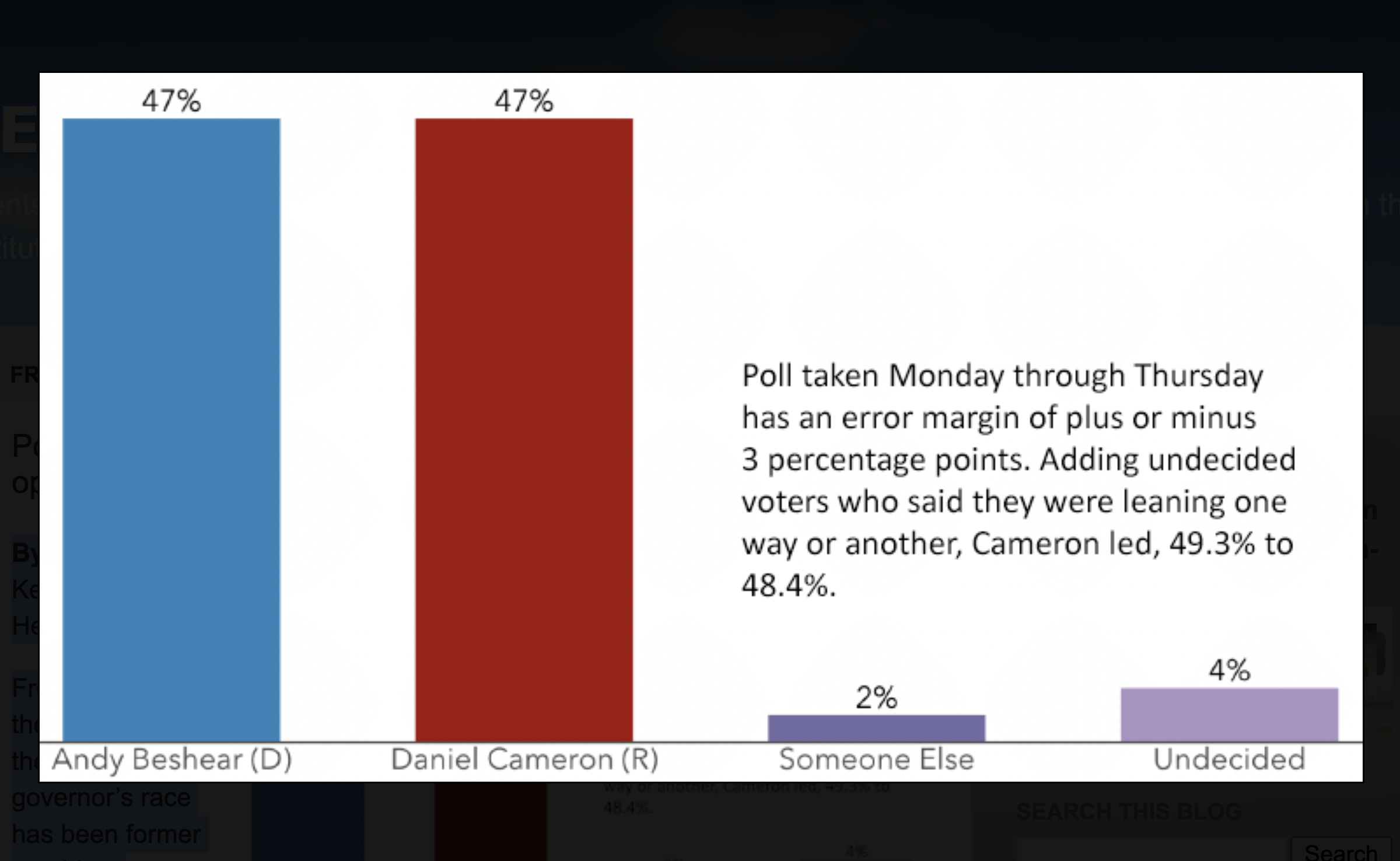 By Al Cross, Kentucky Health News 
From the start, the X factor in the Kentucky governor's race has been former president Donald Trump: Would his endorsement propel Republican Attorney General Daniel Cameron past Democratic Gov. Andy Beshear, who has had high approval ratings and led in every public poll? Now a poll taken in the last four days indicates strongly that it could.
The survey, taken by Emerson College of Massachusetts, shows Beshear and Cameron in a dead heat, with 46.9 percent for each candidate and 3.9 percent undecided. Another 2.3 percent said they would vote for someone else, which would require write-in voting, because no other gubernatorial slate is on the ballot. Adding undecided voters who said they were leaning one way or another, Cameron leads, 49.3% to 48.4%. The poll has an error margin of plus or minus 3 percentage points.
The result differs strikingly from an Emerson poll taken at the start of October, which showed Beshear with 49% and Cameron with 33%. But that poll was of registered voters, while this one was of 1,000 Kentuckians who said they were very likely to vote or had already voted. Early voting began Thursday, the last day of the poll, and about 2% of votes in statewide races are typically cast by absentee ballots.
Even with this poll, the big question about the election remains which voters will actually turn out to vote. In response to a question from Kentucky Health News, Emerson said it called about 250,000 people, texted about 15,000, emailed about 15,000 and had an online panel of voters aged 18 to 29. 
The poll started Monday, Oct. 30, and ended Thursday, Nov. 2. At midday Tuesday, the Cameron campaign sent Trump supporters a video endorsement of Cameron by the former president. Before that, TV advertising by Cameron and groups supporting him increasingly featured the endorsement, which Cameron obtained months before the Republican primary election.
Spencer Kimball, director of the poll, said in a press release that Cameron appears to have gained ground by consolidating support from Republicans who supported Trump in 2020. In the October poll, 54% of Trump supporters supported Cameron; in the latest survey, it was 79%.
The poll also found a similar increase for Cameron among voters aged 50 to 69; 58% of them said they support Cameron; in the October poll, he was getting only 36% of their votes. Beshear's share dropped to 40% from 49%.
The poll also asked voters if they "support or oppose Kentucky's current laws that ban abortion in nearly all cases, with no exception for rape or incest." Beshear has criticized Cameron for opposing such exceptions and said the overturned Roe v. Wade Supreme Court decision was generally correct.
The poll found that 55% of likely voters oppose Kentucky's law and only 28% support it, with 17% unsure.
"Majorities of both men and women voters oppose the abortion law," Kimball said. "Fifty-two percent of men and 58% of women voters oppose the laws, while support is relatively similar: 30% of male voters and 28% of women voters support the abortion laws."
Three-quarters of Democrats said they oppose the law, and 47% of independents said likewise. Among, Republicans, 42% said they support it, while 37% said they opposed, and 21% were unsure. Generally, the younger the voter, the more likely they were to oppose the law.
The poll was sponsored by WDKY-TV, Fox 56, in Lexington. It was conducted mainly by automated, recorded calls to landlines. About 10% of responses came via texts to and from cell phones. About 34% came from an online panel of voters provided by Centiment Data and 1.6% came from emails provided by Aristotle, the Emerson press release said.
Kentucky Health News is an independent news service of the Institute for Rural Journalism and Community Issues, based in the School of Journalism and Media at the University of Kentucky, with support from the Foundation for a Healthy Kentucky.
Graphic: Emerson College graph adapted by Kentucky Health News
Recommended Posts
Thu, December 7, 2023
Wed, December 6, 2023