Beshear declares state of emergency to help combat Eastern Kentucky wildfires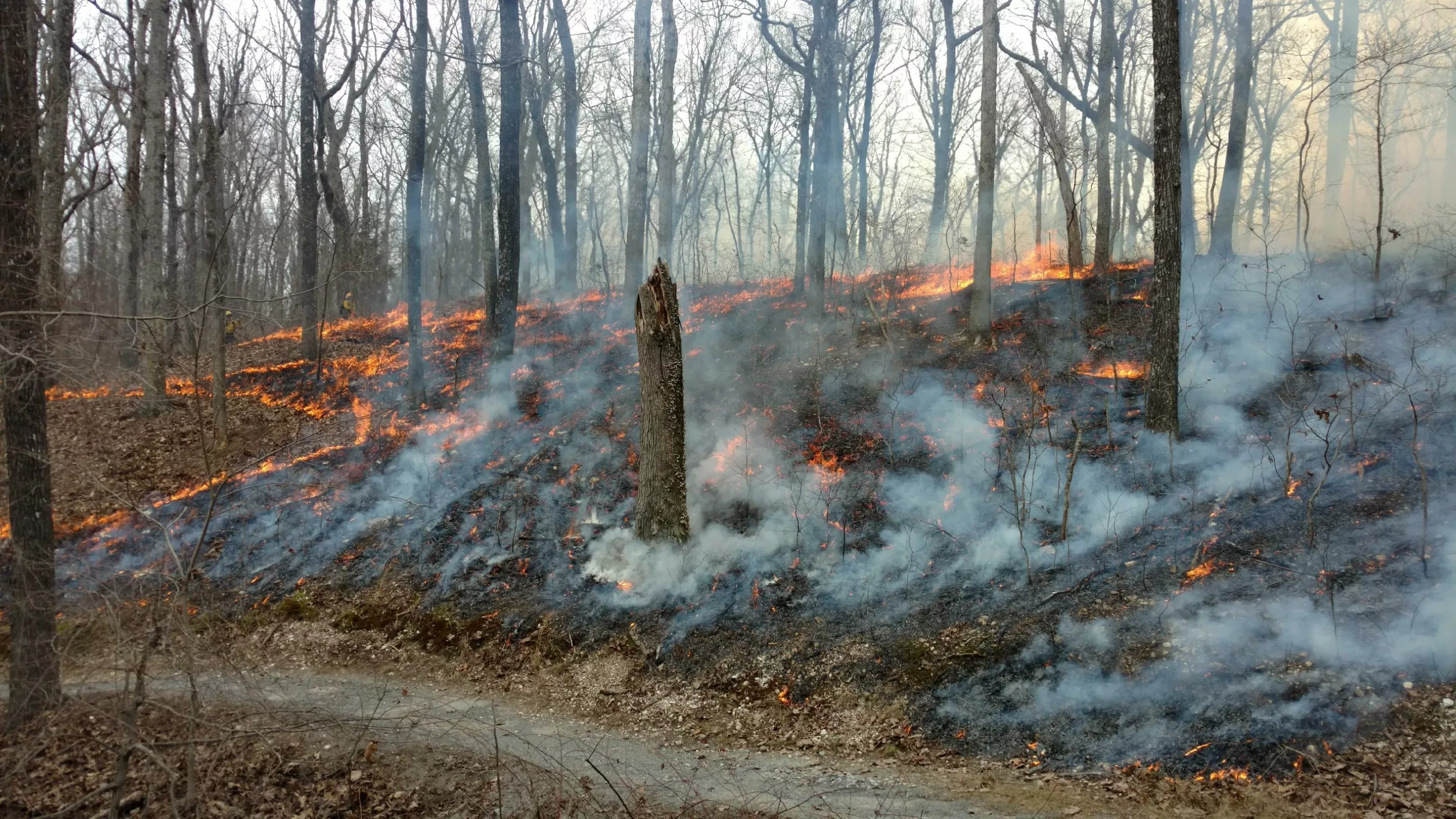 by Liam Niemeyer, Kentucky Lantern
November 9, 2023
Kentucky Gov. Andy Beshear declared a state of emergency Thursday in an effort to provide more resources for combating wildfires across the state, particularly in Eastern Kentucky. 
A Kentucky Energy and Environment Cabinet release Thursday afternoon said that state Division of Forestry officials are responding to dozens of wildfires across the state and are working on 31 fires that continue to spread. 
As of Thursday morning, a Kentucky Emergency Management report stated 314 firefighters were responding to more than 9,100 acres of "active fires," with fires of concern in Knox, Bell, Pike, Lawrence, Pike and Harlan counties. Harlan and Letcher counties have declared states of emergency because of the wildfires. Forestry teams from Idaho, Utah and Oregon were helping with the wildfires. 
"We are taking action to make sure that Kentucky families and communities have the resources they need," Beshear said in a statement. "We appreciate everyone on the front lines stepping up to fight the fires, and we pray for their safety and that these fires can be put out quickly."
Beshear in his state of emergency order said drought conditions have led to "numerous uncontrolled wildfires" across the state with future weather forecasts creating the potential for more wildfires. Much of Eastern Kentucky is under moderate drought conditions, according to the U.S. Drought Monitor. 
The release from environment officials states the emergency order allows the state to activate resources including the Kentucky National Guard if needed to control the wildfires. Beshear in another order has also activated the state's price gouging laws; incidents of price gouging can be reported to the Kentucky attorney general. 
The largest wildfire of concern, according to state emergency management officials, is in Knox County near Alex Creek Road; that fire has burned more than 2,500 acres so far. Knox County emergency management director Mike Taylor in an interview with the Lantern said the wildfire thankfully is relatively remote and isn't near any homes or businesses. 
Another wildfire near the community of Flat Lick, he said, had local residents digging a trench around a home to keep the fire from spreading. Nothing was damaged from that fire. 
"I think it was yesterday or the day before, it was really just smoky throughout the whole county," Taylor said. "We've been really lucky because the wind's not been real bad down here."
More than a dozen counties have countywide burn bans in place, which generally prohibit open fires, including campfires, fireworks and open pit grilling.
According to the Division of Forestry, nearly 900 fires so far this year have burned 14,530 acres. The most common cause of reported fires this year was arson, accounting for more than a third of reported fires. 
Wildfires can be reported to a Division of Forestry field office, to a local fire department or by calling 911. 
Kentucky Lantern is part of States Newsroom, a network of news bureaus supported by grants and a coalition of donors as a 501c(3) public charity. Kentucky Lantern maintains editorial independence. Contact Editor Jamie Lucke for questions: info@kentuckylantern.com. Follow Kentucky Lantern on Facebook and Twitter.
Photo: 2017 Fenton Wildfire in Land Between the Lakes. The Central Hardwoods Scenic Trail can be seen just below the fireline. (Forest Service Staff Photo)
Recommended Posts
Thu, December 7, 2023
Wed, December 6, 2023