Beshear doesn't rule out 2028 presidential run–'we'll see what comes in the future'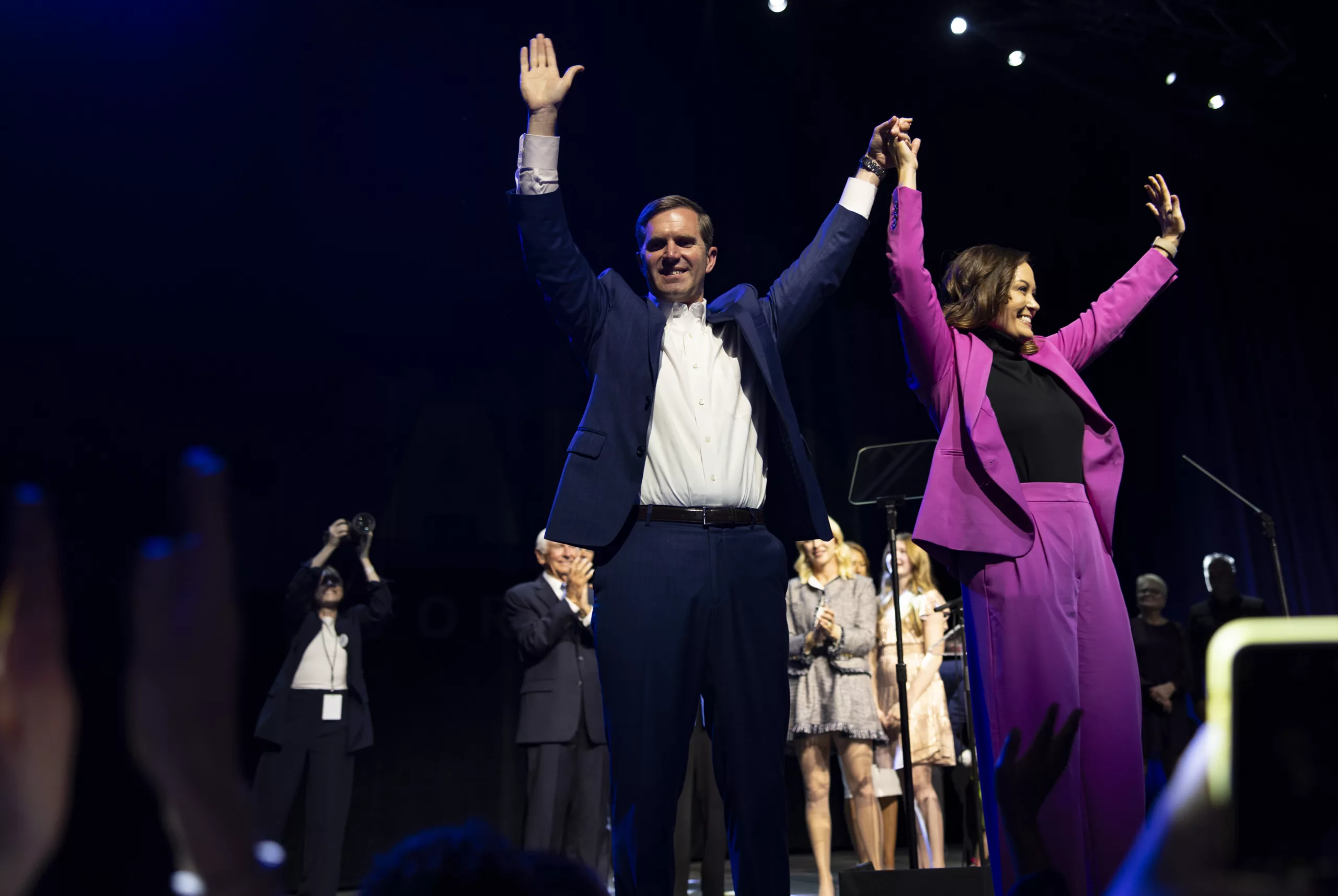 Kentucky may have finished its 2023 election Tuesday, but that hasn't stopped speculation about who's going to appear on the ballot in 2027 — or even who could be a 2028 presidential candidate. 
Democratic Gov. Andy Beshear won a second four-year term, defeating his Republican opponent Attorney General Daniel Cameron by about 5 percentage points,, according to unofficial results. Throughout his first term, Beshear maintained his popularity with Kentuckians and gained national attention for his response to the coronavirus pandemic in Kentucky, as well as leadership during devastating floods in Eastern Kentucky and tornadoes in Western Kentucky. 
The win — in a state that former Republican President Donald Trump won twice — has some pundits and voters alike eyeing Beshear for the White House in 2028. 
Earlier this week, former Democratic President Barack Obama's chief strategist David Axelrod told Politico that another Beshear win would mean the governor "instantly will become part of the '28 discussion." On Reddit, a post in the Louisville subreddit asking about a possible President Beshear received more than 106 comments within 16 hours. 
Beshear was asked about his future political plans in a post-election news conference on Wednesday, but didn't confirm interest in a 2028 presidential bid or any other future election after his term ends. Beshear did say he intends to serve Kentucky over the next four years, spoke of his admiration for Kentucky and ruled out jumping into the 2024 presidential election. 
"We'll see. We just came off an election," Beshear said, and then spoke about his children. "Will's a freshman in high school. Lila's in eighth grade. I'm happy that their lives are going to remain stable. Frankfort's been really good to us. I'm just living in this moment."
He quipped that he "will not run for governor in 2027." He's term-limited. 
Now, the question is who will take his place. 
In the same press conference, Democratic Lt. Gov. Jacqueline Coleman was asked if she will run for governor in 2027, but said that's "like putting Christmas decorations out before Halloween." Beshear picked Coleman to be his running mate for the 2023 and 2019 elections, citing her experience as an educator. The two have run on their support for public education. 
"We just got through this election, and we have a lot to accomplish. We've got a lot of really good things going on in Kentucky," she said. "And so, my main focus is going to be continuing to support this administration moving forward and then we'll see what comes in the future, but right now there's just so much potential and we've got to make sure we work really hard to see that through."
Another Democrat who could eye a  2027 run is Beshear's senior adviser Rocky Adkins. The former House majority and minority leader and Eastern Kentucky native ran against Beshear in the 2019 Democratic primary, gaining 33% of the vote to Beshear's 38%. 
Adkins didn't rule out the possibility on Election Night at Beshear's party in Louisville. 
"I want to celebrate tonight. I've got fuel left in the tank. We'll see where that goes," Adkins said. "But I'm so excited tonight to be here. I'm so excited to see these blue counties in Eastern Kentucky that came home tonight, to really recognize the work that this governor's done and really to be a part of this unbelievable victory tonight. I don't know what my future holds."
On the Republican side, there's also some speculation as well. After his victory speech Tuesday included topics like public safety, quality of life and the state's long-term future, some on social media wondered what Republican Secretary of State Michael Adams' future political plans will be. He, too, will be term-limited in his role after winning a second term. 
Of all the statewide races Tuesday, Adams was the top vote-getter after he gained more than 784,000 votes. 
In his office Wednesday, Adams said he plans to look at various positions that will be on the ballot in the future and predicted "a lot of transition" over the next few years, including federal positions. 
"It is way too early to try to predict what I'll be doing in four years," Adams said. "I think I showed my party I'm a strong player on the bench. I have found a way to reach across the divide and over-perform in places Republicans generally can't compete."
Adams said he believes Kentucky cannot have a third succesive term of Democratic governors. He said Republicans must "take this office back for our party" and  the best way to do that is to "run the best candidate." 
"We've got a great cast of characters in our party who are ready to step up and serve in major offices. We have a great bench that's ready," Adams said. "I think again, you're going to see a lot of transition over the next few years. And so, we haven't even finished 2023 yet, so I'm not filing anything anytime soon. I'll have a lot of conversations over the next few years and decide what's the right path for me."
As for Cameron, he could also join the 2027 governor's race. Stephen Voss, a University of Kentucky political professor, told the Kentucky Lantern that Cameron has been able to build his name recognition through his campaign and is a young politician at 37. 
"People have recovered their political careers from much worse outcomes than losing to a popular incumbent," Voss said. 
Kentucky Lantern is part of States Newsroom, a network of news bureaus supported by grants and a coalition of donors as a 501c(3) public charity. Kentucky Lantern maintains editorial independence. Contact Editor Jamie Lucke for questions: info@kentuckylantern.com. Follow Kentucky Lantern on Facebook and Twitter.
Top photo:  Gov. Andy Beshear and Lt. Gov. Jacqueline Coleman wave to the crowd after winning reelection on Tuesday, Nov. 7, 2023. Democrats gathered at Old Forrester's Paristown Hall in Louisville. (Austin Anthony for the Kentucky Lantern)
Recommended Posts
Thu, December 7, 2023
Wed, December 6, 2023