A new day in abortion politics, even in deep red Kentucky?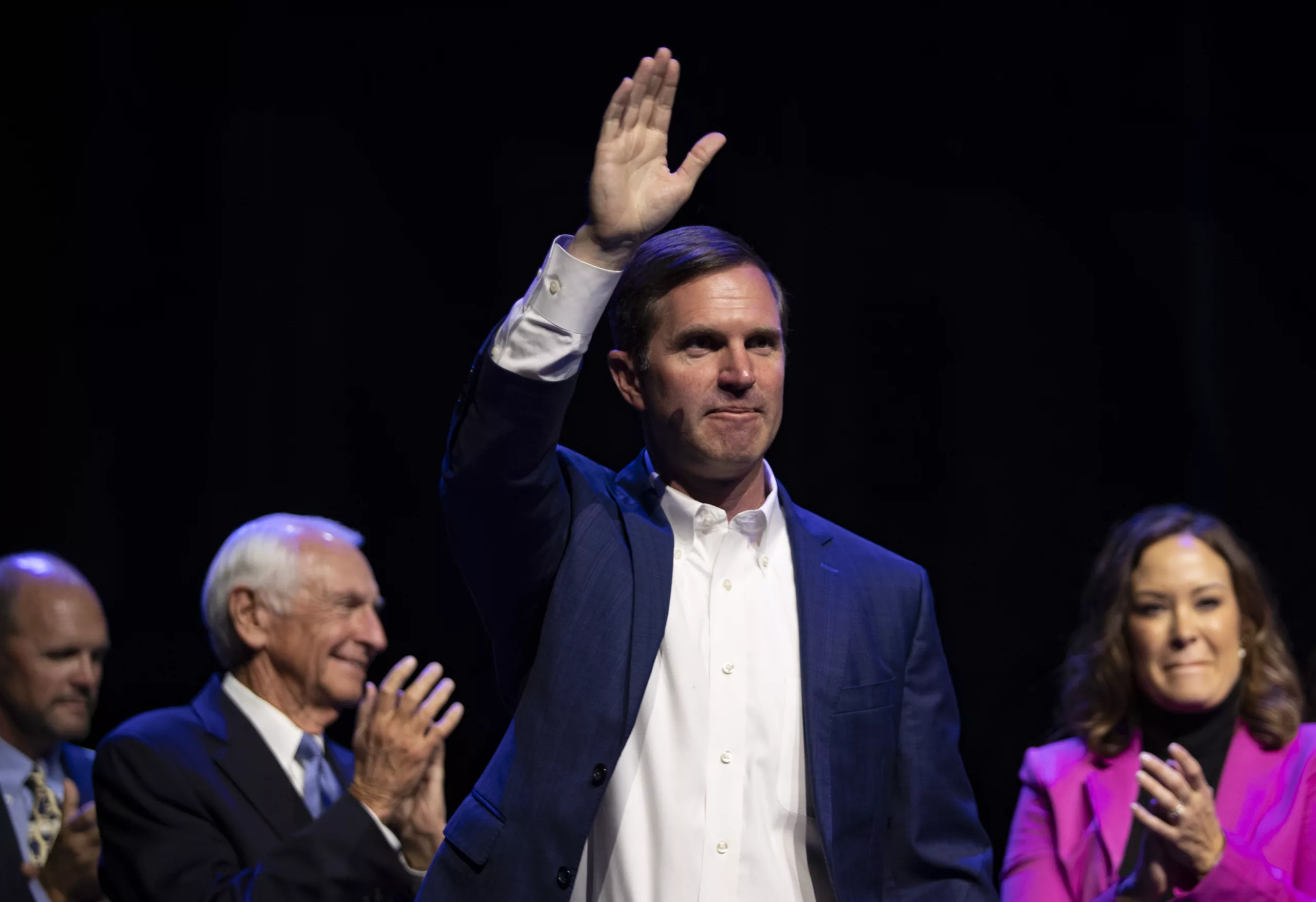 'We're still trying to evaluate everything,' says Right to Life's Wuchner
Standing before cheering supporters on election night, Kentucky Gov. Andy Beshear, a Democrat, wrapped up his reelection celebration with a round of thanks.
"First to my parents," he said, embracing Jane and Steve Beshear — his father himself a former, two-term governor.
Andy Beshear, who defeated his Republican opponent, Attorney General Daniel Cameron, with about 52.5% of the vote, next thanked his wife, Britainy and their children, Will and Lila.
Then Beshear thanked a young woman in the crowd who appeared in a television ad that became the flashpoint of his campaign — describing her childhood rape and pregnancy and blasting Cameron for his support of Kentucky's near-total ban on abortion.
"To tell a 12-year-old girl she must have the baby of the stepfather who raped her is unthinkable," she says in the ad.
"Hadley is here tonight," Beshear said of Hadley Duvall, a 21-year old from Owensboro who appeared in what political observers say was a devastatingly effective ad. "Because of her, this commonwealth is going to be a better place and people are going to reach out for the help they need. Thank you, Hadley."
Abortion remains essentially illegal in Kentucky under a pair of laws enacted by the Republican-controlled General Assembly that provide no exceptions for pregnancies from rape or incest — laws Cameron, as attorney general, has defended.
The laws took effect after the U.S. Supreme Court last year struck down the landmark Roe v. Wade decision of 1973, establishing abortion as a constitutional right.
And the Republican supermajority in the state legislature has shown little interested in changing Kentucky's laws, even to add exemptions for rape or incest.
But supporters of abortion rights are hopeful that Beshear's reelection in a deep red state marks a turning point in attitudes about access to abortion as well as an awakening among voters about the real-life impact of laws that ban it.
"I think it is very obvious that abortion has become an issue that people are not afraid to talk about any longer and that certainly does drive people to the polls," said Angela Cooper, communications director for the American Civil Liberties Union of Kentucky.
Tamarra Wieder, state director for Planned Parenthood Alliance Advocates Kentucky, noted that the Nov. 7 reelection of Beshear, a supporter of abortion rights, came the same day voters in Ohio, also a conservative state, approved a ballot measure establishing abortion as a state constitutional right.
And Beshear's win comes one year after Kentucky voters rejected a ballot measure that would have declared Kentucky's Constitution contains no right to abortion.
About 52% of the state's voters opposed the measure — about the same share of voters who elected Beshear to a second term, Wieder said.
"I don't think it's a coincidence that those numbers are the same," Wieder said. "Abortion is a winning issue."
Who's on offense?
Political observers say it's likely Beshear would have won for other reasons — his overall popularity, his advantage as the incumbent,  and his management of crises in his first term including the COVID-19 pandemic and devastating tornadoes of December 2021 followed by deadly flooding the following year in Eastern Kentucky.
But the abortion issue — in particular, the ad featuring Duvall — deepened the contrast between Beshear and Cameron.
While Beshear has said he supports abortion access previously conferred by Roe v. Wade, he has focused in recent months on the fact current law contains no exemptions for rape or incest, which he has called "cruel."
Cameron, who has defended Kentucky's laws, was left struggling to explain his stance, giving conflicting responses to the issues raised in the ad.
And that worked to Beshear's benefit, said Danny Briscoe, a long-time Democratic consultant from Louisville.
"You can't say she won the campaign for him but you can say she played an awfully valuable role," Briscoe said. "They put the ball in Cameron's court and he never really got rid of it."
Tres Watson, a GOP campaign consultant, said Republicans who once confidently campaigned on ending abortion are in an awkward spot now that it is effectively banned in 14 states and restricted in 11 more.
"I think it's a new reality," said Watson, a co-host of the Kentucky Politics Weekly podcast. "I don't think the general public has changed. Who's on the offense and who's on the defense have changed."
Briscoe was blunt about the impact on Republicans, who were responsible for appointing the justices who tipped the U.S. Supreme Court in favor of overturning the almost 50-year-old Roe v. Wade, "a huge mistake," Briscoe said, for the GOP. "It's haunting them." 
A majority of Americans oppose the 2022 decision overturning Roe v. Wade and a majority continue to support at least some measure of access to abortion, according to a Marist poll in April.
Duvall ad 'outstanding'
Both Briscoe and Watson thought the ad featuring Duvall was impressive.
"I think it will be remembered as the most outstanding ad of this election without question," Briscoe said.
"I thought it was very effective," Watson said. "It's certainly a very emotional ad."
The enthusiasm is not shared by Addia Wuchner, executive director of Kentucky Right to Life, which endorsed Cameron through its Victory PAC as "an unwavering defender of Kentucky's pro-life laws."
Wuchner, a nurse and health educator, said she found the Beshear ad "concerning and disappointing." 
"We always hope that sexual violence is rare but using it to commercialize a campaign to his benefit is very concerning," she said.
All other five constitutional offices on the Nov. 7 ballot were won by Republicans and all were endorsed by Right to Life, including Russell Coleman, who will replace Cameron as attorney general.
As for the outcome of the governor's race in Kentucky, Wuchner said, "We're still trying to evaluate everything."
Kentucky's laws 'extreme'
Whether the Kentucky General Assembly will consider adding exemptions to the state's stringent abortion laws remains in question.
Two laws are in in effect: A  "trigger law" that banned all abortions once Roe v. Wade was overturned and another that bans abortions after six weeks, before many women realize they are pregnant. Neither law has exemptions for rape or incest and allow abortion only in rare instances to save the life or prevent disabling injury of a pregnant patient.
Beshear, the day after the election called on lawmakers to add exceptions for rape or incest, calling Kentucky's laws among the "most extreme" in the nation.
Rep. Jason Nemes, R-Louisville, previously filed such a measure only to have it ignored by lawmakers in the 2023 legislative session.
He told the Lantern on election night that the matter deserves consideration.
"I think our people believe in the exemptions," Nemes said. "And at some point, we're representatives of the people, and we have to do what their demands are."  
Wuchner said Right to Life is focused on pushing for more supports for women and children in the 2024 legislative session.
"When we look at the moms and young children in the state, can we do better?" she asked. "That's the next step for the Kentucky General Assembly."
Advocates for reproductive rights say they will continue to press on for full access to abortion in Kentucky.
"Exceptions for rape and incest are the minimum," said the ACLU's Cooper. "It's really not enough."
Wieder, with Planned Parenthood, agrees.
As part of that, Planned Parenthood will continue work to educate voters that the decision now rests with state lawmakers.
"People think the bans are national," Wieder said. "They don't realize it's their local leaders."
Top photo: Newly reelected Gov. Andy Beshear flanked by his father, former Gov. Steve Beshear, left, and Lt. Gov. Jacqueline Coleman, right, waves to the crowd on election night, Tuesday, Nov. 7, 2023, at Old Forrester's Paristown Hall in Louisville. (Kentucky Lantern photo by Austin Anthony)
Recommended Posts
Thu, December 7, 2023
Wed, December 6, 2023