A new community resource empowering residents through shared tools – Grand opening of Lexington Tool Library set for May 10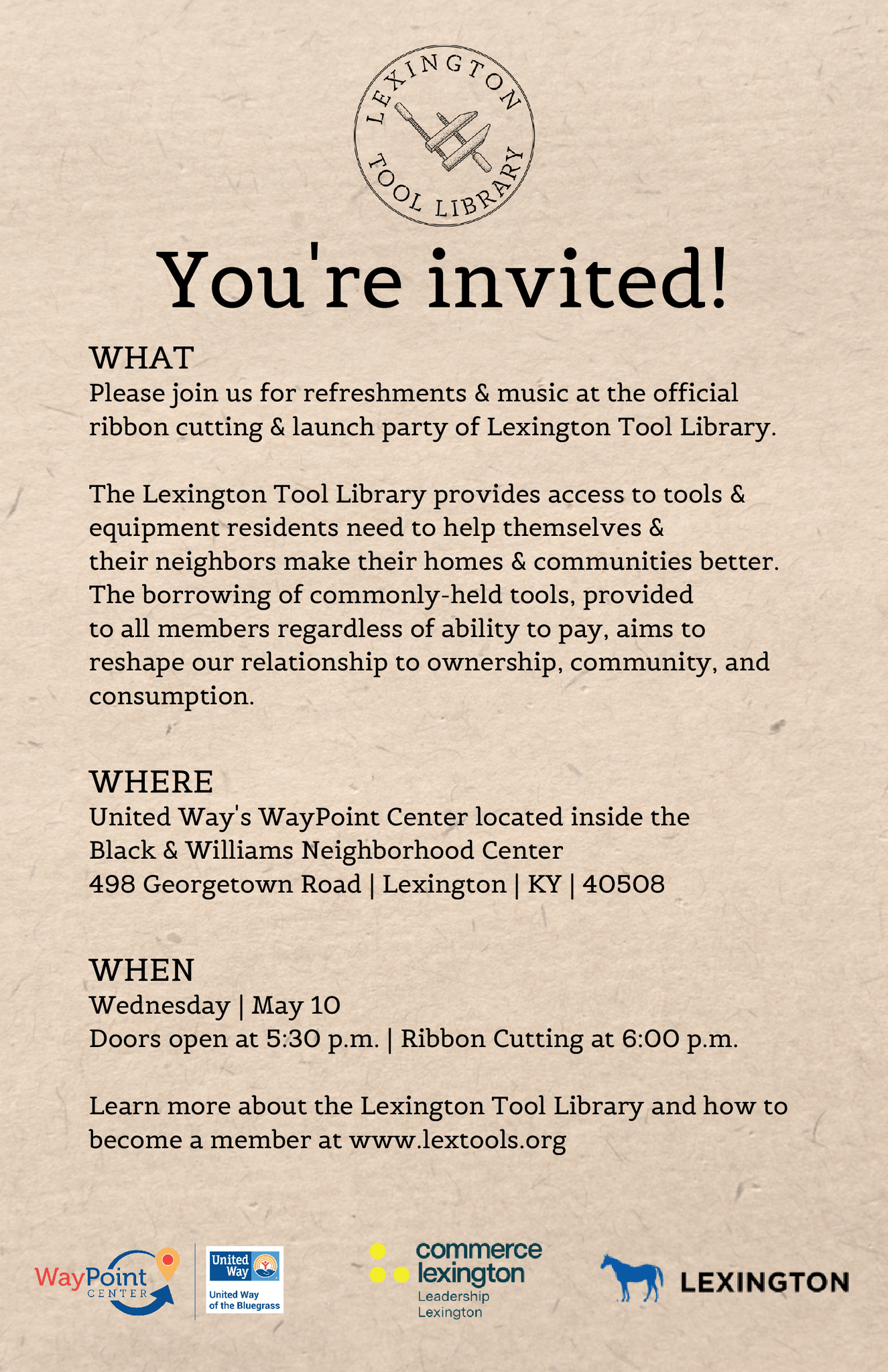 Lexington, Ky.–The Lexington Tool Library, a pioneering democratically-run nonprofit, is set to open its doors to the public on May 10, 2023, from 5:30 to 6:30 PM. Located inside the United Way's WayPoint Center in the Black and Williams Neighborhood Center at 498 Georgetown St, Rm 104, this unique community organization aims to provide free access to a wide range of tools and resources for its members. With a ribbon-cutting ceremony, live music, and tool demonstrations, the opening event promises to be a celebration of collaboration, empowerment, and sustainability.
The Lexington Tool Library aims to address the needs of community members by offering a diverse selection of tools and resources, ranging from woodworking and power tools to kitchen equipment, camping gear, and garden supplies. Members will have the opportunity to borrow these tools for various purposes, such as home improvement projects and DIY endeavors. By providing access to these resources, the Lexington Tool Library aims to assist residents in saving money, reducing waste, and fostering a sense of community and sustainability. Furthermore, the library plans to organize workshops and classes on tool usage, maintenance, and safety in the future, ensuring that members can make the most of the available resources.
Casey Lyons, a member organizer of the Tool Library, believes that this new initiative will have a profound impact on the Lexington community. Lyons stated, "This is going to be a game changer for Lexington. A lot of people are living in broken down homes, with landlords that won't fix things or as homeowners with code violations they can't afford to fix, getting charged fines that make it even harder to pay for the repairs they need to keep their houses. We needed something different: a way for people to come together and share what we have, empowering ourselves and each other to make things better when the powerful won't."
Membership to the Lexington Tool Library is available on a pay-what-you-can basis for residents aged 18 and above residing in Lexington-Fayette and central Kentucky. The grand opening event serves as an opportunity for attendees to become acquainted with the organization's mission, services, and volunteer organizing team. Interested individuals will be able to explore the extensive array of tools available for borrowing and learn more about the benefits of membership. Additionally, refreshments will be provided to enhance the festive atmosphere of the occasion.
Tracey Ginter, another member organizer, expressed her anticipation for the grand opening, stating, "We hope everyone in the community will come out and join us for this special occasion. We're excited to show off our location and share the benefits of the Lexington Tool Library with everyone."
The grand opening of the Lexington Tool Library is open to the public, welcoming individuals from all walks of life. Attendees can expect captivating tool demonstrations, live music performances, and an enriching opportunity to discover the many advantages of engaging with the Lexington Tool Library. This pioneering initiative holds the potential to revolutionize the way residents approach home improvement and community building, fostering an environment of collaboration, resourcefulness, and mutual support.
Join the Lexington Tool Library on May 10th to witness firsthand the transformative power of shared tools and community engagement.