ONE Lexington: Unpacking the Triumphs, Challenges, and Contentions in the Fight Against Youth Violence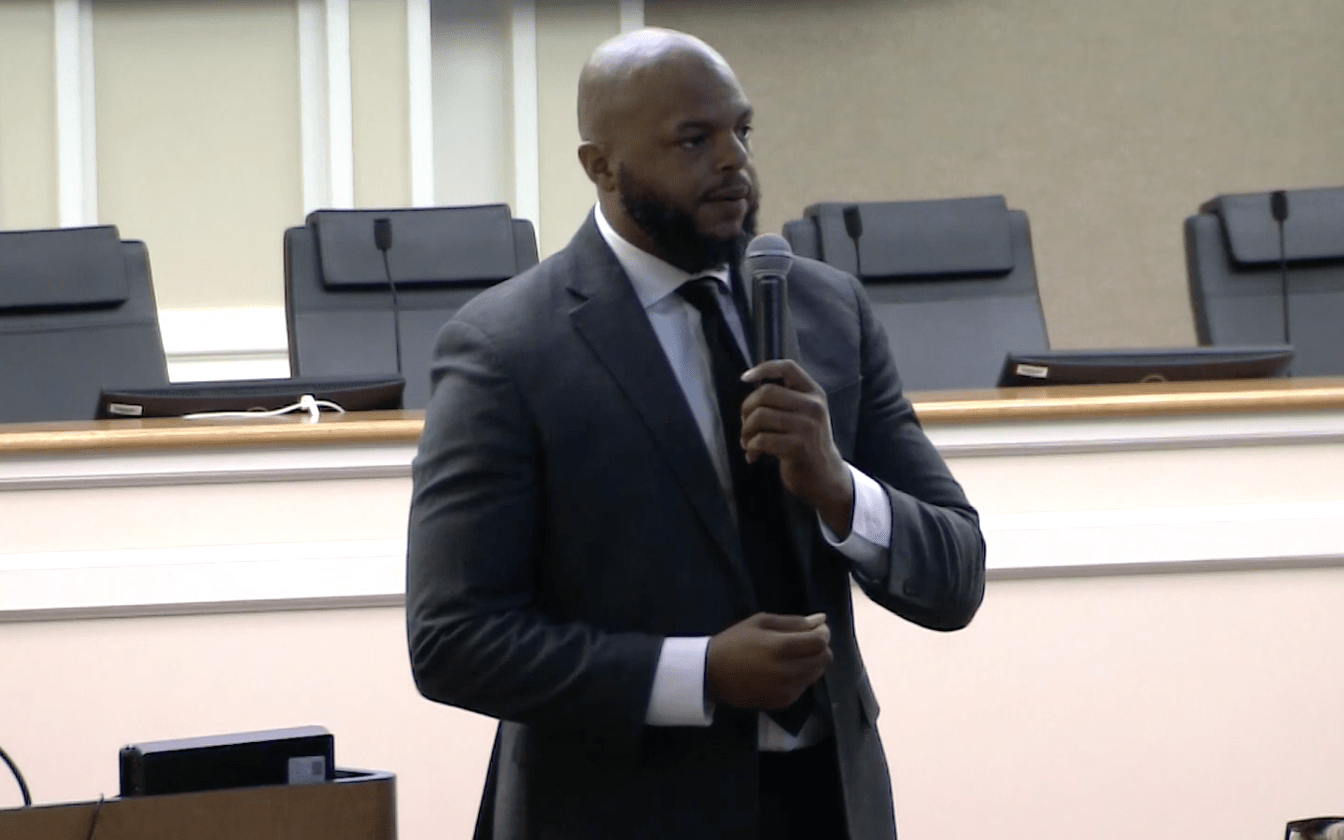 LEXINGTON, KY – At Friday's Lexington-Fayette Urban County Government director's meeting, held in the council chamber, Devine Carama, Director of ONE Lexington, delivered an update that was a blend of cautious optimism and a clear call to action. Lexington, a city with a burgeoning issue of youth violence, has seen a marked increase in homicides, reaching a peak in May of last year with 11 homicides, the deadliest month in its modern history​.
Despite the grim landscape, ONE Lexington, a city-sponsored program, has been a beacon of hope. The program's primary focus is on youth violence prevention, aiming to reduce the number of young adult victims in the city. The data shared by Carama painted an encouraging picture, indicating a 50% decrease in young adult gun-related homicides from 2021 to the present year. Furthermore, more than half of this year's homicide victims fall within the age group targeted by ONE Lexington's initiatives​​.
Carama, a Lexington native and rap performer turned peace advocate, leads ONE Lexington with a personal and passionate commitment to the cause. His grassroots approach to violence prevention is reflected in his hands-on involvement in mentoring children, whether in schools, recording studios, or on the streets, and his annual coat drive raising funds for the program​​.
ONE Lexington, operating with a dedicated three-man crew, collaborates with a variety of organizations and individuals in their efforts. Their commitment is evident in their readiness to respond to incidents of violence, often at inconvenient hours and in potentially dangerous environments. Despite the city's all-time high of 44 homicides last year, their efforts seem to be bearing fruit, with a reported decrease in the involvement of young people in such incidents​​.
Initially established in 2017 following a high-profile homicide, ONE Lexington aimed to reduce gun violence among the youth. However, it struggled to sustain momentum due to resource constraints and the subsequent COVID-19 pandemic, Carama said in the update.
But as the nation emerged from the pandemic into an environment marred by social unrest and a troubling increase in gun violence, Carama said the city's leadership recognized the urgency of revamping ONE Lexington.
Under Carama's leadership since summer 2021, he says ONE Lexington has taken an evidence-based approach, coupled with a keen understanding of the local community. A national partner, Cities United, and 30 other community partners, including government agencies, non-profit organizations, faith communities, schools, and individuals impacted by gun violence, contributed to creating a strategic plan tailored for Lexington.
The plan is centered around a model known as "Cure Violence," which has a four-pronged structure aptly captured in the acronym PIER – Prevention, Intervention, Enforcement, and Reentry.
Through Prevention, ONE Lexington focuses on preemptive measures to keep young people from entering cycles of violence. For instance, the second cycle of the ONE Lexington Violence Prevention Grant Program was launched to financially support organizations actively working to combat gun violence.
Intervention plays a critical role, with crisis response teams led by community members who have strong ties and credibility in neighborhoods affected by gun violence. These teams focus on providing support and resources to those directly or indirectly affected.
While Enforcement is beyond ONE Lexington's purview as a community organization, they foster a collaborative relationship with law enforcement, striving to bridge the gap between public safety and underserved communities.
Reentry, the final component, addresses support for individuals reentering society after incarceration. This includes creating programs that can serve as alternative sentencing options, thereby providing judges with alternatives that focus on rehabilitation.
Central to ONE Lexington's rejuvenated approach is the fostering of partnerships. Carama emphasized the importance of collaboration among various sectors and the community. He characterizes ONE Lexington as a small but integral piece of a larger puzzle, acting as a bridge that connects resources to those who need them.
The journey of ONE Lexington, under Carama's leadership, has been a testament to resilience in the face of formidable challenges. Amidst the city's struggle with youth violence, ONE Lexington stands as a beacon of hope, but it's a beacon that is in need of sustained and substantial financial support to continue shining brightly.
Beyond the Update: Delving Deeper into ONE Lexington's Initiatives
While the director's meeting provided a snapshot of ONE Lexington's efforts, a deeper look reveals a range of initiatives that underscore the organization's commitment to engaging the community, particularly its youth, in creative and meaningful ways.
One of ONE Lexington's flagship initiatives is the 'Be the Change' College Scholarship Competition, a partnership with Galls, LLC. This scholarship offers a significant financial boost of up to $20,000 to a rising Bryan Station High School senior of color, encouraging them to pursue a bachelor's degree in criminal justice or a related field at a Kentucky college or university. The scholarship is merit-based, recognizing academic achievement and contributions in leadership, arts, sports, or community service, and can be renewed annually for up to four years​​.
In addition to the scholarship program, ONE Lexington has utilized creative avenues to engage the community in anti-violence discourse. In September 2021, in collaboration with Oneness Clothing Boutique, ONE Lexington organized the 'We Are ONE Anti-Violence Essay & Poem Contest' for students at Lexington Traditional Magnet School. Participants had the opportunity to win streetwear and tennis shoes by writing an essay, poem, or rap on the theme of anti-violence. The contest not only amplified the voices of young people but also encouraged them to engage in constructive dialogue about the issues affecting their community​.
In another community-centered initiative, ONE Lexington rallied 100 Black men from the city to film a public service announcement against youth gun violence. The call didn't end with the PSA filming; it was followed by the 'Black Men United Youth Engagement Opportunity Fair,' connecting these men with different organizations where they could make a difference through volunteering. The areas included victims' advocacy, youth engagement, re-entry, mentoring, intervention, conflict resolution, and fatherhood support, creating a multi-pronged approach to tackling the issue of youth violence​.
These initiatives underscore ONE Lexington's multifaceted approach to combating youth violence. They focus not just on preventing violence but also on creating opportunities for dialogue, education, and community engagement, fostering a proactive and holistic strategy for change. The initiatives not mentioned in the director's meeting reveal an organization that goes beyond immediate action, investing in long-term strategies that aim to empower the community and inspire the next generation.
CRITICISMS AND CONTROVERSIES
As with many public initiatives, ONE Lexington and its director, Devine Carama, have not been without their critics. While the organization has announced a reduction in youth violence and been lauded for its community-centered approach, some observers have raised questions about the program's effectiveness and the role it plays in the city's broader political landscape.
James Woodhead, a local activist and vocal critic of ONE Lexington, has taken issue with Carama's relationship with local law enforcement and the city's Republican mayor. In a public Facebook comment, Woodhead accused Carama of promoting "copaganda" and suggested that his appointment to ONE Lexington's leadership position was a political move designed to placate calls for police reform.
Woodhead's criticisms reflect a larger debate over police funding and accountability that has taken place in cities across the United States. In Lexington, this debate is intertwined with the work of ONE Lexington. Despite a 4.5% increase in the program's funding, critics have pointed out that this pales in comparison to increases in other areas – all city departments received a 5% pay raise, and the police budget saw a significantly larger increase of 17.2%, which is even less than their requested increase of 32%. Critics question whether initiatives like One Lexington are sufficiently funded to make a significant impact, or whether they serve more as public relations efforts while larger systemic issues are not addressed.
Critics have also raised concerns about where funding for ONE Lexington will come from once the federal American Rescue Plan Act (ARPA) money is exhausted. The ARPA money has been a key part of the program's budget, and its eventual disappearance could leave a funding gap that the city will need to address.
Moreover, while ONE Lexington reports a decrease in youth violence, some question if this is a result of broader societal trends rather than a direct result of the program's efforts. The question of how to accurately measure the program's impact is a complex one that may take several years to fully answer.
While One Lexington has certainly made strides in its mission to reduce youth violence, it is not without its detractors. As the program moves forward, it will need to address these criticisms and demonstrate its effectiveness in a tangible, measurable way. The story of One Lexington and Devine Carama is a microcosm of larger national debates about police funding, systemic inequality, and how best to address violence in our communities. Whether One Lexington can ultimately deliver on its promise remains to be seen.
---
Photo: Devine Carama gives an update on ONE Lexington at Friday's LFUCG director's meeting. (LexTV screenshot)
This article has been updated to differentiate between the Division of Police FY24 request and FY24 proposed budget amounts.
Recommended Posts
Fri, September 29, 2023
Fri, September 29, 2023
Thu, September 28, 2023