The Complexities of Lexington's Urban Growth Boundary Expansion: Voices from the Committee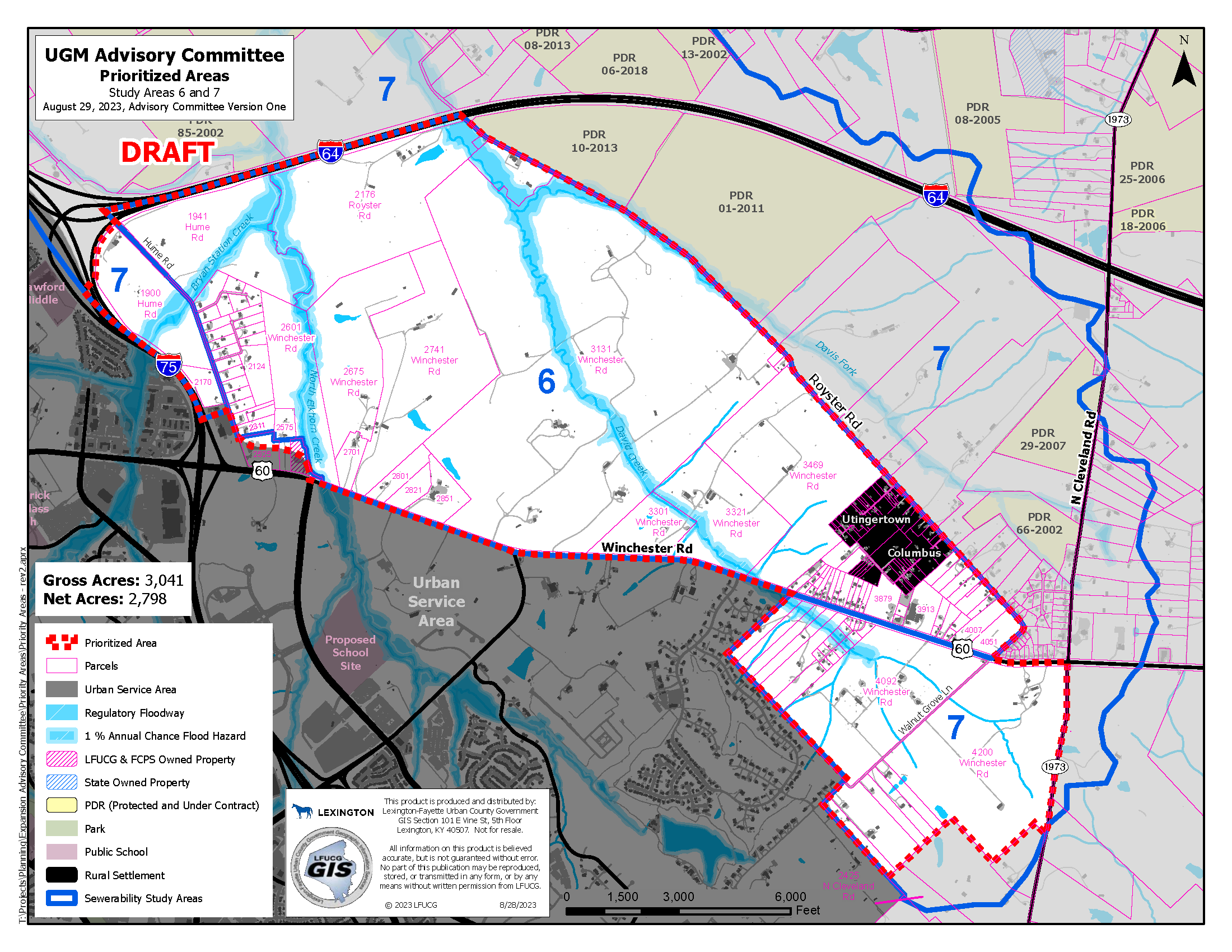 Lexington, KY — As the Urban Growth Management Advisory Committee continues to discuss the potential expansion of Lexington's urban growth boundary, various perspectives are emerging that highlight the complexities of the issue. The committee, which is tasked with identifying between 2,700 and 5,000 acres for potential expansion, has identified three main areas for consideration.
Key Areas Identified
The committee has narrowed down the potential expansion areas to three main locations:
A 3,000-acre area between Winchester Road, I-75, I-64, and North Cleveland Road.
A 920-acre area off of Man O War, Parkers Mill Road, and Bowman Mill Road.
An 886-acre area on Athens Boonesboro Road and I-75.
The total acreage under consideration amounts to 4,837 gross acres. The committee discussed net versus gross acreage, with only developable land included in net acreage, and eventually voted to allow up to 5,000 gross acres and not fewer than 2,700 net acres.
Pending Decisions and Public Input
As of Tuesday, the committee has not made any final decisions on which areas will be recommended to the planning commission for the final determination. A public hearing is tentatively scheduled for September 12, where citizens will have the opportunity to voice their opinions.
Legal Challenges and Costs
The land use group Fayette Alliance and several private citizens have filed a lawsuit challenging the expansion. They are also seeking a court order to halt the committee's work until the lawsuit is resolved.
A new sewerability study has estimated that the costs to expand sewer systems to these areas could be in the hundreds of millions of dollars. Councilwoman Kathy Plomin, who serves on the committee, emphasized that road maintenance and construction would also be costly. John Phillips, another committee member, pointed out that the city would need more police officers, fire stations, and other public services, raising questions about the overall cost of the expansion.
Diverse Opinions
While the committee has not yet made any final decisions, members have expressed a range of opinions that reflect the multifaceted nature of urban expansion. Committee chair Larry Forester questioned the committee's readiness to make a decision, stating, "But if we're not ready to kind of dig down into the weeds, I don't want to waste your time today, Mr. Duncan," to Planning Director Jim Duncan after some back-and-forth amongst members.
Another member, Dr. Alison Davis, a Professor of Agricultural Economics at the University of Kentucky and the Executive Director of the Community and Economic Development Initiative of Kentucky (CEDIK) seemed to be at a crossroads, saying, "And so I'm really at a crossroads right now."
Economic and Social Implications
Davis raised concerns about the social and economic implications of the proposed expansion areas. She said,
To me, it just looks like a big map, a big map of gentrification where we're trying to find places that are far away from the city center for people who are lower income to live. And I'm having a hard time with that. And then as I'm looking at the map again with my lens, it is very clear in each of those areas, to me, as you know, I'm an economic developer and an agricultural economist, what exactly those land uses will be. So out by Man o' War and Harrodsburg Road, that will be housing and it's not going to be for, you know, affordable housing.

Dr. Alison Davis, Professor of Agricultural Economics at the University of Kentucky and the Executive Director of the Community and Economic Development Initiative of Kentucky (CEDIK)
Affordable Housing and Infrastructure Costs
Zach Worsham, an affordable housing developer, warned that federal agencies do not approve funding for affordable housing near airports, which would rule out one of the areas under consideration. Worsham also noted that much of the housing in that area is expensive, raising questions about the city's commitment to affordable housing.
The issue of affordable housing has been a recurring theme in the committee's discussions. One member, John Phillips, emphasized its importance, stating, "But I think affordable housing, it was clear in the goals and objectives that this is a really important issue for us." Concerns have also been raised about the potential costs of expanding infrastructure to new areas, with estimates running into the hundreds of millions of dollars.
Next Steps
Staff will provide an update to the Planning Commission on Thursday and the committee will meet to finish the draft map on September 5.
The committee is expected to continue its discussions and is tentatively scheduled to hold a public hearing on September 12, where the proposed map will be presented to the public. The planning staff will also provide more information about each area, including what land is vacant and available for development.
Fayette Alliance filed for an injunction Monday to block the committee's work as part of an ongoing lawsuit opposing the boundary expansion.
---
Photo: Urban Growth Management Advisory Committee map of prioritized areas 6 and 7 on Wichester Rd. (UGM Advisory Committee)
Recommended Posts
Fri, September 29, 2023
Fri, September 29, 2023
Thu, September 28, 2023