Lexington Council to consider $1.2M contract for Cardinal Run Park bathrooms, funded by ARPA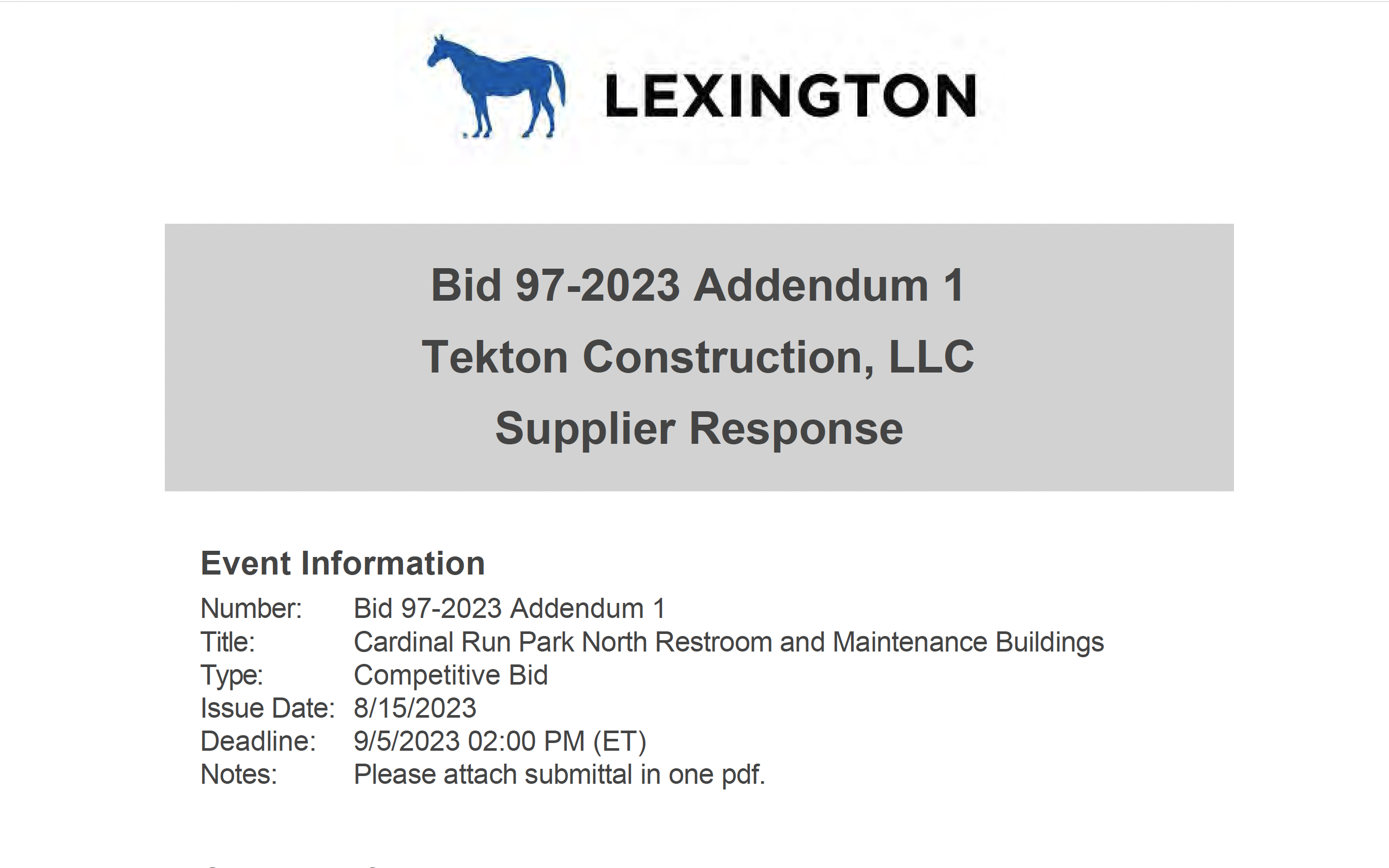 Lexington, KY — The Lexington-Fayette Urban County Council is set to discuss a $1.2 million contract for construction of restroom and maintenance buildings at the new Cardinal Run Park North during its Thursday meeting. The contract, which is on the agenda for its first reading, could be fast-tracked by suspending the rules, a tactic recently employed for a controversial welcome sign contract to the same company.
The Contract Details
The proposed contract involves a bid from Tekton Construction LLC for $1,222,158.52. The project aims to construct restroom and maintenance buildings at Cardinal Run Park North. The bid was submitted on September 5, and the contract is expected to be completed within 365 calendar days from the issuance of the work order.
The contract outlines various conditions, including progress payments and a final payment due within 90 days of project completion. Tekton Construction will be responsible for furnishing all necessary materials, labor, and services to complete the project.
Funding Source
The project is notably funded by the American Rescue Plan Act (ARPA), with an available budget of $2,299,874.50. This comes as part of the federal grant allocated to Lexington for 2022.
Tekton's Recent Awards
Tekton Construction is no stranger to city contracts. The company was recently awarded a $211,588.03 contract for a "Welcome to Lexington" sign, a decision that sparked controversy and was fast-tracked by the council by suspending the rules.
Fast-Tracking Concerns
The Cardinal Run Park contract is on Thursday's agenda for its first reading. However, there is speculation that the council may suspend the rules to fast-track the approval, as was done with the welcome sign contract. Such a move could bypass the standard legislative process, raising questions about transparency and public input.
What's Next?
If approved, the contract will be executed by both the Lexington-Fayette Urban County Government and Tekton Construction LLC. Payments will be made according to the General Conditions of the contract, and the project will proceed as planned.
The council's decision on whether to fast-track the contract will be closely watched, given the recent controversy surrounding the welcome sign. With ARPA funds at play, the stakes are high for both the council and the community.
Recommended Posts
Thu, December 7, 2023
Wed, December 6, 2023