When Past and Present Collide: The Story Behind DogTown Lexington's Abrupt Closure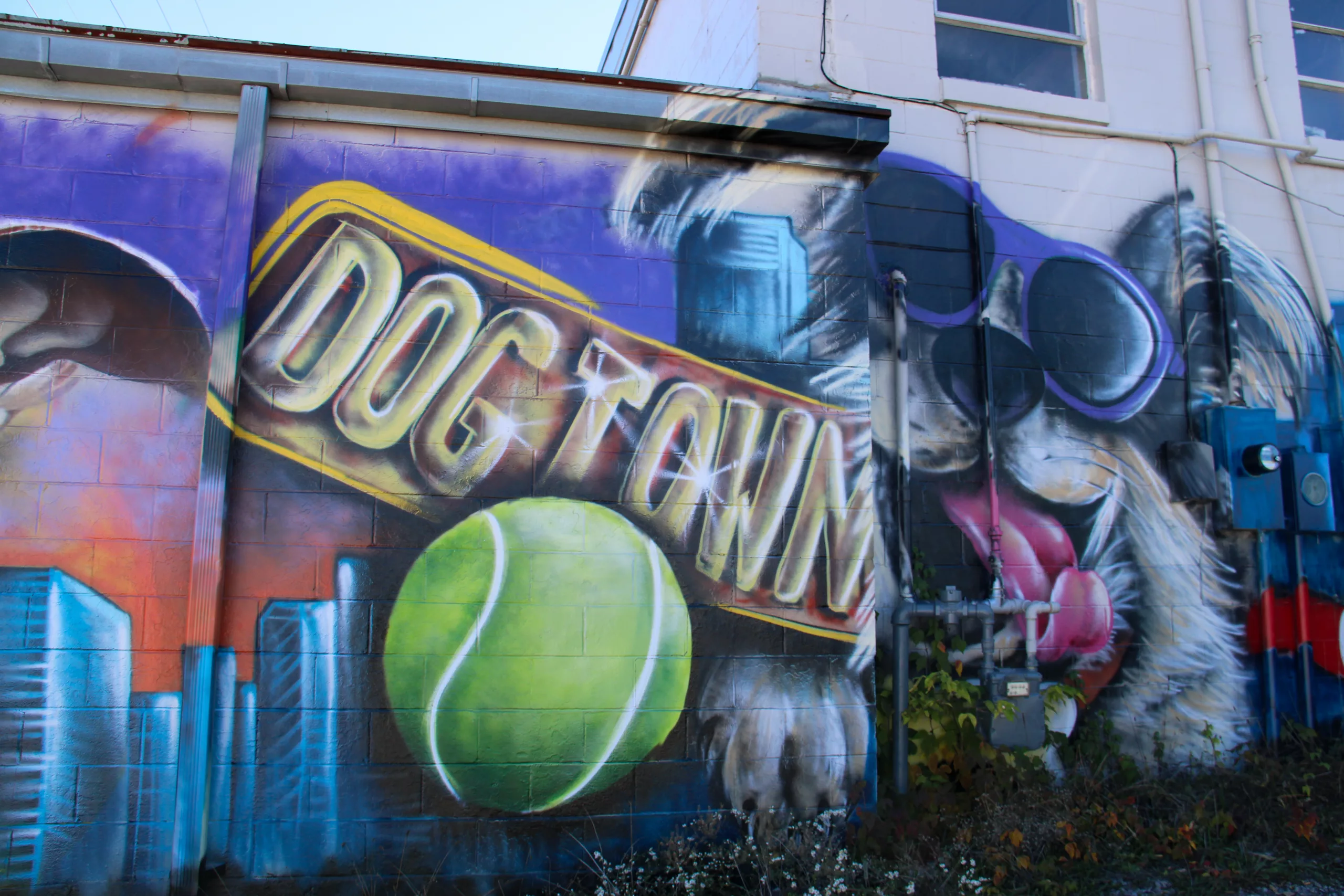 This article has been updated to include additional perspectives from DogTown staff who contacted The Lexington Times after publication.
Lexington, Ky.–When DogTown Lexington, a prominent local pet care facility, announced recently that it will be shutting its doors at the end of October, the move sent ripples of surprise and discontent across its clientele. In what became a cacophonous reply-all email thread, some customers unleashed a torrent of criticism toward the new owner, Nik Feldman, who is also the developer and co-owner of the nearby Manchester Hotel. "Horrible timing for all concerned," wrote one customer, a sentiment expressed by several others.
"It is without a doubt your right to make the ultimate decision regarding DogTown. You are the owner though in my humble opinion not a very respectful, compassionate one," wrote another customer, Rashmi Adi-Brown, who was the first DogTown client to reply-all to Feldman's email announcing the closure. "How do you make a decision regarding so many lives, specifically the wellbeing of the staff, and decide to crumble their foundation (lives and earnings) with a two week notice? Two months before the HOLIDAYS?"
Addressing the closure in a phone interview, Brown, a DogTown client for 15 years, said the staff is her number one priority. "They're family to my husband and myself," she stated. Brown says the business also fills a vital need for her family and many others who use its service. Brown's husband has been diagnosed with ALS (Lou Gehrig's disease) and she has a busy career, so sometimes, like when they had their bathroom remodeled recently, their family relies on DogTown to help care for their three dogs during the day. While there are other similar services in town, Brown said DogTown's staff and their close connections with customers took their service to a different level. "It was more than just daycare," she stated.
The cherished dog-daycare's closure bears certain resemblances to the shutting down of another esteemed local establishment that once graced the building in a bygone era of the Irishtown neighborhood. These nuanced similarities between the two establishments' endings hint at a transforming neighborhood, poised on the brink of its next significant metamorphosis—whether for good or ill.
"The news wasn't surprising as it was chilling."
Prior to becoming a dog-daycare facility, the building currently housing DogTown at 1026 Manchester Street was occupied by the Manchester Center, a nonprofit community center. "When the Manchester Center announced last week it would close its doors at the end of June," Herald-Leader columnist Marlene Davis wrote in March 2010, "the news wasn't surprising as it was chilling. The center serves the residents of Davis Bottom, Irishtown, Speigle Heights, Smithtown, and Thompson Road in Fayette County."
Started in 1939 as a library for the children of Irishtown, nonprofit organizations served the community there for over seventy years. "It was a very poor community settled by working class Irish who had fled the potato famine in Ireland," Davis writes. "It officially became the Manchester Center in 1952 and eventually served residents of other underserved communities." In 2005, the Center moved from its original location at 1026 Manchester Street to the Carver School on nearby Patterson Street. DogTown opened in the Center's original space in 2007.
Prior to becoming a library, 1026 Manchester was a residential property. In 1935, the Lexington Leader announced two of its residents, George McDonald and Frona Taylor had respectively won the pie-eating contest and apple scramble at Pyramid Park's annual Halloween festivities. The multiple surnames suggest the property was used as a multifamily residence or boarding house during that period.
A few months later, in February 1936, the young Mcdonald's father, Oliver H. McDonald, was shot and seriously wounded by a railway detective who "fired several times at him and his son, George McDonald, 14, when they ran after they had been caught picking up coal from the railway tracks," the Lexington Leader reported. The railway detective was arrested by Lexington Police detectives and within 48 hours McDonald had filed a lawsuit against the Louisville & Nashville Railroad claiming $10,500 (around $250,000 today) in damages. 
McDonald, who certainly wasn't picking up coal from the railroad tracks because he was rich, was sentenced to 60 days for "stealing coal from interstate shipments" in June 1936. Local reportage didn't follow up on McDonald's lawsuit, but his name never appeared in the Lexington Leader's published criminal cases again. McDonald later left Irishtown for the nearby Golf View Estates neighborhood. He died in an automobile accident at the age of 46. According to his September 26, 1945 obituary, he had four daughters, seven sons, and five grandchildren at the time of his death.
"It's really gone to the dogs now!"
While DogTown's impending closure will mark the end of an era for many pet lovers in Lexington, it may also signify the end of another era in Irishtown. The neighborhood was at a pivotal moment in 2005 when the Manchester Center left the space at 1026 Manchester–with early plans for the development of a downtown "Distillery District" in the works, local developer Barry McNees had formed Manchester Development, LLC in April of the same year. In December 2006 McNees' aptly named 1026 Manchester LLC would purchase the property for $165,000, according to the Fayette County PVA.
DogTown Properties LLC officially purchased the 1026 Manchester property from McNees for $340,000 in June 2013. "It's really gone to the dogs now!" a neighborhood resident later quipped to the Herald-Leader's Molly Phillips. Phillips' October 2013 feature article, titled 'Humble Irishtown has Proud History,' details the neighborhood's efforts to preserve its rich past in the face of new development and reinvestment efforts.
Phillips describes a network of "developers, nonprofit workers, and city officials" seeking to "assuage the problems of poverty and neglect in the area." However, she notes, "the question in residents' minds is whether the new ventures are doing more harm than good."
Boutique block
Nik Feldman, 32, is the developer and co-owner of the nearby Manchester Hotel, a boutique hotel that opened its doors in June 2023. Feldman purchased the .421 acre property at 1026 Manchester, along with the parking lot next-door, in a multiple property deal in October 2022. The Fayette County PVA lists his total purchase price for both parcels as $625,000.
Companies associated with Feldman's hotel also acquired several properties on Manchester and adjacent streets in the run up to the hotel's proposed development. Feldman says The Manchester Hotel is owned by him and thirty other investors.
"Beyond a recoverable limit"
"It is with deep regret that I am notifying you that DogTown will cease operation," Feldman wrote in an email to customers announcing the closure. "I inherited DogTown when I purchased the building and property on Manchester Street, and at that time I was advised to close DogTown since it was consistently losing money. But having grown up with dogs and cats who I loved, I chose to keep it open out of respect for the loyal clients, our dedicated staff, and your wonderful canine companions."
Feldman says the losses continued after he took over and eventually led to his decision to shutter the business. "Unfortunately, it didn't work out as I hoped and the financial losses have mounted to beyond a recoverable limit […] I'm truly sorry that there isn't a happy ending."
While some DogTown clients, including one prominent local businessman, openly doubted the veracity of Feldman's claims, he says the business's financial losses are not only real, but substantial. Feldman explained in an interview that the path to his 2022 acquisition of DogTown wasn't straightforward. He says it was only possible because an earlier prospective buyer had pulled out, daunted by the story revealed in the business's financial records during due diligence. Despite its endearing concept, DogTown was struggling to stay afloat, Feldman says.
"At least two other high-profile dog daycares failed over this past year in Lexington. After COVID, customers spent many more days working at home (with their dogs), and no longer required our services as frequently," Feldman elaborated in an email. "This is one of many reasons [the previous owner] decided to sell the business."
DogTown's previous owner was not available for comment prior to publication.
Upon assuming control, Feldman claims he endeavored to revive what he described as a struggling business. "It never truly recovered from the pandemic," he remarked. He says he injected a $100,000 investment and increased rates twice in an effort to stabilize the business. Eventually, he admitted, "I failed."
Feldman's accountant verified significant monthly losses in a phone conversation.
"All the motions"
A former DogTown employee, who spoke on the condition of anonymity to protect their professional reputation, said that Feldman's efforts to revive the business initially appeared sincere. "Nik made all the motions that made it seem as though he believed in it, was invested in Dogtown, and could see the potential all the employees saw," they wrote in an email.
The employee claims Feldman expressed interest in adding a new grooming service to DogTown's repertoire, but stonewalled efforts to acquire the needed equipment. "I started hitting little speed bumps with him when it came to acquiring the equipment needed to begin grooming," they stated. "He balked at most of it."
Feldman contests the assertions that his commitment to the grooming service was inadequate. "I bought [the employee] over $3,000 worth of grooming equipment, per [their] request." he wrote in a follow-up email.
A DogTown supervisor, also speaking on the condition of anonymity because they are currently employed by Feldman, provided more nuance. "[Feldman]…took months to acquire the necessary equipment," they recounted in an email.
Once the equipment was acquired, the supervisor says staff explained to Feldman that the facility needed a separate entrance for grooming clients in order to "fully enter the Lexington grooming scene". The separate entrance was needed "for the safety of both our potential grooming clients (who have not been approved for daycare), as well as our daycare dogs," according to the supervisor.
"The way our facility is set up, the only way to access the grooming area is to walk through the playroom," the supervisor elaborated. "Each time [the request for a separate entrance] was made, we were either told [it was] too expensive (not the solution we had suggested), or we were told he would look into other solutions."
The supervisor described their efforts to persuade Feldman as fruitless. "Nothing ever came of this," they wrote, "which meant that our groomers had a four hour window on Saturday and Sunday each week to try to groom non-daycare & boarding clients."
According to the supervisor, the limited grooming hours hindered the service's growth at DogTown. "When potential new clients would reach out to us about grooming and we informed them of our availability, many chose to seek another groomer because of our extremely limited scheduling capabilities," they stated.
Around the time The Manchester Hotel opened in June, the former employee says concerns grew among DogTown staff regarding the owner's commitment to the establishment. When the facility's washing machine malfunctioned, the former employee says they found Feldman's response perplexing.
"Once he heard from the professional that came to look that we would do best to buy an industrial washer, he…[said he] was going to have another person to come look at it," they recounted. The washer was never repaired, but a short time later "eight individuals with blueprints" arrived to survey the building.
Feldman says the washer malfunctioned just as he was approaching his decision to close DogTown. "The washing machine broke in September, within a month [prior to] my announcement to close DogTown," he recalled. "I did send two repair services (I have invoices if you want to see them), and a part had to be ordered with long lead time. Even my own hotel maintenance and engineers were sent to try to fix the washer. I therefore asked that the employees use the laundromat (on Oliver Lewis) with funds I provided. I heard no complaints."
According to the DogTown supervisor, another issue arose after a heavy wind storm in March, when a portion of the facility, "became unusable due to the wind storm, which significantly decreased the number of dogs we are able to accept on a daily basis, making it harder for us to actually reach our daily and weekly performance goals."
Feldman says the closed area had pre-existing issues and was only used for storage. "The back storage building has always been used for storage. Never was it used for dogs during my diligence of the business and thereafter. When I bought it, its roof was collapsed in (and had been for at least a year). It had spores and mold. Electricity was turned off by our own manager to avoid a fire," he wrote.
Metadata extracted from photos provided by Feldman appeared to confirm roof repairs occurring at the facility in late September.
The DogTown supervisor says the most frustrating aspect of the situation was the lack of communication from Feldman. "Probably the most frustrating part of all of this has been the fact that Nik was seemingly unable to ever communicate properly with us," they remarked. "Pretty much the entire time he has owned DogTown, people (contractors, electricians, HVAC, etc.) would just show up unannounced at random times of day and expect to be let in to see the facility. It felt very disrespectful of our time, and the whole point of our business: to provide a safe, fun and stable environment for dogs."
From the supervisor's perspective, DogTown's final months were shrouded in uncertainty. While the business was indeed struggling, some employees felt they had "our hands tied behind our backs".
I never knew for sure where we stood, though I had suspected for months this was going to be the eventual outcome. There were little red flags all over the place, but I held out hope that if I continued moving us in the direction we were headed, we might make it through to see another year.

I understand why we closed. We weren't making enough money. But I also feel like we had our hands tied behind our backs for months. How are we supposed to increase our numbers if we literally do not have enough kennels for all the dogs who are already approved for daycare?

A DogTown supervisor, speaking on the condition of anonymity because they are still employed by Feldman
"One has nothing to do with the other"
The controversy over DogTown's shuttering has led some Lexingtonians to take to their keyboards and encourage locals to think twice before patronizing the Manchester Hotel.
"Rich developer or something. Don't go to his hotel and have drinks there. It's too expensive," Feldman said, mimicking a charged Facebook post written by a locally prominent businessman and longtime DogTown client. "Like, one has nothing to do with the other. And I have a lot of investors in this thing (the hotel). DogTown was my own money."
To Feldman, the most important point to distinguish is that "no one is upset with the treatment of the dogs." On the contrary, he says, "they're upset that a place that provided that type of service is no longer gonna be around."
After publication of this article, multiple DogTown staffers stated that they had expressed safety concerns to Feldman over his perceived habit of allowing contractors in the building during business hours. However, "thankfully," one conceded, no animals were ever injured as a result.
Regarding his treatment of staff, Feldman says he increased DogTown employees' pay and benefits during his tenure. "Employees made their highest wages and benefits BY FAR under my ownership," he wrote. "They received the highest holiday bonuses by far under my ownership. I even advanced paychecks to an employee during a time of need. I clearly did this in an effort to keep employees on board because I knew they, along with our lowest-in-market prices, were the reasons we had such loyal customers. Our current employees are all amazing."
"I provided full-time employees with…severance and full benefits, plus their unused vacation salaries. In one case I paid over $7,500 worth of severance," Feldman added.
The DogTown supervisor confirmed that Feldman "raised wages", effective January 1.
What's next?
The historic property at 1026 Manchester Street now faces the lingering question: "What's next?"
"Over the past month alone, I've made over $50,000 of improvements to bring the building to safer standards for a new tenant," Feldman remarked, "so I can finally dig out of the $100,000 of financial losses I've incurred."
While he remains tight-lipped about the specifics, Feldman says he has narrowed down the property's next avatar to three potential options. One thing he assures, though, is its profitability. "Whatever goes in there, it will make money."
---
Updated October 25, 2023
Recommended Posts
Sat, December 2, 2023